---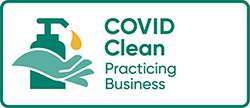 Choosing Britz Perth as your first port of call for campervan hire in Western Australia, you have a lifetime's worth of memories spread out before you, just waiting to be uncovered. Whether you're looking for a long weekend in wine country, a wild week by the coast, or an all-in adventure that will take you deep into the heart of the outback, this is where you start that journey.
Read More
Get your Perth adventure started
Branches are open 7 days a week to meet customers with pre-confirmed bookings and pre-arranged pick-up time slots. Our branch hours are:
Monday - Saturday: 9:00am - 3:30pm
Sunday: 9am - 3:30pm for drop off only
Branch after-hours is possible upon request - please contact us to arrange
Vehicles must be collected/ returned by 3:30pm. Closed;
Good Friday (10th April 2020),
Christmas Day (25th December),
New Year's Day (1st January 2021)
Australia Day (26th January)
From the airport, a taxi ride will take about 5 minutes. Taxi ranks are located at the front of all terminals, as well as Valentine Road within the General Aviation area. For more information please see Perth airport's website.
From Perth CBD, you can take a 20-minute taxi ride, circa $40-50AUD, or take Bus Route 40 from outside the Art Gallery of WA. Get off at Ben St and you'll have a 1 minute walk to the branch. For times and fares please see the TransPerth website.
Parking is available at Hamer Parking - 20 Redcliffe Road, Redcliffe, WA.
Campervans must be collected/returned by 3:30 PM.
Whether this is the first time you've taken a campervan journey or you're a regular to hiring motorhomes, our expert team will take you through how to operate your specific camper. You can also purchase our Express Return Pack – all you have to do is drop the keys off at the dedicated desk and you can set off on your way with the minimum of fuss.
A one-way fee of AU$250 will apply for journeys not originating and concluding at the same branch.
A $100 AUD surcharge will apply to all campervan rentals picking up and/or dropping off on;
- New Year's Day (01 January)
- Good Friday (10 April 2020), Easter Monday (13 April 2020)
- ANZAC Day (25 April)
- Western Australia Day (1 June 2020)
- Queen's Birthday (28 September 2020)
- Boxing Day (26 December)
Toilet & showers, wi-fi, tourist information, drink machine, seating area, luggage storage
Campervan Hire Perth
From classic campervans to 4WD campers, Britz has something to suit every adventure. Choosing from the wide range of campervans for hire in Perth, you can find options suitable for 2-6 people – with our team of experts on hand should you need any help making the right choice.
2-3 BerthCompact with all the mod cons
2-3 Berth
Compact with all the mod cons
---
2 Berth HiTop
1x double bed
57L Fridge/Freezer
Gas Stove
---
2 Berth Venturer
1x double bed
130L Fridge/Freezer
Toilet and Shower
---
2+1 Berth Venturer Plus
1x double, 1x single bed
130L Fridge/Freezer
Toilet and Shower
---
4 BerthFor those after more space
4 Berth
For those after more space
---
4 Berth Discovery
2x double beds
130L Fridge/Freezer
Toilet and Shower
---
4 Berth Voyager
2x double beds
85L Fridge/Freezer
Gas Stove
---
4 Berth Explorer
2x double beds
130L Fridge/Freezer
Toilet and Shower
---
6 BerthSpace for all the family!
6 Berth
Space for all the family!
---
6 Berth Frontier
3x double beds
130L Fridge/Freezer
Toilet and Shower
---
4WDExplore off the beaten track
4WD
Explore off the beaten track
---
5 Berth Outback 4WD
Freestanding tents
Kitchen
Automatic
---
5 Berth Safari Landcruiser 4WD
Rooftop tent
Kitchen
Manual
---
Perth Campervan Deals
Time to explore the many spectacular sights around Perth and Western Australia with these great campervan deals. See how much you could save on your Perth campervan hire as you travel from Esperance to Exmouth – and beyond.
Popular Routes For Perth
Travelling at your own pace, you will uncover awe-inspiring sites around every bend as you set off in your campervan from Perth. But in which direction should you journey to first?
Heading north from Perth, take the Indian Ocean Drive to Kalbarri, through Cervantes, Dongara and Geraldton. Over an easy five-day itinerary, you will discover the rugged beauty this region is known for, transporting you from the cityscape of Perth to someplace much wilder.
From there, you can head inland on the Wool Wagon Pathway to traverse Western Australia's legendary sheep and wool country, journeying through wild expanses of spectacular Australian outback before arriving on the Ningaloo Coast.
After taking time to explore Ningaloo Reef's underwater paradise, you can loop back towards Perth on the Coral Coast Highway. Hugging the coastline, this itinerary allows you to experience more of this entrancing region, taking in Monkey Mia, Hutt Lagoon's breathtaking pink lake and the astounding Pinnacles Desert.
Travelling inland from Perth, you could take a few nights to explore the great outdoors within the Avon Valley. Or, to uncover more of Australia's glorious golden outback, opt for the Gold Quest Trail taking you through Kalgoorlie and Lake Ballard to Laverton.
Journeying south, a world of tantalising temptation awaits on the South West Edge Wine & Exploration Trail. Travelling through the world-famous wine region of Margaret River, you will then drive on to Pemberton, from where you can continue your journey on towards the idyllic wonderland of Esperance on the South West Edge.
---

Whoops, it seems like we haven't got any Popular Routes
Please try a different combination or click below to reset your search
Ningaloo Reef
Ningaloo Reef is one of the most popular destinations for campervan travelers north of Perth. Not surprising really when you consider it's the world's largest fringing coral reef and merited as a UNESCO World Heritage site. One of the big differences to other coral reefs is the extremely close proximity to the shoreline, meaning fantastic access for divers and snorkelers. With warm water, and the opportunity to swim with whale sharks, turtles and tropical fish at Turquoise Bay, this 260km stretch of coastline is a campervan trip favourite from Perth. If you fancy taking it all in from a different angle, the microlite flight over the reef is highly recommended. Just don't forget your camera!
See Ningaloo Reef on the Wool Wagon Pathway and the Ningaloo & Shark Bay World Heritage Explorer itineraries.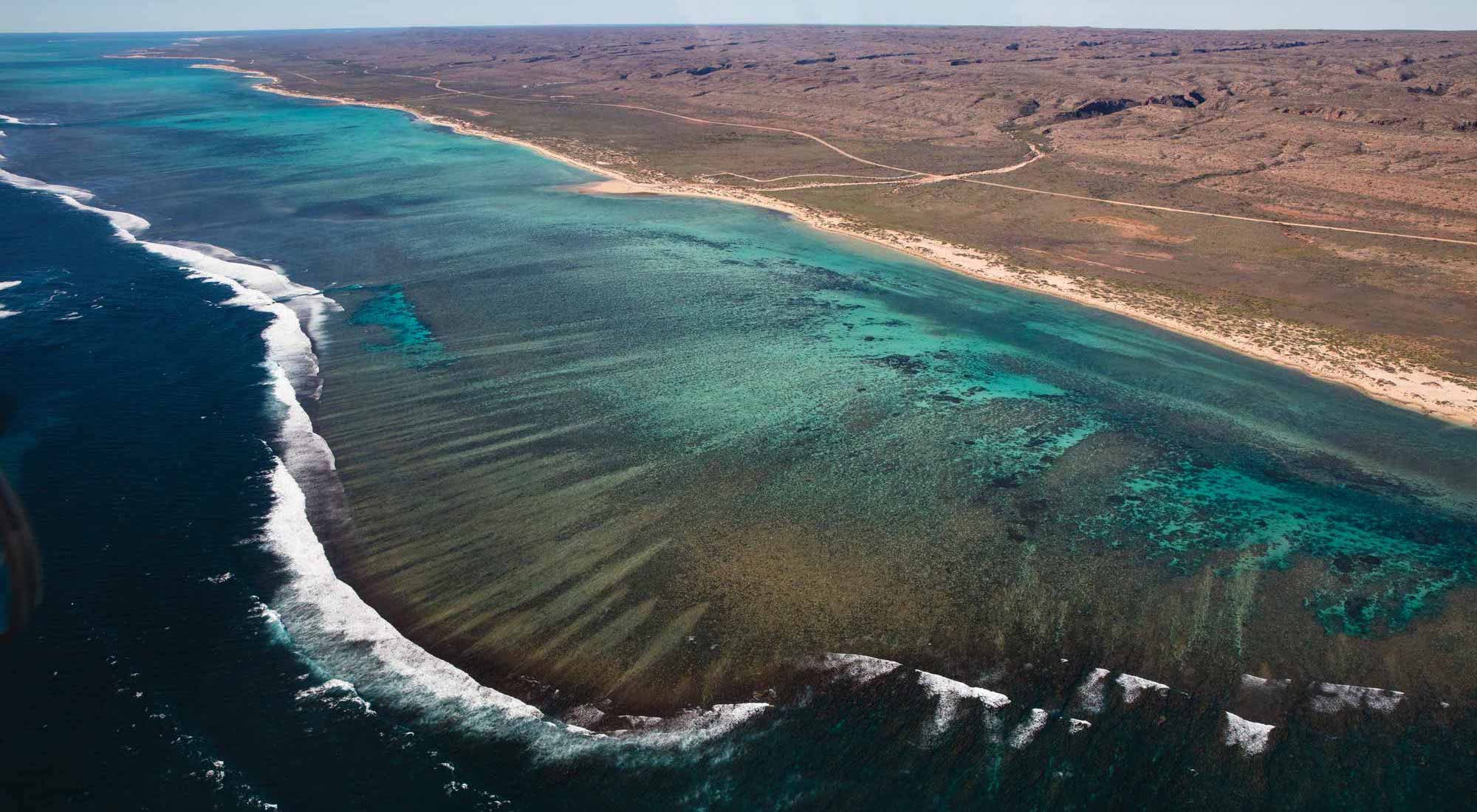 Margaret River
It's no wonder Margaret River is a wine connoisseur's favourite when you find out it has 120 world-class wineries all in close proximity. Of course, this makes it a great place to relax and unwind, sipping on locally produced wines, enjoying the exquisite locally sourced food, and enjoying the views over vineyards and coastlines. An afternoon sampling wine in the local barrel rooms is a must - just make sure you have a designated driver for your campervan first! It's not all sedentary activity in Margaret River - explore the stunning Lake and Mammoth Caves, rich with limestone and crystal features including the giant suspended limestone table or get out and hit the renowned surf beaches prevalent on this coastline. Regardless, a walk along the Indian Ocean beaches at sunset is a pleasant way to finish off a day.
See Margaret River on the South West Wine Trail itinerary.
Freemantle
Just 30 minutes from Perth you'll find Freemantle, voted 7th best city in the world to visit by Lonely Planet in 2016. A hub of arty, eclectic and alternative, you won't find yourself getting bored in this vibrant environment. Park up the motorhome and take a walk around the city taking in the trendy cafes flowing with art and music, visit the markets and taste some of the local street food or wander to Fishing Boat Harbour where you'll find your best chance of catch of the day fish and chips and over a century of history. Visiting Freemantle Prison Tunnel Tour, you'll uncover more of the area's rich history as a maximum security gaol from 1887 to 1991.
Esperance
If you're looking for an idyllic motorhome holiday taking in the best beaches in WA, you can't go far wrong with Esperance. Picture perfect sandy beaches, clear water, marine life, and stunning landscapes right behind and you will not be disappointed! Local favourites include Twilight Bay, Blue Haven Beach, Hellfire Bay, and Wharton Bay, all unique yet equally stunning in their own right. If you want the true Aussie experience of meeting a kangaroo on the beach, then head to Lucky Bay where they roam free against the idyllic backdrop. Another must-do is Spencer Lake, a naturally created bright pink lake that will take your breath away upon first glance. Chances are you'll leave Esperance wondering if you'll ever find such a mix of vivid colours without using an Instagram filter.
See Esperance as an extension to the Great Southern Wine Trail itinerary.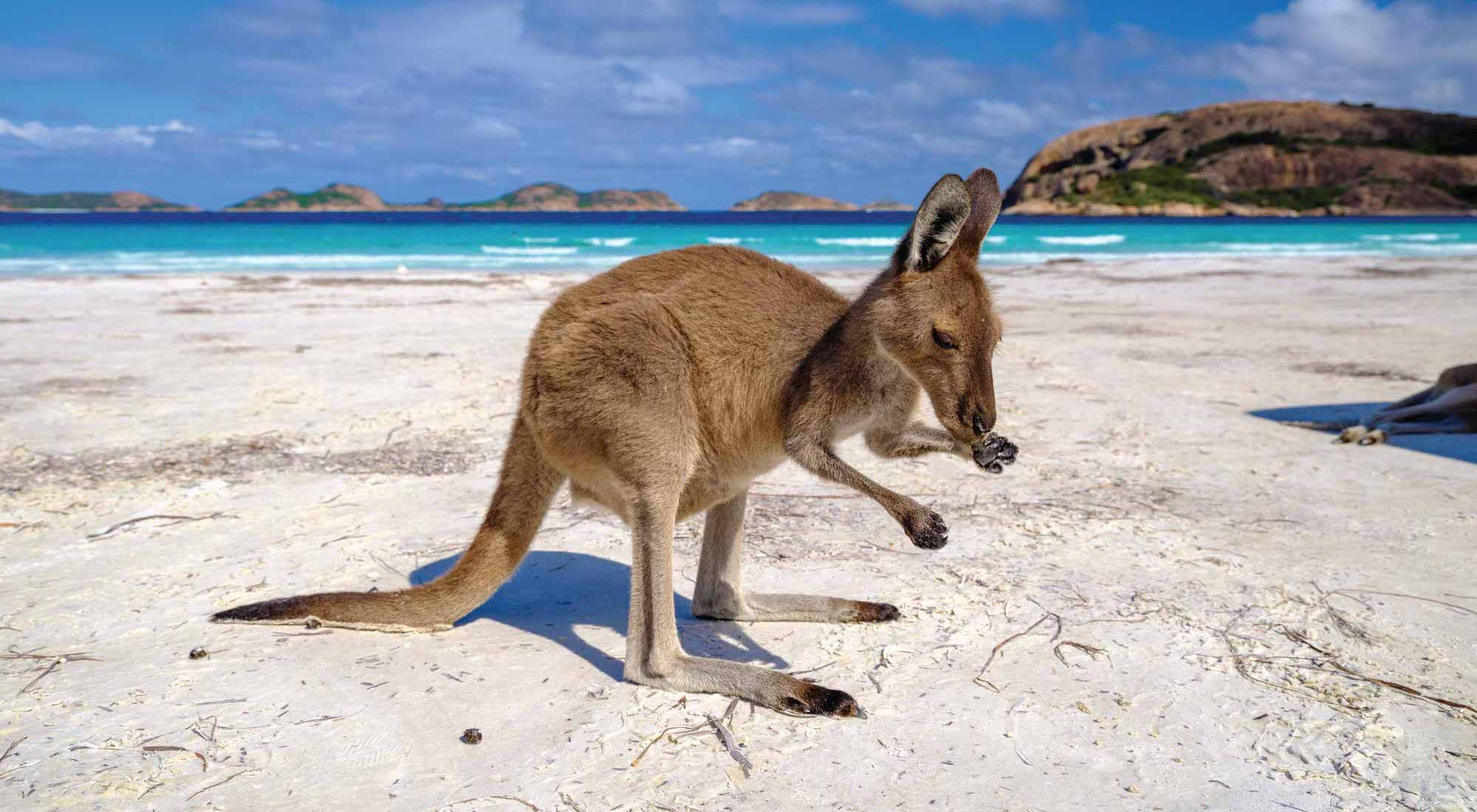 Kalgoorlie
You'll find Kalgoorlie about 590km inland from Perth in the heart of the Eastern Goldfields. With an economy that's been driven by gold since 1893, you'll find a rich and glorious history to explore here – first stop the Museum of the Goldfields. Don a hard hat and take a guided tour through the Super Pit, Australia's largest mine at 3.5km long, 1.5km wide and 700m deep to see how mining has evolved in modern-day Kalgoorlie. For those less keen of going underground, take a walking tour and soak up the city, including Hannan Street, full of architecture and glorious buildings all bearing testament to the wealth that has been generated including the Town Hall, York hotel and Government Buildings Complex.
See Kalgoorlie on the Gold Quest Trail itinerary.
Western Australia is home to 60 National Parks in varying sizes, all with their own unique and diverse features. Chances are you won't have time to visit all 60, so here's our top 3 to get you started.
Karijini National Park
Formed in 1969, two billion-year-old Karijini is WA's second-largest national park. Encompassing over 6000 square kms of land, Karijini features a diverse mix of landscapes, from mountains to arid desert land, ancient cavernous gorges to cascading waterfalls. Whilst here, don't miss Fortescue Falls and Fern Pool, arguably some of the most picturesque in the area, lined with ferns and fig trees that make this a great place to relax. For those keen on a bit more adventure, visit Hancock Gorge where you can explore deep into the cavern, through narrow chambers and past beautiful rock pools. To get the best from Hancock Gorge, it's worth taking a local guided tour.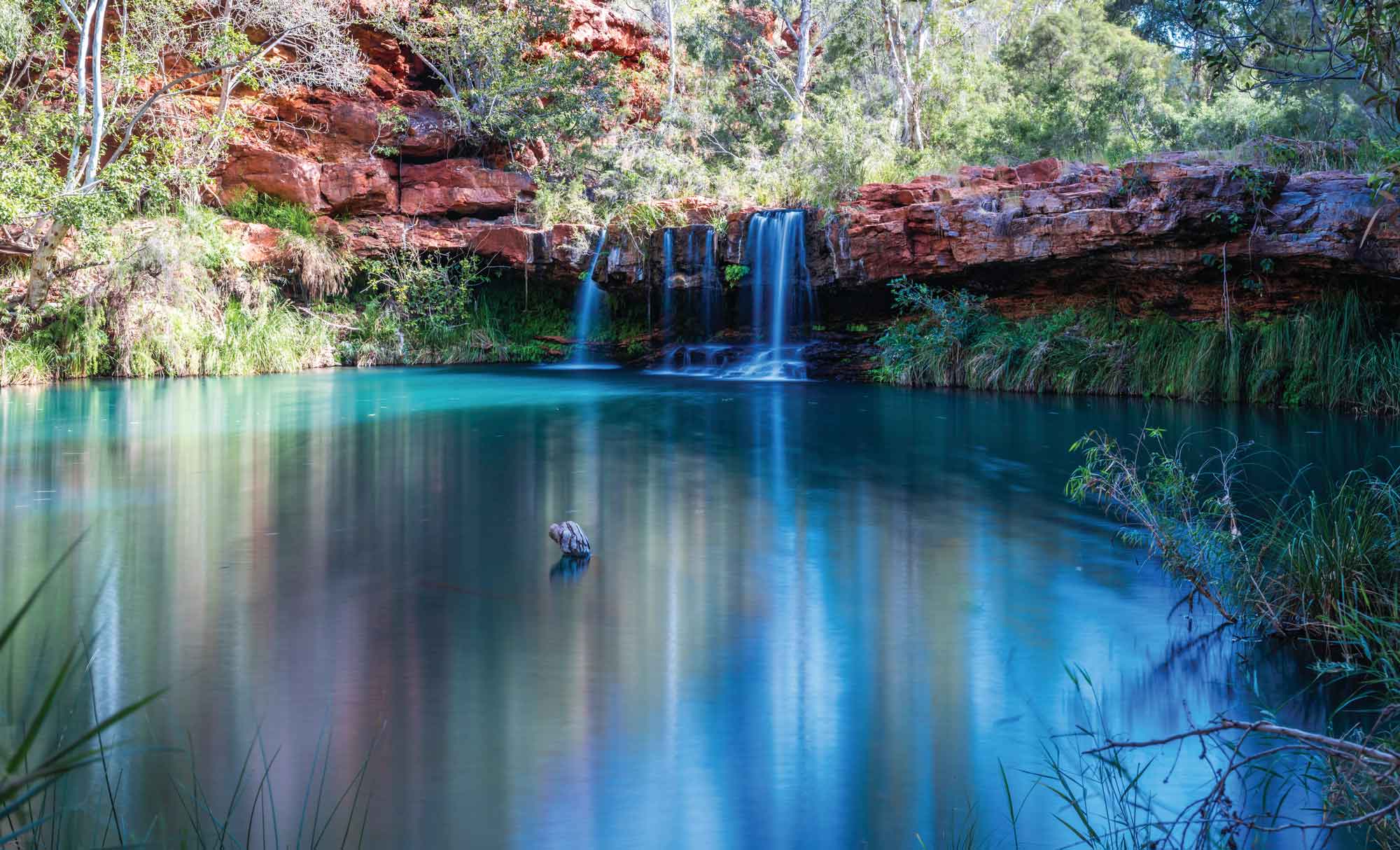 Cape Range National Park
A stone's throw from Ningaloo Reef you'll find Cape Range National Park. Featuring a mix of spectacular rocky gorges carved in by ancient rivers, and 50km of pristine beaches it's every bit a postcard-perfect image. Take the time to stop at Turquoise Bay, a popular diving and snorkelling site where the offshore reef and warm clear water - a prime location to get up close and meet the local wildlife. There's plenty to do besides enjoy the marine line, including the Charles Knife Canyon and Yardie Creek Gorge with plentiful hikes and opportunities to encounter the local wildlife. Can't fit it all into one day? There are 11 campgrounds to choose from along the coastline, so why not enjoy multiple days in this spectacular place.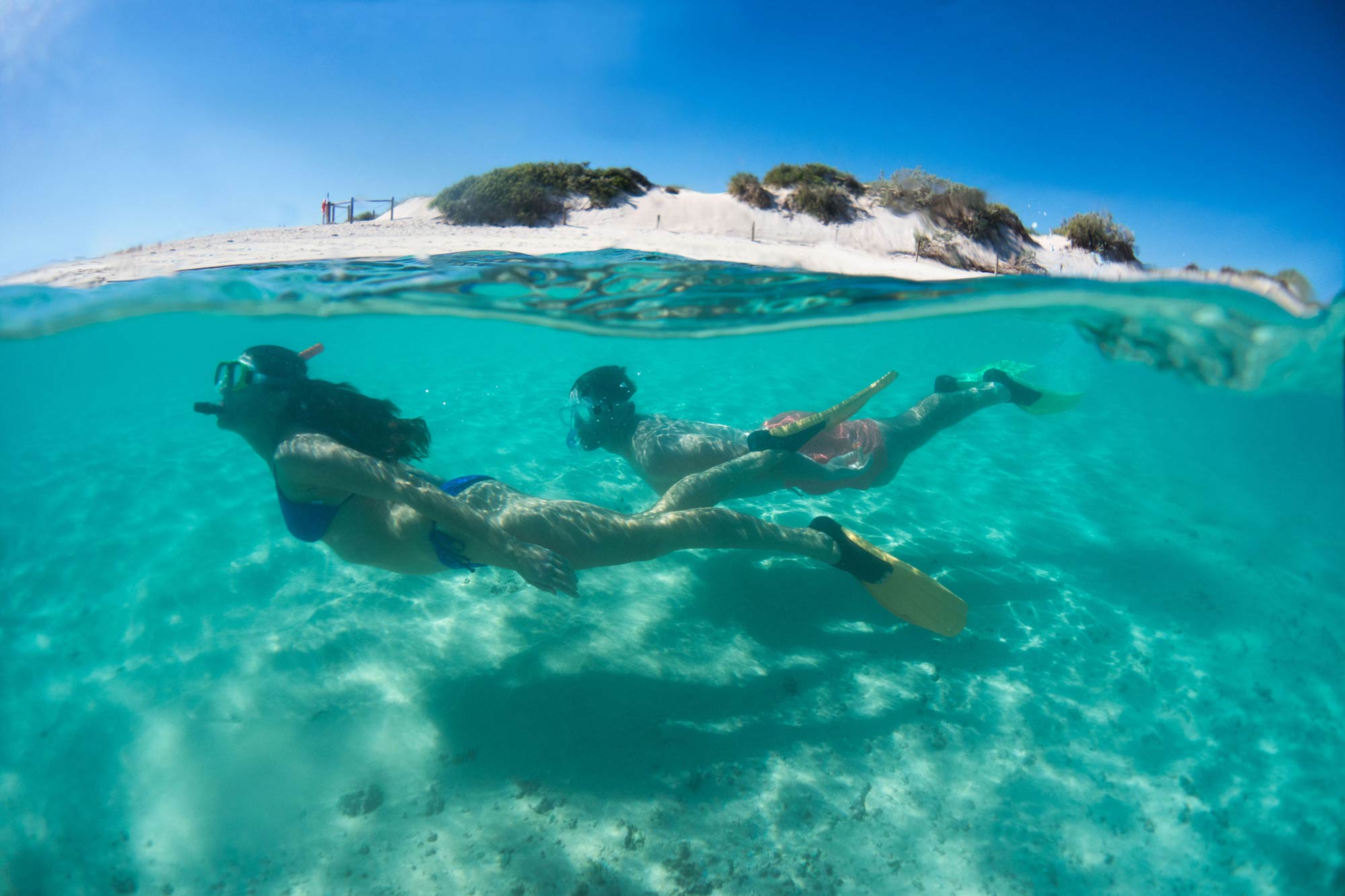 Kalbarri National Park
One of the closer and more accessible coastal National Parks from Perth, Kalbarri is a favourite family holiday destination. Part of the Indian Ocean itinerary, Kalbarri boasts stunning coastal gorges, deep red sandstone cliffs and iconic swimming locations such as Blue Holes. For those after holiday snaps, make your way to the iconic Nature's Window, providing a perfect rocky picture frame of the below river. And on the way into Kalbarri, make sure you stop in at the famous Pink Lake at Port Gregory. Chances are you'll need a couple of days to enjoy it all properly, so pitch up at one of the many campground options in the area.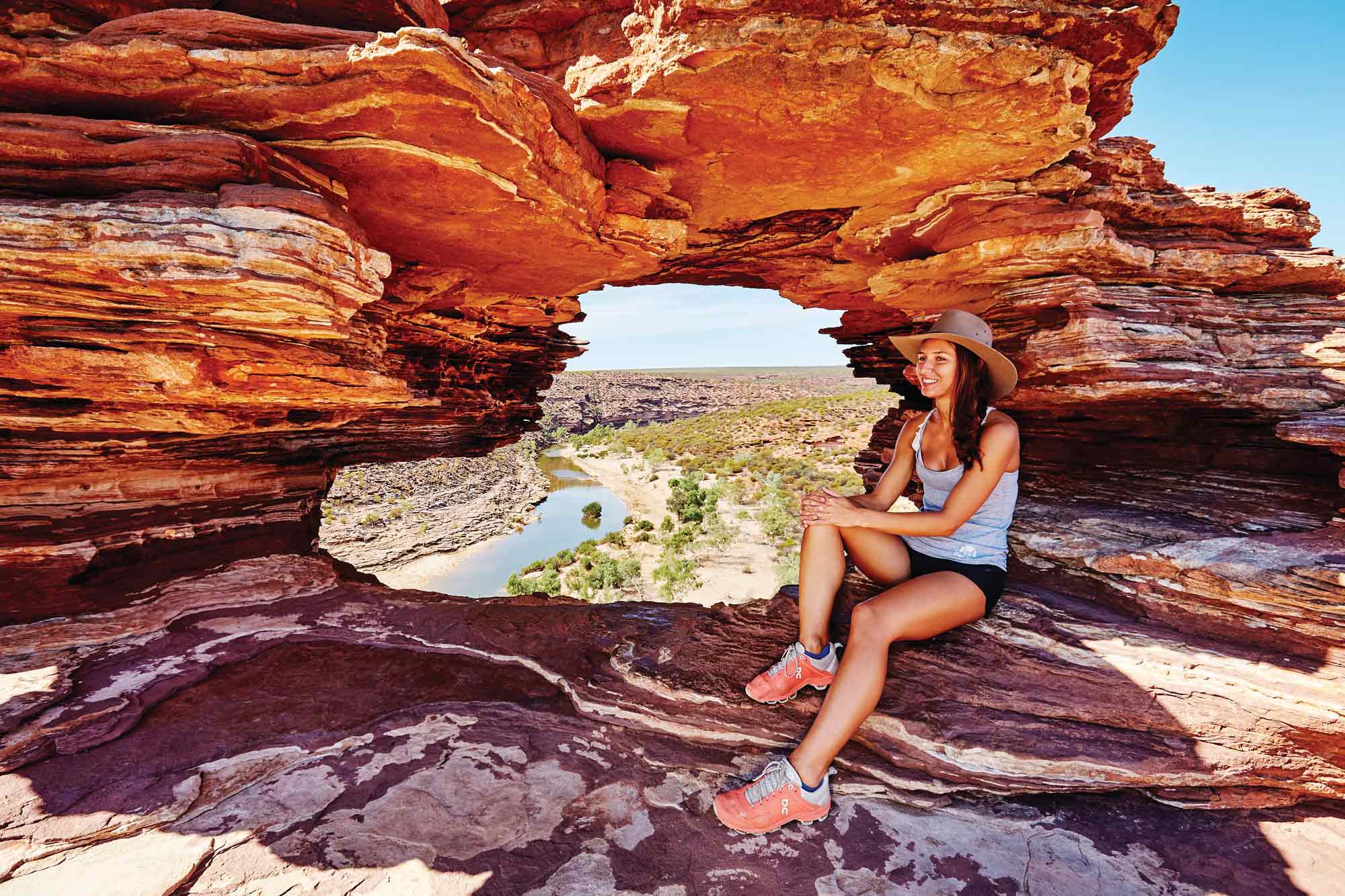 With more sunny days than any other Australian capital, Perth is a city just waiting to be explored. Whether you want to visit its glorious beaches to swim in the sparkling Indian Ocean, wander the expansive beauty of Kings Park, or visit nearby Rottnest Island to snap a selfie with a quokka, Perth will keep you busy with activities for as long as you choose to stay.
Perhaps you'll spend the day on an Aboriginal walking tour, learning more about the culture of the region's traditional owners, to see what life was like before European settlement. Maybe you'll take in the sights while sampling some delights in Western Australia's oldest wine region, the Swan Valley. Famous for its warm-climate wines, this picturesque part of the world is easily explored on a wine or cycling tour, to uncover its plentiful wineries, restaurants, breweries and distilleries.
Within the city itself, you can discover a diverse array of culture, whether that means delving into its galleries and museums or wandering its urban villages to sample its incredible small bar scene and intriguing markets. South of Perth, the port town of Fremantle is definitely worth a visit, where you can while away the day checking out the town's captivating colonial architecture and fascinating seafaring history, to then indulge at any of its buzzing eateries.
As Australia's sunniest city, Perth enjoys a daily average of eight hours of sunshine all year round. Unlike certain other parts of Australia, Perth experiences a dry heat rather than a humid heat, with hot, dry summers, and winters that tend to be mild and wet, bringing heavy downpours of rain and thunderstorms.
Summer: December to February
With average temperatures ranging from 17.5 - 30°C (63.5 - 86°F), summer in Perth is hot and dry, with very little rainfall. Some days can push 40°C (104°F), making it ever important to 'slip-slop-slap' (slip on a shirt, slop on sunscreen and slap on a hat) while out and about. Fortunately, a sea breeze called the 'Fremantle Doctor' or just 'The Doctor' provides some relief from the heat in the afternoons.
Average temperatures: 17.5 - 30°C
What to wear: Shorts and t-shirts, skirts and dresses
Don't forget: SPF 50+ sunscreen, a hat, sunglasses, and swimwear
Autumn: March to May
Cooling down through autumn, this can be one of the best times of year to visit Perth. During autumn, Perth enjoys warm, sunny days and cooler nights, with average temperatures ranging between 13.7 - 26°C (56.6 - 78.8°F). There may be some humidity and occasional showers, but evening temperatures will rarely drop below 10°C (50°F).