Key Specifications
Automatic
2020 model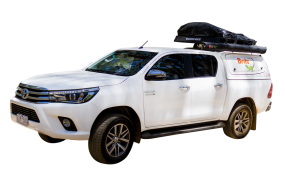 The Outback 4WD will take you past the end of the sealed road and get you off the tourist track to find your own piece of paradise. Based on the Toyota Hilux with automatic transmission, it combines 4WD capability with a comfortable automatic driving experience, perfect for longer trips. Ideal for a family or group of up to five, you'll be camping in comfort with our tough-as-nails and 100% sealed Darche tents, easy to set-up and ensuring that creepy crawlies won't be paying you a night-time visit. With the free-standing tents you can leave the camp set up if you're exploring national parks for multiple days.
Single self-inflating Darche air mattresses and sleeping bags are provided to ensure a comfortable sleep. The 2020 chassis model is fitted with our Britz equipment, snorkel and comes with an Outback safety kit, a pop-up awning, picnic table & chairs and kitchen equipment so you have everything you need for the ultimate 4WD experience.
For all the important information around Outback 4WD pickup locations, road restrictions and how to drive a 4WD click here.