Key Specifications
Automatic
Shower & Toilet
Certified Self Contained
2017/2018 models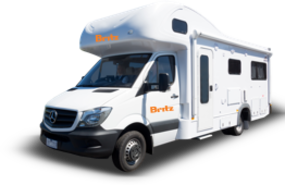 Family sized campervan
Whether it's spoiling the family with unashamed luxury or the idea of going on a roadie with your group gets you excited, the Traveller sits at the top of the scale.

Think of all the things you could want in a camper and we are confident you'll be happy with the Traveller. Start with a fully equipped kitchen, with hot and cold water, a microwave and all your glasses and crockery. Move on to three quality double beds and a proper bathroom, with a shower and toilet. Exactly what you need after a day exploring in the summer sun. Top it off with a spacious living area with a LCD screen and DVD player. Finally, put the lot in an agile and easy to drive automatic vehicle, turn on your fave driving tunes with the radio, CD player, bluetooth or aux input and hit the road. If that sounds enough for you, why not make it real?
Locations available:
Perth return
Sydney, Melbourne, Adelaide, or Brisbane return, or one-way between any of these 4 locations
For travel 30 July 2019 – 03 May 2020.
Book now to experience this luxury camper!