Key Specifications
Automatic
under 18 months on fleet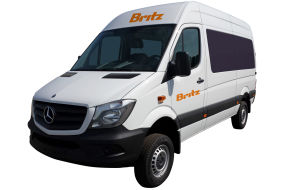 The newest AWD in the Britz offering, the Scout AWD is designed for travellers who want to explore off the beaten track but not miss out on the luxuries of sleeping soundly inside the camper.
This strong, reliable Mercedes AWD automatic van features push button AWD activation and a higher clearance for traversing the Aussie terrain. After an adventure-packed day of exploring the outback, convert the dining area inside the vehicle into your comfy double bed for a good night's sleep. With quality camping gear stored cleverly in the rear slide-out kitchen, the Scout is the AWD you've been waiting for.
The Scout AWD is only available for travel from 15 April 2019 - 13 November 2019 inclusive, and for Darwin to Darwin hires only.

Please note - Travelling to Fraser Island is not permitted.