Key Specifications
Automatic
under 6 months on fleet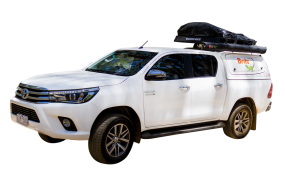 The Outback 4WD is a fully automatic, robust 4WD with tough-as-nails free-standing Darche tents to provide a quality, hassle-free and flexible 4WD experience. The Toyota Hilux SR combines 4WD capability with greater driving comfort on the open highway or outback tracks alike. The generous storage, self-inflating Darche air mattresses, portable gas stove, slide-out fridge and bonus extras like a storage rack plus picnic table and Darche chairs make this a fun and convenient camping option.
Travelling to Fraser Island is not permitted. The Outback 4WD is available to and from Adelaide, Alice Springs, Brisbane, Broome, Cairns, Darwin, Melbourne and Perth and is only available for travel from 15 April 2019 to 13 November 2019 inclusive.

This vehicle includes a free standing 4 person tent with 4 single self-inflating sleeping mats. If there are 5 people travelling, or you'd prefer some extra privacy, a second tent and fifth sleeping mat will be provided.​
Want to learn how to drive a 4WD?