Key Specifications
Automatic
Shower & Toilet
Certified Self Contained
2018 - 2019 models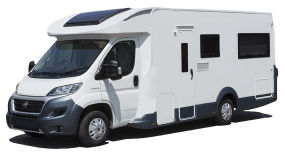 European-style comfort
Ideal for two couples or a family of four, the Cruiser comes complete with kitchen with an electric stove, bathroom and living area so you can get to where you want to go and then have a place to relax after a day of exploring!
Travel locations Auckland, Christchurch and Queenstown.
For travel 02 September 2019 – 31 May 2020.
Our Cruiser 4 berth category is made up of five fabulous vehicles, all with slightly different floorplans. The Cruiser allocated to your booking will have one of these five layouts - all catering for four people in comfort. Please note, layout cannot be requested.