Join thousands of fellow campervan travellers
Sign up for our Britz newsletter to receive inspirational travel content and awesome deals, and we'll send you a copy of our Ultimate RV guide!
Thanks
Please confirm subscription in your email.
A campervan holiday is just fun!
There's something pretty exciting about packing the car for a road trip and packing up a campervan is even more fun! With a van, you get to unpack all your gear, load up the fridge, plan your day and then hit the road. There's loads of space for your journey, and huge windows to take in the ever-changing view. Once you're parked up, everything you need is right at your fingertips. Whether you choose to get close to nature in a conservation campsite, or make new friends in a holiday park, there are options for everyone.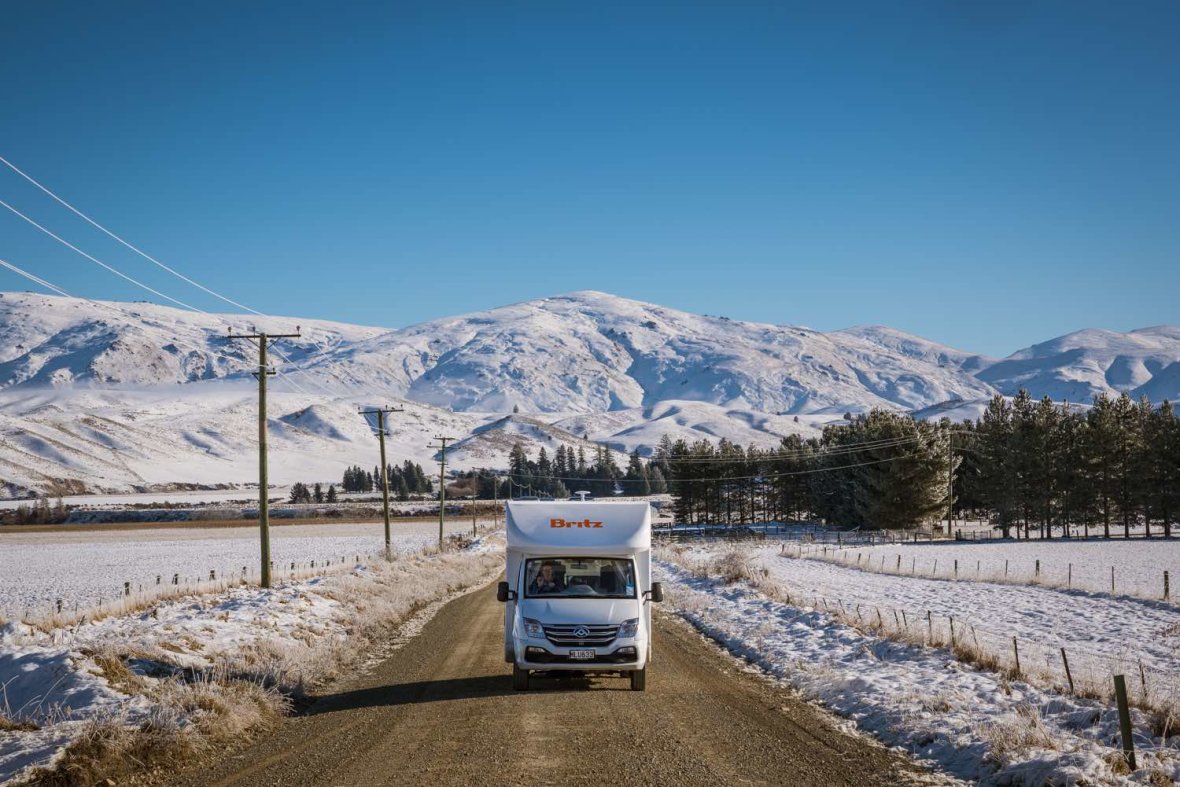 A campervan gives the ability to be flexible
For those looking to explore NZ, this is a great benefit. Your campervan is both your vehicle and your accommodation and so you can make and change plans without much hassle. During the winter season, you don't need to be worried about booking campsites or holiday parks too far ahead. You can be as structured or unstructured as you like – part of the fun can be waking up in the morning and mulling over where the road will take you next. If the weather is bad, you can carry on to another spot. If the weather is amazing, you can stay an extra day. Planning the next day is all part of the fun!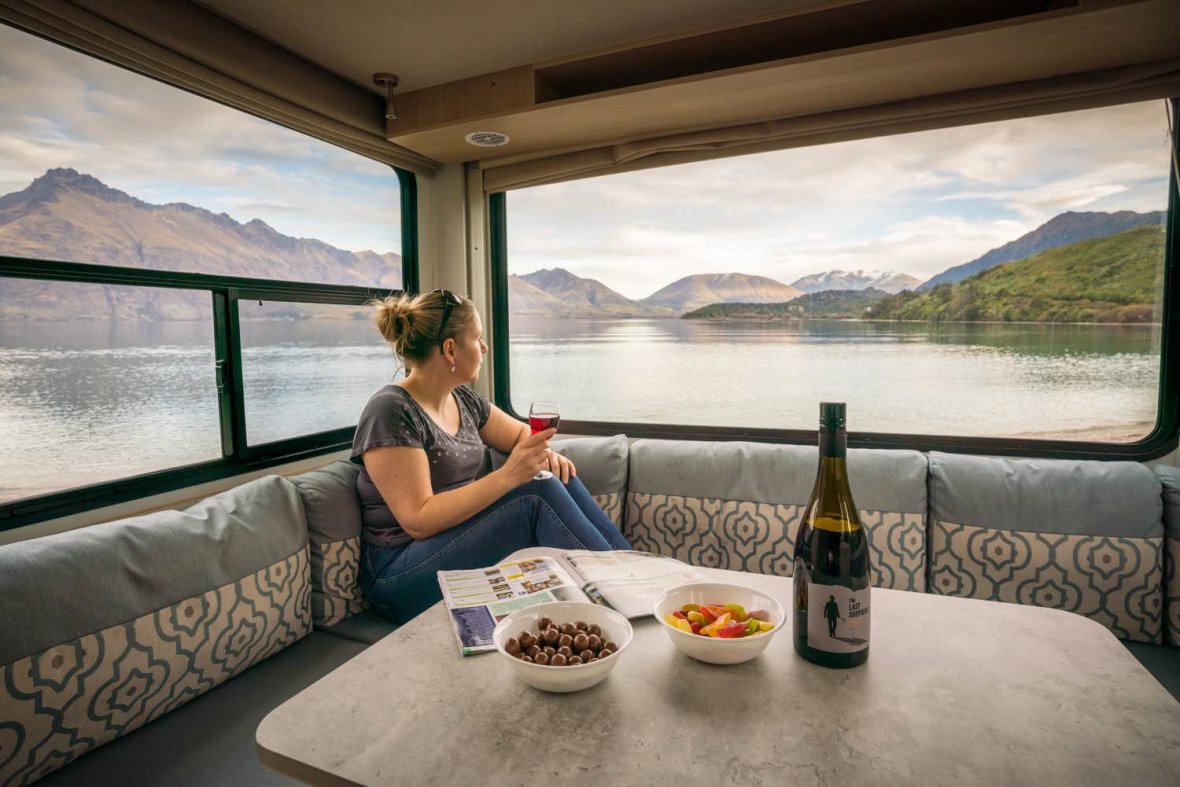 All the cosy comforts of home are with you
Modern campervans and motorhomes are cleverly thought out and have everything you could need for a holiday away. Most have indoor cooking and dining spaces, a fridge, a lounge with windows to take in the view, lots of storage space, and a toilet and shower. Campervans have good insulation, plus you'll often have forms of heating in your van, and warm, heavy duvets at night. There's no worrying about hotel check in and check out times, what a room will be like – so you can focus more on your holiday and less on the admin.
You can stop for a coffee anywhere!
One of the loveliest things about life on the road, is that there is often no hurry. Everything you need is always with you. Which means when you are driving past a stunning view, it's easy to pull over, throw the doors open, put the (cute, whistling) stovetop kettle on and enjoy a cuppa whilst taking in the beautiful scenery.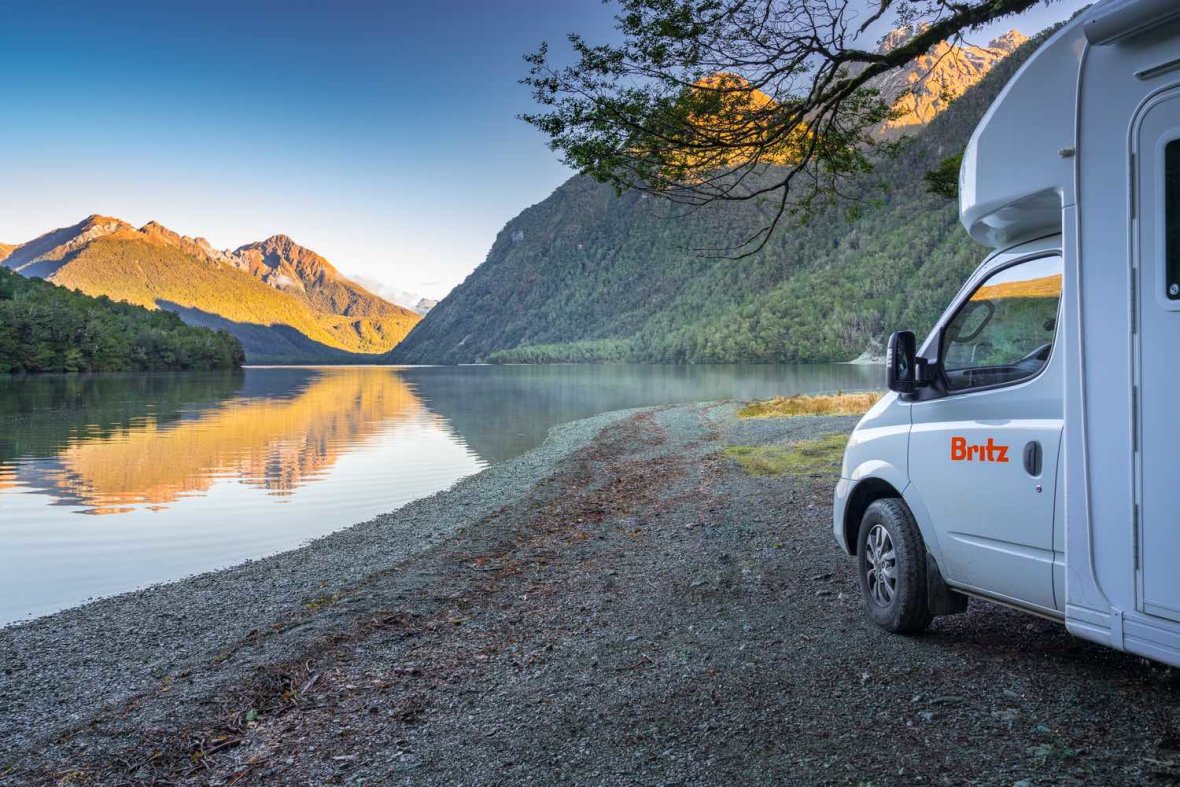 New Zealand has campsites in the most amazing places
Whether it be a Department of Conservation campsite, a holiday park, or a designated freedom camping site, some of the places you can sleep overnight will actually take your breath away. Many camping spots are right there by the beaches, rivers and mountains. Whether you wake up to the sound of waves crashing or forest birdsong, there is nothing quite like being immersed in nature. There is something quite special about waking up in the morning, opening your curtains and taking in an amazing view.
New Zealand scenery is diverse and accessible
As a tiny country, we have a remarkable amount of diverse scenery. On one day you can be sleeping next to the ocean, and the very next you can be gazing up at towering mountains. People often comment that NZ more than holds its own on the international "epic scenery" stage. Travelling by motorhome can allow you to get to many of these amazing places in a short amount of time. Not only that, crisp winter mornings create some of the most beautiful scenes you can imagine – snowy peaks, icy trees and stunning reflections in still lakes. What are you waiting for?!?
To follow in Laurie's footsteps and explore the stunning vistas just as shea has, take a look at our most popular routes.
Laurie Winter is a landscape photographer, with a passion for capturing beautiful scenes around New Zealand. She travelled courtesy of Britz. To see some of her work or read other blog posts visit: www.lauriewinterphotography.com

Explore New Zealand with these great deals