Join thousands of fellow campervan travellers
Sign up for our Britz newsletter to receive inspirational travel content and awesome deals, and we'll send you a copy of our Ultimate RV guide!
Thanks
Please confirm subscription in your email.
What The Work From Anywhere Package Includes
· Summer motorhoming just got affordable: Prices for travel all the way through summer are already a great deal lower than previous years.
· Extra long hire discounts: We've taken 20% off our daily vehicle hire rates when you travel for 14-27 days or a huge 40% off of the daily vehicle hire rate when you travel for 28 days or more. Discounts apply to six vehicle types across the Britz and maui range when you travel between 30 November 2020 and 28 March 2021 (excluding 21 December 2020 to 10 January 2021). This offer is limited to a total of 500 bookings so you will need to be in quick!
· thl Passport: Experience the best New Zealand has to offer with the thl passport providing discounts and extras at attractions, experiences and activity providers nationwide.
· Mobile Office Add-Ons: Take advantage of our new Work From Anywhere WiFi, providing unlimited data on the road for only $10 per day when you hire for 14 days or more. A Fair use policy applies.
Available Campervans For Hire
We have a range of vehicle types across our Britz and maui range ready to take you to a new office location each day. All of our vehicles feature a spacious lounge area and the perfect working space; with high back seats, a large table and access to powerpoints, you'll be all set to work from anywhere. Please note only Venturer Plus and Discovery are available from Cambridge and Wellington.
Britz Venturer Plus | 3 Berth

Sleeps up to 3 people | Full shower and toilet onboard
---
Britz Discovery | 4 Berth
Sleeps up to 4 people | Full shower and toilet onboard
---
Britz Frontier | 6 Berth

Sleeps up to 6 people | Full shower and toilet onboard
---
maui Ultima Plus | 3 Berth

Sleeps up to 3 people | Full shower and toilet onboard
---
maui Cascade | 4 Berth
Sleeps up to 4 people | Full shower and toilet onboard
---
maui River | 6 Berth

Sleeps up to 6 people | Full shower and toilet onboard
How To Book
If you're interested in booking a "Work from Anywhere" package, please fill out your details below. Requests will be responded to on a first-come, first-served basis by our Reservations Team who will be in touch as soon as possible to discuss available options and lock-in a booking for you. Please see full terms and conditions below.
How A Mobile Office Works
Set up – Our campervans adapt with you from work to play
All motorhomes are designed with comfortable seating and tablespaces which make a perfect workstation. Your laptop, tablet, extra screen, keyboard or printer will all have a home in your mobile office.
Ample storage lockers are available to securely store equipment when you're done with work for the day or when you're ready to move to your next destination.
Power up – options for keeping your devices charged
All our campervans operate with dual power sources, allowing you to either plug into mains power (240v) or to operate from the onboard house battery (12v). We recommend planning to plug in and use the vehicles 240v system when working from anywhere.
Operating from mains power (240v)
The standard house power outlets and will easily power your devices. These outlets operate when your campervan is plugged into a 240v mains power supply at a holiday park or to a power point at a home or bach. An adaptor to support this will be provided with all work from anywhere rentals.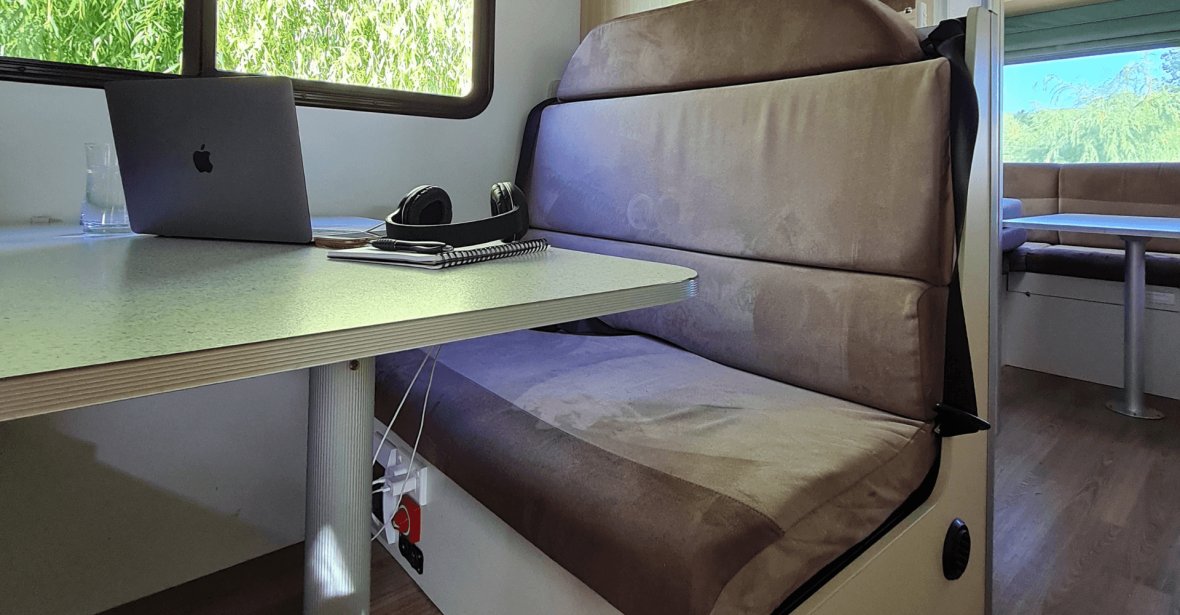 Operating from batteries (12v)
Our campervans are equipped with a 12v power system and USB ports for charging devices, which will operate without being connected to a mains power source. We do recommend the use of a power bank to provide extra power to keep your devices running through the workday. To keep the campervans batteries charged, connecting to a 240v power source every second day is required.
240v outlets are available when plugged in at a holiday park, home or bach. 12v USB outlets support some devices on the road.
Get connected - A reliable internet connection will likely be essential for your mobile office
Use your own - WIFI hotspot option
If you have a mobile-capable tablet or mobile phone, check if your device allows you to set up a wifi hotspot. If your mobile plan already has the data allowance you'll need, you're already set to go.
If you're planning to work at a home or bach, you may be able to utilise an existing fixed-line broadband connection and Wifi modem. If this is the case, again, explore the data allowance available as well as the range of your devices. You may need to consider a range extender.
Let us help you out - Broadband connection
If you're looking for a reliable, fast broadband connection with great coverage, we can help with Work from Anywhere Wifi. Simply request this option at the time of booking and we'll provide you with a mobile-capable modem providing unlimited data for $10 per day. Note that a fair use policy applies.
Terms And Conditions
20% off of vehicle hire rates for hires of 14 – 27 days

40% off of vehicle hire rates for hires of 28 days or more

Pick-up from 30 November 2020

Drop-off by 28 March 2021

Discount applies to travel dates between 30 November 2020 - 20 December 2020 and 11 January 2021 – 28 March 2021. Standard hire rates apply for travel between 21 December 2020 – 10 January 2021.

Pick-up and drop-off locations

Auckland, Christchurch, Queenstown returning at Auckland, Christchurch, Queenstown

TOP10 Wellington returning at TOP10 Wellington

30 November 2020 to 28 Febuary 2021 or until booking limits are reached

**Work From Anywhere WIFI

$10 per day

Unlimited data (Fair use policy applies)

Must be booked at least 10 working days prior to pick up

Available for hires of 14 days or more

Wireless Broadband and 4G not available everywhere. Connection not guaranteed.

· Not combinable with any other offer
· Limited stock: Subject to availability. Available for up to a total of 500 bookings nationwide with no more than 80 bookings per vehicle type.
· All standard Britz and maui fees and charges apply including but not limited to credit card administration fees, location fees, road user recovery fees, public holiday surcharges, liability reduction and inclusive pack fees and express return pack charges. More here.
· All Britz Campervans and maui motorhomes terms and conditions apply
· Britz Campervans and maui motorhomes reserve the right to withdraw this offer at any time