Join thousands of fellow campervan travellers
Sign up for our Britz newsletter to receive inspirational travel content and awesome deals, and we'll send you a copy of our Ultimate RV guide!
Thanks
Please confirm subscription in your email.
Route travelled: Auckland to Waitomo, Raglan, Matamata, Coromandel and back to Auckland
Number of days: 10 days
Campervan type: Britz Explorer
Ages of those travelling: 31 and 37
Day 1 and 2: Auckland to Waitomo
Distance: 200km Driving time: 2.5 hours
We left Auckland in the morning, stopped in Hamilton for lunch (at the botanical gardens, very nice) and arrived in the evening just in time for curly fries at Curly's! We Spent a day and a half with The Legendary Blackwater Rafting Company, exploring magnificent glowworm caves and mysterious underground rivers.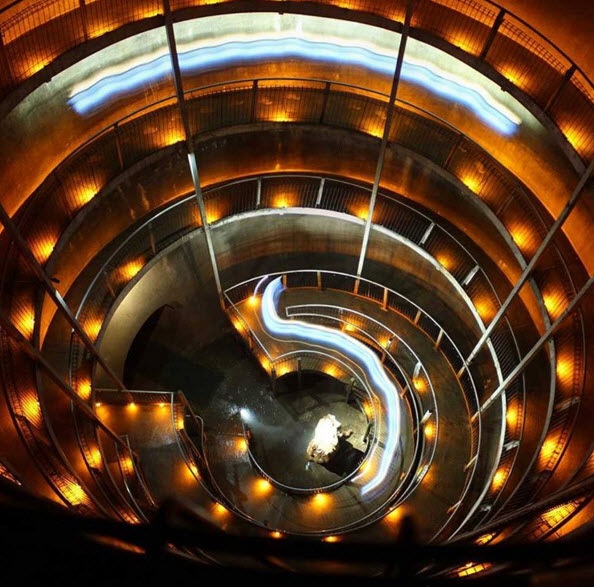 Days 3 and 4: Waitomo to Raglan
Distance: 100km Driving time: 1.5 hours
We started with a beautiful drive through idyllic green hills and dales. Hit the coast at Raglan and it is beautiful, long, perfect off-shore left-hand point breaks. Stayed at Solscape – a beautiful eco campground perfectly built to the surrounds with exceptional sea views. We also drove the camper to a nearby bluff and cooked local mussels in white wine with a billion dollar view of the sunset. Detour to Bridal Veil Waterfall for epic selfies – pole and all.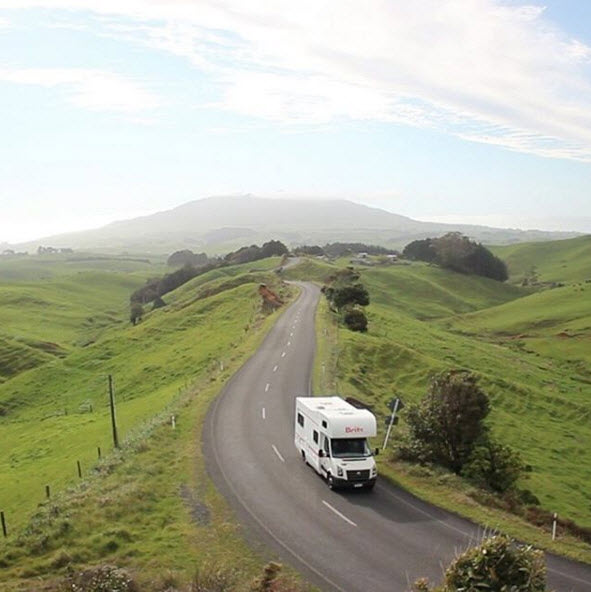 Day 5 and 6: Ragland to Hobbiton to Karangahake Gorge to Hotwater Beach
Distance: 280km Driving time: All day (with some epic stops)
We left at dawn and arrived at night. Make sure to arrange a late check-in at your campsite beforehand if arriving after hours.
Hobbiton is beautiful, an absolute MUST (get a private guided tour for total access if possible). Karangahake gorge is worth a refresher stop for sure. Cross ancient iron suspension bridges and dip your toes in the cold, clear creek. Hot Water beach is beautiful. Rent a shovel at low tide and dig your own steamy jaccuzi – especially magical by the light of a full moon. Cathedral Cove and Islands by kayak tour had a fantastic encore after our guide recommended the Purangi Winery a close 5 minute drive away. Rustic feel, great presentation and any spirit you can imagine, all grown on site.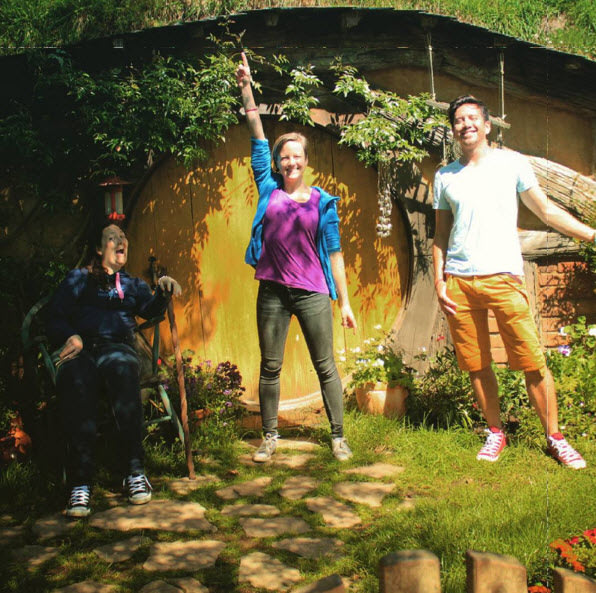 Day 7: Hot Water Beach to Auckland
Distance: 250km Driving time: 5 hours
Take the scenic route back to the capital via Coromandel town for some hilltop roads and amazing views. Stop off just north of Whitianga for fresh Oysters in a fisherman's garden by the roadside. In Auckland, stay at the Takapuna Beach Holiday Park, right on the beach next to a great café. In & around Auckland, drive along Mission Bay for a lovely view of the city, check out Michael Joseph Savage Memorial Park, the view from Mount Eden (a volcano with a large green grass covered crater!) and don't miss the Skytower in town. The maritime museum run sailing trips around the bay, and wineries on beautiful Waiheke Island are well worth a day trip.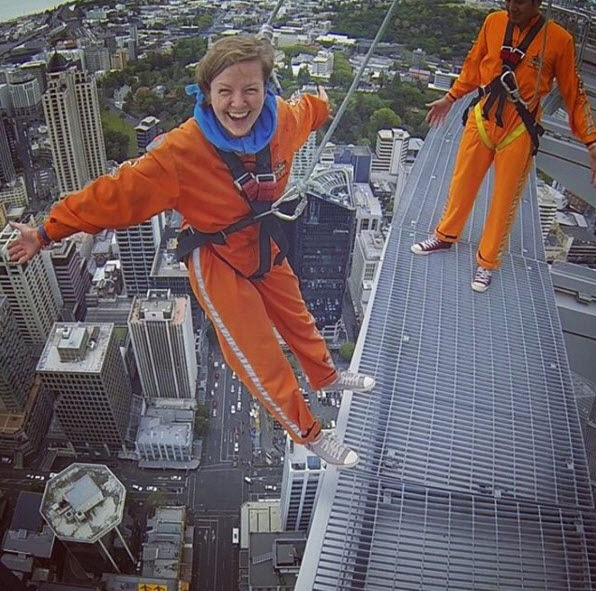 Road Trip Highlights
Where was the best view? Sunset at Shakespeare Cliff near Whitianga was wonderful

Best picnic stop? Michael Hope Lookout in Raglan – great views of the ocean, surf & cliffs

Where was your favourite place/town visited and why? Hobbiton, so much effort is put into it, the gardens are a joy and a permanently maintained film set is a real rarity

What was your favourite experience/activity and why? Waitomo. Cause caving is just awesome.

What were the highlights? Hobbiton, Black Water Rafting, Kayaking, Hot Water Beach, the Purangi Winery, Skytower Skywalk

Best café for coffee? Takapuna Beach Café, next to the Takapuna Beach Holiday Park

Favourite pub/restaurant? The Purangi Winery

Where was your favourite holiday park? Solscape for the chilled out vibe and views

What would be your top tip for other campervan travellers? Plan in an extra hour when driving, there are so many lovely little places to stop off at along the way

Can you share a recipe from something you cooked in the campervan? You MUST try Kiwi dairy products, they are amazing. Non-homogenized milk, yoghurt and coconut yoghurt are amazing. Fresh seafood along the way is a must, as well as L&P (you'll know why).

What is your greatest memory of the whole campervan holiday? How approachable and friendly everyone was – tourist sites can get a bit hectic and formulaeic, but pretty much everywhere we went, people took time to make us feel welcome. And being among the crowds in central Auckland at 4am watching the All Blacks win the world cup was incredible.