Join thousands of fellow campervan travellers
Sign up for our Britz newsletter to receive inspirational travel content and awesome deals, and we'll send you a copy of our Ultimate RV guide!
Thanks
Please confirm subscription in your email.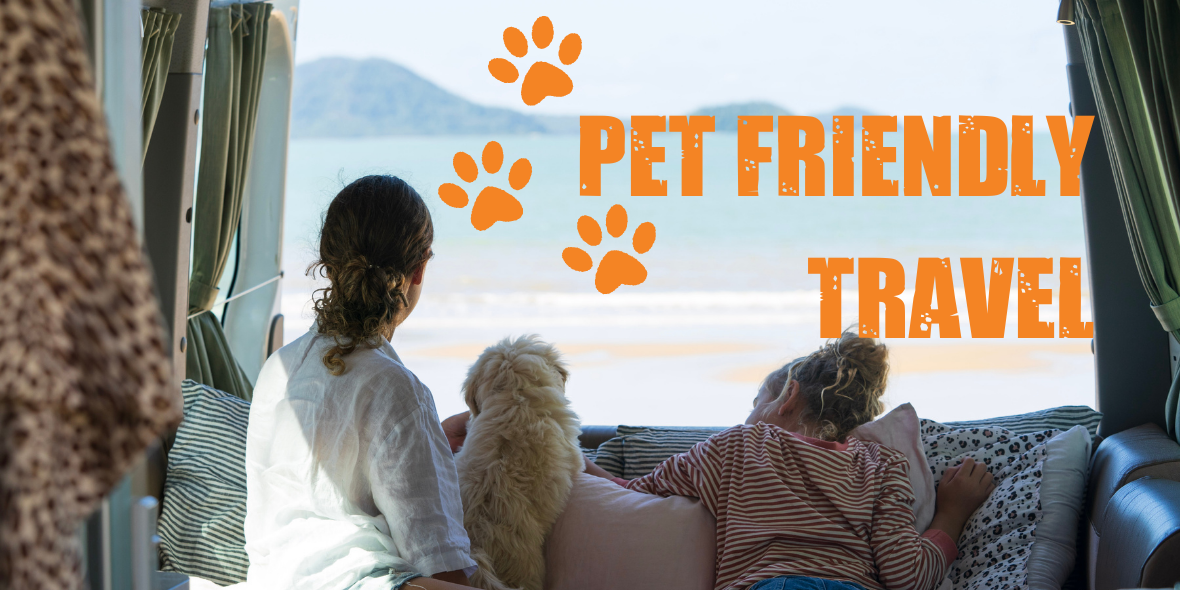 Are you planning a holiday for the entire family? We understand that your furry friends are part of the family too, and Britz loves pets! One of the benefits of travelling with a camper is the ability to bring your pets along for the ride. No one gets left behind! Each camper can host up to 2 well-behaved, registered dogs or cats. Here's everything you need to know about travelling with your pet in your Britz camper.
Booking a campervan rental with pets
Travelling with your pet has never been easier; hire a Britz camper and hit the open road with all your favourite companions onboard. Browse through our campervan options confidently, knowing all models are pet friendly.
Simply add a pet fee at the time of booking ($299 per hire). This fee allows us to give campers a deep clean before it is handed over to the next guests.
We kindly ask that all your furry friends are treated for fleas before coming aboard. And, toilet trained pets are a must!
Planning your pet-friendly campervan trip
Where to stay
We recommend that you plan ahead, check to see if dogs are permitted at your intended destinations and campgrounds in advance. The thl Roadtrip App allows you to search for pet-friendly campgrounds. Download the app today and discover all the places you can travel to with your furry friends in tow.
Many of New Zealand's national parks and the surrounding campsites will not allow pets on site. Although be sure to check this on the Department of Conservation's website prior to your visit. New Zealand is brimming with wildlife; many native birds are endangered, so there are rules in place to protect the local wildlife.
Pets can come too is another great resource for finding pet-friendly places to park your camper. Many privately owned campsites and some council sites will be happy to have you and your pet stay. Although some may ask for your pet to be on a leash.
When travelling around New Zealand, it's best to plan ahead. Research all the places and attractions you want to visit to confirm if pets are welcome. We ask that pets are not left unattended in your camper. Plus, we're sure your companion won't want to miss out on all the action!
What to pack for your pet
Travelling with your pet is much like travelling with anyone else; remember to pack for them too. Here are some of the things you should pack for your pet:
Pet seat belt adaptor or Harness...Keep your pet contained when travelling to ensure the driver does not get distracted.
A bed... Bring along your pet's bed to offer a sense of comfort and familiarity in this new environment.
Pet food... Most campers are equipped with a small fridge so pet food can be kept cool and fresh.
Pet chew toys... Keep your companion entertained on your travels.
Water and food bowl... Campers are equipped with bowls and more for humans, but you'll need to bring your own pet bowls.
Pet poop bags... It goes without saying, but be sure to pick up after your pets along your travels.
Leash and long lead... Even the most well-behaved pets might be required to go on a leash at certain campsites and attractions.
Pet towels... Bring some towels for cleaning grubby paws or using after a post-beach rinse.
Tent pegs... To easily attach your pet's leash should your campsite require it.
Pet jackets... or any other clothing to keep your pets warm and cool.
Picking up and dropping your camper off at the branch
When picking up and dropping off your camper, we kindly ask that your pet is secure on a lead and supervised by an adult outside of our branch.
You can easily pick up your pet-friendly campervan from most of our branches - Auckland, Christchurch, Queenstown.
Rest easy knowing the helpful Britz team will ensure you know how to use your vehicle before you are on your way, and run through pre-check of the vehicle.
During your roadtrip
We want you to get the most out of your camper, and we really appreciate you taking care of your rental vehicle.
Please always check that your furry friends are clean and dry before entering the motorhome.
Double-check your pet is in a safe and secure spot before you hit the open road. We don't provide any restraints or anything to help them feel more comfortable while driving, so please bring something along to ensure they don't move around inside the vehicle while on the road.
We don't supply plastic bags or bins, so please be prepared so you can properly dispose of any droppings.
And, remember any costs arising from damage and soiling caused by your pets will not be covered under the liability reduction option. Any related fees are the responsibility of the hirer.
Book your pet-friendly campervan trip now!
Ready for the holiday of a lifetime with your furry friend in tow? Book now.
Don't forget to tag us on Instagram when on the road!