Join thousands of fellow campervan travellers
Sign up for our Britz newsletter to receive inspirational travel content and awesome deals, and we'll send you a copy of our Ultimate RV guide!
Thanks
Please confirm subscription in your email.
1. Wellington to Cape Palliser
One of the best drives from Wellington is out to Cape Palliser, the southernmost point of the North Island. This drive will take you out through Featherson towards Martinborough, although instead of taking state highway 53 to Martinborough, you will head around the eastern shores of Lake Wairarapa.
The drive-out is filled with dramatic scenery and coastlines and is a real highlight. The final destination is landmarked by the iconic Cape Palliser lighthouse, with its red and white stripes, sitting atop a rugged cliff face, overlooking a wild sea. As well as the incredible sweeping views of Palliser Bay that can be seen, look upon the North Island's largest fur seal colony as they play in the rocks and bask in the sun during the warmer months.
Experience the Green Jersey Cape Palliser Explorer Tour, an active tour in which you will walk up to the Cape Palliser lighthouse, walk into the Pinnacles, see the fur seal colony and finally stop in for a delicious meal of fish and chips at the local hotel.
Spend the night at the Waimeha Camping Village before heading off on your next adventure.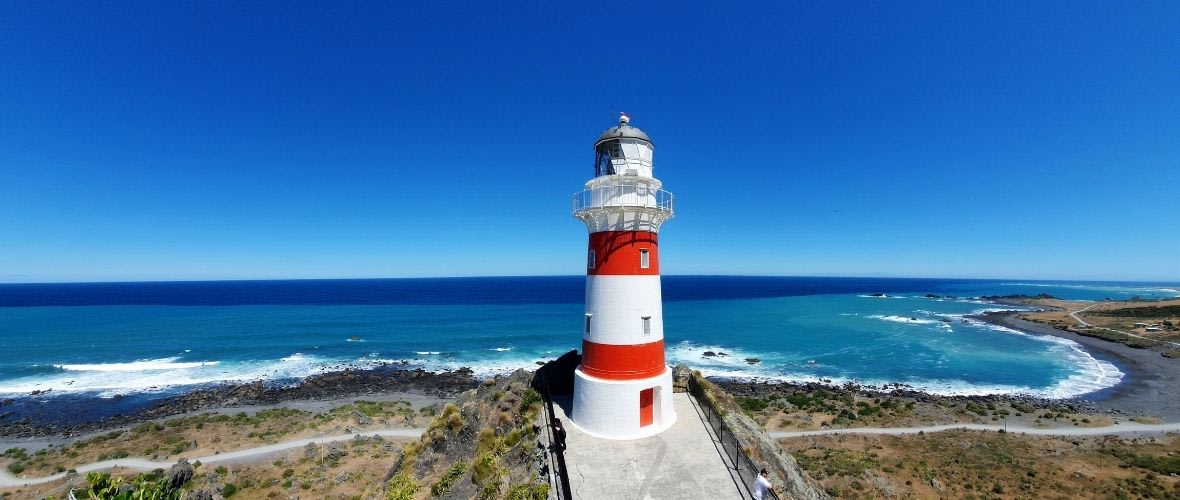 Image: Cape Palliser, Unsplashed
2. Wairarapa Valley Loop
A small yet diverse wine region, Wairarapa is a charming town and makes for an idealistic getaway filled with epic scenery and delicious drops. A short, scenic drive from Wellington, this picturesque spot makes for the perfect long weekend escape. Enjoy sampling a range of wine, tourism activities, and excellent dining experiences.
From Wellington, pass through the Hutt Valley where you can stop in at Golders Cottage Museum, or ride the Silverstream Steam Railway. Follow on to the river and turn off towards the Remutaka Crossing lookout before heading on to the Wairarapa Valley for some of the finest Pinot Noir in the region!
Check out Castlepoint Holiday Park for some beachfront campervan accommodation.
Image: Wairarapa, Unsplashed
3. Wellington to Nelson
Nelson is the oldest city in the South Island, well known for local arts and crafts, as well as a good base for vineyards and Abel Tasman National Park. As the sunshine capital of New Zealand, there is so much to explore and discover.
This road trip is the perfect week-long adventure. Leaving Wellington, take the Interislander ferry across the Cook Strait to Picton. Once in Picton, you will be set to kick off your roadie to Nelson. Take the Queen Charlotte Drive along 40kms of stunning scenery through native forest and sleepy bays. Be sure to make lots of stops along the way to take in the beauty of this drive to Havelock.
Once in Havelock, stop for a taste of greenshell mussels or a scenic walk at Pelorus Bridge. If it's a warm day, pack your togs and enjoy the swimming hole. Havelock is the Greenshell Mussel capital of the world so be sure to get your seafood fix.
From Havelock, head over the Whangamoa Range to Tasman Bay. Nelson is the largest town in the region and is surrounded by incredible beaches including Tahunanui.
For accommodation, check out Nelson City Top 10 Holiday Park, the perfect spot to base yourself for exploring the beautiful Nelson-Tasman district.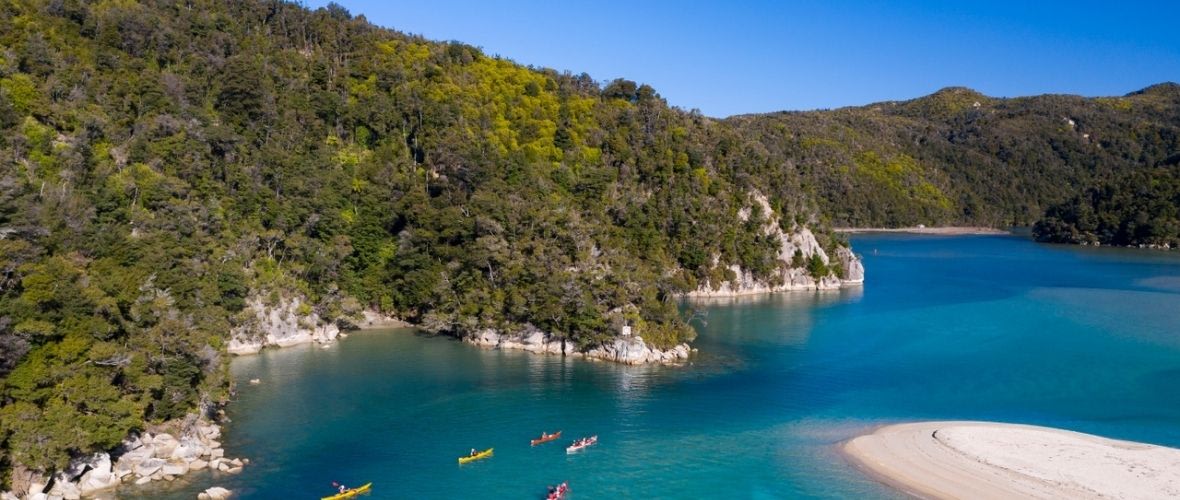 Image: Tasman Bay, Nelson Tasman Image Library
4. Wellington to Auckland
Reverse our itinerary to follow this epic North Island route and head north to Auckland. Explore the spectacularly diverse island, from seaside cliffs and pristine beaches to volcanoes and giant lakes. One of the best road trips in New Zealand, this itinerary is not one to miss.
A spectacularly diverse destination to explore, this North Island road trip will take you to the iconic Wairarapa coast to explore Castlepoint and Cape Palliser before heading to Napier to explore the history of this town.
Heading further north towards Lake Taupo and Rotorua, a thrill-seekers paradise, spend some time experiencing the many different outdoor activity options and rich Māori culture before heading to Matamata and the Coromandel Peninsula.
The Coromandel Peninsula will provide you with pristine beaches and incredible coastal views set against a backdrop of native bush, before finally arriving in Auckland.
Image: Britz Auckland, thl Content Hub
5. Wellington to Christchurch
Our Wellington to Christchurch itinerary will take you on a tour of some of the most iconic beaches in New Zealand, incredible vineyards, geothermal wonders, and eclectic cities. This trip begins with a scenic ferry trip across the Cook Strait, through the Marlborough Sounds to Picton.
From here you will explore the Queen Charlotte track or Marlborough Sounds on a cruise, hike, or kayak. If you're more of a foodie, Blenheim is a short drive away and the gateway to the Marlborough wine-growing region.
Following the Pacific Coast south to Kaikoura, iconic for its abundance of wildlife and marine nature cruises. Stop at Hammer Springs for a day of relaxation before driving onto the garden city of Christchurch.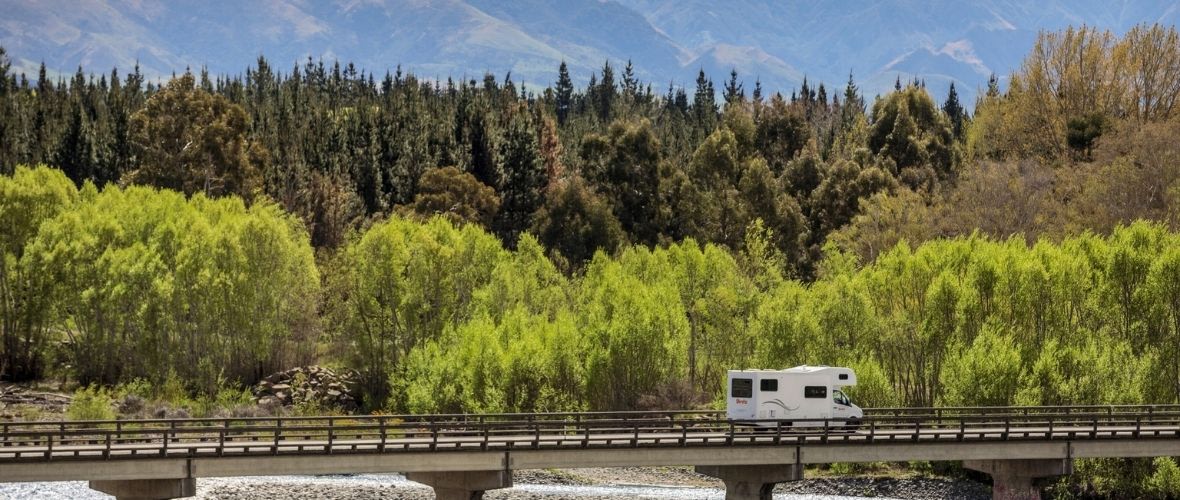 Image: Britz Hamner Springs, TNZ Image Library
6. Martinborough
Martinborough is a must-visit for anyone who is looking to enjoy a day of wine-tasting against a picturesque backdrop of lush vineyards. Throughout the year Martinborough has a calendar of popular events that draw in large crowds of foodies and wine lovers alike.
Packed with colonial charm, Martinborough is home to over 20 wineries, most within walking distance from the picturesque village square. Some of the best pinot noirs in New Zealand come from the town's family-owned vineyards. Be sure to bring your appetite on this trip as you will sample some incredible wine and excellent restaurants during this relaxing, recharging escape.
If wine isn't your thing, not to worry, there are some incredible cycle tracks as well as a jazz community. There's always something fun to take part in when you visit Martinborough.
Check out Martinborough Top 10 Holiday Park for central accommodation close to award-winning wineries and local eateries.
Image: Martinborough, TNZ Image Library
7. Wellington to Napier/Hawkes Bay
The perfect week-long trip. Enjoy the drive from Wellington to Napier for some incredible wining and dining and back to Wellington for some capital culture. There is lots to do on this short trip, we recommend driving through Martinborough to enjoy the diverse landscapes of New Zealand and experience this charming region.
After driving through Hastings and arriving in Napier, we recommend taking it slow and spending this time relaxing and doing exactly what you want. Hawes Bay is one of New Zealand's most famous wine regions, so it would be rude not to sample some of the local drops, if you're after some adventure, try a cycling winery tour to truly earn your wine!
There are some epic walking tracks you can take to admire the spectacular views of the Hawkes Bay coastline. If you are keen to explore the architecture of this unique place, take a guided walk to learn about the history of the buildings around Napier as you take a blissful stroll around town.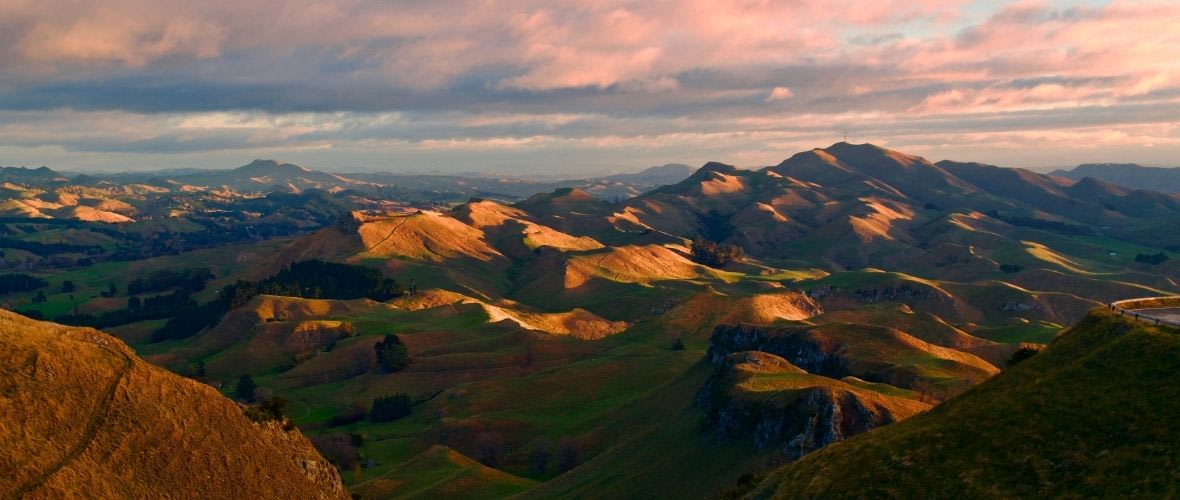 Image: Te Mata Peak, Unsplashed
8. Wellington to Putangirua Pinnacles
If you're a fan of Lord of the Rings, then a visit to the Putangirua Pinnacles is a must-do! You don't have to travel too far from Wellington to be transported to another world. The Putangirua Pinnacles are some of the most amazing rock formations in New Zealand. Explore this natural wonder up close with one of three trails to choose from. Located on the Wairarapa Coastline near Cape Palliser, these towering stalagmite structures featured in Lord of the Rings are something truly incredible.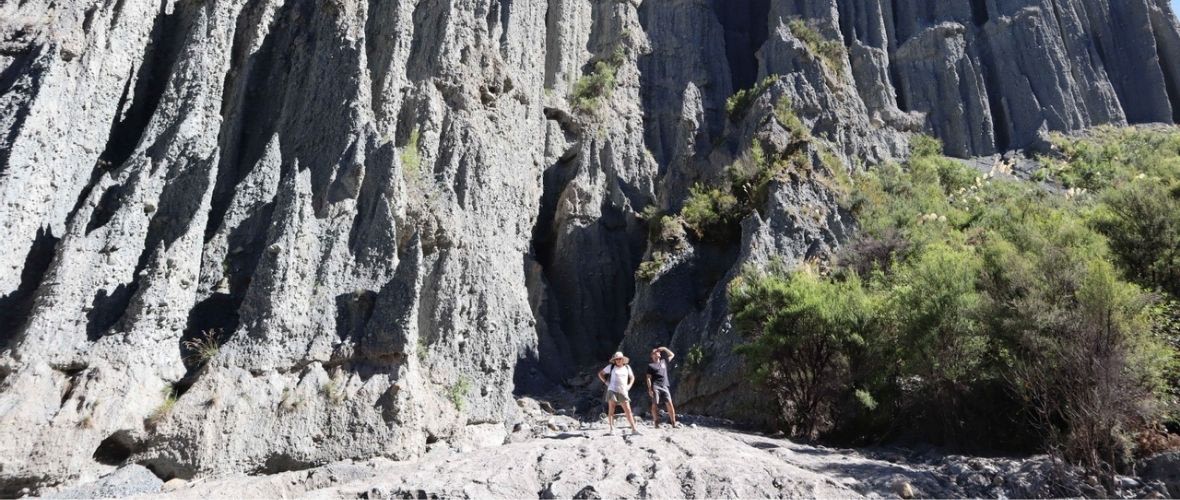 Image: Putangirua Pinnacles, Wellington Image Library
9. Lower North Island Tour
Taking some time out to explore the North Island will provide you with a range of experiences and natural wonders to marvel at. Starting in Wellington, head over the Rimutaka range to Martinborough for a taste of great kiwi wine and incredible food. As well as this, the region boasts incredible architecture and beaches to explore. From there, driving to Taupo will offer beautiful scenery, geothermal parks, and an adventure-lovers paradise.
Driving the Desert Road takes you past several volcanoes to marvel at. Driving this route in a motorhome provides you with epic panoramic views the whole way and will give you a taste of the local culture of each spot, as you carve your own journey and stay and play in each destination as long as you want.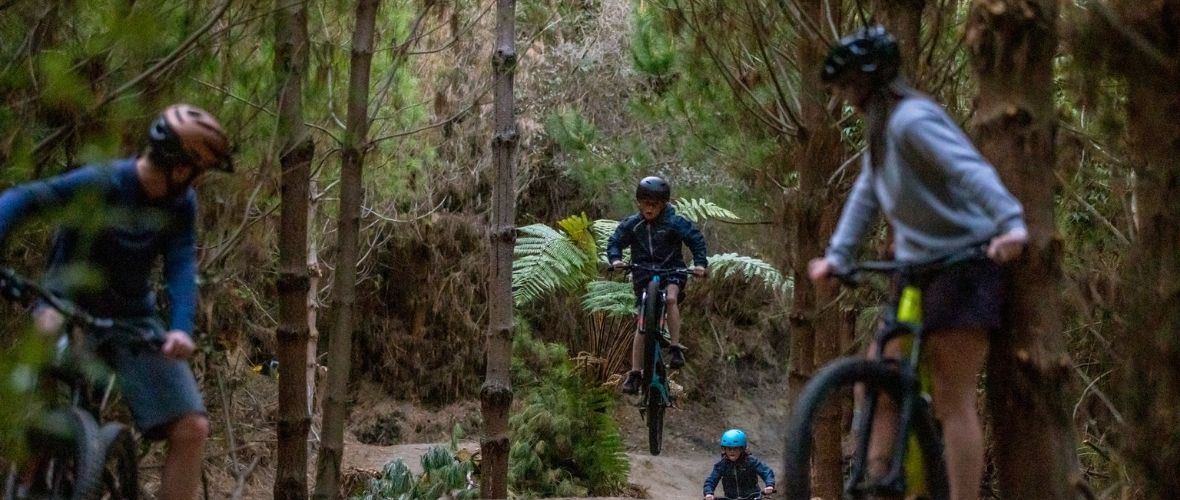 Image: Taupo Mountain Biking, TNZ Image Library
10. Waiohine Gorge and Masterton
The drive from Wellington to Masterton takes a similar route to the path to Martinborough, although when you get to Featherson, carry on north on SH2. This drive is incredibly scenic and having the panoramic views of a campervan allows you to admire all the sights on your journey.
To stretch your legs on the journey to Masterton, stop at Waiohine Gorge, an idyllic spot for swimming and walks. There is a secluded campsite here at the head of two epic gorges above the river. Spend a night here and make the most of the outdoor activities in this blissful spot.
Continue to Masterton and spend your time here exploring this charming town.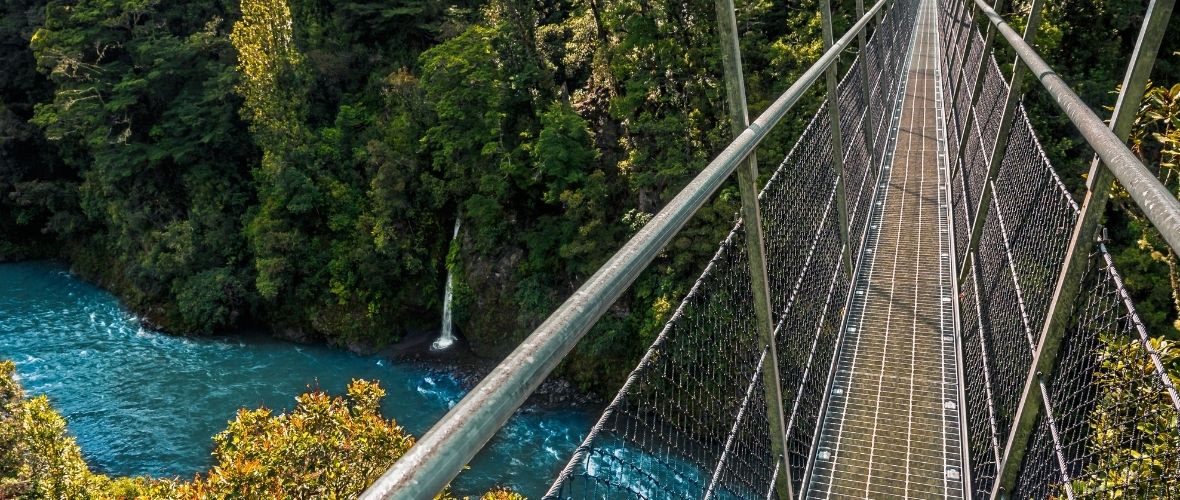 Image: Waiohine Gorge, Unsplashed
Ready For Your Next New Zealand Adventure?
A road trip across New Zealand will be the adventure of a lifetime. No matter what kind of vacation you're looking for, you are bound to find activities you will love. Enjoy everything from wine tasting to adventure sport; there is something in New Zealand for everyone. Make the most of the epic scenery and slow down long enough to soak in the views.
Book your Britz camper today, Or check out our latest deals.