Join thousands of fellow campervan travellers
Sign up for our Britz newsletter to receive inspirational travel content and awesome deals, and we'll send you a copy of our Ultimate RV guide!
Thanks
Please confirm subscription in your email.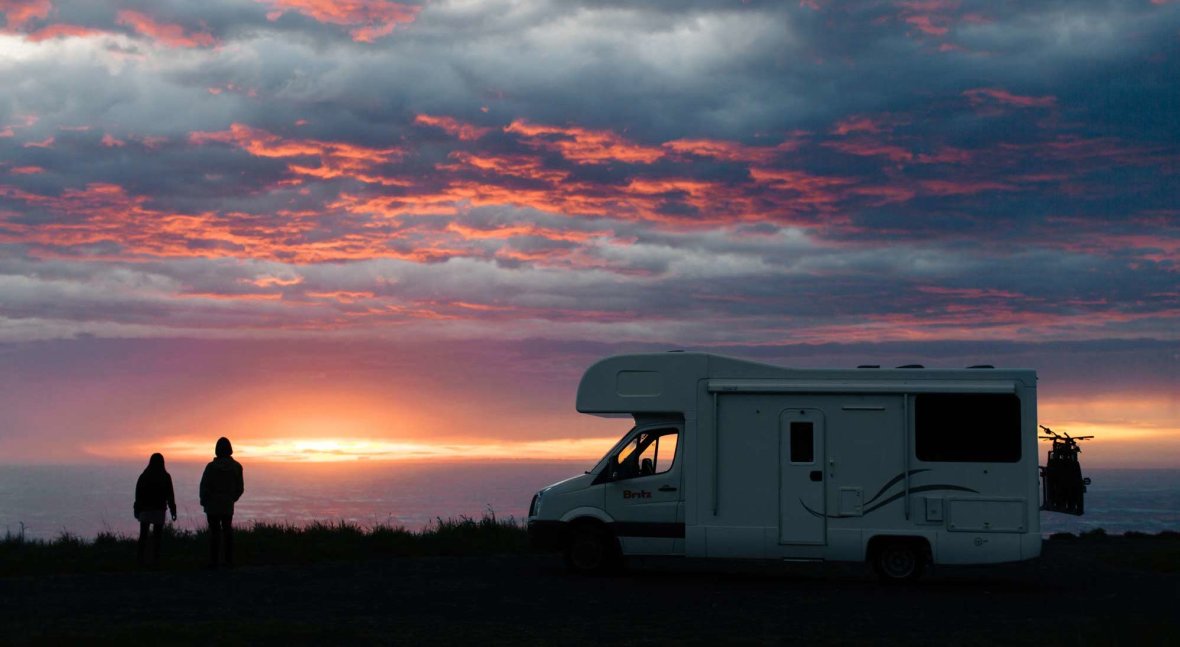 It's no secret New Zealand is home to some of the world's best beach destinations. Look up "paradise" in the dictionary and a picture of Bay of Islands or Abel Tasman National Park wouldn't be out of place. But when you're on the road looking for that #roomwithaview, or a chilled-out beach to set up surfside for a few days, not all New Zealand beaches are going to cut the mustard.
The first thing people want to know is 'can I camp on the beach?' Usually, this isn't permitted in New Zealand, and rental companies don't allow their campervans to be driven down onto the beach either – but there are tonnes of awesome campgrounds, caravan parks and reserves right beside some of New Zealand's best beaches, many of which are low cost or even free.
If we tried to list them all we'd end up with an encyclopedia on our hands, but to get you started, we've picked out a few pearlers and included the deets on what you'll need to spend a night – or ten!
Tapotupotu Bay, Northland
If you're after a scenic spot to park up and get salty, Tapotupotu Bay is well worth the adventure to New Zealand's most northern point. Despite being unpatrolled, the beach itself is popular for a summertime swim or surf, and keen anglers can pick from casting off the beach or a number of rock platforms. While you're in the area, drive a few minutes (or if you're feeling energetic, walk three hours along the coast track) to the lighthouse at Cape Reinga – one of the most iconic seascapes in New Zealand.
Where to camp
A lagoon-like stream, foaming surf and grassy bluffs frame the picture-perfect Department of Conservation (DOC) camping area at Tapotupotu Bay. There are 45 unpowered sites available on a first-come first served basis, plus toilets, tap water and a cold shower. Do come prepared with all the food you need because the nearest shop is a 20-minute drive back south.
See Tapotupotu Bay on your Twin Coast Discovery itinerary.
Tokerau Beach, Northland
Just south of the Karikari Peninsula in Doubtless Bay, Tokerau Beach is a broad sweep of caramel and white sand that extends as far as the eye can see. If you're into surfing, you'll be stoked on the choice of right and left-hand breaks along Tokerau's length, with conditions often catering for all abilities.
Where to camp
Uninterrupted views across the surf, a sense of seclusion, and a sunrise you can watch from bed – yep, this is what it's all about. The Tokerau Beach freedom camping area is insta-ready, but fair warning – it is a little tricky to find on an unsealed road, there's no drinking water around and the toilets are a bit of a walk from camp.
Matai Bay, Northland
Prepare for dropped jaws when you arrive at Matai Bay, a scalloped bay of powder-white beaches on the outer limits of the Karikari Peninsula. Protected by arcing headlands, the glassy turquoise water laps gently at the sand making it perfect for swimming, kayaking and bobbing around on an inflatable flamingo.
Where to camp
The grassy DOC campground at Matai Bay is lovely-as-can-be, tucked among pohutukawa trees just 50m from the beach. You don't need to book your spot here as it's first come first served, and has 100 unpowered sites, cold showers, tap water, flushing loos and boat access.
Include Maitai Bay on your Northern Adventure itinerary.
Piha Beach, Auckland
An interesting departure from the 'white sand/glassy blue water' idyll is Piha Beach – a black sand beach and wild surf break about an hour from our Auckland campervan hire branch on the untamed west coast. The swathe of salt 'n' pepper sand that stretches between two rocky headlands is a dramatic sight any time of year, but unless you're a diehard surfer and confident reading currents, Piha Beach is best swum in summer between the flags.
Where to camp
Piha Motor Camp is less than 10 minute's walk from the beach, and the striking Lion Rock. Its powered and unpowered sites occupy a grassy area with picturesque stream running beside it. Spare yourself the future #throwback posts, as the nightly rate includes use of wifi, as well as the shower blocks and camp kitchen.
Stay at Piha on your first night after picking up your campervan in Auckland.
Mount Maunganui, Bay of Plenty
It's been voted the best beach in New Zealand so of course, you'll be curious to check out Mount Maunganui Main Beach in Tauranga. The 1km-long stripe of powder-white sand makes an arc between the foot of Mauoa, an extinct volcanic cone known to locals as "The Mount", and Moturiki Island which is accessed from the mainland via a bridge. The walking trails up the mountain or out to the island's blowhole are great ways to warm up before going for a dip in the crystal blue water.
Where to camp
The Mount is a popular spot for obvious reasons, so make sure you book your stay at Mount Maunganui Beachside Holiday Park in advance if you want to score one of their best oceanview powered sites for your campervan. Back in Tauranga proper, there are plenty of beach holiday parks as well as reserves for self-contained freedom campers sprinkled along the water, down to Papamoa Beach and beyond.
Visit Mount Maunganui on this Pacific Coast itinerary.
Stony Bay, Coromandel
The unspoiled, hidden beaches of northern Coromandel are where locals go to get away from it all, and when you see Stony Bay, it's not hard to see why. It begins with a stunning drive north, and on arrival you're rewarded with a pebbly cove lined with weathered pohutukawa trees, and nestled between grassy hills. The calm blue water here is ideal for a swim or paddle, and exploring the Coromandel Coastal Walkway is a must.
Where to camp
The Stony Bay campsite is located right beside the beach, with 122 sites across a whopping five hectares. You'll need to book this one, and arrive prepared to take all rubbish except compost back out with you. With cold showers, toilets and water (treat before drinking), you can get comfy here for up to two weeks.
Visit Stony Bay on our Auckland to Coromandel itinerary.
Hahei Beach, Coromandel
As if the turquoise water and blushing pink sand at Hahei Beach weren't enough, from here it's an easy walk to the famous archway and sculpted rocks of Cathedral Cove – a bucket list mainstay. A short drive in the opposite direction brings you to Hot Water Beach, one of New Zealand's renowned thermal beaches where you can tap into the steamy groundwater by digging out your own spa pool in the sand.
Where to camp
With absolute beach frontage, Hahei Holiday Resort claims some seriously stunning real estate. Not all the campsites have the view so make sure you book a beachfront powered site to make the most of the location, and the full range of RV facilities.
See Hahei Beach on our Auckland to Coromandel itinerary.
Waihau Beach, Gisborne
You'll be among the first people in the world to see the sun come up when you camp by the beaches north of Gisborne. There's some brilliant destinations to choose from, but our pick is Waihau Beach, where you can fill your days fishing, surfing, swimming, diving and wandering along the 6km stretch of pink-hued sand.
Where to camp
Step out of your van and into the sand when you park at Loisels campsite, a low cost campsite run by Gisborne City Council. Permits are required, and there are toilets available but you'll need to BYO water – unless you're prepared to boil it from the stream. Avoid peak holidays you'll have no trouble claiming a spot with an uninterrupted view of the horizon from your home on wheels.
Add Waihau Beach & Gisborne onto this Thermal Explorer itinerary.
Waipatiki Beach, Hawke's Bay
If you're keen for a secluded beach on the North Island's east coast, Waipatiki Beach in Hawke's Bay might just be your bag. Hemmed in by hills on each side, you'll approach through a small settlement in a pastoral valley that opens out to stretch of golden sand. Sunrise here is well worth rising before the birds.
Where to camp
Waipatiki Beach Holiday Park is reached through beautiful farmland, and lies just 300m from the beach – the walk takes around five minutes and follows a freshwater stream. The tiered design of the property maximises the number of campsites with a glorious ocean view. It's a full-facility holiday park perfect for all types of RVs and caravans.
Tag Waipatiki Beach onto the end of your Thermal Explorer trip.
Ohawe Beach, Taranaki
The Taranaki region on the west coast has an exhilarating coastline made up of windswept cliffs and volcanic black sand beaches that become strewn with pebbles and driftwood, and Ohawe Beach is a pretty great example. When the water is calm, you can wade out across the tide terrace quite a distance before the water deepens. But if the conditions are rough, stick to combing the shoreline for washed up treasures at low tide.
Where to camp
Ohawe Beach Camp offers low cost powered and unpowered camping a short walk from the beach, and many of the sites boast ocean glimpses. You can get pretty comfy here, with hot showers, communal kitchen, fridge, freezer and laundry. But the real draw? Catching a blazing west coast sunset over the moody ocean.
Responsible freedom camping in New Zealand By now you'll have a pretty good idea of the different types of campsites you'll find in New Zealand, including some that are completely free. If you plan to make the most of these amazing freedom camping reserves, it's important to remember that looking after the campsite and the environment is your responsibility. The rules for each free camping area will always be clearly laid out on signs, but if you need to brush up, here's some quick guidelines:
Designated freedom camping areas have basic, or no facilities and are suited to self-contained campers only, such as the Britz range which is certified self contained. If you don't have a toilet/shower in your campervan you'll need to use public bathrooms.
Always aim to leave the site the same, if not better than you found it. Dispose of all waste at the appropriate facilities, and recycle when you can. Responsible Freedom Camping is about enjoying the beauty of New Zealand, and ensuring it stays that way.
Freedom camping is awesome now and then, but to truly enjoy your campervan trip around New Zealand and support local businesses, we recommend staying at a mix of holiday parks and DOC campgrounds as well.
It goes without saying but New Zealand is a pretty special place and its varied coastline and abundance of unspoiled beaches play a big part in that. We hope you've now got a few great ideas for where you can go to make the most of your campervan experience, but if you need a little more inspiration, see our popular itineraries. Know where you want to go, but not sure how to plan? See our New Zealand campervan tips.
More to see in New Zealand