Join thousands of fellow campervan travellers
Sign up for our Britz newsletter to receive inspirational travel content and awesome deals, and we'll send you a copy of our Ultimate RV guide!
Thanks
Please confirm subscription in your email.
Cathedral Cove Walk
Distance: 2 hour return
Difficulty: Easy - with a few steep sections
We didn't get far from Auckland before reaching our first walk of the trip. Just two hours from Auckland, is the Coromandel Peninsula and 'hidden' there we found Cathedral Cove; perhaps the North Island's most famous beach. Almost every tourist will have it on their itinerary but not everyone will know about the looong walk required to reach it, we didn't!
The road leading to the Cathedral Cove area was absolutely stunning, with dramatically changing landscapes around every corner. It was easy understood why The Coromandel adopted the phrase 'good for the soul', because thanks to the beautiful drive we weren't even mad about having to park an extra 45 minutes away from the tracks start! (Parking is restricted for larger vehicles. In winter you can pay to park at the track or park slightly out of town and walk in - which is what we did. In summer, the only option is the out of town parking but peak season means they run a shuttle bus too)
The Cathedral Cove walking track is mostly a leisurely 45 minutes walk along formed footpaths, but don't be fooled by the easy bits because there are times where the track gets pretty steep - and remember, going down on the way there means going up on the way back! We had prepared ourselves to a pretty busy beach, given how often Cathedral Cove crops up in North Island online searches but it was actually pretty quiet, even at sunset! Of course, it helps that it was the middle of winter but that sure has its bonuses.
Top tips for enjoying Cathedral Cove
Spend a bit of time on the beach exploring!! We saw plenty of tourists rock up, take their photos then leave… it's a pretty long walk just for a quick snap!! Each to their own but if you walk through the famous archway and carry on up the beach, you'll find the views looking back are pretty cool. Also walk right along the beach before the arch. On this side are a couple of caves as well as an old hut and a few unique rock formations. Also don't miss the two additional bays you can go to along the way, just follow the signs! Each one will add another 5-10 minutes onto your trip and will include a lot of steps but they're definitely worth the detour! We particularly liked Gemstone Bay, mainly because nobody else seemed to bother with them so we had it to ourselves.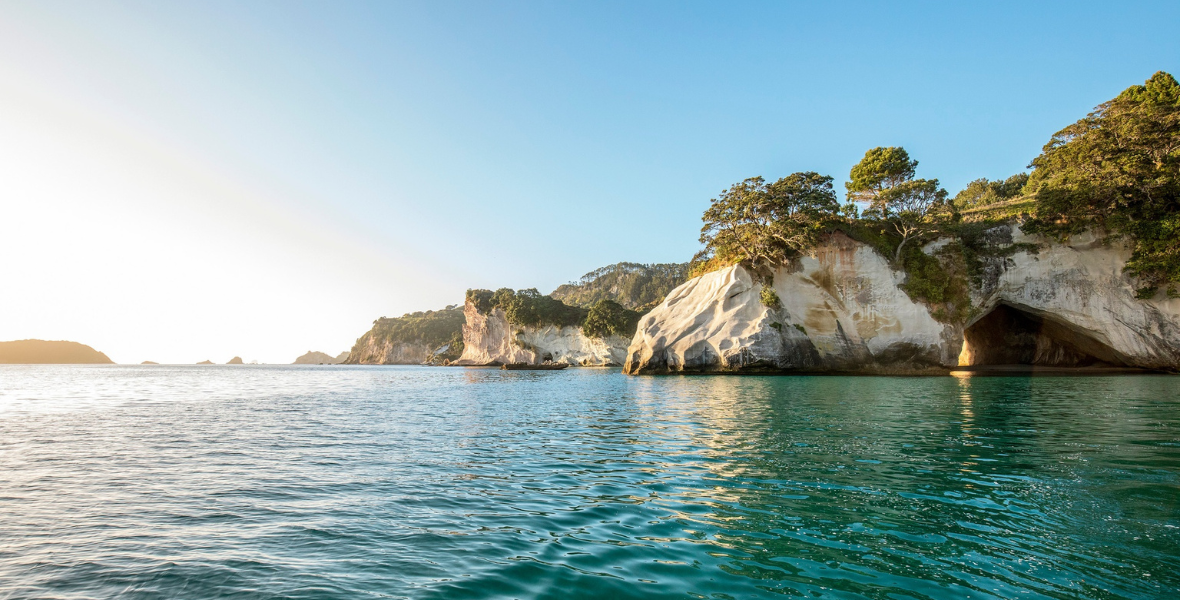 Image Source: Tourism New Zealand Image Gallery
Mount Maunganui
Distance: 2 hours return
Difficulty: Steep with steps
One thing we weren't short of during our 5 weeks travelling the North Island was volcanoes to climb. Of all the ones we did, Mount Maunganui was one of our favourites - yep, sorry Mt. Eden! Mount Maunganui is 232m tall (761ft), about 3 hours away from Auckland and offers some amazing city and coastal views! It was here we had our first rainy day walk so this was the birthplace of our Britz Vista toilet/dry room 'hack'… something we would end up using quite often!
Despite the weather being pretty stormy all morning, we caught a break between showers and headed from our camp to tackle the summit track. There are 2 routes that will get you to the top of Mount Maunganui, both take roughly 50 minutes but wind up alternative sides; One gives great views over the harbour and the city while the other gives scenic views of the coast. They also both include a lot of steep steps but the new pushchair/ wheelchair friendly route is currently being built so Mount Maunganui will eventually be accessible for everyone. After 50 minutes of walking through tropical jungle and being surrounded by huge ferns, the vistas open up to panoramic views over the town below and out across the ocean, including Moturiki Island. We were occasionally joined by cheeky little fan-tails, curious to know what we were doing but also making sure we weren't getting too comfy on their home turf. If you're lucky, you might see dolphins or whales passing through the area too!
Top tips for enjoying Mount Maunganui
Take your time. We have a good level of fitness and while Dec found it easy, there were parts that really took my breath away. There are plenty of view point and benches along the way that make great excuses to stop so why not use them? Also, explore a bit more of the summit beyond the standard look out, you can walk around the top to experience an almost 360' view.
Camping near Mount Maunganui
There are several freedom camping options near Mount Maunganui for self-contained campers - the only problem was finding an empty spot, even in winter!! So we opted to try out our very first ever campsite that was conveniently located at the start of the walking track! If the weather had been nicer it would have been the ideal spot to unfold the awning and get out the camp chairs for a spot of outside dining.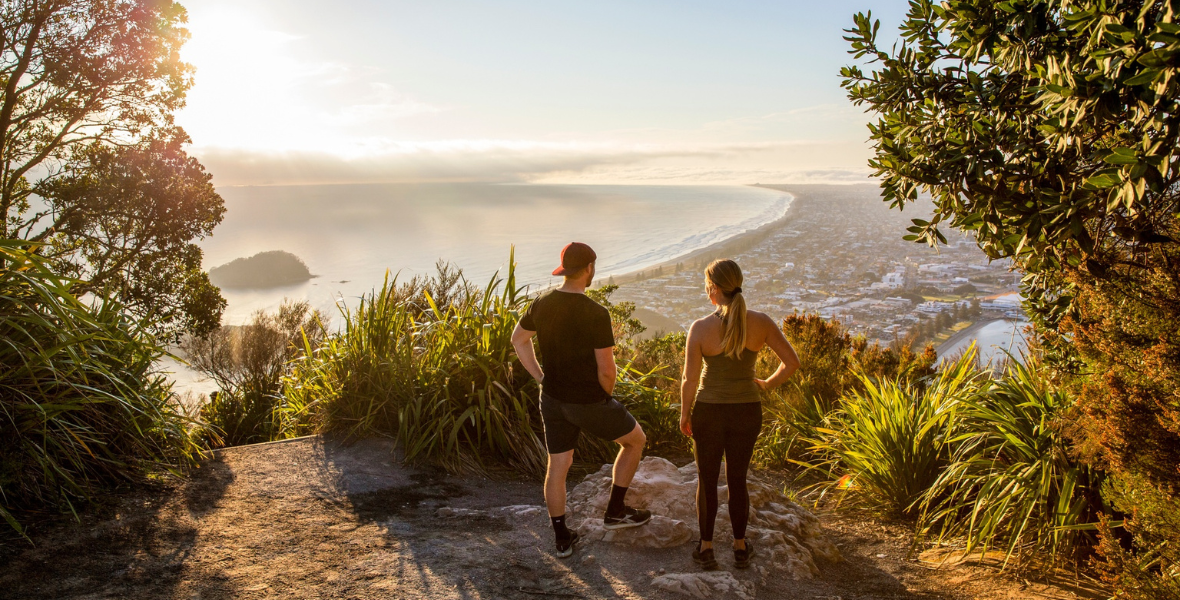 Image Source: Tourism New Zealand Image Gallery
Te Mata Peaks
Distance: 1.5 hour return
Difficulty: Easy with an optional steep section
Our detour to Te Mata Peaks was very last minute - we saw a sign and simply followed our noses. It changed our plans by about 3 hours, but that's one of the main reasons we loved road tripping in the Britz so much - the freedom of living on the road, having everything with you and not having to worry about anything… it's a feeling a 'normal' holiday can't give you!
This easy walk is located 30 minutes south of Napier and is in the heart of some really unique landscapes, from open farmlands to rolling hills and even a redwood forest, Te Mata has it all! We hadn't planned a stop here so we had 0 expectations but now I can say wholeheartedly that it is worth a visit. The path to the top begins at the final parking spot for larger vehicles. From here we already had a pretty decent view but we we'd made a detour to these hills for the gems that lie waiting at the top, so first we had to tackle the steep face of Te Mata. Like mountain goats, we started to zig-zag through the long grass following the worn path. It wasn't as bad as it looked once we were on our way up and the chains put in place by the DOC helped with the sections that required scrambling up rocks. The runners who passed us made it look easy but we made the most of the view points, using them to stop and catch our breath.
At about the half way point we stopped on a rocky outcrop to admire the view back towards Napier. From here we could see the ridge line tracing the top of the valley with the golden light of the late afternoon sun bouncing off it, giving the whole area a magical feel… it was hard to tear ourselves away. After about 40/45 minutes of zig-zagging and stopping to take photos, we reached the top just in time to watch the sunset with a 360' view around us - a reason in itself to walk up Te Mata Peak! We chose to take the more challenging route to the top but for anyone who fancies a more relaxed walk, there is the option to follow the narrow bendy road. It takes about 30 minutes this way and is a fairly gradual incline.
Top tips for enjoying Te Mata Peaks
There are several other tracks that spiderweb across the Te Mata ranges, including one that goes through an old redwood forest. Our mini detour didn't quite allow enough time for us to do these but we hope to make it back especially for them! It's also a great place for mountain biking so don't be afraid to pack to explore a little on the wheels instead!
Camping at Te Mata Peaks
Camping, even in a self-contained, is strictly prohibited in the Te Mata Peaks park but we did find a really nice free camp in Porangahau, just 1.5 hours away, we even saw whales really close to land from here! Another great thing about being with Britz during winter is all the free camps are pretty much empty but when you do want to pay for a campsite you don't have to book in advance! Making last-minute plans like these was really easy.
Mangorei Track to Pouakai Hut - Mount Taranaki
Distance: 4 hours return
Difficulty: Hard with lots of steps
Egmont National Park is on the North Island's West Coast, 1.5 hours from Wellington. It's famous for the almost perfect cone-shaped volcano; Mount Taranaki. We only planned to be in the area briefly to do one of the walks and get some snaps of Mount Taranaki but those plans soon changed when the volcano stayed hidden behind thick clouds for three days. Once you start road tripping, you soon realise how important it is to be flexible. The weather hit us hard when we reached the Taranaki region so while we waited for the rain and hail to clear, we made the most of the many walks on offer throughout Egmont National Park, our favourite being the Mangorei track that leads to Poukai Hut.
This track was hands down the hardest walk of the entire trip and I'm saying that after completing the Tongariro Tama Lakes walk, but more on that next. What made this walk so challenging was the thousand's of steps, literally, thousands. Almost the entire walk to the top, some 1188m above sea level, is made up of stairs, with the exception of a few sections that are replaced with rock hopping or root climbing. However, the bird watching along the way made for some really good entertainment.
So why is it one of the best walks? Quite simply, for the views at the top and the sense of achievement when you reach the hut. This walk actually goes up a neighbouring peak of Mount Taranaki, not Taranaki itself, so on a clear day you can look out straight across the valley at it. Not only that, just past the Poukai Hut is where the famous mirror lake is. You know, the one that shows a perfect reflection of Mt. Taranaki. We weren't fortunate enough to get these views on our hike but we already knew that would be the case when we set off. We managed to see a teeny tiny sliver of the town below us, but it didn't last long enough to get a photo. With the weather being so dismal though, it meant we got to see the mountainscape in a whole new light. You don't see many moody photos from this walk, just those of the famous reflection, but when we looked around there's actually a lot going on up there. So many different shades of grass against the backdrop of thick fog, it felt like a whole new world, I'm not disappointed that we couldn't see beyond a few metres. The walk down was perhaps even harder than the walk up. The first part as you leave the hut wasn't very sheltered so we were open to the elements… which decided to hammer us with hail. Thankfully the Britz Visa had enough space for us to clean ourselves up without lingering out in the rain for even longer - something we often had to do in our own smaller van!
Tips for enjoying Mangorei Track
Don't think about the time. As soon as I started counting down the time before we got to the top, the steps got harder. It isn't the most enjoyable walk of our entire trip but it does have some of the best views, so stick with it! Also, take the short walk from the hut to the Tarns (or ponds), they're easily signposted and vary from an additional 15 minutes to another hour. Don't forget to leave a note in the DOC book! If you want an easier walk with views of Mount Taranaki, the Wilkies Pool track on the opposite side is beautiful too and suitable for all fitness levels.
Camping near Mangorei Track
There are quite a few free camps around the base of Mount Taranaki, including the Pukeiti Garden car park which is just a short drive away from the start of Mangorei Track. If you're looking for a powered site, the closest to Taranaki is in Stratford. We found this site to have amazing facilities (hot showers!) and while it isn't close enough to park up and do some works, it's close enough to feel in the middle of it all still.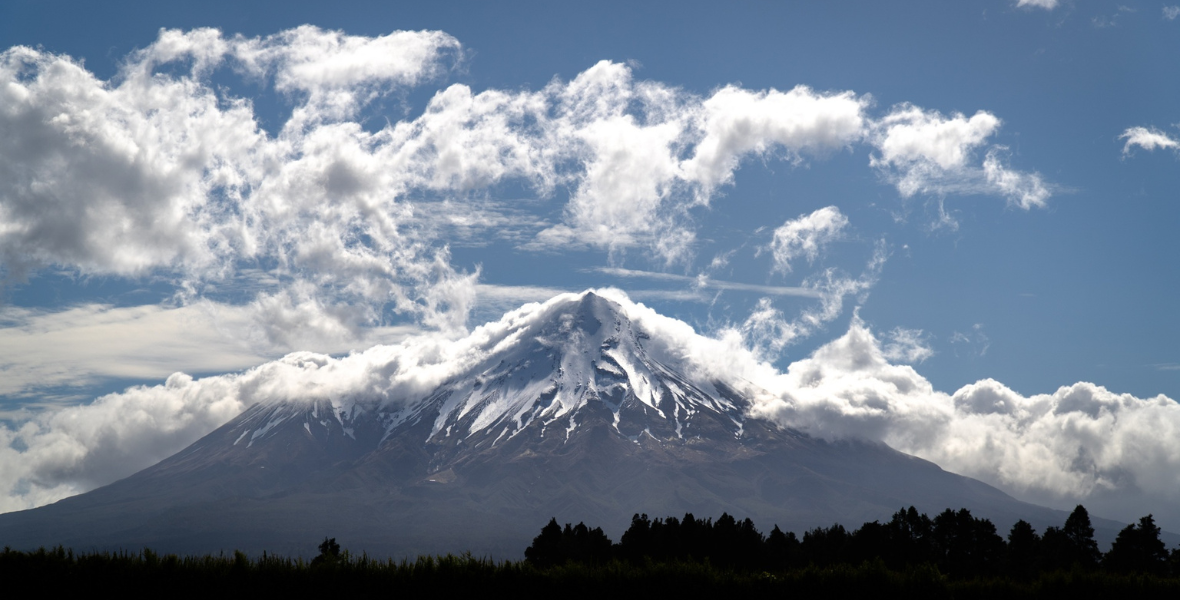 Image Source: Tourism New Zealand Image Gallery
Tama Lake (Tongariro National Park)
Distance: 8 hours return
Difficulty: Moderate with steps and steep sections
This is the national park we'd been waiting for; The Tongariro National Park, world-famous for its 8 hour Alpine Crossing track. These snow-capped mountain ranges tower over volcanic landscapes and had us in awe of them the moment they appeared on the horizon. Luckily the road to the camp in Whakapapa Village was clear when we arrived, the thought of having to use our snow chains made me a little anxious! With our 5-week road trip being in the middle of winter, we knew the Alpine Crossing wasn't going to be possible for us. We weren't equipped or experienced enough to handle the amount of snow on the track, plus the avalanche risks were high. That didn't put us off wanting to see the area though and after speaking to the staff in the information centre we soon had an alternative day walk planned; The Tama Lakes Track.
We hadn't head about this track before we arrived but after completing it I can assure you it is a fantastic alternative to the Tongariro Alpine Crossing. You need to make sure there are no weather warnings for the day you want to do it but other than that, it's accessible year-round. The Tama Lakes track, for us, was roughly an 8-hour return walk including stops for lots of photos and the weather stayed fairly nice for most of it - except for one lashing of heavy rain once we reached the upper lakes. Starting by the Chalet, the track eased us into the walk nicely. With a mix of boardwalk and well-defined path, we were able to admire our woodland surroundings without worrying about getting lost and we soon found ourselves at the first stop - Taranaki Falls! This waterfall marked the change in scenery and track difficulty as from here we began to climb up out of the valley and into open alpine fields, snow even started to appear on the track!
The increase in altitude made things slightly harder but there was never a dull moment. The track was constantly up then down as we weaved through the golden red fields and hoped across snow-fed rivers where rocks were just close enough together for me to reach, I was amazed to see families bringing small kids along and found myself wishing I was that brave and energetic as a kid! The lower lake was as beautiful as I imagined it would be. Sitting in an old crater and fed by melting snow, the vivid blue of the lake and the snow on the slopes are a stark contrast to the earthy browns, blacks and reds of the volcanic field surrounding it. If it wasn't so cold, I'd have sat there longer. Just watching. But the question was this; Stay at the lower lake, admire its beauty and bask in the satisfying feeling of reaching it or do we tackle the path to the upper lakes?
It only took us 30 minutes to reach the top but it was by far the most challenging part of the walk. The path disappeared completely, leaving us to scale the side of the volcanic cone lead only by poles sticking up out of the loose rock. It was steep, the rocks would shift beneath our feet and the wind howled passed us, all serving to slow down our progress. From the top, it felt like we were on top of the world, even though we were by no means near the summit of Mount Ngauruhoe. We didn't hang around on the walk back. It might have been a clear day for most of the walk but as soon as we started heading back to camp the clouds rolled in and rain threatened above us. Getting back into the campervan we were pleased to have the electric heater, thawing out my icy hands would have been a tough job without it! After doing the Tama Lakes track, I almost feel like the Alpine Crossing won't be able to 'beat it'. We definitely want to go back and do it, but the sheer peacefulness of the Tama Lakes walk made it really special, although I'm sure even this lesser-known walk is busier in the summer!
Tips for enjoying the Tama Lakes track
Take layers! Even in the summer. The wind seems to tunnel through the valley, especially once you get to the top of the upper lakes path. Also don't be afraid to turn back, if the visibility had dropped on the way to the lakes, in the same way, it did on the way back, there's no way we'd have been able to complete it. Don't push through bad weather, it might look like it'll only be a short burst but it could also last for hours.
Camping near the Tama Lakes track
We camped at Whakapapa Holiday Park which is right in the heart of town. We were lucky enough to get in last minute but that isn't always the case. The facilities here are really good - they even have baths!! If you know the dates you'll be in the Tongariro National Park, I would definitely book ahead. Whakapapa Holiday Park is central to most of the walks in the area, and if you're wanting to do the Tongariro Crossing - which was closed while we were there - they run their own shuttle too!
Ready to start your adventure?
There were so many other amazing walks during our 5 weeks with the Britz campervan but these are the ones that stand out the most. Being able to just park up and camp almost anywhere really enabled us to get out and explore more without having to worry about where we'll be sleeping that night. The best part? Waking up to some incredible scenery every day for more than a month!
Inspired to go on a campervan adventure and to do all these wonderful walks that Officer Travels suggested? To get started on this journey, book a Britz campervan today. Or check out our latest deals and specials here.