Join thousands of fellow campervan travellers
Sign up for our Britz newsletter to receive inspirational travel content and awesome deals, and we'll send you a copy of our Ultimate RV guide!
Thanks
Please confirm subscription in your email.
There's plenty to see and do in this gloriously sunny spot, with activities and sights that are sure to keep every kind of traveller amused. Here is everything you need to know before your holiday in Napier and Hawkes Bay and the must-do's.
The best time to visit Hawkes Bay
Hawkes Bay is known for having a warm and dry climate, neither too cold nor too wet. The area is said to get from 85-91 days of sunshine every year, making for hot days in summer. Not only do these conditions make for great winemaking, but the Hawkes Bay climate is also fantastic for holiday-goers. This region is great to visit all year round, but March and April are the best months as the weather is still warm but without the humidity of the peak of summer.
Top tip: No matter which season you travel to Hawkes Bay, it's important you are well informed on how to drive safely in the area, and what road conditions may be like during different times of the year. These can vary between seasons, so it's worthwhile doing your research when planning out your New Zealand road trip.
Where to stay in Hawkes Bay
To make your trip to Napier and Hawkes Bay easier, why not consider hiring a campervan and getting off the beaten track. With an abundance of attractions both perfect for families and couples' escapes, you'll be spoilt for choice on how to spend your time here. A campervan trip offers the convenience of a car, but also includes everything else you need for unscripted holiday adventures.
Travelling by campervan offers an unparalleled level of freedom and flexibility for your holiday. Travel at your own pace, stopping wherever you please, and experience a new perspective on New Zealand. Throughout New Zealand, you will find a huge choice of holiday parks to spend a night or two. This is no different from your visit to Napier and the Hawkes Bay. Download our thl Roadtrip Planner App for tips on nearby holiday parks and attractions to explore during your adventure.
Top 10 things to do in Napier and The Hawkes Bay
1. Take an art deco tour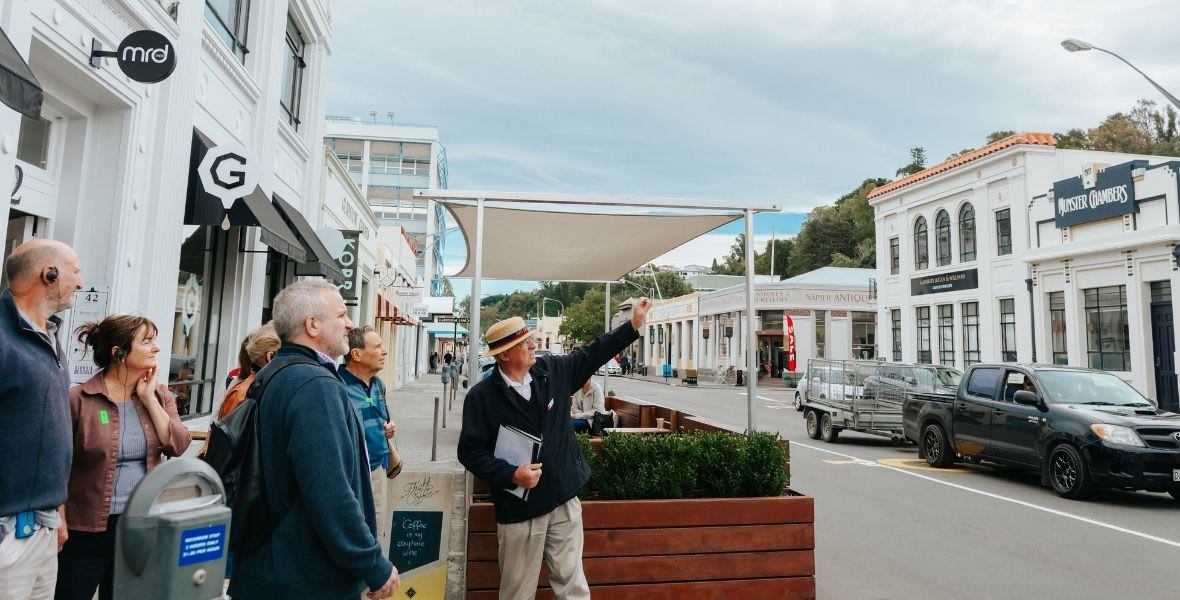 Image Source: Hawkes Bay Tourism Image Library
Napier is known as the art deco capital of the world. A lot of architecture in the region draws on the influences of the opulent jazz era. This is modelled from this style due to an earthquake that devastated the city in 1931. Perusing the streets of Napier will truly transport you to another era.
A great option to experience the art deco flavour of Napier is with an art deco tour. Ranging from $28-30 per person, these guided walks are a great way to explore Napier and learn about the history and influence of the unique style. Every June, the Hawkes Bay Art Deco Festival offers an immersive celebration of this unique architecture. If you're in town when this festival takes place, be sure to check it out for a chance to step back in time to experience what life was like in the 1920s. We recommend dressing up and getting into the spirit of the festivities!
2. Visit award-winning wineries
As mentioned earlier, Hawkes Bay is famous for creating some of New Zealand's most exceptional wine, particularly a full-bodied red. With 72 vineyards and 30 cellar doors ripe for exploring it would be rude not to spend a day or two getting out there and tasting the local wines.
Choose between a winery crawl with Hawke's Bay Scenic Tours or a self-guided tour by bike or car (just make sure you have a designated driver) to cellar doors for tastings and tours. Many of these wineries offer tastings alongside incredible food to match. Our standout wineries are Church Road Winery, Black Barn and Mission Estate.
3. Have a go at white water rafting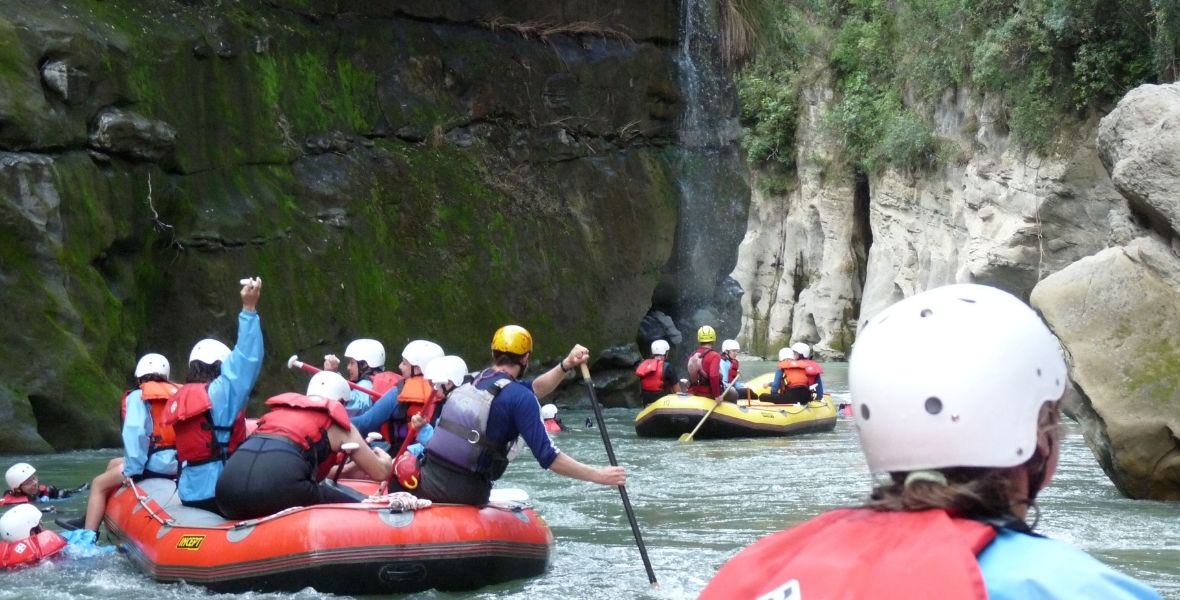 Image Source: Hawkes Bay Tourism Image Library
Hawkes Bay is hailed as one of the most popular spots for white water rafting in New Zealand. The Mohaka River Rafting offers rafting enthusiasts of all skill levels an epic opportunity to experience adrenaline-pumping rafting alongside stunning New Zealand scenery.
With action packed day trips, or thrilling multi-day adventures, white water rafting offers the perfect combination of adrenaline and relaxation amongst some of New Zealand's most spectacular scenery. Create lifelong memories with your family or friends and experience an unforgettable amount of fun. If you're seeking thrills on your campervan holiday in New Zealand, this experience is for you.
Prices vary depending on which adventure you choose, but range between $90 to $265 for day trips. Mohaka Rafting is best enjoyed in the warmer months and is usually closed over winter from May to September.
4. Learn about Māori culture
Immerse yourself in the local Māori culture with a Māori cultural tour. Journey through ancestral mountains, lands, waters and discover the history of the region. Combining hunter-gathering and contemporary Māori cuisine, Napier Māori Tours offer a unique and inspiring cultural experience that will teach you about distinctive Māori history as you explore the 650-year-old village. To top this tour off, you will also get to enjoy the sweeping views of Hawkes Bay.
Tours range from three hours to a full day, make sure you bring suitable exercise clothing and comfortable footwear for hill walking. In summer be sure to bring sun protection and a drink bottle, and warmer clothing for winter.
5. Take in the views from Te Mata Peak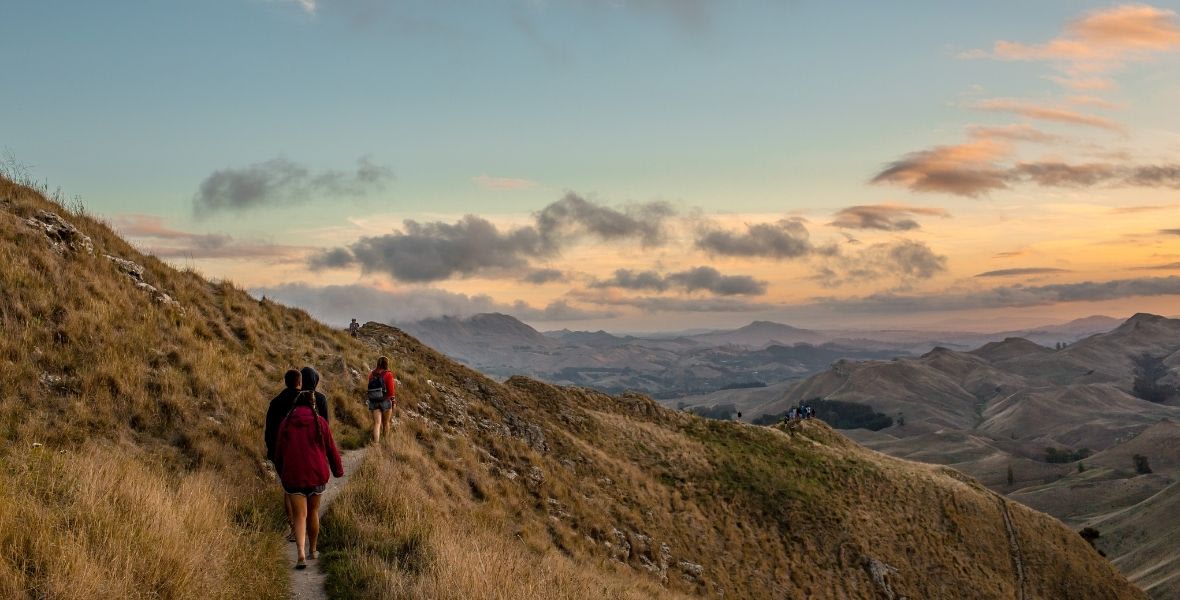 Image Source: Hawkes Bay Tourism Image Library
Sometimes known as the sleeping giant, Te Mata Peak offers incredible sweeping views of the surrounding Hawkes Bay area and the Heretaunga Plains. Traverse through hundred-year-old giant redwoods and connect with the deep cultural relevance and important history of this special place. Enjoyed everyday by hundreds of walkers and runners, Te Mata network hosts a large network of walking tracks that take visitors through a range of landscapes and views.
Choose one of the Top 7 Walking Tracks to explore, or if you've got your bikes on board, choose one of the mountain biking trails that have been developed for all levels of bikers.
6. Take a cycle tour
Hawkes Bay is home to a collection of incredible cycle tours. These trips are a great way to experience the beautiful area whilst taking in the fresh air. Tākaro Trails offer a personalised experience and will get you into the heart of the Hawkes Bay Trails, whether you want a multi day tour to cram in all the highlights, or a one day tour visit to see just one or two of the best bits.
With 200 km of flat, easy and fast trails, cycling in Hawkes Bay provides an incredible adventure and experience, and is something that the whole family is bound to love. Day tours vary depending on which route is chosen, so check out all the tours on offer and lock in your cycling adventure.
7. Visit Cape Kidnappers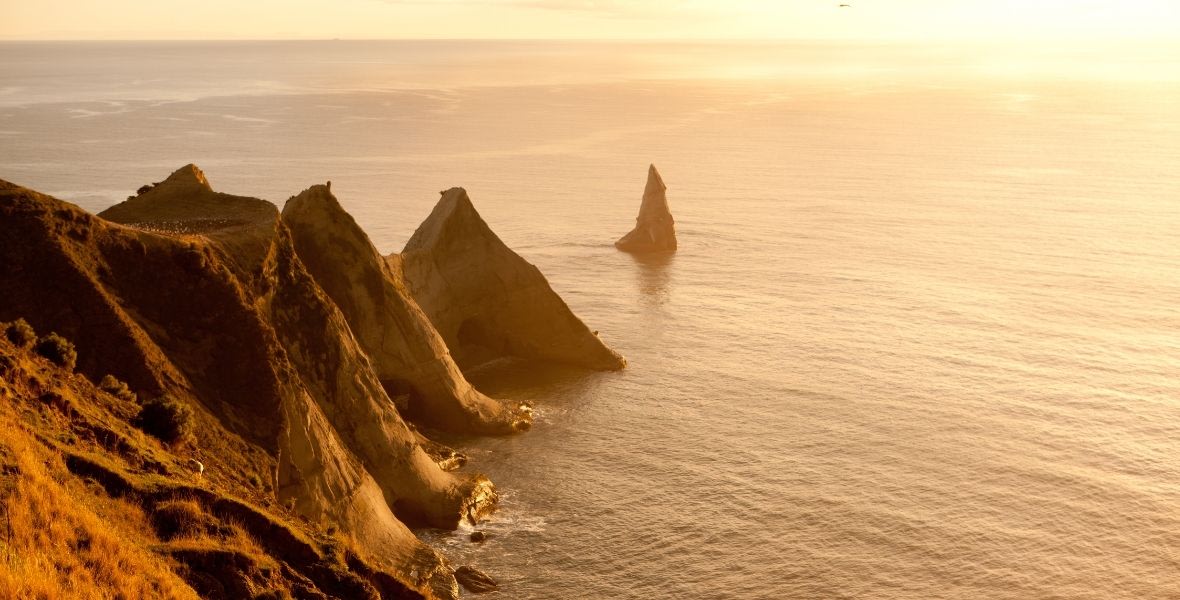 Image Source: Hawkes Bay Tourism Image Library
Cape Kidnappers is an epic day trip just 40-minutes out of Hastings. An extraordinary sandstone headland named by Captain Cook, this destination provides incredible bird-watching alongside dramatic coastal views and one of the largest gannet colonies in the world.
Drive past some of the most rugged coastlines in the country and admire the towering sandstone cliffs. Aside from the large gannet colony, there are also some incredible walks nearby to take you through this striking destination. If you're into golf, another popular attraction at Cape Kidnappers is the golf course that has been designed to take advantage of the surrounding breathtaking natural landscape.
8. Test your nerve at Napier prison
You heard us right, you should add a visit to Napier Prison into your New Zealand road trip itinerary. Offering an incredible opportunity to learn about the prison's history of operating over 130 years. Step into the past as you listen to ghost tours or historical tours and connect with New Zealand's history.
As well as guided tours, Napier Prison also has four active escape rooms and a state-of-the-art virtual reality room experience. Experience the thrilling adventure of a real escape in a prison setting for the added thrill.
9. Make a splash at Splash Planet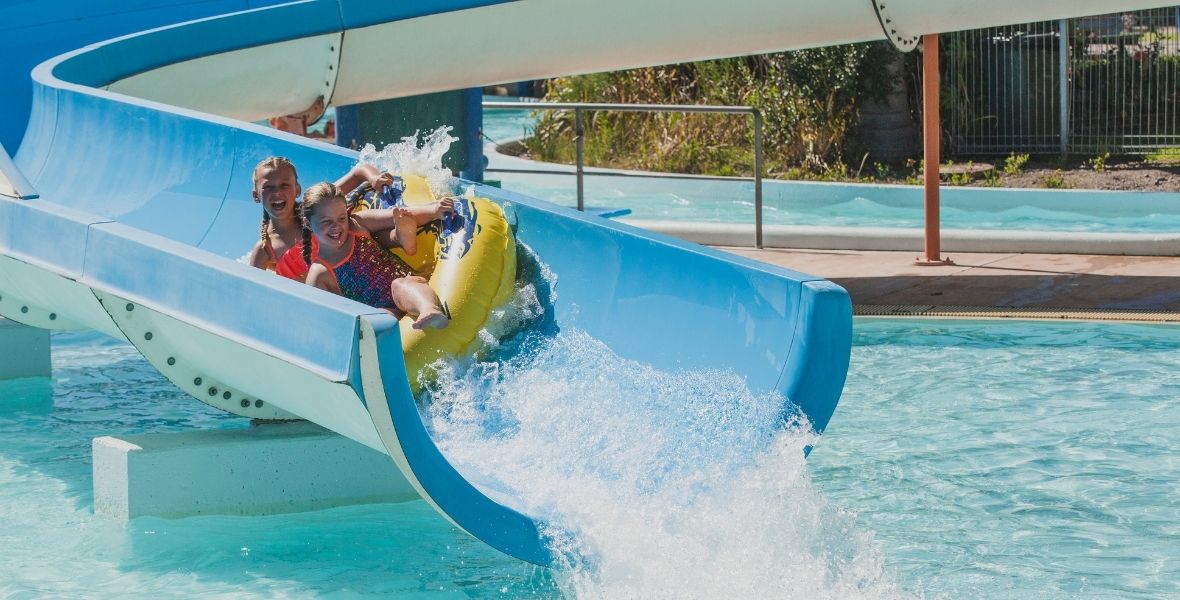 Image Source: Hawkes Bay Tourism Image Library
Alongside its epic range of outdoor adventures, Hawkes Bay has its very own water theme park. Splash Planet is home to loads of indoor and outdoor slides, bumper boats, a lazy river, jungle jeeps and more. Explore the incredible array of adrenaline pumping activities that the whole family is bound to love.
Adult passes are $30, children aged 4-13 are $20 and spectators are free. Splash Planet is only open during the warmer months, so make sure to add this to your summer road trip itinerary in New Zealand.
10. Dive out to Shine Falls
Shine Falls is one of the most amazing waterfalls in the North Island. Make a day of it by taking an incredible walk in nature to get there. Around 1.5 hours out of Napier, the Shine Falls track is 1.5 hours return and will lead you right to the base of the waterfall. Explore farmland as you traverse under towering sandstone cliffs. There is the occasional uphill section as well as stream crossings but they are all easy. Make sure you pack proper walking shoes for this walk.
Ready to book your Hawkes Bay escape?
Ready to explore all the epic things Napier and the Hawkes Bay has to offer? Book your campervan now and start planning your itinerary to tick off all these must do activities on your next New Zealand adventure.