Join thousands of fellow campervan travellers
Sign up for our Britz newsletter to receive inspirational travel content and awesome deals, and we'll send you a copy of our Ultimate RV guide!
Thanks
Please confirm subscription in your email.
But first, why you should take a family campervan trip to Christchurch
There are plenty of great reasons to book a campervan hire and explore Christchurch. Here are just a few:
There is plenty to do indoors or out in nature
From art galleries and museums to adventure parks and walking tracks, there are plenty of fun things to do in Christchurch. Whatever the weather in Christchurch, it's a beautiful city to explore at any time of year. Especially by camper! And whether your kids are teens or tots, there's a great range of activities the whole family can enjoy together.
It's a great city to explore on a budget
Travelling on a budget? You'll find loads of cheap or free things to do in Christchurch. Plus, when you travel by campervan, it can be very economical. Cook your own homemade meals in your campervan kitchen. There are lots of campsites and holiday parks in Christchurch that are well-priced and have great onsite activities for kids. And with the extra storage space of a campervan, you can bring along your own toys, games, and activities.
It's easy to get around the city
Christchurch is a great city to explore by campervan. It's nice and flat and easy to navigate thanks to its grid-like layout. There are also plenty of options to park up your campervan and explore further by tram, gondola, or bike hire. And of course, the kids will love the experience of seeing the city in new and novel ways.
You can easily add Christchurch to your travel itinerary
Christchurch is handy to many other great New Zealand hot spots. That makes it the perfect destination to add to a South Island road trip itinerary. Here are some travel times and distances from a few popular cities:
Nelson: 409 km, 5 hours
Kaikoura: 180 km, 2.5 hours
Hanmer Springs: 133 km, 1 hour, 45 minutes
Dunedin: 360 km, 4 hours, 45 minutes
Queenstown: 481 km, 6 hours
And to make it even easier, you can start your road trip at our conveniently located Britz Christchurch branch. Just book your campervan online and you're good to go!
15 family-friendly things to do in Christchurch
Let's take a look at some of the fun things to do in Christchurch as a family.
1. Take a wander through the Botanic Gardens
The Christchurch Botanic Gardens are not only free, but they're also simply magical for families. From the spring blossoms to the cosy conservatories, there's always something fascinating to see, whatever the time of year. Wander the discovery trails or take the kids on a seasonal treasure hunt (print these off from the Christchurch Botanic Gardens website). And when it's warm, the kids will love playing in the paddling pool. There's also a rock wall and a great playground too. Make sure you grab a coffee from the onsite café first. Then let the kids play while you take a breather.
2. Let the kids burn off some energy at the Adventure Park
For some seriously good family fun, plan a day at Christchurch Adventure Park. This awesome attraction has a long list of experiences to suit everyone, including:
Mountain biking: The park has trails to suit beginners through to world-class jumps and technical trails for the experts.
Zipline: Ride the highest and longest ziplines in New Zealand!
Sightseeing: Take in the best views of Christchurch from the 1.8 km chairlift.
Walking trails: Another opportunity to enjoy the city views from up high. The trails are completely free to use. And if you walk up to the park's uphill walking/hiking trail, you can ride the chairlift back down for free.
There's also an onsite café for a well-deserved coffee or beer, or perhaps burgers or pizza.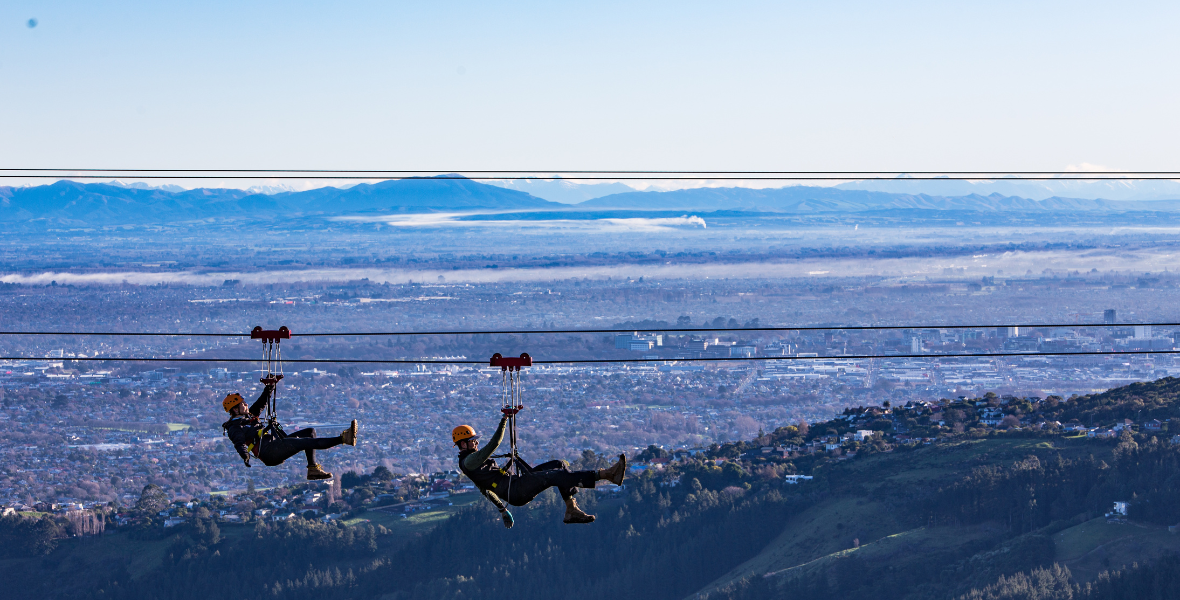 Image Souce: Christchurch Image Library
3. Test your brain with an escape room challenge
If you and the family love having a go at puzzles, codes, and riddles, then the Escape Artists escape room in Christchurch is the place for you. There are six uniquely themed rooms to choose from. Will you help the young artist Vincent recapture his passion for art? Perhaps you like the idea of escaping from a crew of deranged pirates. Or will you choose to help guard the secrets of Nikola Tesla? Each escape room takes 60 minutes and promises an unforgettable experience for everyone involved.
4. Enjoy a round of mini golf
Mini golf is a great family activity, and Christchurch has a number of excellent courses. Our top pick for an indoor game is Alice in Putterland. This Wonderland-themed course is like stepping into a fantasyland! For an outdoor game, head along to Riccarton Park Golf Complex. This cool course has a fun Scottish theme.
5. See the sites from the gondola
One of the must-do family activities in Christchurch is a ride on the Christchurch Gondola. Start at the carpark on Bridle Path Road, Heathcote Valley. From here you'll take a relaxing ride up to the top of the Port Hills where the views are simply incredible. At the top, experience the Christchurch Discovery Ride and grab a souvenir from the gift shop.
Image Souce: Christchurch Image Library
6. Go back in time with a ride on the tram
For the ultimate way to see the inner city of Christchurch, hop aboard the Christchurch Tram. The friendly tram driver will share some of the fascinating history of the buildings and streets as you go. The tram starts and finishes at Cathedral Junction. You can hop on and off at any stage. Take the opportunity to explore the Canterbury Museum, Botanic Gardens, Turanga, Margaret Mahy Playground, and more great Christchurch attractions along the way.
7. Get your heart racing at Adrenalin Forest
Challenge yourself both mentally and physically with the great adventure courses at Adrenalin Forest. Choose from the beginner's course at one metre above the ground. Or head straight to the advanced course which sits 20 metres high in the tree canopy.
8. Race around the go-karting track
There's nothing like a race around the track in a go-kart to bring out the competitive family spirit! At Game Over go-karting in Christchurch, you can get behind the wheel and do just that. The 260-metre track is a great challenge for drivers of all levels. Head along on Thursday night to buy one race, get one free.
9. Spot penguins at the Antarctic Centre
Visit the Antarctic, right here in Christchurch! The International Antarctic Centre offers awesome experiences like no other, including:
Little blue penguins – be there at 10.30 am or 3 pm daily for feedings.
Take a ride aboard an all-terrain amphibious Antarctic vehicle.
Watch a film in the 4D immersive theatre.
Create your own Scott Base from Lego.
Take a behind-the-scenes tour.
Feel the chill in the Storm Dome.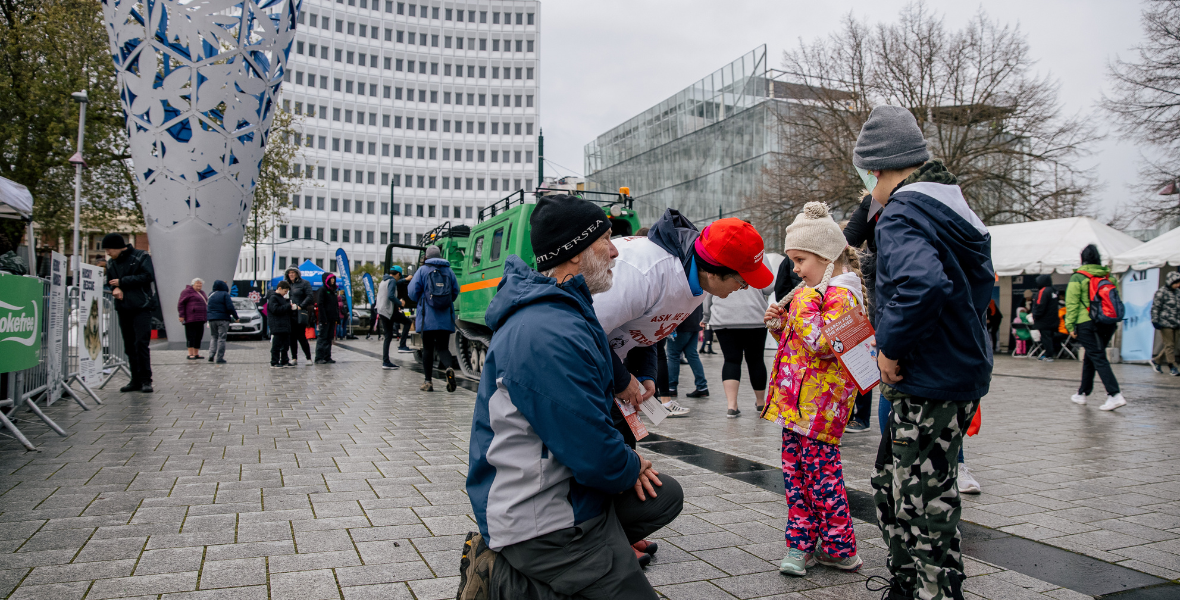 Image Souce: Christchurch Image Library
10. Get some fresh air at the Margaret Mahy Playground
Named after one of our most famous children's authors, the Margaret Mahy Playground is a must-do if you're travelling with children. They can dig, bounce, slide, climb, and race their way through all the awesome activities on offer. There's also a water park to cool down on hot days. And with BBQs available, you can make a day of it and have lunch while you're there.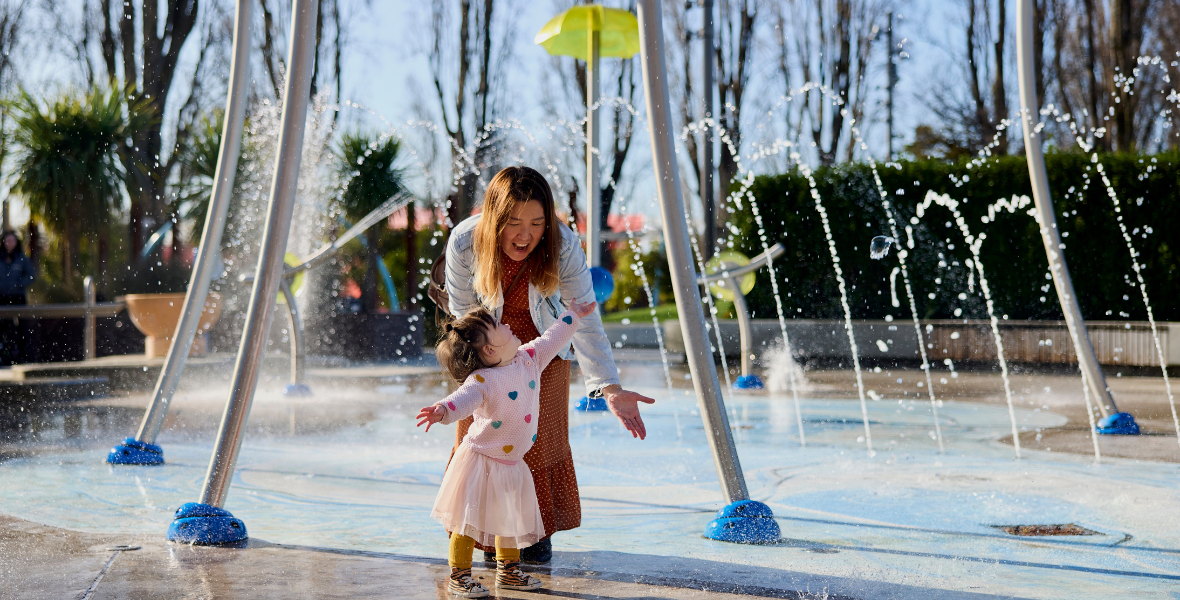 Image Souce: Christchurch Image Library
11. Visit Canterbury Museum
The Canterbury Museum is a great option when it's a bit chilly or wet outside. There are lots of fascinating collections and exhibits to look through. The museum is housed in a beautiful stone building that was first opened in 1870. It's also right next door to the Christchurch Botanic Gardens, the perfect spot for a picnic lunch after your museum visit.
12. See the animals at the Wildlife Reserve
Our most comprehensive NZ-themed wildlife park, the Willowbank Wildlife Reserve is a New Zealand leader in conservation. The reserve is divided into three sections:
The Farmyard is home to miniature ponies, giant rabbits, llamas, kune kune pigs, and lots more.
The New Zealand section is where you'll find some of our special wildlife including weka, kaka, tuatara, and more.
In the Zoo/Exotics section, you'll see a few special international visitors such as capuchin monkeys, capybaras, macaws, and lots more.
13. Check out the planes at the Air Force Museum
Christchurch's Air Force Museum of New Zealand is jam-packed with fascinating galleries, displays, and collections. Each offers an insight into New Zealand's military aviation history. While you're there, be sure to check out:
Johnny Checketts Spitfire engine.
The 'Captured' exhibition, where you can learn about the journeys of our POWs in Europe.
Restored aircraft including our very first military plane, the Bleriot XI-2 'Britannia'.
A digitised collection of over 30,000 RNZAF images.
14. Explore Sumner beach
With its wide sandy shoreline and gentle sloping tidal area, Sumner Beach is a popular spot for families. The kids will love exploring Cave Rock (at low tide). From here, you can take a walk along the 1.25 km promenade. It's an easy walk to Scarborough Park which has a children's playground and paddling pool.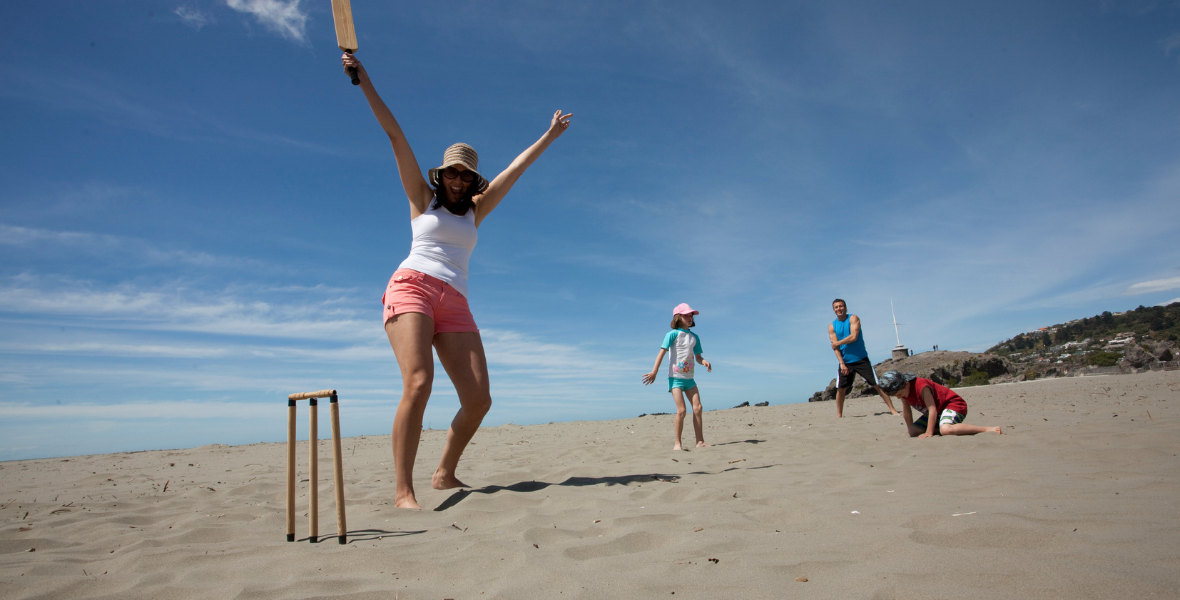 Image Souce: Christchurch Image Library
15. Take a daytrip to Akaroa
Take a day trip to the historic French village of Akaroa (81 km, about 1.5 hours drive from Christchurch). On the way, plan a stop at the Little River Café and Store.
Other great things to do on this day trip include:
Ready for your Christchurch family adventure?
From gardens and gondolas to penguins and playgrounds, Christchurch really is the ultimate family holiday destination. And there's no better way to enjoy it than with the comfort and convenience of a Britz campervan hire.
With a range of sizes, from 2-6 berths, to suit all budgets and travel styles, your Britz camper has everything needed to travel New Zealand in comfort at any time of year. Pick up your pre-booked Britz camper from our Christchurch branch and let your family adventure begin!