Join thousands of fellow campervan travellers
Sign up for our Britz newsletter to receive inspirational travel content and awesome deals, and we'll send you a copy of our Ultimate RV guide!
Thanks
Please confirm subscription in your email.
Take a family trip from Auckland
School holidays are a great time to travel with the kids. You'll find plenty of family-friendly attractions to keep your young ones entertained. Plus the springtime weather starts to settle, the drives are easy to manage, and the days are starting to get longer too!
To make it easier on yourself, why not consider hiring a campervan and escaping the big smoke. A campervan trip with kids offers the convenience of a car but also includes everything else you'll need. Even a kitchen sink! A campervan holiday ramps up the chance to have an adventure but brings down the stress for mum, dad or any other adult coming along. You'll benefit from less packing and unpacking as you go, you'll be able to do everything at your own pace, and you'll leave the kids with some great memories along the way.
If you're feeling game, invite along a couple of families and create a convoy. The kids will have a fantastic time, and all the adults will get a chance for a break somewhere along the way!
Pick up a campervan from the Britz Auckland airport branch and get on the road in no time. Here are ten fun family trips you could enjoy this October.
1. Head to Waitomo Caves
Less than 3 hours south of Auckland, Waitomo offers plenty of fresh air and fun for the kids.
Get started by exploring the three caves, each with something unique to offer. Kids will love spotting glowworms and marvelling at rock formations along the way.
Back above ground, take a bushwalk and spot some birds and animals in the wild. Check out the Marokopa Falls Walk and the Mangapohue Bridge Walk for inspiration. If you don't manage to spot any wildlife, pop along to the Waitomo Big Bird and Miniature Animal Petting Farm. Bring along some wheels and load them on the Britz bike racks so the whole family can get their legs pumping by cycling a section of the Pureora Timber Trail.
In case of bad weather, or to keep the grey matter working, head to escape from Troll Cave and see just how quickly your family can escape!
Where to stay in Waitomo:
Waitomo Top 10 Holiday Park is one of many family-friendly campsites in the area. You'll find a playground, pool, free hot tub and modern shower and cooking facilities to keep everyone happy, clean and well-fed.
Getting there:
Head out of Auckland and follow state highways 1 and 39. Head to Waitomo and stay for a while, or make it a stop on a more extended trip like the Rotorua Loop, Tongariro Loop or this Coromandel Adventure.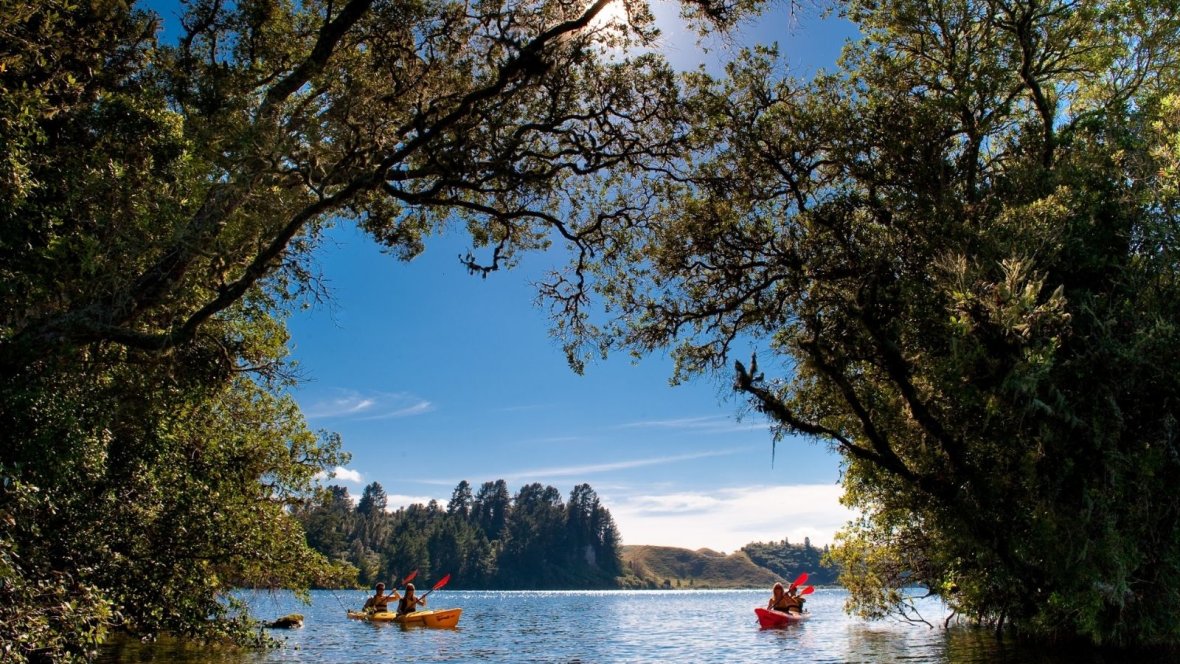 Image Source: Tourism NZ Image Library
2. Escape to sunny Tauranga & Mount Maunganui
Head to Tauranga and the Mount for some pre-summer fun. These destinations are busy and famous for a good reason! There's plenty of things to do in Tauranga at the beach and beyond. Take a campervan and explore the wider Bay of Plenty region. You'll be there in fewer than three hours' drive from Auckland.
Once you're there, go ahead and hit the beach. Anyone with an ounce of coordination can have a go at learning to surf. If that sounds too hard, maybe a trip to the Mount hot pools for a soak will do you good as well! Check out Waimarino Adventure Water Park for a spot of kayaking, a climbing wall and plenty of other activities to tire the family out. Enjoy a Picnic at McLaren Falls Park and head along to Marshalls Animal Park for a close-up and personal encounter with domestic and exotic animals.
Found yourself caught in the rain? Head to Rocktopia, or book a lane at Tauranga's Ten Pin bowling alley. You'll find options for karting and even a handful of virtual reality offerings at some of the museums around the region. No one will leave bored!
Go a little further with a campervan and check out:
Te Puke, where you'll find more kiwifruit than you know what to do with! Sample the locally grown produce, try the honey and chase some waterfalls, all in a day's work.
Papamoa Beach, one of Tauranga's fastest-growing communities. With loads of space to spread out, beachy kids will enjoy the sand and surf, while parents will enjoy the relaxed cafe vibe.
Pukehina, a small bay community where you can have a go at catching dinner by casting a line.
Ohope, where you'll find white sand beaches, and you'll feel like you're on an island get-away despite being less than 20 minutes away from the amenities of Whakatane.
Where to stay in Tauranga & Mount Maunganui:
Find yourself in the middle of all the action at the Mount Beachside Holiday Park, which includes plenty of family-friendly facilities, including four large BBQ areas for easy-breezy dinners.
If you're ready to get off the grid and experience freedom camping, there are plenty of council-approved campsites that you can take advantage of around the district. The thl roadtrip app will be your best friend for this!
Getting there:
Head straight there from Auckland, or take your time getting there and go via Hamilton, Matamata or after exploring the coromandel like the Pacific Coast Highway Itinerary recommends.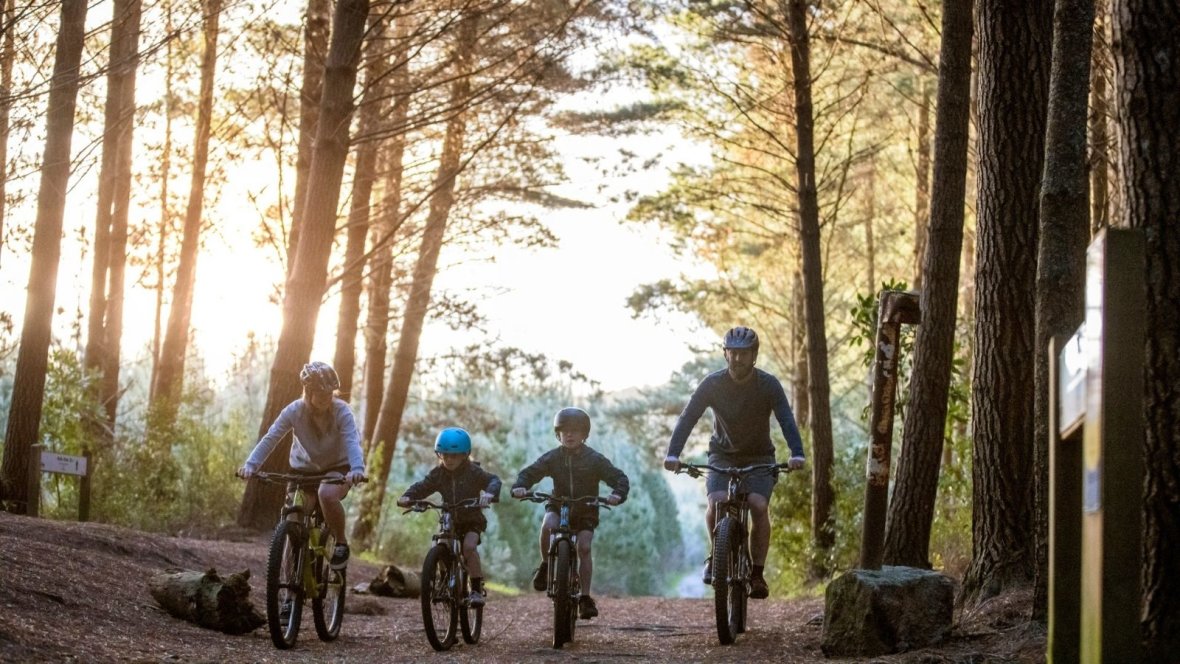 Image Source: Tourism NZ Image Library
3. Have a classic kiwi family holiday in Taupo
A short drive out of central Taupo, you'll find the Huka Falls. From here, you can pack a picnic and wander the Waikato River or hop on a river cruise and feel the spray on your face as you approach the waterfalls. If you're interested in getting wet, take the family on a half-day river rafting adventure! I
f you'd rather stay on solid ground, you'll find plenty of good bike trails around the Taupo region. Bring your own wheels and add on a bike rack to your campervan hire when you book. Stay in central Taupo for mini-golf, playgrounds and weekend markets.
After all that physical activity, don't miss a trip to DeBretts Hot Springs, where you can soak in the naturally heated mineral waters. Perfect at dusk.
Got hungry kids? Why not have a go at trout fishing, check out the prawn farm and sample locally produced honey. And don't forget to stop for ice cream in town!
Where to stay in Taupo :
Taupo TOP 10 Holiday Park is less than 2kms out of central Taupo and has all your bases covered, with facilities like a games room, trampoline, heated swimming pool and a TV room, plus heaps of powered sites so you can park up and plug in.
Motutere Bay Top 10 Holiday Park is about halfway between Taupo and Turangi, making it ideal if you're planning on exploring everything the region has to offer.
Getting there:
Head out of Auckland and follow State Highway 1 south to head directly to Taupo. You'll be there in fewer than four hours. Or take a little longer and stop off in spots like Hamilton on your way. Here's a loop trip to get you feeling inspired.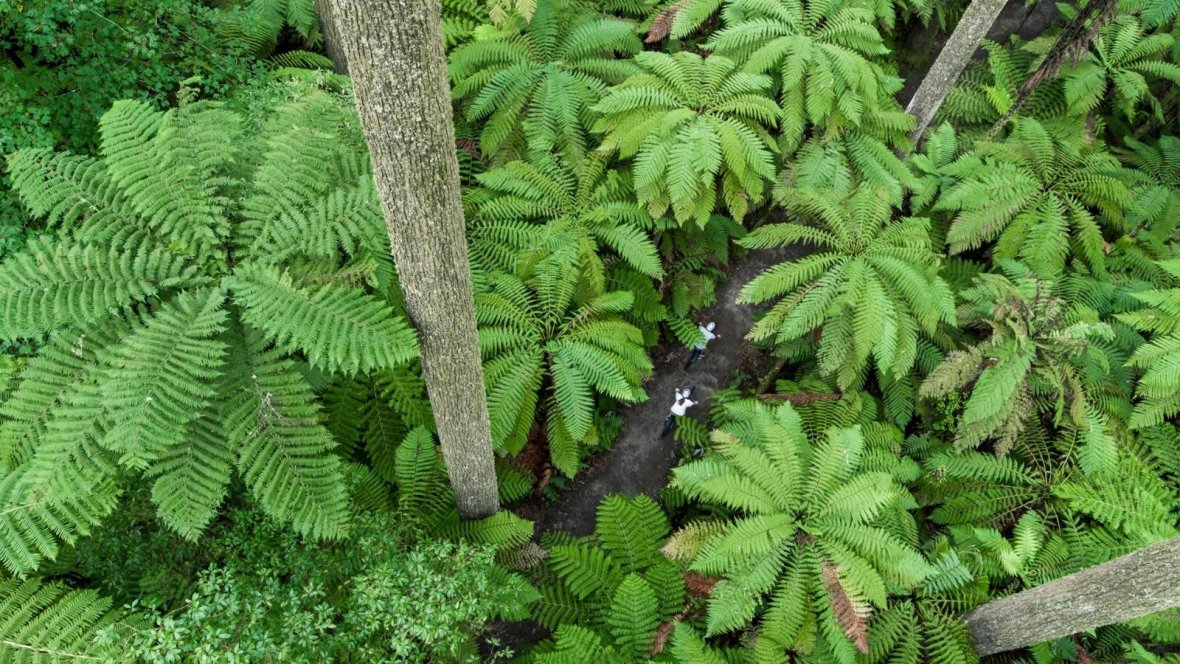 Image Source: Tourism NZ Image Library
4. Have an epic adventure in Rotorua
If you're part of an adventurous family, a holiday in Rotorua is sure to please, with plenty of adrenaline-pumping activities on offer. You'll reach Rotorua in fewer than 3 hours drive from Auckland, or take your time and stop along the way. Rotorua offers both a great destination or a perfect stop along the way for a few nights on your family road trip.
Things to do in Rotorua with kids:
It's not a holiday in Rotorua until you've hit the luge at Skyline Rotorua. Bigger kids might enjoy zooming down the hills in a Zorb, while younger ones could get a kick out of the Paradise Valley Springs Wildlife Park.
Stretch out the legs with a wander through the Hells Gate geothermal walkway, or get some altitude with the team at Rotorua Canopy Tours and the Redwood Forest tree walk experience.
Where to stay in Rotorua :
Blue Lake Top 10 is conveniently located half way between Rotorua's thermal wonderland, and the famous Whakarewarewa Redwood Forest. Offering a playground, spa, communal kitchen and tv area, this spot makes campervanning with the family that much easier.
Getting there:
Head South from Auckland and follow state highways 1 and 5 to go direct or plan a stopover in Hamilton. Carry on the family fun times and head to Taupo and Waitomo to create your very own loop trip like this central North Island itinerary.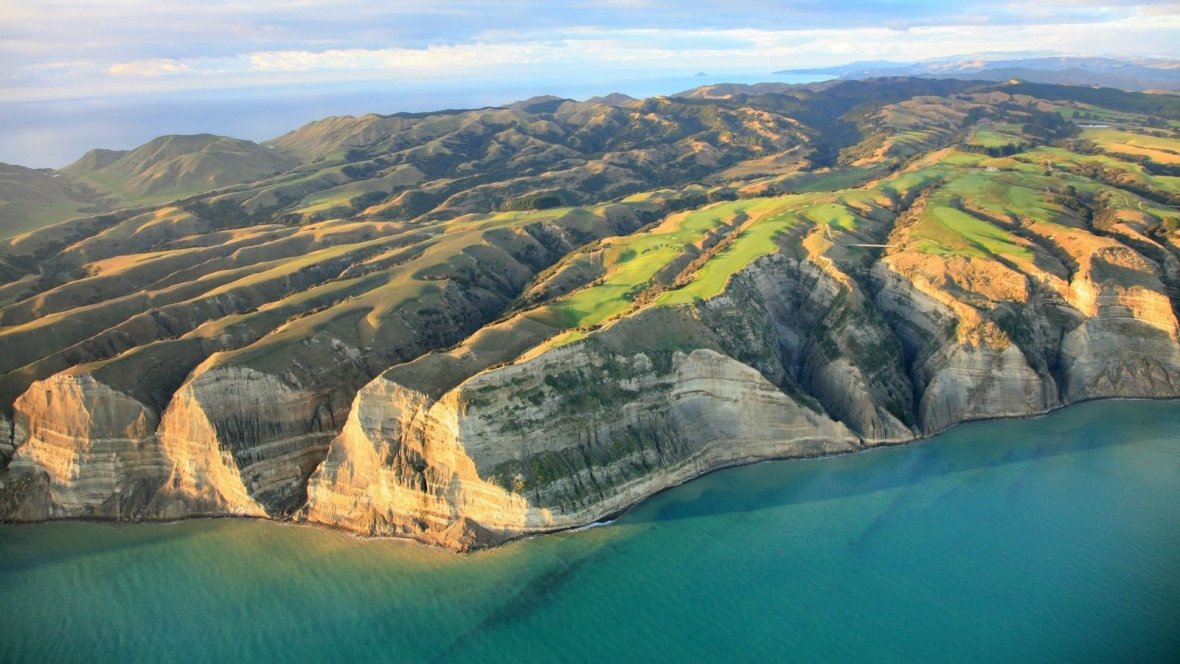 Image Source: Tourism NZ Image Library
5.Head to the sunny Hawkes Bay
The Hawkes Bay might have felt like somewhere better suited for couples than families with all the vineyards dotted about. Still, the region has plenty to offer families with kids of all ages (and there is nothing to stop the adults sampling a drop or two back at the campsite!).
Things to do in the Hawkes Bay with kids:
Between September and April, the beautiful gannet bird colony at Cape Kidnappers is a sight you don't want to miss. Take a 4x4 tour for the whole experience and to save yourselves a long walk!
In Napier, you'll find the national aquarium and plenty of boardwalks to wander on Marine Parade, including Bay Skate, with ramps, bowls and rinks for scooters, bikes and more. If you want more opportunities to get on your bikes, get out and ride the Hawkes Bay Trails.
In Hastings, you'll find Splash Planet for your water babies and Te Mata peak for those kids interested in tackling a long walk. If you're there on a Sunday, don't forget to pop into the Farmers Markets for plenty of delicious treats.
If surf, sand and sun are on your mind, Mahia beach, Waipariki beach, and Ocean Beach are all popular choices; just don't forget your sunnies and a hat! If you want to spot some marine life, the reserve between Black Head & Aramoana offers up chances for rock-pooling and scuba diving.
Where to stay in Hawkes Bay:
Hastings TOP 10 Holiday Park is perfect for those planning to spend a bit more time inland, while Kennedy Park Resort offers campervan sites within walking distance of Napier hot spots.
Getting there:
If the family can handle a longer drive, you could do Auckland to Napier or Hastings in a day, with about 6 hours of driving time. With little travellers in tow, we recommend breaking up the drive with stop-offs in Hamilton and Taupo or Rotorua. Otherwise, go east and make your way towards Napier via the Bay of Plenty. You've got plenty of options like this Thermal Coast Highway itinerary!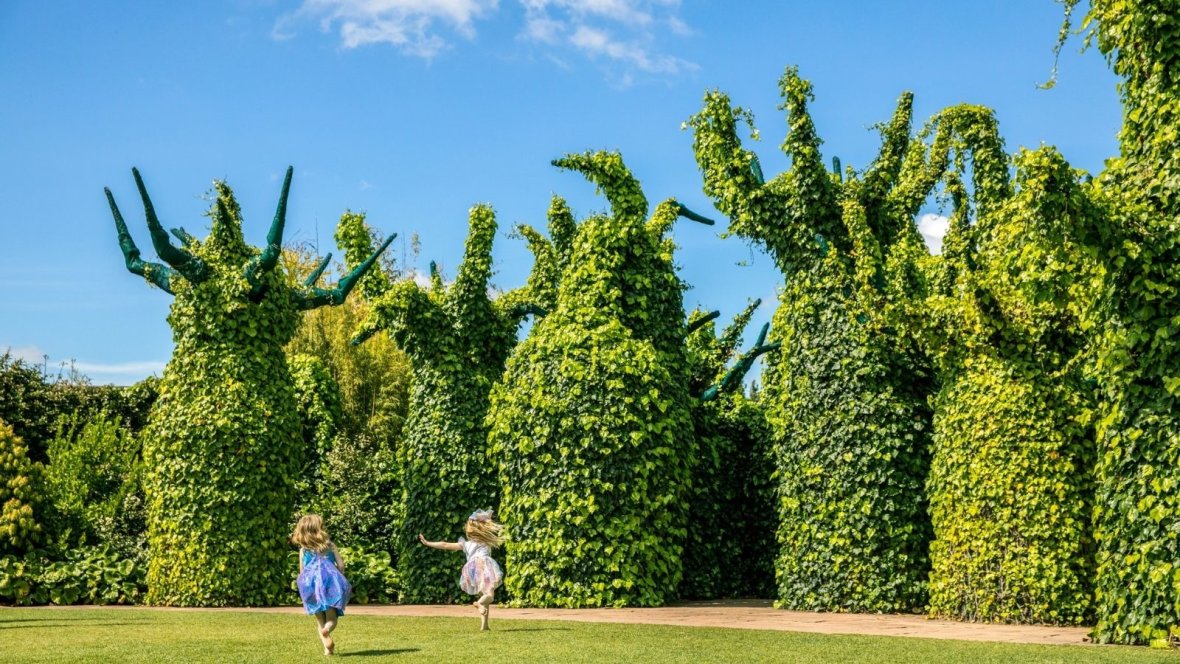 Image Source: Tourism NZ Image Library
6. Have family fun in Hamilton & Waikato region
From the bustling city of Hamilton to the famous surf beach Raglan to the middle of Middle Earth, no matter what your crew is after, there are loads of options to keep everyone entertained in the Waikato.
Things to do in Hamilton & the wider Waikato with kids:
For animal fans, a trip to Hamilton Zoo is a must. "Meet the Keeper" sessions run daily, so check out the schedule to ensure no one misses their favourites! If you want the opportunity to come face to face with some of New Zealand's native wildlife, the Otorohanga Kiwi House and Native Bird Park offer the whole family the chance to meet a kiwi!
If the kids need to burn off some energy, Hare Puke Destination Playground will keep them occupied and tire them out. Bigger kids might revel at the chance to take a dip at Raglan beach.
From Hamilton, it's also almost effortless to reach the natural wonders at Waitomo or head to the film set at Hobbiton. Easy!
Where to stay in Hamilton:
Hamilton City Holiday Park offers a tranquil spot within walking distance of many attractions in the city. Opal Hot Springs and Holiday Park in Matamata is also great and puts you a stone's throw away from Hobbiton.
Getting there:
At just over an hour from Auckland to Hamilton, it makes a great first or last destination on a more extended campervanning holiday. Hamilton can make up part of your journey to the east and west coasts and elsewhere in the central north island.
Image Source: thl Content Hub
7. Discover the beautiful Coromandel
The Coromandel is a natural playground and popular spot for families from Auckland. With sweeping beaches, beautiful forests and a glittering history, you'll find all sorts to keep you as busy or relaxed as you want.
Things to do in the Coromandel with kids:
Get wet at the Waterworks in Coromandel, try your luck at panning for gold in Thames, and don't miss a trip to Hot Water Beach and a cruise around Cathedral Cove at Hahei. The kids will enjoy the chance to get a little wild and hit the beaches or the trails all over the region.
Where to stay in Coromandel:
Hot Water Beach TOP 10 is a 10-minute walk from the famous hot pools and one of the top surf beaches, making for an ideal stopping spot for the family to park up and relax for a few days.
Getting there:
You can make it from Auckland to Coromandel in less than three hours via state highways 1 and 25. If you've got time to relax and soak up the journey as well as the destination, then stop a few times along the way. Check out the Coromandel itinerary for more inspiration.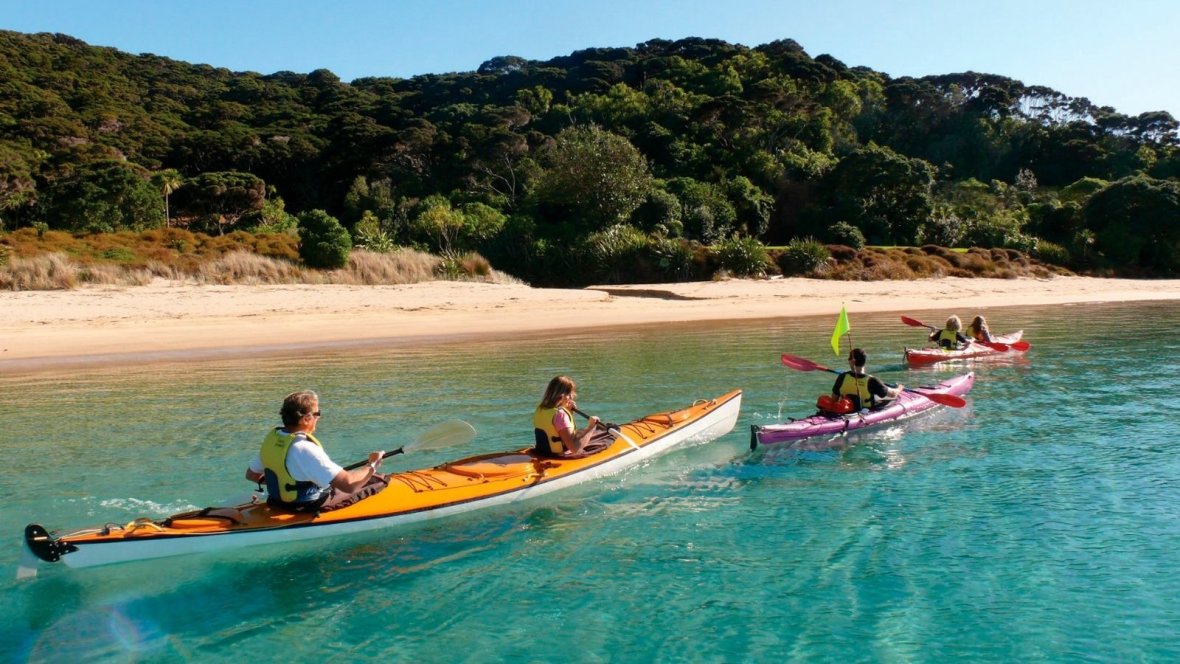 Image Source: Tourism NZ Image Library
8. Stay and play in the Bay of Islands
Head towards the winterless North and make the most of the late spring/ early summer weather with calm beaches, outdoor activities, and important historical spots to keep the family busy.
Things to do in the Bay of Islands with kids:
Don't miss the chance to take a hole in the Rock cruise from Paihia. Hang out and swim, explore the nature reserve at Urupukapuka Island, head to New Zealand's first Capital city Russell, and walk the Flagstaff Hill Track.
Kiwi kids should take a trip to the Waitangi Treaty Grounds, one of our most important historical sites. After learning something (even though they're on holiday), let the kids burn off some energy with a few laps around the Waitangi Bike Park.
Where to stay in the Bay of Islands:
Bay of Islands Holiday Park in Paihia is a great central location for your Bay of Island exploration. You'll find everything you need, and should you have the time and inclination, you can launch yourself even further north from here without any troubles.
Getting there:
Auckland to Paihia is a comfortable 3-hour drive North on state highway 1, or take your time and stop off at popular spots like Managwhai and give the kids a chance to stretch their legs and burn off some energy during the trip. They can always have a wee nap in the campervan once you're back on the road. Check out the Northern Adventure itinerary for more Bay of Island holiday inspiration.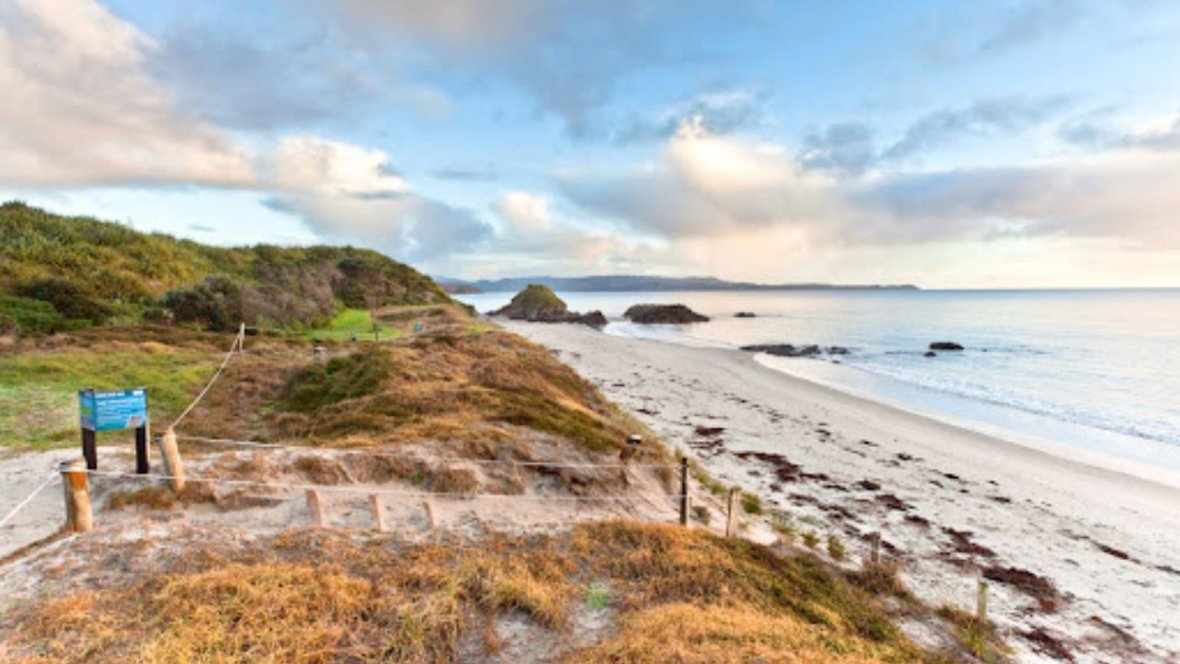 Image Source: Auckland Design Manual
9. Take a short trip to visit East Coast beaches
For first time campervanners or those who don't want to stray too far from home, a trip to the beaches between Auckland and Whangarei can offer a great chance to give a campervan a try and is perfect for beachy kids who can't get enough of saltwater swims.
Things to do on the East Coast with kids:
Head to the Matakana coast for white-sand beaches, cool surf spots and safe swimming waters. On the road to Leigh, you'll find a huge playground to burn off some on-land energy, and at Leigh, you'll have the chance to go snorkelling, kayaking and more. Explore Tawharanui Regional Park for a blend of farmland, bush reserves, beaches and birdlife.
Where to stay on the East Coast:
Whangateau Holiday Park offers a waterfront Holiday Park with easy access to Point Wells, Leigh, Pakiri and Matheson Bay on the Twin Coast Discovery Highway.
Getting there:
Around 90 minutes north of Auckland, this section of the Twin Coast Discovery Highway is an easy drive on state highway 1 and is a highlight on the Twin Coast Itinerary.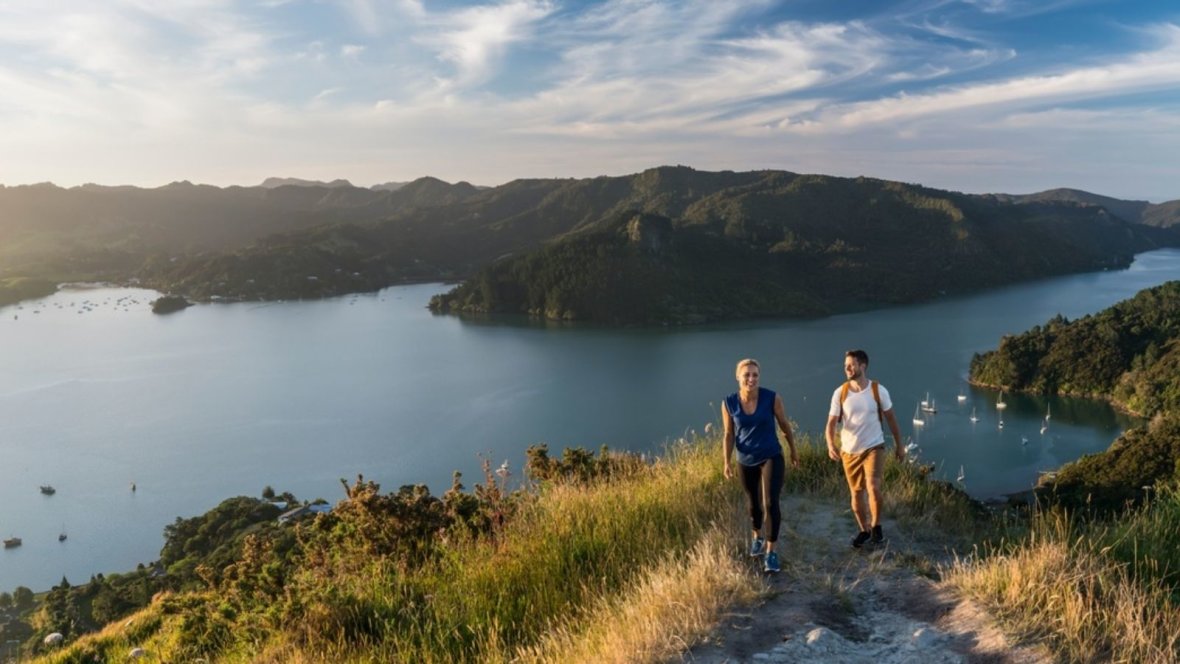 Image Source: Tourism NZ Image Library
10. Explore Northland
Auckland to Cape Reinga is a 6-hour drive, meaning there is plenty to see and do at the top of New Zealand! With coastlines at both the east and west, there is no shortage of spots for swimming, but Northland offers so much more for the family.
Things to do in the Northland with kids:
Head to Whangarei with restaurants, shops, arts and crafts before visiting some smaller towns further north. You'll find Whangaroa Harbour is an excellent base for your boating, fishing or kayaking adventures, while Cape Reinga and ninety-mile beach are great spots for exploring on-land. Loop back towards the west and discover Waipoua Forest, where you can visit Tane Mahuta. Kids will love how big this colossal tree is.
Where to stay in Northland:
Whatuwhiwhi Holiday Park is one of the closest campsites to popular 90 Mile Beach, Cape Reinga and a host of other historical spots you'll want to visit in the far North. For anyone who loves a spot of fishing, it offers plenty of opportunities for a great catch!
Getting there:
Take your time from Whangarei and head north either on the west coast or the east coast, using state highways 1 and 15. Check out the Twin Coast Discovery Itinerary for inspiration and ideas.
Have a school holiday adventure with Britz
Whatever types of kids you've got, from the curious to the outdoorsy, to beach babies or avid sportspeople, New Zealand has so many exciting things on offer to keep them occupied during the school holidays.
With easy roads to travel and plenty of opportunities to group together popular hot spots, you can take your school holiday destiny into your own hands by planning a campervan adventure. You'll have everything you need right in your camper, and you never know who you'll meet or what friends the kids will make along the way.
Ready to start making some memories? Book in your Britz Campervan trip now.