Join thousands of fellow campervan travellers
Sign up for our Britz newsletter to receive inspirational travel content and awesome deals, and we'll send you a copy of our Ultimate RV guide!
Thanks
Please confirm subscription in your email.
Over three weeks, visit scenic highlights, interspersed with test matches, adrenaline-fueled activities and a visit to the New Zealand Rugby Museum.

Camping
Campervan parking will be limited in Auckland during the tour so if you have not booked a place to stay we strongly recommend that you do.
Alexandra Park has opened their facilities especially for the Lions Tour Supporters. More information and how to book can be found here.
Auckland Racing Club has also partnered with Auckland Tourism Events & Economic Development to deliver a pop-up campervan park on set nights between June 5-July10. For more information and how to book, visit the Ellerslie Event Centre website .
You can also find out more about the Auckland Fanzones & Fan Trail on the ATEED website here.
Day 1
Auckland–Waitomo
Stay: Waitomo Top 10 Holiday Park or Otorohanga Holiday Park

Visit the Waitomo Glowworm Caves or try out the exhilarating Black Water Rafting. You can explore Waitomo's three caves: Waitomo, Ruakuri or Aranui and their magical living light displays.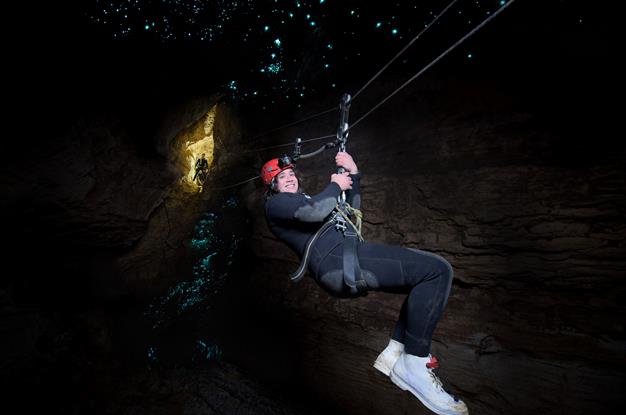 Days 2 and 3
Matamata–Tauranga
Stay: Silverbirch Holiday Park

On your second day, movie fans must pay a visit to Hobbiton. Perfect for families too, as this attraction is unbelievably charming for people of all ages. The picturesque village is a permanent fixture of the landscape and a highlight for tourists to the area. Spend the night in Tauranga – a playground for lovers of watersports.
Day 4
Auckland British and Irish Lions Tour Test Game 1
Stay: Alexandra Park Campervan Parking (exclusive for rugby tour campervans)

Join your fellow Lions fans at the Lions Supporter Village before cheering on The British & Irish Lions against New Zealand in the first test at Eden Park in Auckland.
Days 5 and 6
Auckland–Rotorua
Stay: Blue Lake Top 10 Holiday Park

Head south-east again to New Zealand's lively geothermal centre, Rotorua. Don't miss Wai-O-Tapu Thermal Wonderland where you can get a front-row seat for a geyser eruption as well as seeing colourful geothermal pools and bubbling boiling mud.

The next day, visit Tamaki Maori Village for a cultural education and an unrivalled tour through Maori traditions set in an ancient forest.
Days 7 and 8
Rotorua–Taupo
Stay: Great Lake Taupo Holiday Park

For the truly adventurous, try a tandem skydive when you're in Taupo and take in a bird's-eye view of this beautiful region!
Day 9
Taupo–Palmerston North–Martinborough
Stay: Palmerston North Holiday Park

Immerse yourself in rugby history with a visit to the New Zealand Rugby Museum in Palmerston North, a great one for the kids and fully grown rugby fans alike.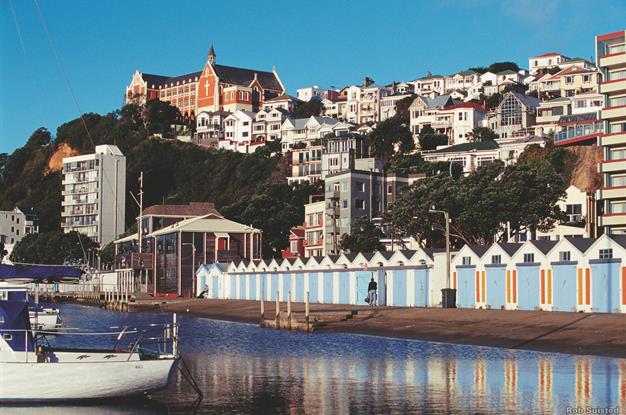 Day 10
Wellington British and Irish Lions Tour Test Game 2
Stay: Evans Bay Marina Carpark

Enjoy the second test at Westpac Stadium in Wellington.
Day 11
Wellington
Stay: Evans Bay Marina Carpark

Enjoy a cultural day visiting some of the many museums and galleries or theatre shows on offer in New Zealand's capital.
Day 12
Wellington–Napier
Stay: Napier Beach Kiwi Holiday Park

Napier is frozen in time as a symbol of the 1930s love affair with Art Deco architecture. Enjoy a stroll through the main streets to enjoy this sunny town and then spend the night beachside.
Day 13
Napier–Ohope
Stay: Ohope Beach Top 10 Holiday Park

Ohope Beach was voted New Zealand's Most Loved Beach by a nationwide AA travel poll, so this is a dreamy destination to park up for the night.
Day 14
Ohope–Waihi
Stay: Waihi Beach Top 10 Holiday Park

Check out the new Gold Discovery Centre in Waihi and take an exciting tour 'inside the fence' of the Martha Mine to see the monumental process of gold and silver extraction up close.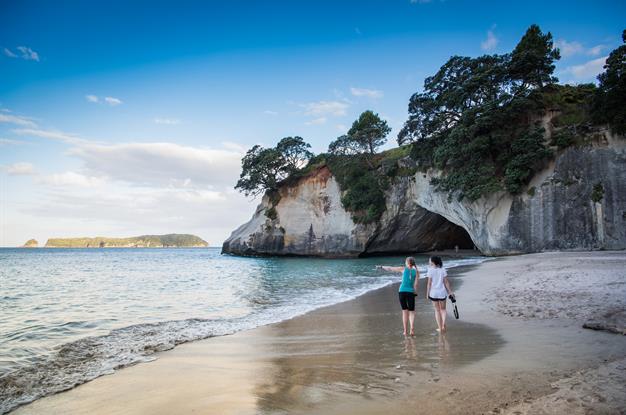 Day 15
Waihi–Whitianga via Hot Water Beach and Cathedral Cove
Stay: Mercury Bay Holiday Park

Cathedral Cove is an iconic spot that makes an unbeatable photo opportunity – not to be missed! Then pick up a shovel and head to Hot Water Beach at low-tide where you can dig yourself your own personal hot pool.
Day 16
Whitianga–Coromandel Town
Stay: Coromandel Top 10 Holiday Park

This is where you'll find New Zealand for your Instagram feed: misty forests, pristine beaches and hundreds of hideaways for a quiet escape from the hustle and bustle.
Day 17
Coromandel Town–Miranda
Stay: Miranda Holiday Park

If you're in need of a little more pampering, visit the Miranda Hot Springs and relax in the thermally heated mineral water pools.
Day 18
Auckland British and Irish Lions Tour Test Game 3
Stay: Orewa Beach Top 10 Holiday Park or Alexandra Park Campervan Parking (exclusive for rugby tour campervans)

Travel back to Auckland via Kawakawa Bay to enjoy a short walking track with beautiful views before getting ready for the final test of the tour and then venturing into Northland!
Day 19
Auckland–Whangarei
Stay: Whangarei Top 10 Holiday Park

If you're a beer lover, or simply a fan of good music, pay a visit to Brauhaus Frings in Whangarei. Alternatively, check out the restaurants along the marina or shop for souvenirs from the local craft shops.
Day 20
Whangarei–Russell–Paihia
Stay: Beachside Holiday Park

A vigorous walk in the great outdoors is always good – even better when there's an incredible 360-degree view waiting for you at the summit. Check out Flagstaff Hill – there's a 2.5km walking track loop from the town centre. Then take the ferry across to Paihia for some snorkelling among the colourful sea life.
Day 21
Paihia–Dargaville
Stay: Orewa Beach Top 10 Holiday Park

It's a fair drive back to Auckland, so stopping in Dargaville can break up the distance. It's still quite a drive, though, so be prepared. If you have time, explore the Kauri Coast for an encounter with the world's oldest and largest kauri trees.
Day 22
Drop-off in Auckland