Join thousands of fellow campervan travellers
Sign up for our Britz newsletter to receive inspirational travel content and awesome deals, and we'll send you a copy of our Ultimate RV guide!
Thanks
Please confirm subscription in your email.
The best way to travel around New Zealand
Make the most of your time in New Zealand and explore the country in a campervan. There is a spectacular view around every corner in New Zealand and hiring a campervan means you won't miss a thing. You'll save money on accommodation costs, falling in love with some small towns along the way. One of the biggest advantages of travelling with a campervan is that you can extend your stay when you come across a new destination you don't want to leave. Not to mention the memories you'll make as a family! With a Britz family campervan there's enough room for everyone, and the journey is all part of adventure. Enjoy the flexibility of being in charge of your own travel as a family, without being restricted to flights and check-in times. Travel around with your family, all of your gear in tow and enjoy the hassle-free ride.
Family-friendly campervan spots in the North Island
Get ready for the holiday of a lifetime exploring crystal clear lakes and golden sand beaches. To help you with your journey, we've put together a list of our top five not-to-be-missed spots in New Zealand to take the family in a campervan this summer.
1. Cape Reinga, Northland
Te Rerenga Wairua (Cape Reinga) is situated at the top of New Zealand's North Island and is generally considered New Zealand's northernmost point, although Surville Cliffs technically surpass it to the east. Tourists from near and far flock to this spot to catch a glimpse of the picturesque lighthouse which overlooks the swirling meeting point of the Pacific Ocean and the Tasman Sea. The cape is fringed with golden sand beaches, including the famous Ninety Mile Beach.
Where to stay - Make a booking at the scenic Tapotupotu Bay campsite. This is a short 5-minute drive from Cape Reinga and a perfect spot to park up your camper and soak up the epic views of Northland.
Facilities - There are minimal facilities at this campsite, so remember to bring your own rubbish bags and take your rubbish with you.
What to do in the area - You'll have a number of family-friendly activities on your doorstep. Walk along a section of the beautiful Te Paki Coastal Track and kayak or swim in the beautiful nearby beaches.
2. New Chums Beach, Coromandel
Beautiful beaches are ten a penny in a country with more than 18,000 kilometres of coastline. We think the best beaches are those you have all to yourself, which is not entirely uncommon at the Coromandel Peninsula's New Chums. You can reach this breathtaking beach by a half-hour coastal path (rocky in places) from Whangapoua car park. The dense native bush rolls into the white sand, be sure to have your camera at the ready. If you're lucky enough to visit from November to January, you will see the native Pohutukawa trees blossoming beside the sparkling waters, what a treat!
Where to stay - For easy access to New Chums Beach, stay at the Whangapoua Holiday Park, situated just 5km from the beach.
Facilities - The Whangapoua Holiday Park is fully equipped with a BBQ area and onsite toilets and showers.
What to do in the area - Make the most of this world-famous beach but don't miss out on the other attractions in the area. Visit Whitianga township, and enjoy a family day of Kayaking. Coromandel is also known for its gold mining history. Check out the Thames Goldmining experience to get your mining fix.
3. Mount Maunganui Beach
Crowned the best beach in New Zealand, Mount Maunganui Beach should be at the top of your to-do list. Mount Maunganui is a vibrant beach suburb in Tauranga. Set on a stunning peninsula, you can enjoy a dip in the warm waters and entertain your little ones with games in the white sand.
Where to stay - Situated directly on the beach, you'll find Mount Maunganui Beachside Holiday Park. Take advantage of the central location and easy access to the beach by booking your camper into this holiday park.
Facilities - Your little ones will be able to enjoy the onsite playground, and the whole family can enjoy a meal at the BBQ area. The holiday park is also fully equipped with a Shared kitchen, laundry, showers and toilets.
What to do in the area - Take a walk up the Mount Maunganui Summit and soak in the stunning views of the peninsula. Head to the nearby Pilot Bay to hire kayaks and stand-up paddleboards; this sheltered bay is perfect for entertaining the kids.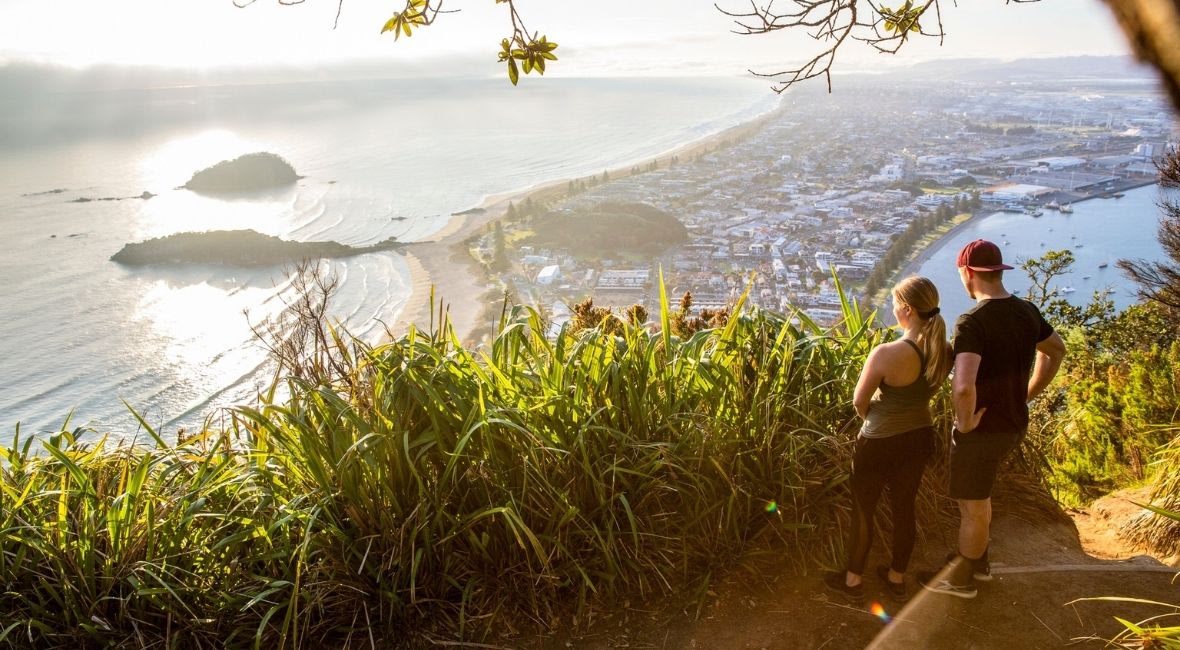 4. Lake Tekapo, South Canterbury
A ten-minute detour off the highway, Mt John summit offers an eyeful of Tekapo – one of the most beautiful lakes in the country – as well as the surrounding Alps and golden tussock of the Mackenzie Country. Park at the summit car park and visit the cafe, then wander around the hilltop. Return after dark for mind-boggling tours of the night sky offered by Mt John Observatory.
Where to stay - Lake Tekapo Holiday Park is set against the turquoise waters of Lake Tekapo. Park your camper on one of the powered sites and wake up to the picturesque lake views morning. Be warned, you might have a hard time trying to leave this scenic spot.
Facilities - You'll be able to enjoy the communal areas at this holiday park. It's fully equipped with a lounge, BBQ & picnic area, a kitchen, laundry, showers and toilets. There's even a playground to keep your little ones entertained.
What to do in the area - There is fun for all the family in the area, take advantage of the mountain biking tracks nearby, have a day on Roundhill Ski Field, unwind by the lake and don't forget to experience the Tekapo Stargazing.
5. Aoraki / Mount Cook, Canterbury
When it decides to shrug off its cloudy cloak, New Zealand's highest mountain is a truly incredible sight. Admire it from afar at Mount Cook Lookout and Lake Pukaki Rest Area, both on SH6, then watch it loom larger as you head up Mount Cook Road. * Ball Hut road cannot be accessed in a camper. Stick to the main route.
Where to stay - Wake each morning to the sight of the magnificent Aoraki Mount Cook, book a spot at the Glentanner Park Centre. With 60 powered sites just 18km from Aoraki Mount Cook National Park, this convenient location will mesmorise you with its incredible views.
Facilities - Enjoy the facilities available in the holiday park: BBQ, Kitchen, Laundry, Wi-Fi, Shower, toilets, TV area.
What to do in the area - If you're looking to make this an unforgettable trip with your family, Heli Hike the Tasman Glacier. This 3-hour trip has a minimum age requirement of 8 years. If you're looking for something a little less adventurous there are plenty of breathtaking views to be discovered along the local walking tracks.
6. Mitre Peak, Milford Sound, Fiordland
Reached via the beautiful Eglinton Valley and rocky narrows around Homer Tunnel, Milford Sound itself is a revelation. Thick greenery and gushing waterfalls line the fiord's sheer mountainsides while standing sentry is Mitre Peak (1692m), one of the great icons of New Zealand. Maybe, just maybe, you'll get a photo or two to do it justice.
Where to stay - Spend a night in Milford Sound's only campground: Rainforest Campervan Park. You'll need to book in advance to secure your spot. This is the perfect place to park your campervan and enjoy the quiet in the rainforest.
Facilities - Guests can make use of the kitchen, lounge and laundry facilities. There is also the opportunity to purchase Wi-FI. But, we've got a feeling you will be far too busy experiencing the magnificent Milford Sound.
What to do in the area - Embark on the Mitre Peak cruise for an unforgettable experience. You'll get up close and personal with the local wildlife and jaw-dropping surroundings. Take your family on the Bowen Falls Walk, accessible by boat. This 30-minute walk will take you to Lady Bowen Falls, a must-see in New Zealand.
Ready For Your Next New Zealand Adventure?
So there you have it, our top 6 family-friendly campervan spots in New Zealand. No matter if you're looking for an adventure-filled vacation or you would prefer a more relaxing break, New Zealand has plenty of experiences to offer. If you're looking for the perfect family getaway, then take a look at the great rates on offer and Book your Britz camper today. If you're looking for some more travel inspiration, check out our guides.