Join thousands of fellow campervan travellers
Sign up for our Britz newsletter to receive inspirational travel content and awesome deals, and we'll send you a copy of our Ultimate RV guide!
Thanks
Please confirm subscription in your email.
The Best Picnic Spots in New Zealand
There's nothing better than grazing on delicious food whilst overlooking a stunning view. New Zealand may be known for the wild adventures on offer, but, the abundance of lush green countryside, secluded beaches and dynamic mountainscapes mean there's no shortage of spots to take some time out to stop and enjoy a quiet moment or two. Here are our top picks for the perfect picnic spots in New Zealand. Sit back, relax and appreciate the breath-taking scenery.
Image: South Island Road Trip, thl Content Hub
Stop at New Zealand picnic spots in your campervan
Make the most of New Zealand's epic scenery and embark on the great kiwi road trip. Hit the open road in a Britz camper and enjoy the freedom of being your own tour guide, travelling at your own pace. New Zealand's most famous driving routes will get you where you want to go and provide you with some dazzling scenery along the way.
Some of our favourite driving routes in the North and South Islands are chock-a-block with brilliant backdrops and lend themselves perfectly to parking up to appreciate the views. And, as the weather turns warmer, what better time to park up your Britz camper and enjoy a picnic. Remember to leave the land as you found it and dispose of any rubbish properly. It's also a good idea to keep some paper towels and hand sanitizer in your camper so you can clean your hands before you tuck in.
Best North Island Picnic Spots
1. Cape Reinga/ Te Rerenga Wairua Lighthouse Walk, Northland
Take the trip to the most northern part of New Zealand's mainland. Cape Reinga, also known as the Rerenga Wairua Lighthouse Walk, is located in scenic Northland. Easily park your camper in the car park, then enjoy the short walking track of 800m one way. Hike 10 minutes to the beautiful lookout spot and tower above stunning turquoise waters and white sand beaches. The epic panoramic views make the perfect backdrop to refuel and recharge.
2. Maungaroa Lookout Track, Auckland
If you're spending some time exploring New Zealand's largest city, be sure to visit Maungaroa Lookout Track. Located on the west coast of Auckland, take your camper on the Britz Northern Adventure and travel to the scenic suburb of Piha. Park your camper outside the Piha store and walk to the first lookout point over Piha beach. Enjoy this peaceful picnic destination, spend a while gazing out at the rugged coastline and admire the black-sand beach and the strong surf.
3. Hamilton Botanical Gardens
Take the scenic route from Auckland to New Plymouth and stop off in Hamilton along the way. Stock up on picnic supplies at the Hamilton Markets, held every Sunday at the Te Rapa Racecourse, just a 10-minute drive away from the famous Hamilton Botanical Gardens. This garden is Waikato's most popular tourist attraction and a top thing to do in New Zealand. The gardens are located in the heart of the city. Spend a few hours exploring the extensive gardens. Stop and smell the roses at Rogers Rose Garden and roam through the Italian Renaissance Garden. Then pick the perfect picnic spot to enjoy a picturesque picnic.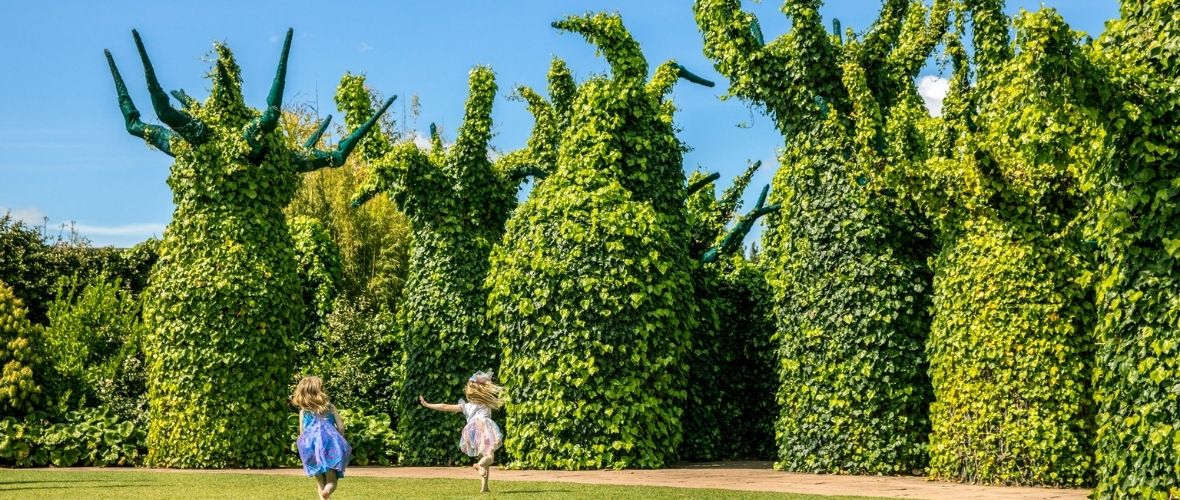 Image: Hamilton Gardens, TNZ Asset Library
4. Te Mata Peak, Hawkes Bay
Visit Hawkes Bay and enjoy the mild climate, local apples and delicious wine. Venture up Te Mata Peak, a short 10-minute drive from Havelock North. If you don't feel like hiking the summit, you can drive your camper to the top. The road is open from 5.30 am until 9.59 pm. Pack a breakfast picnic and enjoy the stunning sunrise over the rolling hills. If you're lucky, you might even catch a glimpse of Mount Ruapehu in the distance. If you want to treat yourself, head across the road to the Craggy Range Winery for a little slice of luxury. Don't forget to grab a bottle for the road!
5. Rotorua Lakefront, Rotorua
Take your camper on a journey through the Central North Island. Pass through the beautiful coastal town of Mount Maunganui, then venture inland to picturesque Rotorua. Head to the Thursday night market, less than ten minutes away from Lake Rotorua. Pick up tasty local produce to make up your picnic basket. Work up an appetite with a swim in Lake Okataina, then head to Rotorua's lakefront to enjoy some downtime. Watch the world go by on a picnic blanket before taking out a pedal boat on the lake and watch float planes take off and land. Refuel with a feast, sitting back and soaking up the views.
Best South Island Picnic Spots
6. Eely Point Reserve, Wanaka
Take your camper down the Southern Explorer route to your next destination. The mountain town of Wanaka is a must-see in New Zealand. Head to Eely Point Reserve, located just 10 minutes outside of the township. Spend a few hours enjoying the peace in this blissful spot. Take advantage of the barbecues available and cook up a feast to refuel for your afternoon sightseeing. Don't miss a photo opportunity of That Wanaka tree.
7. Lake Hayes Walkway, Glenorchy
Drive the Southern Explorer Road Trip or the Northbound Scenic Sights route to Glenorchy. Lake Hayes Walkway is a short 45-minute drive from Queenstown, making it a perfect day trip. Lord Of The Rings film buffs may recognise this scenic landscape from the movies. Enjoy the magic of Middle Earth for a picnic before heading back to Queenstown.
8. Kaikoura Peninsula Walkway, Kaikoura
Kaikoura is a scenic coastal town located in the Marlborough region. Head to the Kaikoura Peninsula Walkway to get a view of Kaikoura from above. You can do as much or as little of the walk as you want, anywhere from 5 minutes to 3 hours. Luckily you can get all the same views without doing the hard yards. Be sure to make a pit stop at the Kaikoura institution, Nins Bin and pick up some locally caught crayfish for your picnic. The waters that surround Kaikoura are brimming with sea life. Take a break from driving and make the most of your time here and book a whale-watching cruise for an experience to remember.
Image: Kaikoura Whale Watching, thl Content Hub
9. Lake Clearwater Tracks, Canterbury
Take a trip to Canterbury and enjoy a quiet moment or two at Lake Clearwater. Visit Lake Clearwater Tracks, where motor-powered craft is forbidden. Soak in the atmosphere on your picnic rug as you watch windsurfers, kayakers and rowers venture out on the crystal clear waters. Don't forget to pack your camera for this picnic trip, as the Canterbury high country offers magnificent mountain views. Veer slightly off track from The West Coast Road itinerary or the Christchurch to Queenstown routes to reach this little slice of paradise, and stop off at Methven Farmers Market on your way to pick up some gorgeous artisan foods for your next picnic.
10. Punakaiki Pancake Rocks and Blowholes Walks, West Coast
Venture to New Zealand's rugged West Coast, a hidden gem is brimming with lush views. Make time to visit the Punakaiki Pancake Rocks and Blowholes Walks. Marvel at the Pancake Rocks that were formed 30 million years ago. This is the perfect spot to soak up the local history. The West Coast is easy to navigate in a campervan; with easy parking, clear road signs and information centres along the way, you'll have everything you need for smooth sailing.
Ready For Your Next New Zealand Adventure?
A road trip across New Zealand will be the adventure of a lifetime. No matter what kind of vacation you're looking for, you are bound to find activities you will love. Enjoy everything from wine tasting to adventure sport; there is something in New Zealand for everyone. Make the most of the epic scenery and slow down long enough to soak in the views. Book your Britz camper today, Or check out our latest deals.