Join thousands of fellow campervan travellers
Sign up for our Britz newsletter to receive inspirational travel content and awesome deals, and we'll send you a copy of our Ultimate RV guide!
Thanks
Please confirm subscription in your email.
Dunedin prides itself on being New Zealand's leading center for education, heritage, arts, and culture. Along with its historic architecture and eclectic arts scene, Dunedin enjoys an appealing harbourside position sheltered by the Otago Peninsula.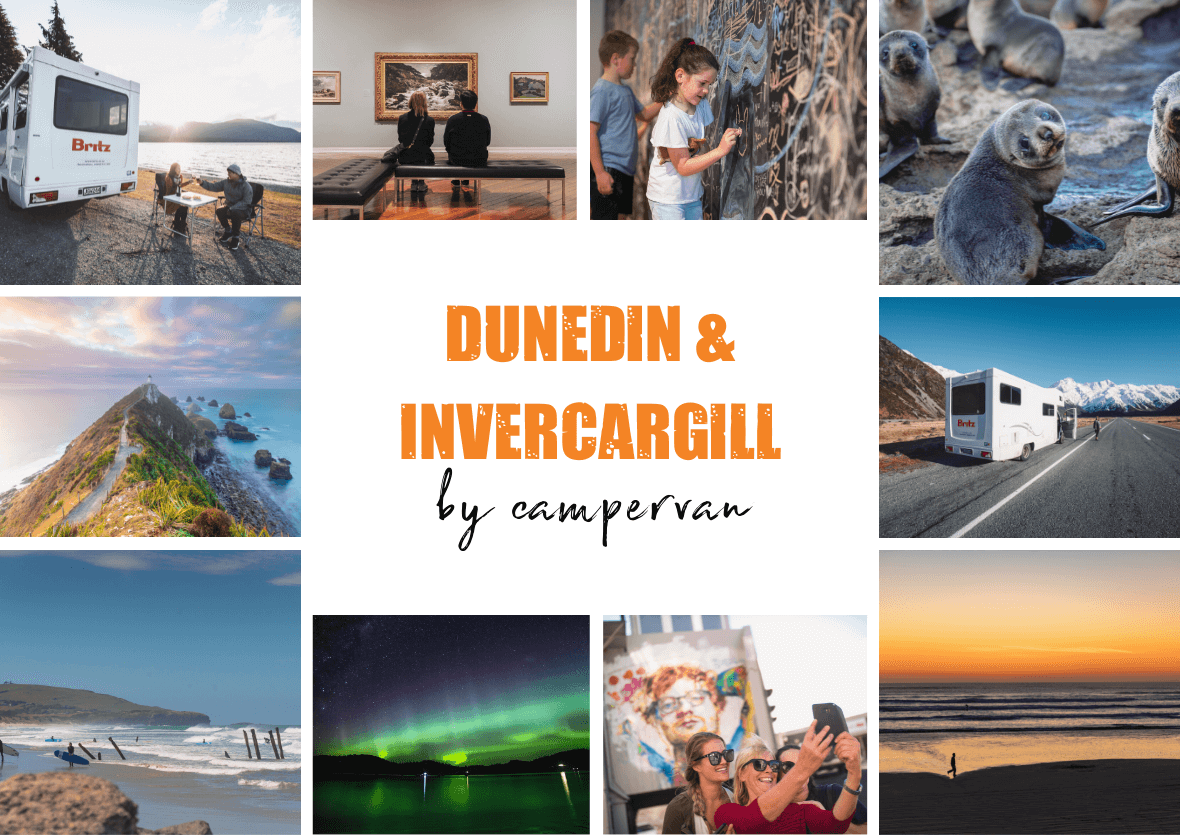 Amongst Dunedin's attractions are fine examples of unspoiled Edwardian and Victorian architecture, rare and unique wildlife, and stunning coastal beauty creating some great scenic drives. The vibrant city center is bustling with restaurants, cafes, and boutique stores.
Dunedin is perfect for visiting with a campervan. There are beautiful scenic drives with the newly upgraded Otago Peninsula Road, an easy drive along the Harbour. A wide selection of free & paid camping sites is available, from the beach to the bush, including a dedicated city centre Freedom Camping Site with easy walking access to the city attractions.
Invercargill is New Zealand's southernmost city, only a 2-hour 30-minute drive from Dunedin, this city has an abundance of character, and warm, friendly nature. Invercargill has an excellent range of shops, lively bars, and restaurants, as well as a range of buildings that give the city its charm and old-world character vibes. Heading out of the city, Invercargill is packed full of big skies, epic fiords, coastal drives as well as the remote perfection of Stewart Island.
Sign up to the thl community now!
thl is the world's largest provider of global RV experiences. Travel the world with us and discover our family of brands - maui, Britz, Mighty, Road Bear RV, El Monte RV & Just Go.
We are committed to protecting your privacy and information security. Your information will be held securely and used in accordance with any applicable privacy law, our internal policies, and our Privacy Policy which explains how we collect, use, disclose, transfer and store your information.
Dunedin & Invercargill Must Do's
Dunedin & Invercargill Campervan Road Trips
Dunedin & Invercargill Travel Tips & Inspiration

Auckland
If you're after a long drive, starting your trip in Auckland will allow you to take in all the scenery of the North Island before setting sail across to the South Island to continue your adventure.

Queenstown
New Zealand's renowned adventure playground, Queenstown is an exhilarating, year-round alpine resort. With so many activities and natural delights to enjoy, no South Island campervan trip is complete without a trip to this hot spot.

Christchurch
The drive from Christchurch to Dunedin will take you through dramatic coastal views, rare birdlife and classc architecture and heritage. Make a return trip out of this drive, or continue further south towards Queenstown.
Things To Do in Dunedin & Invercargill
Dunedin
From edgy urban street art to adorable penguins, Dunedin is a region full of surprises. There is so much to see and do in the city and on the Otago Peninsula. Here are some of the highlights:
Dunedin is home to some of the world's rarest wildlife due to the rugged, exposed coastline on the Otago Peninsula. From little blue penguins to yellow-eyed penguins, fur seals, and sea lions. By joining one of the many experienced guides either on land or by sea, you are guaranteed a great experience with our human and wildlife locals. You can also visit the world's only mainland breeding colony of Northern Royal Albatross and watch Dunedin's famous Royals from the exclusive "Royal Box"
Whether you're visiting New Zealand's only castle, Larnach Castle, experiencing how the other half lived at Olveston Historic home, or simply wandering around the many Edwardian & Victoria architecturally designed building still standing in their true or updated form, you'll feel a sense of stepping back in time when in our well-preserved piece of Southern history.
After a day of sightseeing, one of the best things to do in Dunedin is to get cosy in one of the city's many micro craft breweries or pubs and enjoy a local beer. To go one step further, indulge in a tour and tasting at Emerson's craft brewery or the historic Speights Brewery.
Dunedin's compact city layout and flat runs make it a great place for cycle touring, while the surrounding countryside offers five mountain bike trail networks. Signal Hill, just 40 minutes ride from the city center, has the best downhill track in the country. Like a long, flat, ride? The Otago Peninsula cycleway from the city to Portobello provides a dedicated, safe, cycle path around the stunning Otago Harbour. You can stop along the way for a coffee or lunch at various cafes including Glenfalloch Gardens. Keen to go across the harbour take the cycle ferry from Portobello to Port Chalmers.
Dunedin also has excellent shopping, incredible night skies viewing, a variety of family fun activities, delicious cuisine from all around the world, dog-friendly beaches and walking tracks, and a strong community of arts and cultural events. All packaged up in our warm hospitality and southern charm. What more could you ask for during your Dunedin urban injection on your Southern Road trip.
Helpful Tips For Visiting Dunedin & Invercargill
Climate and seasons in Dunedin & Invercargill
Dunedin and Invercargill experience all four seasons beautifully, each bringing a different uniqueness and colour to our city.
In Dunedin, summer temperatures fall between 11-20 degrees and a colder winter between 4-13 degrees. Rainfall is evenly spread over the course of the year. The area has mild summers and chilly winters. Invercargill has a significant amount of rain, even in the driest months.
Where to stay in Dunedin & Invercargill with a Campervan
Dunedin
Invercargill
What to pack
With so much exploring to be done in this region, it's an absolute must to make sure you pack for outdoor activities and adventure in Dunedin and Invercargill. Be sure to bring your walking shoes, warmer clothes for the cooler days and nights. A bike is always good to bring onboard your vehicle so you can make the most of the incredible cycling trails this region has to offer. And with Britz, you can bring your dog on board so they can enjoy the holiday with you!
Nearby attractions and day trips from Dunedin & Invercargill
Sutton Salt Lake. The Sutton Salt Lake is the only saline lake in New Zealand. With no outlet, the lake has concentrated salts from surrounding soils. Nestled against the epic backdrop of the Rock and Pillar Range, be sure to make the 3.5 self-guided loop walk to the lake and enjoy the tranquillity of this natural landscape.
Karitane. Set in rolling country near the mouth of the Waikouaiti River, the seaside settlement of Karitane is a popular holiday retreat. Known for its scenic beauty, golden beach, tranquil environment as well as rich Māori and European history, a trip to this picturesque village is well worth it.
Moeraki Boulders. No trip along the Otago coast is complete without stopping to marvel at the Moeraki Boulders. The Moeraki boulders and mysterious, spherical stones scattered across a beach. According to Māori legend, the boulders are gourds washed to shore from the great voyaging canoe Araiteuru when it was wrecked upon landfill in New Zealand hundreds of years ago.
The Caitlins. The Caitlins is the spectacular stretch of coast between Balclutha and Invercargill. Boasting a magical rugged beauty and untouched quality, here you will find a world of native forests, high cliffs, deserted sandy beaches, cascading waterfalls, hidden lakes, caves, sparkling bays and scenic lighthouses. Home to an array of fauna, from native birds to local wildlife, the natural landscapes in the Caitlins and truly one of a kind.