Join thousands of fellow campervan travellers
Sign up for our Britz newsletter to receive inspirational travel content and awesome deals, and we'll send you a copy of our Ultimate RV guide!
Thanks
Please confirm subscription in your email.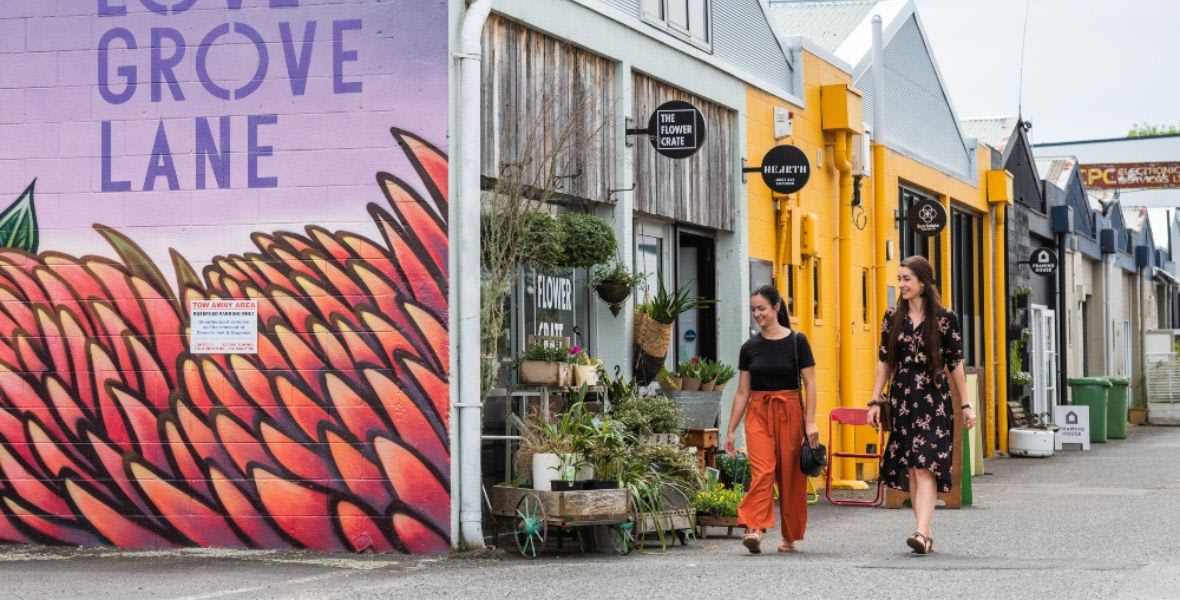 Image Source: Waikato NZ Image Library
As New Zealand's fourth largest city, there are plenty of things to do in Hamilton. From the famous Hamilton Gardens to the interactive Hamilton Zoo and everything in between. To help you make the most of your time in the region, we have put together a list of the 15 best things to do in Hamilton, New Zealand. That way, you can spend your time exploring the very best that this city has to offer.
1. Take a walk through Taitua Arboretum
Come explore 22 hectares of impressive mature trees at the Taitua Arboretum. Featuring native and exotic woodland gardens, lakes, linked walking tracks, and ample picnic areas, this is a great spot for a picnic and stroll amongst the trees.
Location: 55 Taitua Road, Temple View, Hamilton
Price: Free
2. Visit Hamilton Gardens
Hamilton Gardens are an incredible public garden on the banks of the Waikato River. It's easily one of the best public gardens in the country. Rather than the traditional approach to botanic gardens of general plant collections, Hamilton Gardens showcases cultural gardens over the past 4000 years. This provides a crucial insight into civilizations from around the world. Featuring an array of themed gardens from Mediterranean Italy to zen Asia, these culturally diverse gardens are bound to strike awe at all ages.
Location: Hungerford Crescent, Hamilton
Price: Free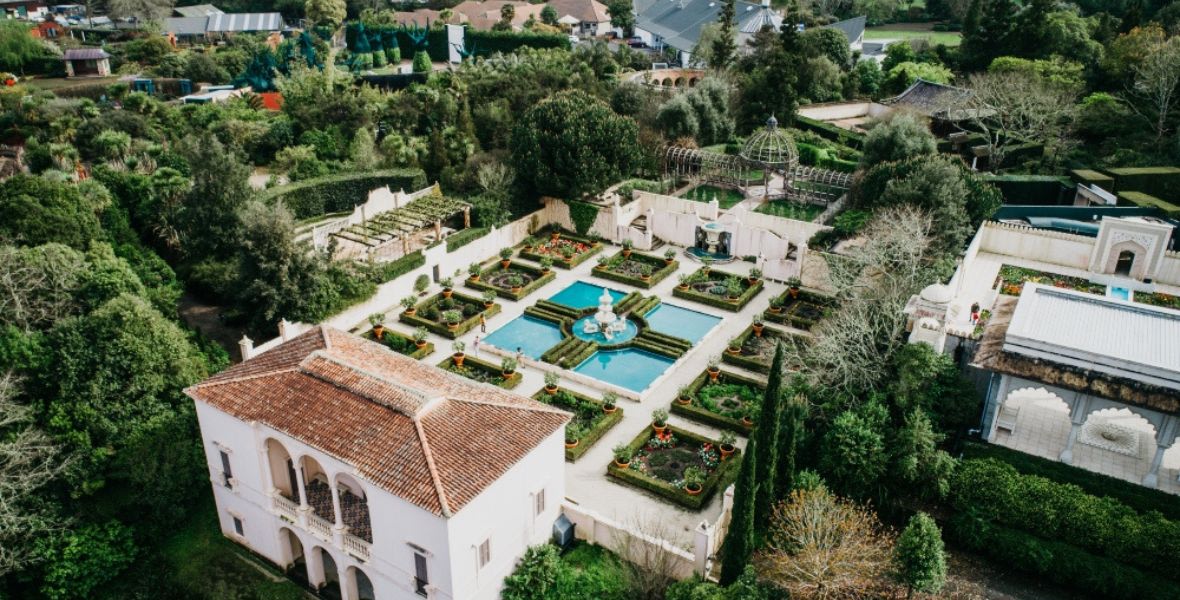 Image Source: Waikato NZ Image Library
3. Walk the Hakarimata Summit Track
The Hakarimata Summit Track is one of the most popular tracks in the area. Located in the Hakarimata Scenic Reserve, this 335-metre climb winds its way up a well-constructed set of steps to the summit. From the top, you will be treated to incredible views of the coast, across the Waikato Basin and down towards Ruapehu. Allow for up to three hours for this 2 km return tramp (walk).
Location: Starts at the Hakarimata Ranges Public Carpark on Brownlee Avenue, Ngāruawāhia
Price: Free
4. Stop in at Good George Brewing
Come visit the original Good George at Good George Brewing Co in Hamilton. Established in an old church, Good George has been serving happy customers at this location since the 1960s. Grab a seat under the brew tanks in the garden bar, and enjoy a brew and a bite to eat as you watch the brewing magic unfold. With a range of award-winning beers, ciders and non-alcoholic drinks on-site, there is something for the whole family.
Location: 32A Somerset Street, Frankton, Hamilton
Price: Prices vary. There is a food and drinks menu, as well as a set menu.
5. Catch a wave at Raglan
Raglan is a surfing mecca on the North Island of New Zealand, just a short 35-minute drive from Hamilton. The eye-catching black sand on the coastline is nothing compared to the ionic left-hand break this beach is known for. It is said that surfers (with the right skills) can cruise for up to 2km! Want to get the skills to cruise this epic spot? Why not take a lesson at Raglan Surf School. With a range of private and group lessons, there is something for everyone.
Location: 35-minute drive from Hamilton.
Price: Prices vary. For a private one-on-two lesson, you'd be looking at NZD$129 for 2 hours. While a group lesson is around NZD$84 for 2 hours.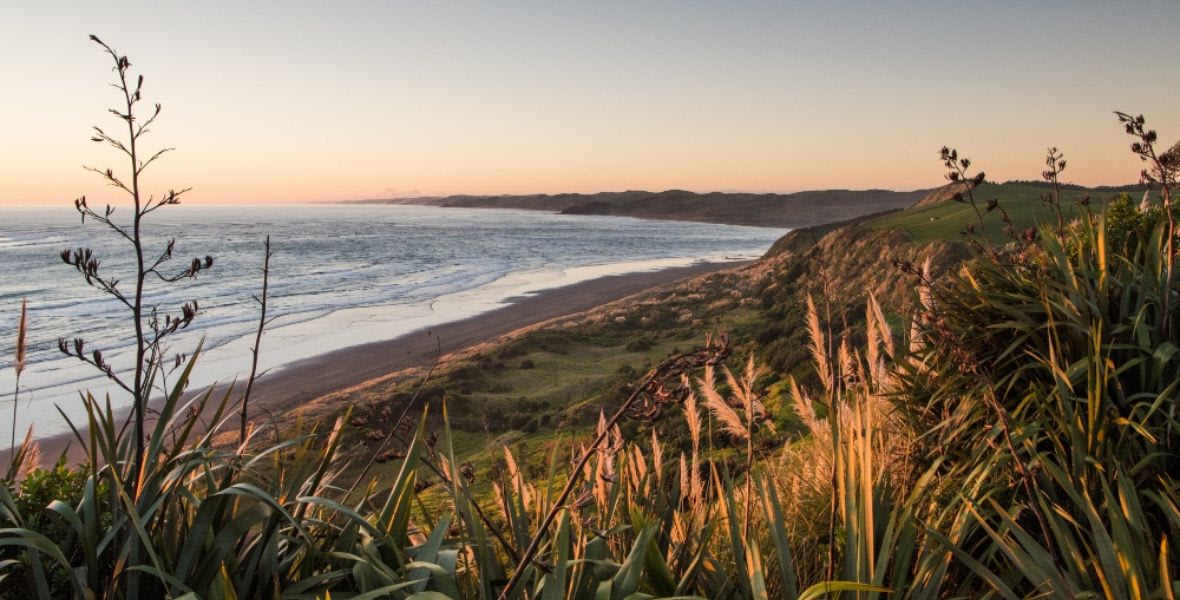 Image Source: Waikato NZ Image Library
6. Rent a bike and cycle next to Waikato River
Waikato River is the longest river in New Zealand, stretching a whopping 425 km through central North Island. One of the best ways to discover a section of this immense river is by renting a bike at River Riders. Starting at NZD$40pp for an hour, you can ride along one of the many Waikato River Trails ranging in grades from easy to expert.
Location: 357 Victoria Steet, Frankton, Hamilton
Price: This will vary depending on the bike you choose.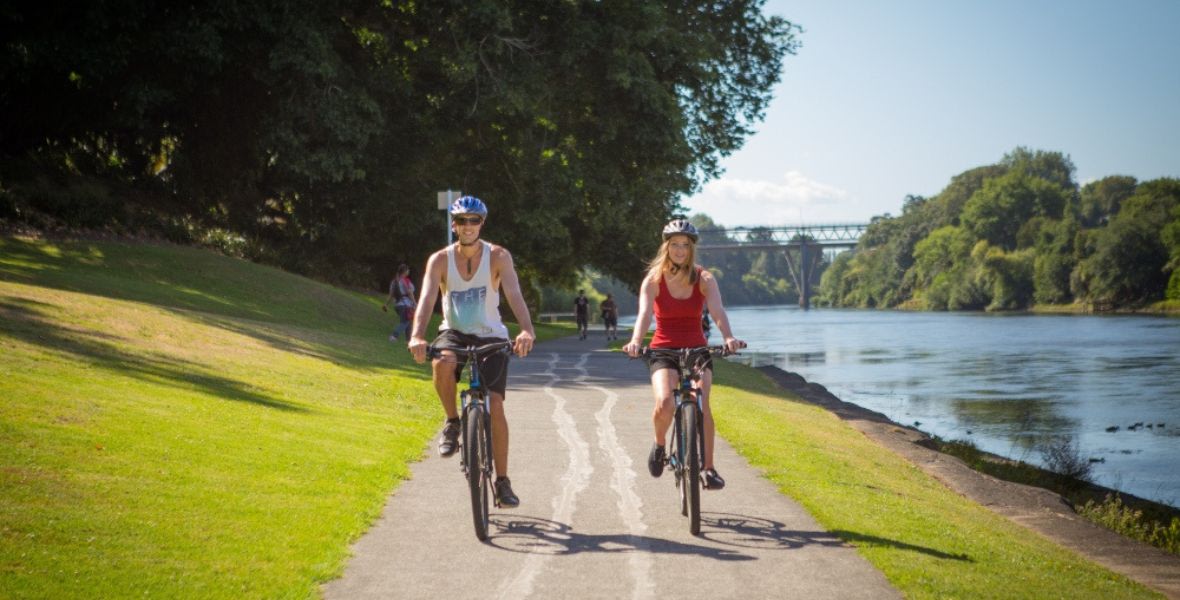 Image Source: Waikato NZ Image Library
7. Visit Sanctuary Mountain - Maungatautari
Sanctuary Mountain - Maungatautari is an incredible conservation area with wetlands, forests and native wildlife. With the vision to share the mauri (life force) and mana (spiritual power) of this special place, this is the perfect place to come see some of New Zealand's threatened and endangered species come alive and thrive.
Location: 99 Tari Road, Pukeatua
Price: Take a free walk, or pay to join a guided tour. Donations are also appreciated.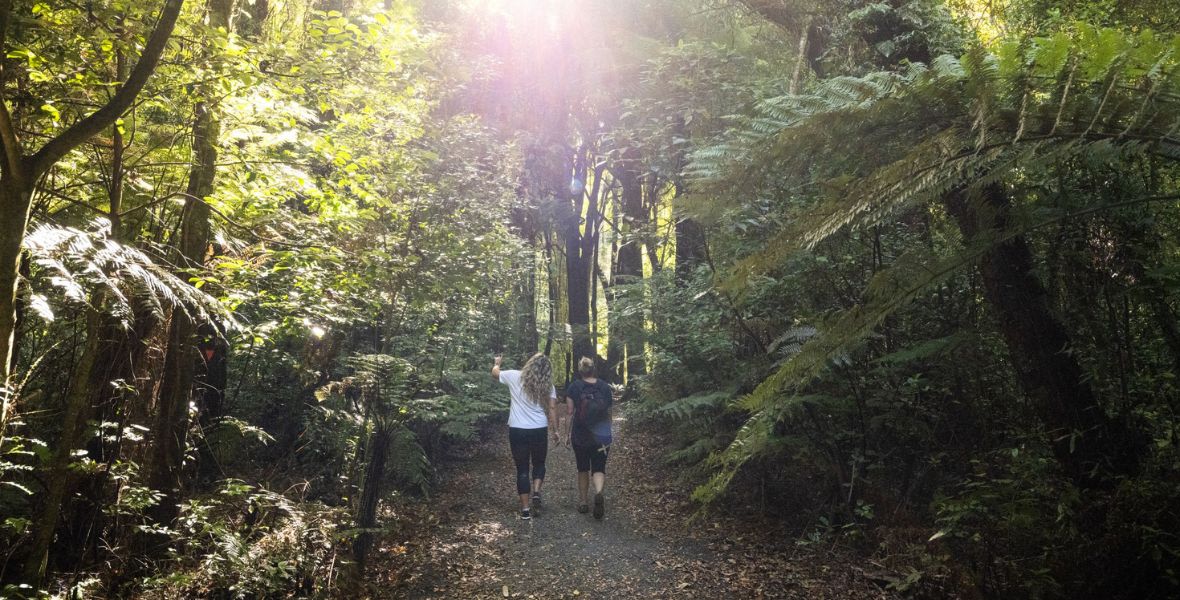 Image Source: Waikato NZ Image Library
8. Take a cruise on the Waikato River
Another fantastic way to explore the Waikato River is to cruise along it! Enjoy a meal and something to drink while cruising along the Waikato River with Waikato River Explorer. Departing from the Waikato Museum, the cruise winds its way along the river, giving the best riverside views of the city.
Location: 1 Grantham Street, Hamilton
Price: A cafe cruise departing from Waikato Museum costs NZD$34
9. Do the Mangapohue Natural Bridge Walk
The Mangapohue Natural Bridge Walk is a stunning walk through a limestone gorge that passes underneath an impressive 17-metre-high natural arch. This 700 m loop track takes roughly 20 mins, but we recommend allowing extra time to snap a pic or two of the impressive arch. Located around an hour and a half south of Hamilton, this is a great day trip or stop on a larger North Island road trip.
Location: Te Anga Road.
Price: Free
10. Shop till you drop
As one of the country's largest cities, Hamilton is the perfect place to pick up a few much-needed shopping essentials. Some of the best places to check out for endless shopping include Riverbank Lane, Centre Place and Chartwell Shopping Centre.
Location:
Riverbank Lane: 298 Victoria Street, Hamilton Central
Centre Place: 501 Victoria Street, Hamilton Central
Chartwell Shopping Centre:201 Hukanui Road, Chartwell
Price: Varies
11. Explore the Classic Museum
Step back in time with a visit to the Classics Museum. Take a walk amongst the incredible classic cars and memorabilia throughout the museum. Then, after you have finished exploring the old-school cars, be sure to grab a bite to eat at the Jukebox Diner. This 1950s-themed diner looks like it's taken right from a movie, with classic red patent leather chairs and white and black checkered floors.
Location: 11 Railside Place, Dinsdale, Hamilton
Price: Adults NZD$20, children NZD$8 and students NZD$15.
12. Take a trip to Waitomo Caves
Just an hour's drive from Hamilton, you can experience the sparkling ceilings of the Waitomo Glowworm Caves. Explore this top New Zealand attraction on a glow worm tour for NZD$55 or get wet and wild on a blackwater rafting tour starting at NZD$155. These caves are easily one of the top ten fun family trips to take from Auckland.
Location: 39 Waitomo Village Road, Waitomo
Price: Adults $55 to explore the glow worm caves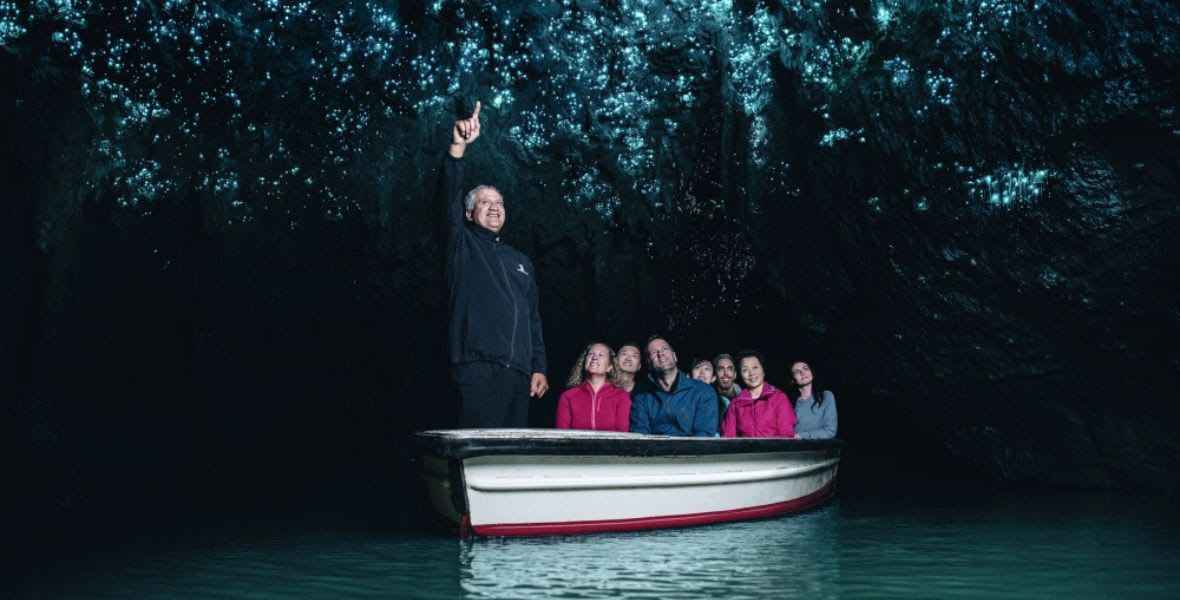 Image Source: Waikato NZ Image Library
13. Enjoy high tea at Zealong Tea Estate
Taste award-winning organic tea at the Zealong Tea Estate. This estate is a world destination that offers high tea with organic New Zealand grown tea and amazing finger food. Come enjoy a high tea or join a tour to journey through tea history and culture.
Location: 495 Gordonton Road, Gordonton
Price: High tea is $65 per person
14. See the animals at Hamilton Zoo
Hamilton Zoo is home to over 600 native and exotic animals, and is home to the largest walk-through aviary in New Zealand. This zoo also offers unique 'Face2Face' experiences that allow guests to get up close to animals and learn about their life at the zoo. This is a must-do for families and animal lovers looking for things to do in Hamilton.
Location: 183 Brymer Road, Rotokauri, Baverstock
Price: Adult $26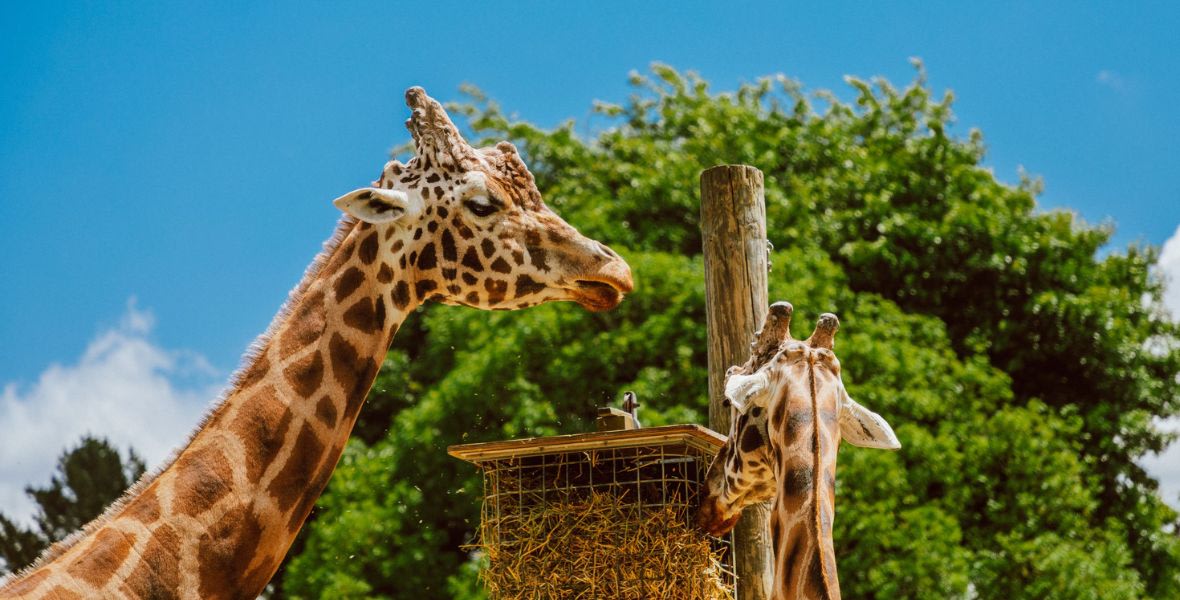 Image Source: Waikato NZ Image Library
15. Dine at Gothenburg
Gothenburg is a famed foodie destination for good reason. After years of travelling abroad, the owners Carl and Susanna wanted to bring a taste of their travels to Hamilton. Safe to say, they have met and exceeded that goal. This wonderful mix of a cafe, restaurant and bar offers amazing tapas and drinks inspired by food traditions around the world. Easily one of the top cafes in Hamilton!
Location: 17 Grantham Street, Hamilton Central
Price: A varied menu
Ready to explore Hamilton in a campervan?
Hamilton is a perfect mix of tranquil escape and buzzing events. So whether you are looking to explore tranquil gardens and museums, or wine, dine and dance the night away, Hamilton delivers in spades. Nestled in amongst some of the top New Zealand North Island attractions, this is a perfect addition to a campervan holiday in New Zealand.
Ready to explore Hamilton in a campervan? Book your Britz campervan online today. Then, all that's left to do is to start planning your trip to explore all the beauty on offer in Hamilton and beyond. For more tips on preparing for a campervan trip, check out our guide to planning your campervan trip and safe motorhome driving in New Zealand.