Join thousands of fellow campervan travellers
Sign up for our Britz newsletter to receive inspirational travel content and awesome deals, and we'll send you a copy of our Ultimate RV guide!
Thanks
Please confirm subscription in your email.
With so many fantastic family-friendly activities in and around Taupō, it can be hard to know where to start! We've made it nice and easy with this helpful list of the top 12 family-friendly things to do in Taupō.
But first, what's the best way to explore Taupō?
The very best way to make the most of this New Zealand gem is to rent a travel van and explore the many great things to do in Taupō. Thinking about a caravan rental? We recommend sticking with a campervan – you won't have to worry about a tow vehicle, and it's much easier to drive, park, and set up.
Pick up your pre-booked Britz campervan from our Auckland branch. Then, kick off your campervan holiday with a road trip from Auckland to Taupō. This easy drive takes just over three hours. Once you arrive in Taupō, base yourself at the Taupō TOP 10 Holiday Park or at Taupō DeBretts Holiday Park.
12 things to do in and around Taupō
1. Visit Huka Falls
One of the top things to do in Taupō is the incredible Huka Falls. Witness the power and beauty of more than 220,000 litres of water per second crashing over an 11-metre-high waterfall! Stand on the footbridge overlooking the falls. If you're keen on a closer look, try a jet boat ride or river cruise. If you prefer a more relaxed approach, take the easy one-hour walk alongside the river. The track winds its way through the surrounding forest with some great vantage points along the way to see the falls and snap a great photo.
You'll find the Huka Falls just five minutes drive from the town centre on Huka Falls Road.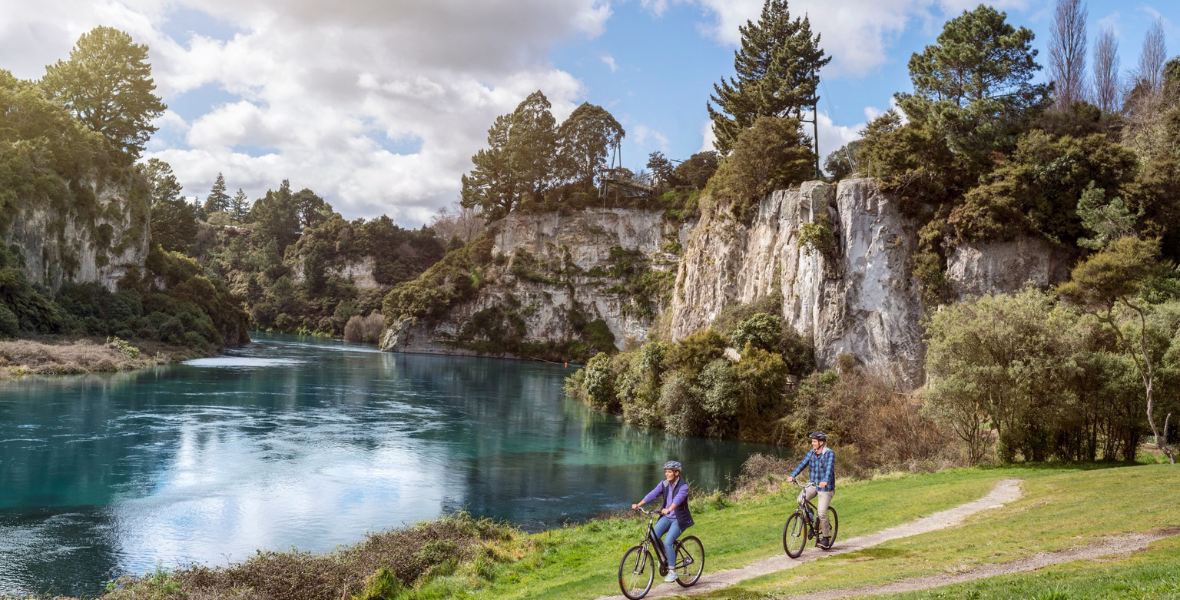 Image Source: Tourism New Zealand Image Gallery
2. Get your adrenaline going at Taupō Bungy
If you're an adventure enthusiast, then you simply can't visit Taupō without experiencing a Bungy jump! Taupō Bungy is New Zealand's only clifftop Bungy. Leap from a 47-metre height over the sparkling water of the Waikato River. You don't have to go it alone though, there's a tandem jump option too.
You'll find Taupō Bungy at 202 Spa Road.
3. Enjoy a scenic Lake Taupō Cruise
Another of the top things to do in Taupō is a cruise aboard the Ernest Kemp to see the Māori Rock Carvings. Relax as you cruise along the tranquil waters of Lake Taupō onboard this replica steamboat on a 1.5-hour or 2-hour tour. The Māori Rock Carvings at Mine Bay is one of the most celebrated examples of Māori traditional art. Carved by Matahi Whakataka-Brightwell and a team of artists over four years in the 1970s, they tower over 14 metres above the crystal-clear water.
The cruise leaves from 65 Redoubt Street at the Taupō Marina. Book your tickets online.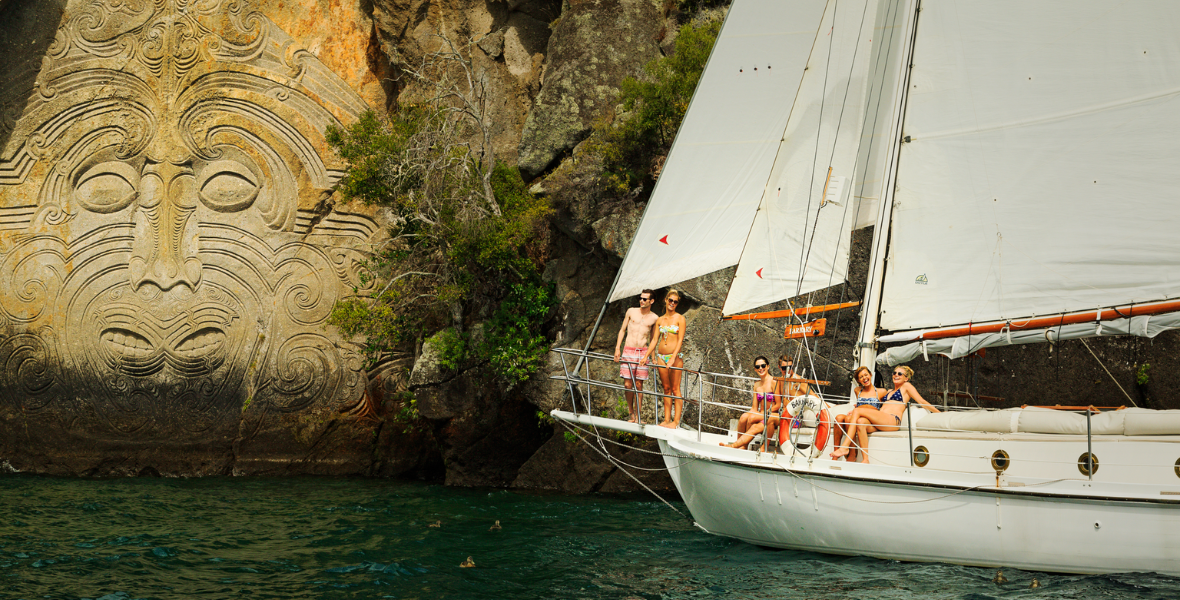 Image Source: Tourism New Zealand Image Gallery
4. Heat things up at Taupō DeBretts Hot Springs
Soak away the day with a soothing spa at Taupō DeBretts Hot Springs. The perfect activity for a chilly day! Taupō is one of New Zealand's most active thermal regions. Taupō DeBretts sits on a prime 'hot spot' location – a geothermal spring known as Onekeneke. DeBretts also has a fantastic waterpark with hydro slides! Even better, you can camp onsite at the campground and receive discounted Waterpark entry rates.
5. Explore the Huka Honey Hive
Check out the buzz at the Huka Honey Hive. This fantastic Taupō attraction makes for an ideal family morning out. See the honeybees as they buzz through their hive – don't worry, they're safely behind a Perspex screen! Get the kids involved with the interactive displays and learn about how to help protect our precious bees. Taste the range of delicious honey, mead, and liqueurs. There's an onsite café and ice cream bar too!
The Huka Honey Hive is located just a few minutes out of Taupō on 65 Karetoto Road.
6. Make a splash at the Huka Prawn Park
The Huka Prawn Park is a must-do family activity while you're in Taupō. Start the day with a guided tour through the prawn nursery. Handfeed the baby prawns, then head to the activities park. Get out on the water on a pedal boat or stand-up paddleboard. Wander through the Riverside Trail then soak your feet in the geothermal foot baths! And to top off your visit, enjoy a tasty lunch of giant freshwater prawns cooked in garlic butter!
7. Challenge yourself at Mind Junction
Explore the maze, take a ride on a flight simulator, or get hands-on with the interactive displays at Mind Junction. This fun family attraction has six awesome activities to choose from. There's even a LEGO display room, mini golf, and a shooting simulator! Coffee and nibbles are on hand for the grown-ups too.
Mind Junction is at 8 Palmer Mill Road, Wairakei.
8. Explore Craters of the Moon
Discover the lunar-like atmosphere of the Craters of the Moon geothermal walk. This other-worldly landscape was formed in the 1950s when a large area north of Taupō suddenly began to emit steam and create craters of boiling mud. You can enjoy this fascinating geothermal wonderland from the safety of the well-formed pathways and elevated viewing platforms.
You'll find the Craters of the Moon at 171 Karapiti Road, Wairakei Park. Check online for entry fees.
9. Visit Tongariro National Trout Centre
The Taupō region is world-famous for its fantastic fishing. At the Tongariro National Trout Centre, the kids can catch their own rainbow trout! Not only that but the fish will be smoked on-site so they can eat it too! While you're there, visit the hatchery, the Flyfishing Museum, and the Native Aquarium.
The centre is at 247 State Highway 1 in Rangipo, about 50 minutes drive south of Taupō.
10. Tackle the Tongariro Alpine Crossing
Considered the best one-day hike in New Zealand, the Tongariro Alpine Crossing is perfect for families with older children. The crossing is located in the Tongariro National Park - New Zealand's oldest national park and a dual UNESCO World Heritage Site. This park is a place of dramatic, awe-inspiring natural scenery. As you walk the crossing, you'll be surrounded by unique landforms, including the volcanic peaks of Ngauruhoe, Tongariro and Ruapehu.
The Tongariro Alpine Crossing is around an hour's drive south of Taupō on SH1. For the best experience, we recommend booking a guided tour.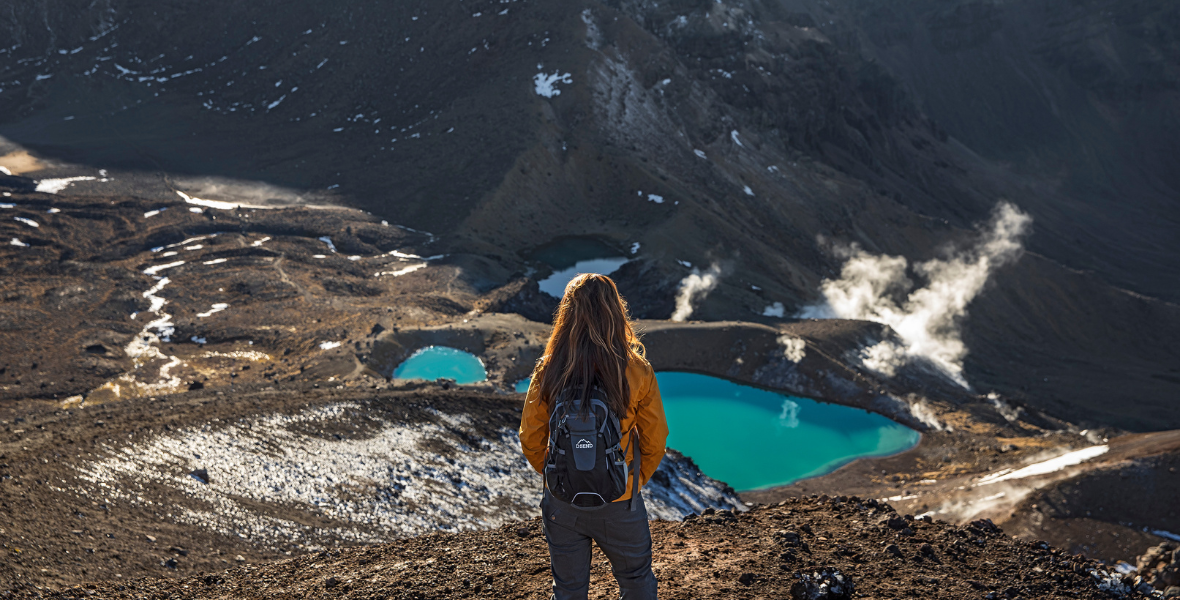 Image Source: Tourism New Zealand Image Gallery
11. Have an adventure along the Tongariro River
For an adventurous thrill, the whole family will love, plan a family rafting experience with Tongariro River Rafting. You'll be kitted out with warm gear to keep you safe and cosy. Then it's into the crystal-clear waters of the Tongariro River! The gentle currents will carry you along with regular areas of small, splashy rapids.
Book online, then head to the Rafting Centre at 95 Atirau Road, Turangi – about 45 minutes drive south of Taupō.
12. Visit Waitomo Glowworm Caves
As you're heading back to Auckland to drop off your campervan, be sure to plan a stop at the famous Waitomo Glowworm Caves. Waitomo is home to an extensive network of underground cave systems, making for a unique and unforgettable family experience. Explore the ancient caves and take a boat ride inside a glowworm grotto where thousands of these tiny creatures put on a dazzling display. For adults (and kids over 12) with an adventurous spirit, there's also the option of black water rafting through the caves – including a jump off a waterfall!
Waitomo Glowworm Caves is at 39 Waitomo Village Road, Waitomo – about two hours drive north of Taupō.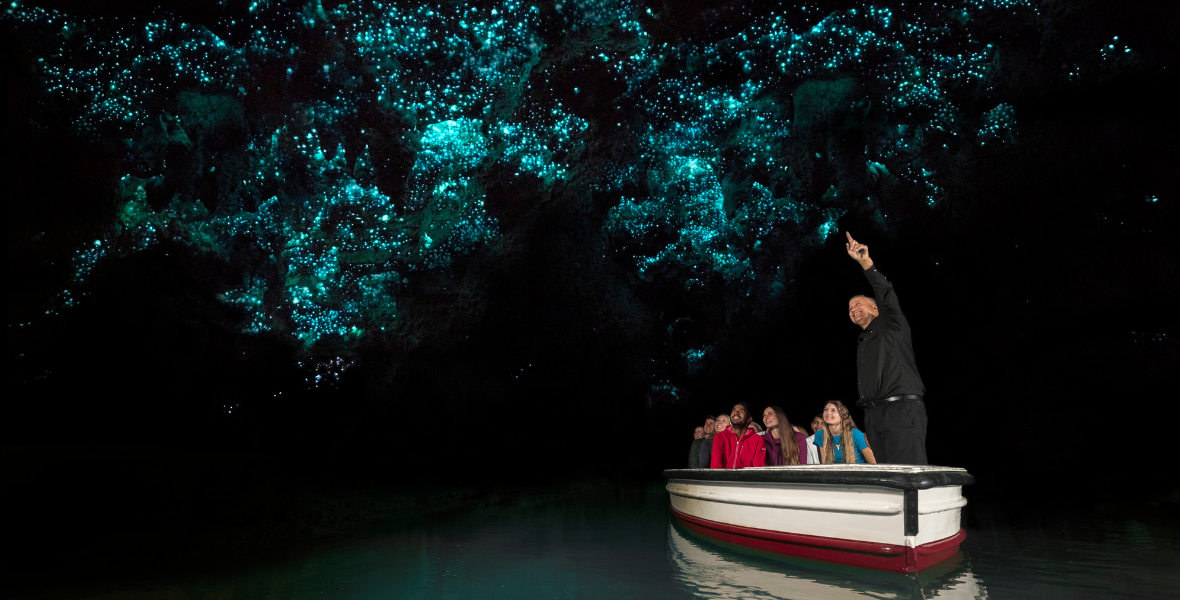 Ready for your next New Zealand adventure?
From cruises and mountain hikes to waterparks and rafting, the geothermal gem of Taupō is bursting at the seams with fun things to do for families. Whether you're a family of adventure junkies or you like to relax by the lakeside, it's all here waiting for you to enjoy together.
And that's what travelling by campervan is all about – spending time together, travelling at a relaxed pace, and making the most of the amazing destinations New Zealand has to offer.
For more help planning your campervan holiday in New Zealand, download the free thl Roadtrip App. Access handy tips for planning and preparing your trip, find out what to expect on pick up, and see a full show-through video of the RV rental you've booked.
Ready to get started? Book your Britz campervan today. We've got branches in Auckland, Christchurch, and Queenstown. If you want to plan an extended family road trip, you can even pick it up at one branch and drop it off at another. Book yours today!
Looking for more campervanning tips and advice? Check out these helpful blogs: