Join thousands of fellow campervan travellers
Sign up for our Britz newsletter to receive inspirational travel content and awesome deals, and we'll send you a copy of our Ultimate RV guide!
Thanks
Please confirm subscription in your email.
There are lots of factors you need to take into account when choosing your vehicle, check out our tips to choosing your perfect campervan!
The first question you need to ask yourself is: how many people are going on this trip?
Our campervans can fit up to six people so tally up your family and friends. If you have more than six people, book two or more vehicles and you can sort out who goes in which vehicle later.

The second question is: would you rather have some extra space?

Even if there are two of you, you might prefer to book a campervan that sleeps four to six, to give you more space on those longer trips. So if you want more legroom, why not upgrade yourselves?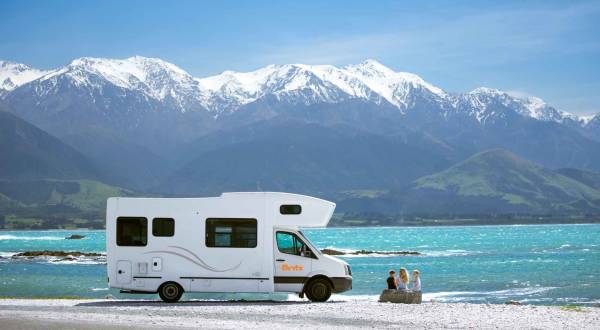 Campervans For 1 - 3 People
The Venturer and HiTop are perfect for a couple, whilst the Venturer Plus with the extra child's bed is perfect for a family with a child under 7. With a kitchen, lounge and even a toilet & shower in the Venturer & Venturer Plus (the HiTop comes with a Porta Potti) you're all set to get off the beaten track and explore.
2 people: Britz Venturer
2 people: Britz HiTop
2 adults, 1 child: Britz Venturer Plus
Campervans For 4 - 6 People
Whether you're a couple looking for more space, or you're looking to take the whole family on a campervan trip, the 4-6 berth range is for you. Providing apartment-like living, the 4-6 berth range come with multiple sleeping areas, full furnished kitchens and a lounge to relax in. The Discovery, Explorer and Frontier also come with a toilet shower, whilst the Voyager has a porta potti. If you're looking for flexibility in travel and the space to take more, these vehicles are for you.
4 people: Britz Voyager
4 people: Britz Explorer
4 people: Britz Discovery
6 people: Britz Frontier
Does Size Matter?
When choosing your vehicle, you might think a larger campervan would be daunting to drive, but fear not! No matter a campervan's size, they're easier to drive than it may seem - so try not to let size become a defining issue. All models have large side mirrors and built-in GPS, while some have reversing cameras, making your drive even smoother.
Toilet And Shower?
Thinking of doing a bit of Freedom Camping? Well, you'll definitely need a toilet and shower on-board to do so, without getting a fine from local councils. You'll also need to ensure that your campervan is powered up, which means staying at a campground or holiday park with powered sites every other night. So budget your stays accordingly and book a camper with a toilet and shower included.
Are you staying in Holiday Parks the entire time? There are plenty of them around the islands, and if you've already booked your powered sites, maybe toilets and showers aren't so important. Perhaps the old 'hold it 'til we get there' attitude can be put to use.
Campervans with a toilet and shower - Britz Venturer, Britz Venturer Plus, Britz Explorer, Britz Discovery, Britz Frontier
Campervans with a Porta Potti toilet - Britz HiTop, Britz Voyager
Campervan Features
While many of the campervans come with a standard range of equipment, ie kitchen with fridge, cooker and sink, lounge, toilet, storage etc, some campervans have unique features of their own. For example, the Venturer Plus is perfect for a couple who'd like to cook outside whilst travelling with an external BBQ. While the Discovery has a unique drop-down bed to enhance internal space. Get an overview of the key features of each of our vehicles below.
The HiTop is a 2-berth campervan with all the mod-cons like a microwave, fridge and gas stove, plus fold-out table from the inside, for a comfortable and enjoyable holiday experience.

Britz Voyager
The Voyager 4-berth campervan is set up for an awesome adventure! Perfect for four people to travel and sleep in. Its roomy and clever use of space means you can travel in comfort with all the mod-cons including a microwave, gas oven and running water.

Britz Venturer
The Venturer is a fantastic option for the couple wanting to travel in comfort. With its flexible and spacious bed configurations, and toilet and shower facilities on board, it is a true home away from home. It even includes a BBQ for those keen on outdoor cooking.

Britz Venturer Plus
The Venturer Plus is designed with you and your growing family in mind! Room for two adults and one child, this cleverly designed vehicle comes with toilet, shower and kitchen facilities including an external BBQ. With an automatic transmission, this vehicle is perfect for an easy family getaway.
Britz Discovery
The Discovery is a 4-berth campervan is perfect for a family or two couples. Featuring a fully equipped kitchen, bathroom, living area and two double beds (one pulls down from the ceiling), the Discovery has all your needs covered.

Britz Explorer
The Explorer 4-berth campervan is perfect for a spacious trip away. With a fully equipped kitchen, bathroom, living area and two double beds, the Explorer is ideal for a family of four or group of friends.

Britz Frontier
Be the envy of other campers when you pull up in this brilliant 6-berth campervan! The large windows around the living area will provide you with an awesome view each morning, and it also features a dinette, full kitchen and toilet shower!
All this info should set you on the right path, but you can always browse our list of campervans in more depth or get in touch with us for a quotation.
Happy planning, traveller!