Join thousands of fellow campervan travellers
Sign up for our Britz newsletter to receive inspirational travel content and awesome deals, and we'll send you a copy of our Ultimate RV guide!
Thanks
Please confirm subscription in your email.
With so many fantastic family-friendly activities in and around Te Anau, it can be hard to know where to start! We've made it nice and easy with this helpful list of the top 10 family-friendly things to do in Te Anau.
Why you should put Te Anau at the top of your NZ bucket list
With its stunning scenery and relaxed, small-town vibe, Te Anau has so much to offer. Whether you're looking for adventure or relaxation, you're sure to find something for you in Te Anau.
Best of all, Te Anau is a short 90-minute drive from one of New Zealand's most spectacular natural wonders, Milford Sound. This makes it the ideal base to set up and plan some terrific day trips.
The very best way to explore this special part of New Zealand with your family is to rent a campervan. Pick up your Britz campervan from our convenient branch in Queenstown. It's then a scenic and relaxing two-hour drive from Queenstown to Te Anau.
Let's explore all the great things on offer once you get there!
Top 10 family-friendly things to do in Te Anau
1. Discover Milford Sound
Once described by author Rudyard Kipling as the eighth wonder of the world, Milford Sound epitomises New Zealand's pristine and pure landscape. Located within the Te Wahipounamu World Heritage Area of Fiordland National Park, Milford Sound combines a magical combination of pristine forests, majestic mountains, and inky dark waters – all of which are waiting to be explored.
To reach Milford Sound from Te Anau, travel along SH 94 for approximately 118 km (around one hour and 25 minutes). You'll want to take your time as you drive and enjoy the stunning scenery along the way. The road passes through some of New Zealand's most beautiful landscapes, including glacier-carved valleys, native rainforests, and mountain ranges.
Here are a few tips for your journey:
There are no petrol stations or shops between Te Anau and Milford Sound, so stock up before you leave.
Milford Road has limited mobile phone coverage.
Check the weather forecast before you head off – the weather in this region can change quickly.
Drive to the conditions and keep informed by checking the NZTA road status page.
2. Kayak Milford Sound
One of the best ways to enjoy the majestic beauty of Milford Sound is to get out on the lake. Kayaking through Milford Sound is an unforgettable experience and an ideal activity for families. Enjoy the tranquil peace and spectacular scenery as you paddle through sheltered coves and past sheer rock walls, inquisitive wildlife, and magnificent waterfalls.
There are several kayaking operators in Milford Sound. Southern Discoveries operate year-round with guided tours of up to 90 minutes.
Prices start from $209. Double kayaks are available for parents and children at $349, with double adult kayaks at $418. The price includes all equipment and a freshly prepared lunch.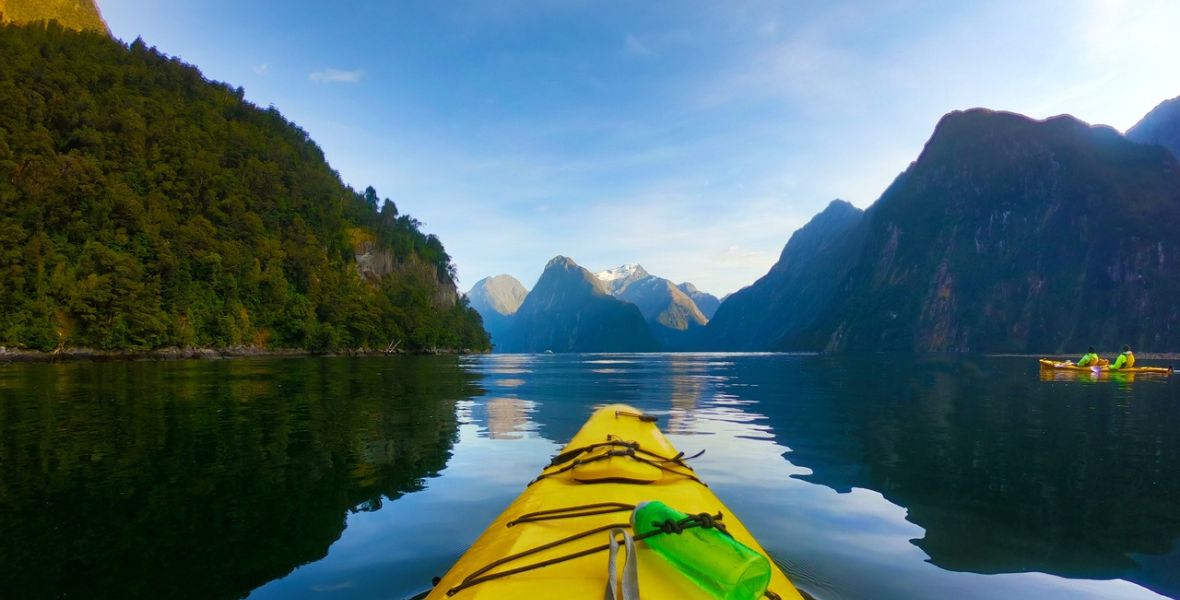 Image Source: Southland Image Library
3. Experience the Milford Sound Underwater Observatory
To enjoy the beauty of Milford Sound from a completely different perspective, head underwater to the Milford Sound Underwater Observatory.
You'll start your adventure by heading out on the lake by boat before descending 10 metres below water and into a unique underwater observatory. Stay warm and dry as you marvel at underwater wildlife, including fish, anemones, and rare black coral. You'll get the chance to learn more about the ecology and geology of the Milford Sound, as well as the conservation efforts underway to protect this special area.
Prices start at $119 for adults and $40 for children and include a tasty picnic lunch.
4. Discover the Te Anau Glowworm Caves
Take the family on an unforgettable journey underground, where hundreds of sparkling glow worms await! You'll start your experience with a half-hour boat cruise on beautiful Lake Te Anau before heading underground into a fascinating 12,000-year-old cave system sculpted by water over thousands of years.
Explore the caves both on foot and by small boat and discover how they were slowly formed by the rushing water. As a result, the caves are made up of a twisting network of limestone passages, sculpted rocks, and an underground waterfall. You'll then glide through the darkness and into the magical glow worm grotto to marvel at the dazzling display.
Tours run daily and take two hours and 15 minutes. Prices are $99 for adults and $35 for children.
5. Visit Te Anau Bird Sanctuary
Fiordland is home to some of New Zealand's most special bird species. And the very best place to see them is at the Te Anau Bird Sanctuary.
Keep your eyes open for the prehistoric-looking Takahē. This flightless bird is protected in New Zealand and has special significance to Ngāi Tahu, the iwi (Māori tribe) of most of New Zealand's South Island. You're also likely to see:
Kākā (parrot)
Antipodes Island parakeets
Ruru (morepork, a small owl)
Pīwakawaka (fantail)
Korimako (bellbird)
The sanctuary sits on the shores of Lake Te Anau and is an easy 15-minute walk from the Fiordland National Park Visitor Centre. Don't forget to bring along your camera and practise your wildlife photography – you'll get plenty of opportunities to get a great shot!
Entry is free for self-guided visitors, although donations are very much welcomed and essential to the running of the sanctuary.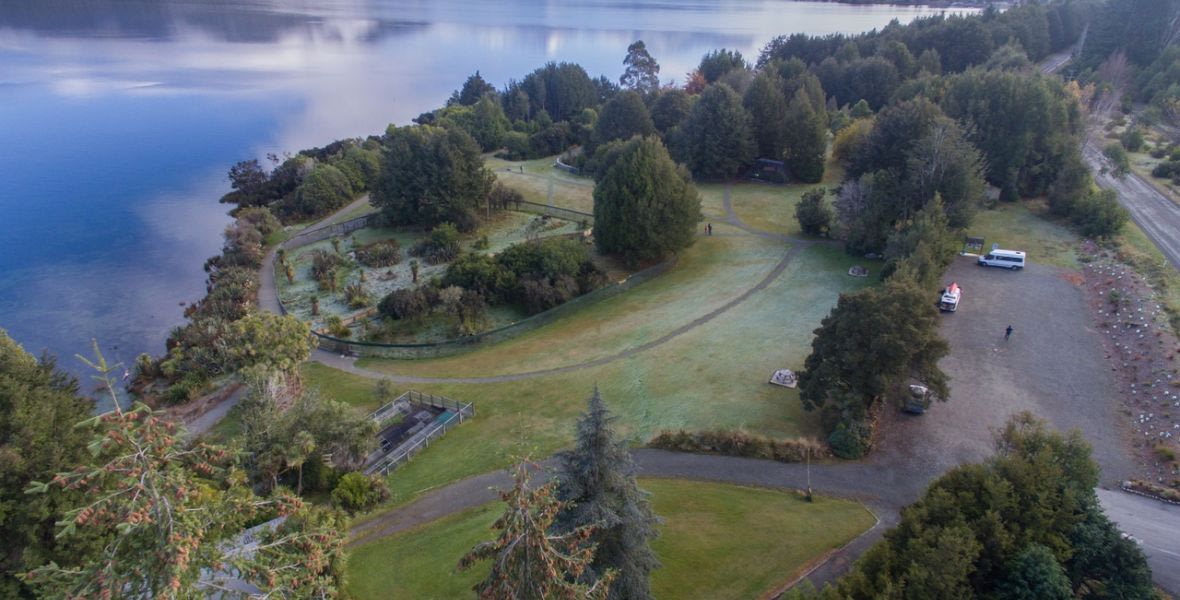 Image Source: Southland Image Library
6. Tick off a Great Walk of New Zealand
For families with older children who want to experience nature at its finest, consider tackling one of New Zealand's Great Walks. The Fiordland Park region is home to three Great Walks of New Zealand, including:
Kepler Track
Duration: 3-4 days
Distance: 60 km
Starting and ending in Te Anau, the Kepler Track loop takes you through the beech-forested shores of Lakes Te Anau and Manapouri to the alpine heights of Mt Luxmore.
Milford Track
Duration: 4 days, 3 nights
Distance: 53 km
The starting point for the Milford Track is at Te Anau Downs (30 km north of Te Anau) and requires a boat transfer to the start of the track at Glade Wharf. You'll cross the Mackinnon Pass, Lake Mintaro, and the Clinton Valley and take in views of the awe-inspiring 580-metre-high Sutherland Falls.
Routeburn Track
Distance: 33 km
Duration: Flexible, 2-4 days
The Routeburn Track connects Mt Aspiring National Park to Fiordland National Park and can be started either from The Divide or the Routeburn Shelter. The track offers incredible scenery, including ancient forests, wetlands, ice-carved valleys, and alpine lakes.
The Great Walk season begins at the end of October and runs through to the end of April. Be sure to visit the Great Walks of New Zealand website for information on booking and preparation.
7. Enjoy a day trip to Doubtful Sound
For a relaxing day out with maximum amazing scenery for minimal effort, book the family in for a spectacular Doubtful Sound cruise. Spanning 40 km, the sound is the deepest fiord in New Zealand and home to bottlenose dolphins and the Fiordland crested penguin.
The experience takes a full day and starts with a cruise across Lake Manapouri followed by a coach trip over Wilmot Pass, through Fiordland's rainforest. You'll then board your boat to enjoy a three-hour cruise through the waterways of Doubtful Sound. Prices are $199 per person.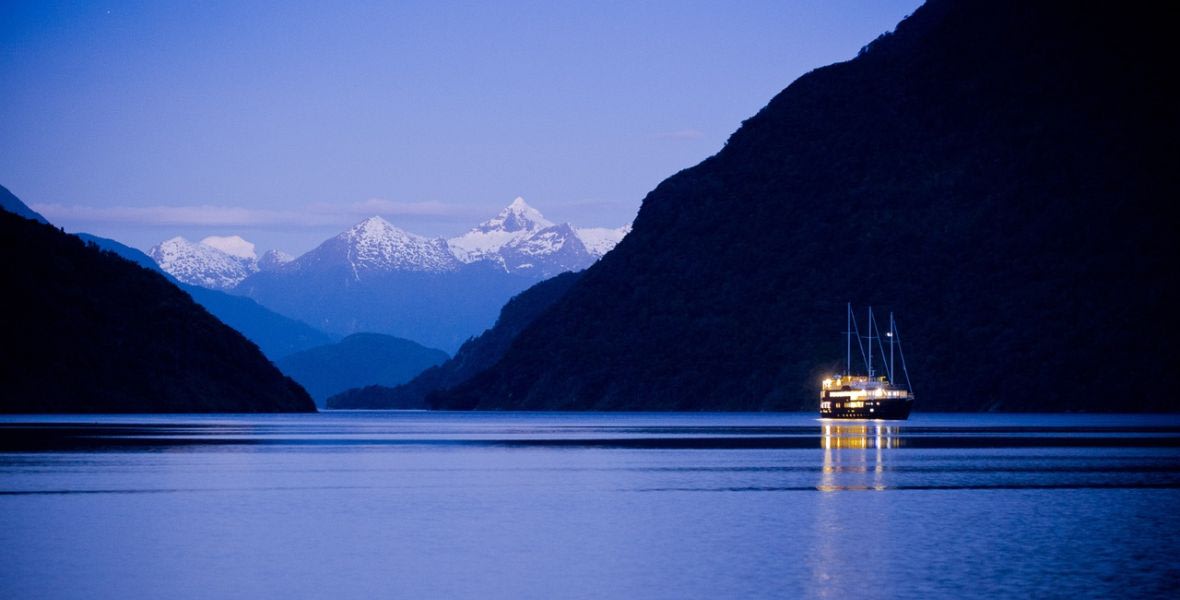 Image Source: Southland Image Library
8. Discover the Milford Foreshore Walk
The Milford Foreshore Walk is a relaxing, easy 400-metre loop walk making it ideal for younger family members. Taking around 30 minutes, the walk starts at the Milford Sound carpark and leads through beech forest and along the sandy foreshore. There are plenty of interpretive visitor panels along the way where you can learn more about the area. You'll also find some fantastic views of Mitre Peak along this trail.
9. Visit Lady Bowen Falls
The stunning Lady Bowen Falls is a must-do activity for any family visiting Te Anau. At 162-metres high, this waterfall is the highest in Milford Sounds.
The falls are accessible by cruise boat, which departs from the Freshwater Basin Terminal. Once you disembark your boat, you'll head up the track, which winds its way up to a fantastic viewing area where you can take in the spectacular view of the falls as well as Mitre Peak.
10. Cycle the Lake2Lake Trail
There are endless ways to enjoy the stunning scenery of Te Anau, and for families who enjoy cycling, the Lake2Lake Trail can't be beaten.
The trail makes its way alongside the stunning Lake Te Anau and the east side of the Waiau River towards Lake Manapouri. A loop of around 41 km can be made by returning on Golf Course Road or the Te Anau-Manapouri Highway, with plenty of additional options to create shorter trips.
There are several points where you can start the trail. These popular spots all offer parking and toilets: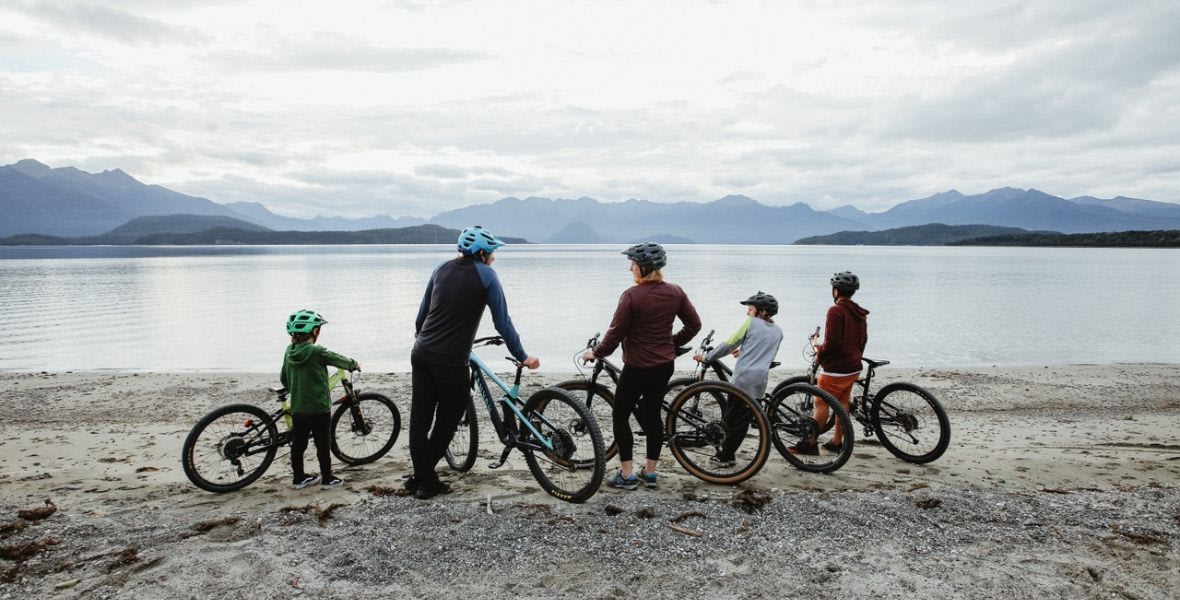 Image Source: Southland Image Library
Ready to explore Te Anau in a campervan?
From quiet cruises to subterranean adventures, Te Anau offers something for every family and every budget. Make the most of this special part of New Zealand by exploring it all with the comfort and freedom of a campervan hire.
Britz New Zealand are your family campervan holiday experts and can help you choose the right campervan for you. From three-berth campers for small families to six-berth motorhomes for bigger families, our great range of motorhomes and campervans are set up to help you make the most of every journey.
Ready to start exploring? Book your Britz campervan online today and then pick it up at the most convenient Britz branch to you. Don't forget to check out current deals.