Join thousands of fellow campervan travellers
Sign up for our Britz newsletter to receive inspirational travel content and awesome deals, and we'll send you a copy of our Ultimate RV guide!
Thanks
Please confirm subscription in your email.
Why you should take a family campervan trip in NZ
A family campervan trip around a country as beautiful as New Zealand is on many people's bucket lists, and it's easy to see why! As well as the opportunity to see more of this little corner of the world, people value the opportunity to spend some quality time together on the road, at campsites or making memories doing something fun or new.
If you're considering campervan hire, you should know that it is often much more affordable than paying for multiple rooms at hotels or motels, plus you have all the convenience of the kitchen sink (and everything else your campervan offers!).
Speaking of the kitchen sink, did you know you only have to pack your gear into the van once? There's no transferring between cars, planes, Ubers and accommodation, and worrying about check-in or check-out times. You're in control of your whole adventure. Get on the road when you're ready. Stop when you want, or push through if traffic is good. With loads of space, there's room for the whole family to nap, relax, or entertain themselves while on holiday.
New Zealand is easy to travel by road, and you'll find plenty to see and do along the way, no matter the weather. There are loads of big and small towns to explore with great things to see and do indoors and outdoors.
Once you're settled down for the night, day, weekend, or however long, you'll be surprised at how many other families you'll find at popular family campsites and attractions. Once your kids have made some friends, you might even find a few minutes of peace to have your own mini-break!
30 fun things to do on an NZ family holiday
There are plenty of fun things to do in New Zealand, no matter what your family is in to. Here are thirty of our top picks that should keep almost everyone happy, nearly all of the time! We've included heaps of fun things that families can do in New Zealand. Most of these can make up an itinerary for short, or longer campervan trips from many of our biggest centres.
Also, we know planning a family getaway can feel expensive! We get it. To help manage the budget, we've included a mix of paid and free activities on our list of things to do in New Zealand with the family.
1. Get your heart racing on carnival rides
Starting your family trip in Auckland? Kick into your holiday with a day trip to Rainbow's End. With over 20 rides and attractions, there is plenty to keep the whole family occupied. Between the corkscrew roller coaster, bumper boats, immersive entertainment rides and more, you'll find plenty of places to sit back, relax and refuel over a coffee or lunch. For little ones, you can hire strollers for the day, and you'll find plenty of family-friendly facilities to keep everyone safe and happy.
2. Do a reverse bungee
South of Auckland in famous Rotorua, Velocity Valley offers the whole family the chance to get the adrenaline pumping! With family passes available and rides to get your blood pumping, this may well be the highlight of a trip for young adults with a need for speed. Less than 20 minutes drive from central Rotorua, a trip to Velocity Valley can be paired with plenty of other family-friend activities in the region.
3. Hit the water slides
For water babies, a day at Splash planet will be a day well spent! Everyone should be well catered for with plenty of water slides, swimming pools, a lazy river, and many other activities like mini-golf and go-karts. About a half-day drive from many of the North Island's significant centres, Splash Planet is just one of the fun things for families to enjoy in Hawkes Bay.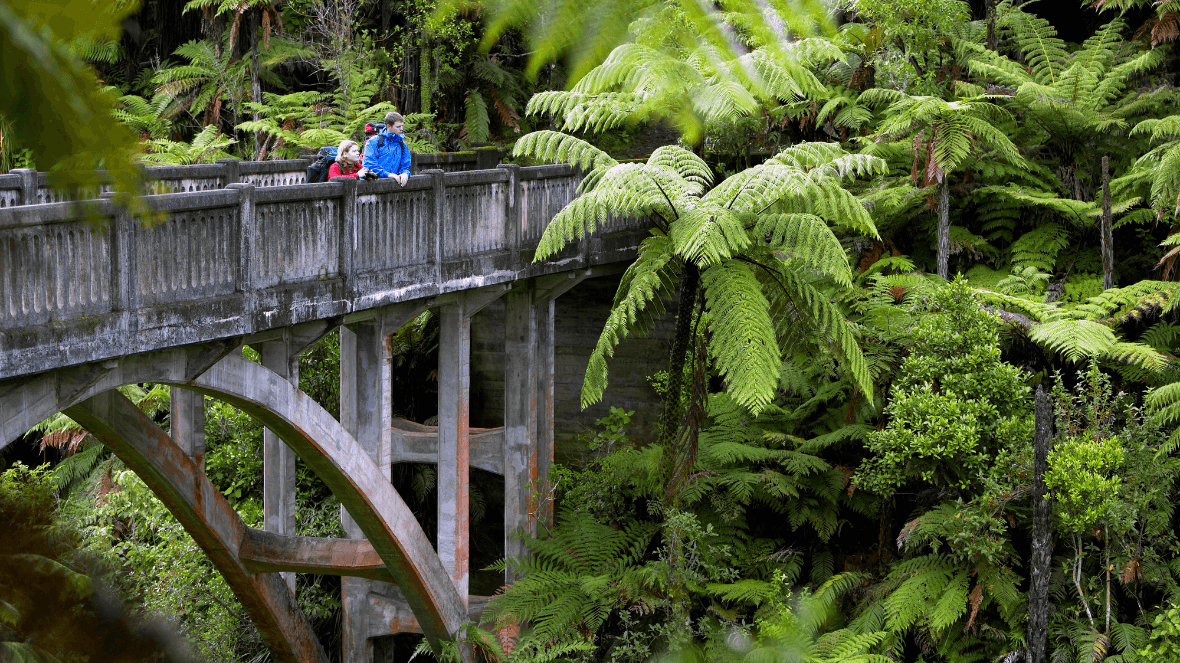 Whanganui National Park, Image source: TNZ Image Library
4. Enjoy some stunning NZ walking tracks
Sightsee on beautiful walking tracks across the whole of New Zealand. No matter where your campervan adventure takes you, there are tracks for short and medium-length walks that the whole family can enjoy. From Cape Reinga in the North to parts of the Kepler and Routeburn tracks in the south, these walks will give you a chance to spot some beautiful spots and stretch out your legs.
5. Wander through the beautiful National Parks
Ideal for families heading to the south island, New Zealand has loads of National Parks, many of which offer campervan-suitable campsites. Park up for a few days and reconnect with nature. Your campervan includes a kitchen, so all you need to do is bring along enough food to keep the troops fed. Look out for campsites with access to other fun activities like fishing, kayaking and mountain biking and get the kids involved. You can add bikes and other handy accessories like camping chairs to your campervan booking to make the most of these spots.
6. Get hands-on at museums
New Zealand has plenty of family-friendly museums and galleries to keep everyone dry and entertained if lousy weather pops up. Te Papa in Wellington is New Zealand's national museum, with heaps to see, do and learn about. Kids will love all the hands-on exhibits, and Mum and Dad will enjoy the on-site cafe and bar break out spaces. Some displays are long-standing, while others change out regularly and require tickets.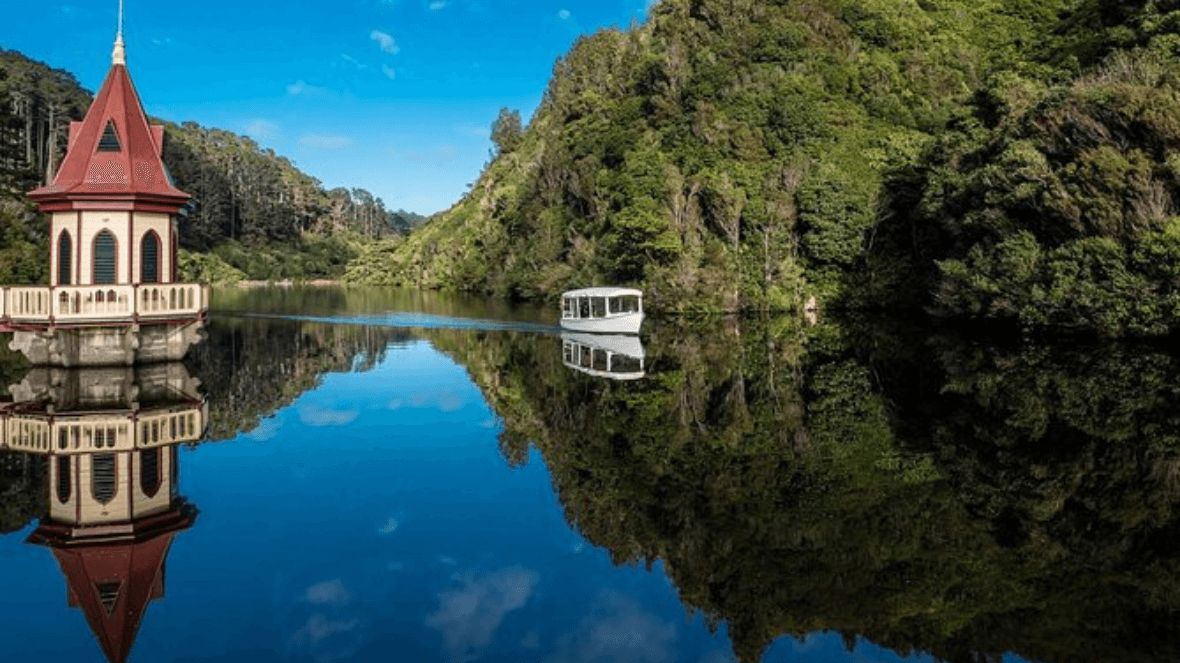 Zealandia, Image Source: Viator
7. Brighten your evenings with some stargazing
Give the family a chance to make one small step or one giant leap and spend some time at Stardome in Auckland, where exploration, research, and sharing knowledge are key. Visit during the day to explore the space gallery and exhibit. Join the team after dark for a guided night sky tour and a glimpse at space through a telescope.
8. Take a ride on a vintage tram
Ding ding! Hop on one of the expertly restored vintage trams that Motat has collected over the years and take a step back in time for the duration of your ride. The Museum of Transport and Technology will keep curious kids (both big and small) occupied for hours at a time and is within easy reach of central Auckland.
9. Visit a bird ecosanctuary
10 minutes from central Wellington, Zealandia offers a lush forest environment full of native birds. Visit during the day for a chance to encounter our closest thing to a dinosaur basking in the sunshine. Or, come along for a night tour and experience glowworms and Kiwi birds going about their nighttime routines. Suppose Wellington isn't on your itinerary this time. In that case, the Muriwai gannet colony in Hawkes Bay is an exciting half-day trip around the rugged Cape Kidnappers coastline. You'll get up close and personal with a colony of birds.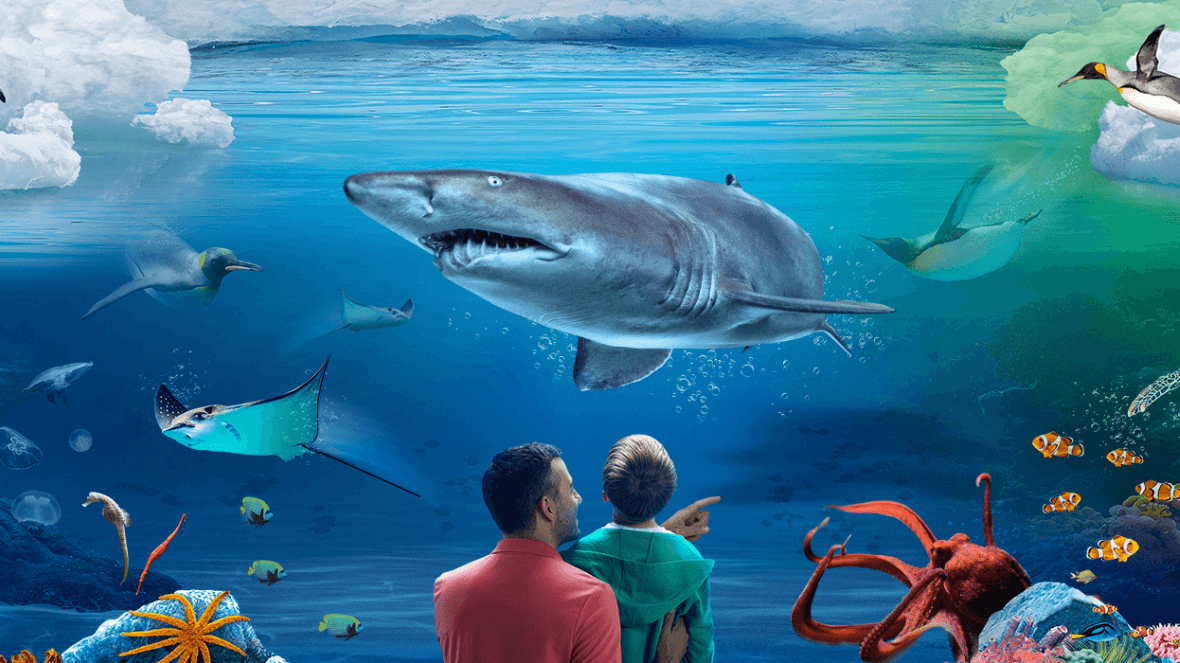 Kelly Tarltons, Image Source: VisitSeaLife
10. Visit a polar room
If summertime has left everyone a bit hot, head to the International Antarctic Centre in Christchurch and brave the storm room! Set to a chilly -18 degrees Celsius (that's just below 0 Fahrenheit), you'll all leave feeling suitably refreshed! Good thing you didn't have to take the whole campervan all the way to Antarctica! If freezing temperatures don't appeal, watching little blue penguins being fed might be just the ticket.
11. Meet animals at the Zoo
There is lots to see and do at the Zoo! Keep your little monkeys happy with keeper talks, behind-the-scenes experiences, feeding sessions and plenty of cool, cute and quirky animals at Auckland Zoo, Wellington Zoo, and Hamilton Zoo. Let your kids run free and tire themselves out - a top tip for those planning a big day of driving the next day.
12. Visit an aquarium
Kelly Tarlton's is one of Auckland, and New Zealand's, biggest attractions. Fans of sea life like turtles, stingrays, penguins and sharks will be amazed at how close and personal they can get with these and other animals at this huge aquarium. Take a half-day out of the campervan and dive into an underwater adventure (no swimming togs required).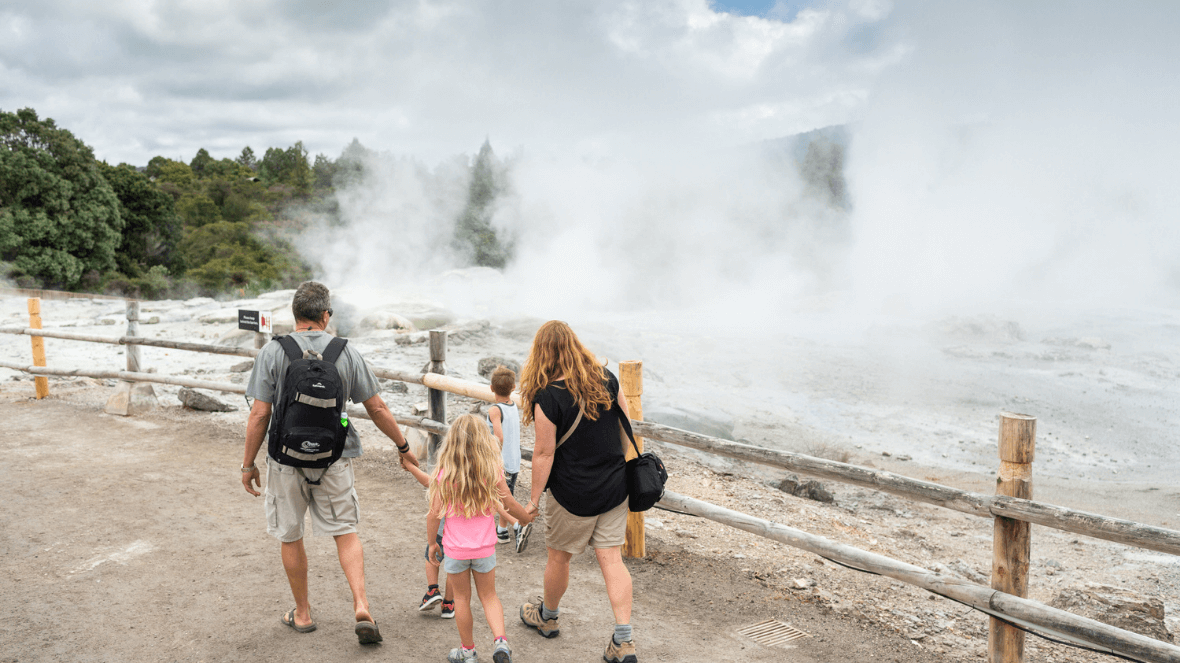 Te Puia Geysers, Image Source: thl Content Hub
13. Check out some geysers
Want to see some of the world's best geothermal attractions, like bubbling mud pools and spurting geysers? Head to the Rotorua geothermal zones and come face to face with the biggest, active geyser in the Southern Hemisphere. Take a tour during the day or at night to watch mother nature do her stuff. Don't forget a camera and a comfy pair of walking shoes.
14. Visit a majestic waterfall
Can you imagine what a quarter of a million litres of water looks like? Head to Huka Falls and take a cruise along the Waikato river before you enjoy the spray on your face. Or bring along a picnic, walk, or ride the tracks that run on either side of the water and make a day of it. Huka Falls is one of New Zealand's most famous natural attractions.
15. Go glowworm spotting
Set sail on a boat in the Waitomo Caves and see how many glowworms your family can spot during your ride. An ideal spot for campervanners travelling from Hamilton, Auckland, Taupo or Rotorua, Waitomo is within a couple of hours drive. Stay for a couple of days and enjoy all that the region offers, including thrills for those game enough to go black water rafting and plenty of walking tracks for those who want to stay above ground.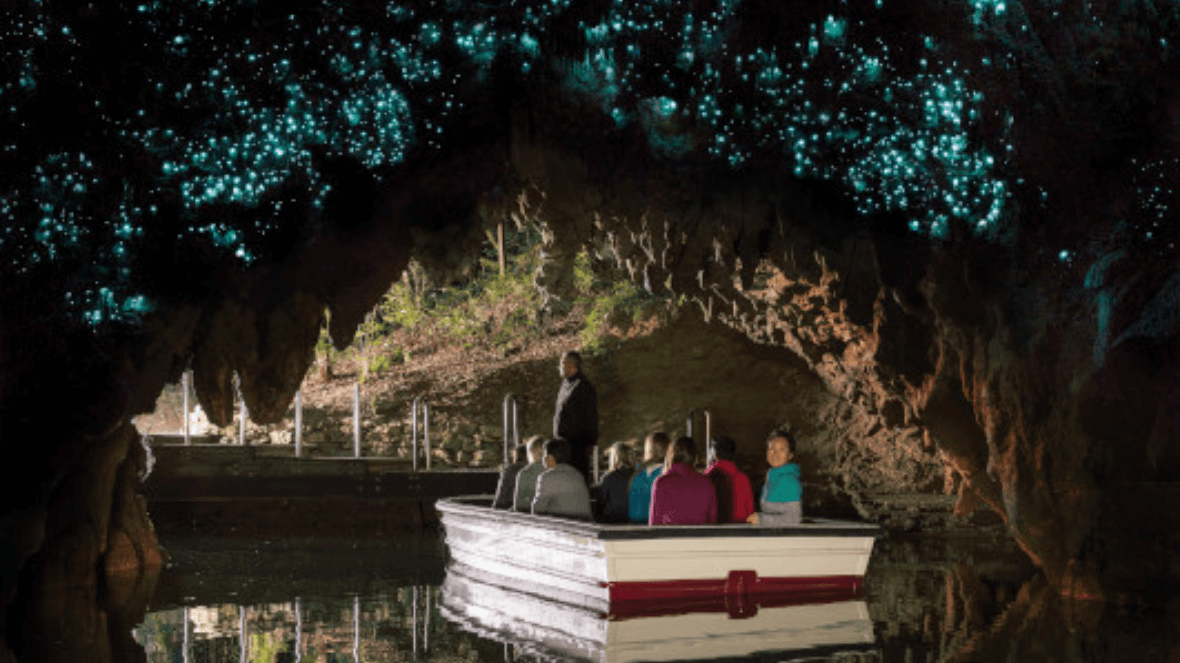 Waitomo Glowworm Caves, Image Source: thl Content Hub
16. Wander through a puzzling maze
Mess with your kid's heads and spend a day or a half-day at Puzzling World near Wanaka. Get lost in a giant maze (for 5 minutes peace, maybe?) or explore the illusion rooms, where nothing is as it seems! Then carry on to the lake and get set up for your next stay.
17. Take a behind the scenes look at a movie workshop
Lord of the Rings might not be your kids favourite film, but a trip to Weta workshop might inspire them. Spend an hour learning about props, costumes and creatures, and get hands-on with some of the tools that make movie magic. A short drive from central Wellington, you'll find plenty more to keep you occupied in busy suburban Miramar.
18. Visit a movie set
Within a couple of hours drive of famous North Island spots Auckland, Taupo, Rotorua and Hamilton, you'll find the movie set Hobbiton. Made famous by the Lord of the Rings and The Hobbit, you can explore the lush pastures of the Shire with a guided walking tour of Hobbiton. Bookings are essential for this experience.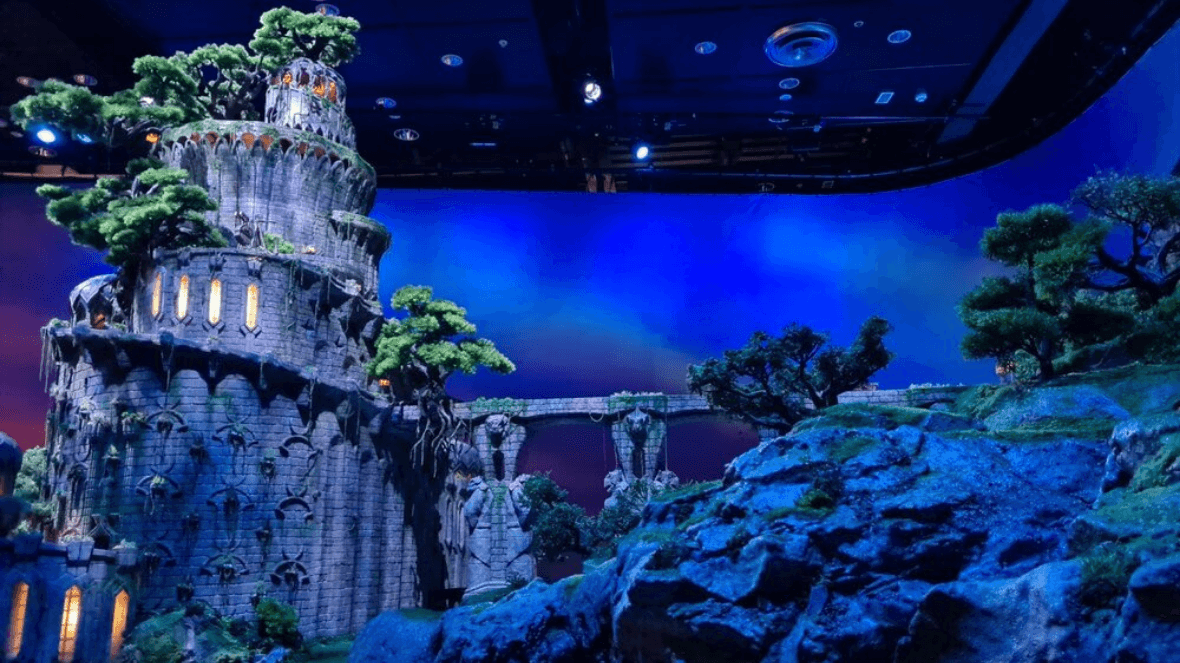 Weta Workshop, Image Source: Discover Aotearoa
19. See kiwi birds up close
Explore more of the central North Island and drop into the Otorohanga Kiwi house to see an extensive collection of NZ birds and reptiles. Learn about the importance of these unique species and wander through New Zealand's largest free-flight dome aviary.
20. Swim or explore at one of NZ's best beaches
As an island nation, New Zealand has more than its share of beaches! Surfers, swimmers, sunbathers and more have plenty to pick from, and everyone has their favourite. Bring along beach toys like buckets and spades for small kids, and for bigger ones, pack a boogie board or float. Don't forget to slip, slop, slap and wrap to keep sunburn at bay.
21. Head out exploring the sea on a kayak
For those exploring the Coromandel, taking a day on the water by kayak tour allows you to paddle through sea caves and get close to marine life in the wild. Kids are catered for and encouraged to get involved in kayaking. A memorable day out, and one that will tire the family out in a way that only a holiday adventure can.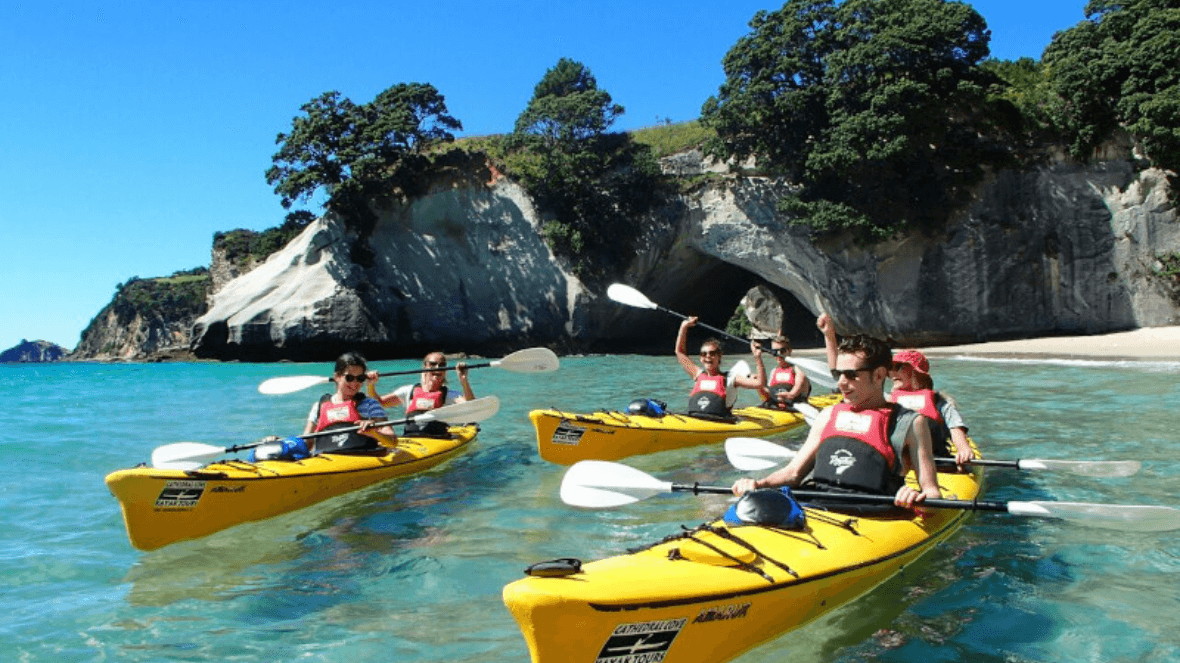 Cathedral Cove Kayaking, Image Source: thl Content Hub
22. Take a marine life tour
If an aquarium visit doesn't get you quite close enough, a marine life tour will let adventurers cross paths with rare wildlife, including Penguins, Sea lions, Fur seals and Albatross! Explore the rugged Otago coastline during the summer months for your best opportunities to see these creatures in their element.
23. Get out and explore NZ cycle tracks
Want to get those legs pumping, a breeze on your face and some sun on your back? Explore the NZ Cycle Trail and find a route that suits the whole family. With trails lasting between 1 - 5 days, this offers the entire family a chance to get out of the campervan and straight into some of the world-famous New Zealand scenery.
24. Buy trinkets and treats at a local market
With so much excellent fresh produce, artisan goodies and handcrafted trinkets and treasures, there are plenty of treats to pick up at the many local markets across the country. Often hosted on the weekend, you'll find food, coffee, live music and shopping opportunities galore.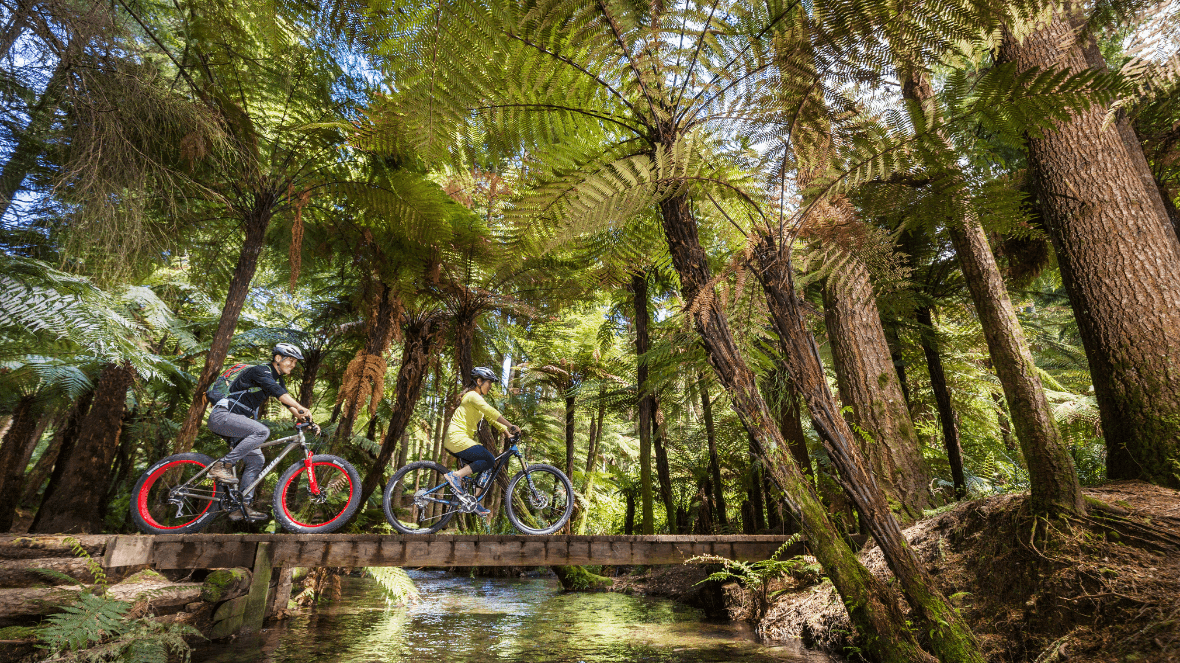 Whakarewarewa Forest, Rotorua, Image Source: TNZ Image Library
25. Race downhill on a luge
Visiting popular spots Queenstown or Rotorua? In both, look towards the hills (well, mountains), and you'll spot a super fun Luge course where you can race your partner, kids, or even a stranger down to the bottom! Watch out for hairpin bends, jumps and anyone with a competitive streak.
26. Go rolling in a zorb
Ever considered throwing yourself or your loved ones down a steep slope encased in a giant inflatable ball? Now you can! Jump in and set off downhill in your very own Zorb. Less than 15 minutes drive from central Rotorua and near other adrenaline-pumping activities, this will be fun for the whole family.
27. Test your balancing skills up in the trees
Not one for those with a fear of heights, Adrenaline Forest's four locations offer 100s of challenges across a handful of skill levels that are suitable for those with average fitness. Starting with obstacles around 1.5 metres, the bravest family members will find themselves 20 meters above the ground balancing, climbing and jumping before completing the course.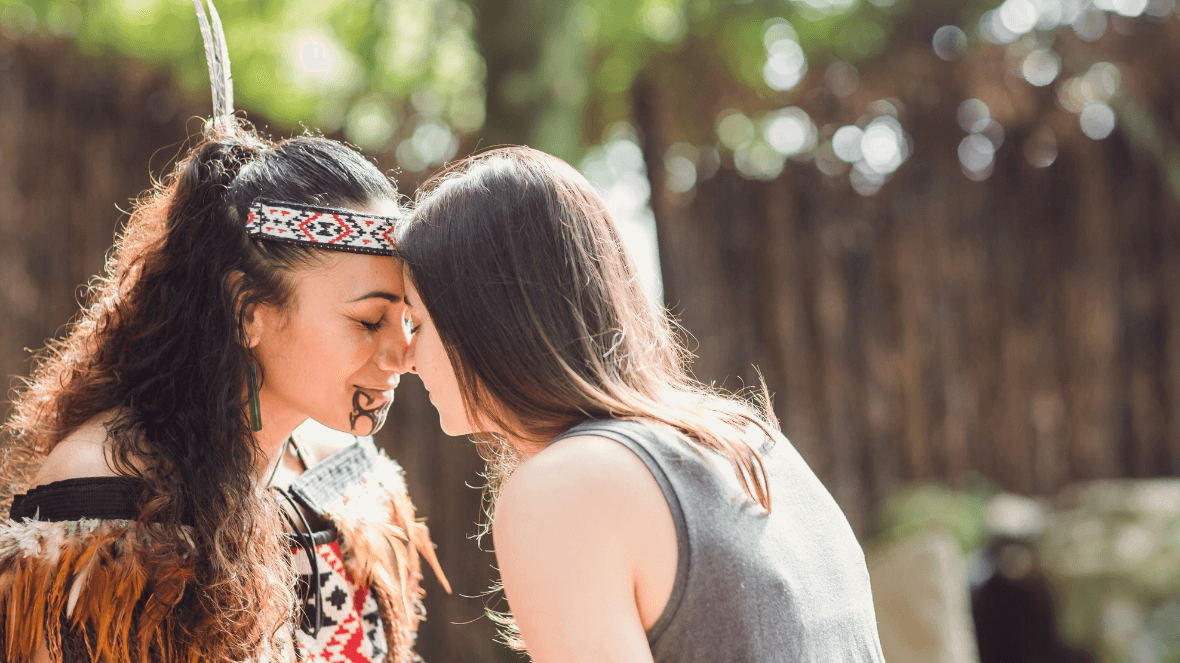 Maori Village Tour, Image Source: thl Content Hub
28. Learn about colonial NZ history
An hour north of Auckland, you'll find a great stopping spot on your Northern Itinerary. Stretch your legs at the Warkworth Museum and learn about the lives of New Zealand's pioneering families. Explore a handful of exhibits, or walk the native bush of the Parry Kauri Park.
29. Take a Maori village tour
Explore the Maori culture and learn about village life at the Whakarewarewa Village. Here you can take a guided tour, hear stories told through the generations and see the unique geothermal landscape of Te Whakarewarewa Valley in Rotorua.
30. Enjoy exhibits with olden day trinkets
See if you can fit all 100,000 objects from this museum into your visit. Spend the day at the Toitu Settlers Museum and see artefacts from before settlers arrived in New Zealand to the present day. Entry is free, and families are welcome.
Family packing checklist
Regardless of what you've got on your itinerary, there will be a handful of helpful things that will make your trip even smoother. Here are some family-tested recommendations.
Things to keep the kids occupied while you're on the road or in case of bad weather. Books, games, toys, or quiet activities they enjoy will give them something to focus on. Bring along an iPad or phone for virtual games or a bit of Netflix time and speakers if they love to do some dancing.
Depending on when your trip falls, consider bringing along some sports equipment like bikes, boogie boards or skis to make the most of New Zealand's outdoor lifestyle. Bike racks are a great add on to your campervan hire! If anyone in the family is prone to bumps or bruises, things like band-aids, bug spray and anything else popular in your first aid kit should also come along, or add it on to your hire and leave yours at home.
Pack some layers so that you are always ready for the weather. A rain jacket, sunhat, sunscreen and swimming togs can all come in handy within 24 hours around here! If you've got littlies coming along, some familiar bedding can make nap times and bedtime a bit cosier and easier too. Want more tips? Check out our 10 tips for easy campervan travel with a baby or toddler.
Finally, think about what will make your trip a little more comfortable. A headtorch, camping chairs, chilly bin and a good book!
You'll find bedding, blankets, and an equipped kitchen in your van, so no need to pack those.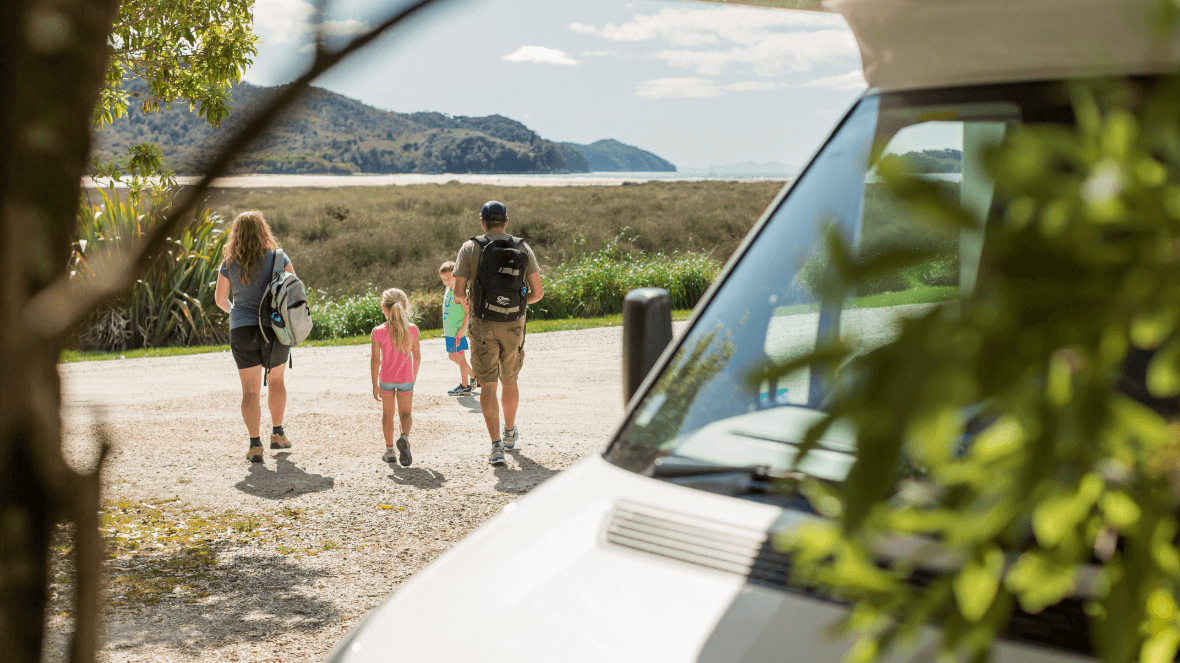 How to prepare for a family holiday
To make the most of your trip and ensure everyone gets to do at least one thing off their bucket list, we recommend writing up a plan, even if it's pretty loose. Start by choosing where you'll begin and end, and see if there are popular itineraries that cover your route. You'll find loads of popular itineraries to get your feeling inspired.
During peak travel times like the summer holidays, it pays to book your campsites in advance to avoid any stress or disappointment. If you're travelling off-peak, you might be able to wing it a little more. Look for campsites or holiday parks that offer cooking facilities, BBQs, laundries and anything else to make your travels as easy as possible.
If you're considering freedom camping, it's a good idea to plan everything you might need for the duration of your trip. Your Britz camper is fully self-contained, but it pays to think about how much food and water you'll need and how you'll manage with limited power.
Finally, do some research on any special events happening over the time you are travelling - you might be surprised to find family festivals, events, concerts and more that you can include in your plans. If you're keen on some wildlife spotting, check out migration information to make sure you've got the best chance to see all the flora and fauna you have in mind.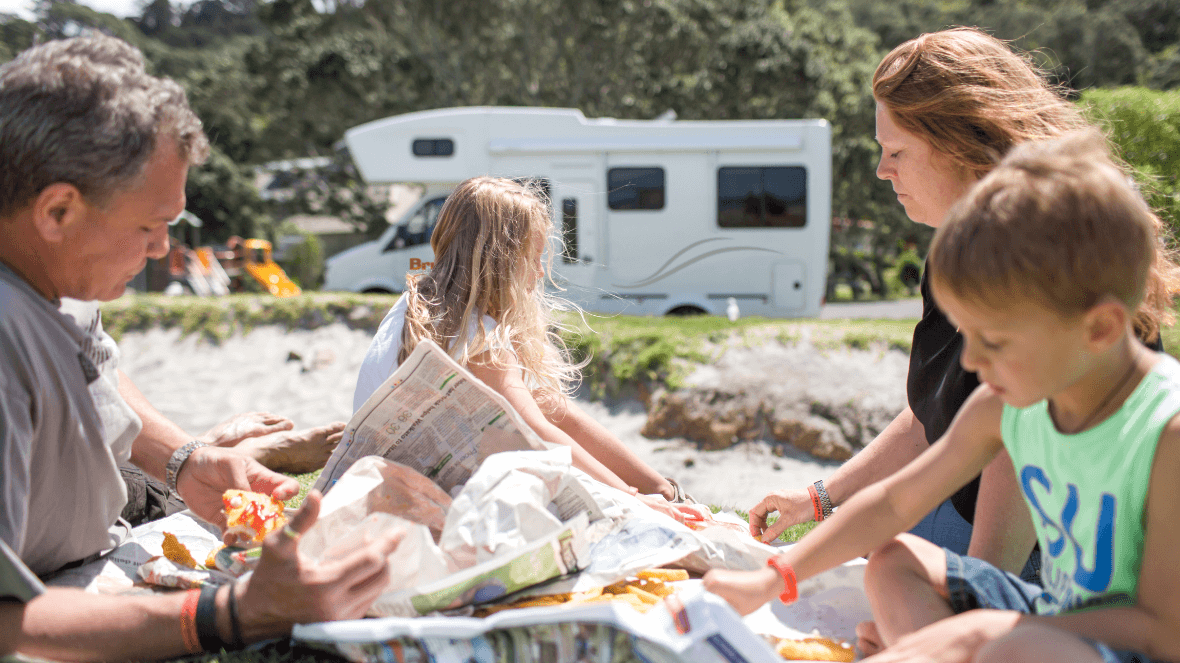 Holiday better with Britz
So, are you feeling inspired? What have you added to your New Zealand family holiday bucket list? Explore New Zealand for your next family holiday with Britz and get on the road. Book now.