Join thousands of fellow campervan travellers
Sign up for our Britz newsletter to receive inspirational travel content and awesome deals, and we'll send you a copy of our Ultimate RV guide!
Thanks
Please confirm subscription in your email.
Why you should take your kids on a campervan camping trip in New Zealand
Keen to try something new these school holidays? A campervan trip with kids is a great way to see and do more, with the added convenience and comfort of your home on wheels.
Travelling comes with a long list of benefits for families, from experiencing exciting new adventures together, to having a sense of freedom from the routine of everyday life. New Zealand has plenty to see and do, from beautiful coastlines to stunning mountain ranges and there is just so much learning to be done while you're on the road (sneakily done - so the kids won't know they are actually getting an education while on holiday).
And another thing to keep on the down-low from the kids (just in case they don't think it's cool) is that a campervan trip is the best when it comes to family bonding. All that time together allows for not only numerous games of eye-spy, but also the opportunity to chat about life, share stories and reconnect without the busyness of school, work and responsibilities getting in the way.
With a campervan, you can go for as long or short as you want - from a couple of weeks like the Koh family (whose adventure you can check out here), or a quick five-day refresher that will allow for a few stops.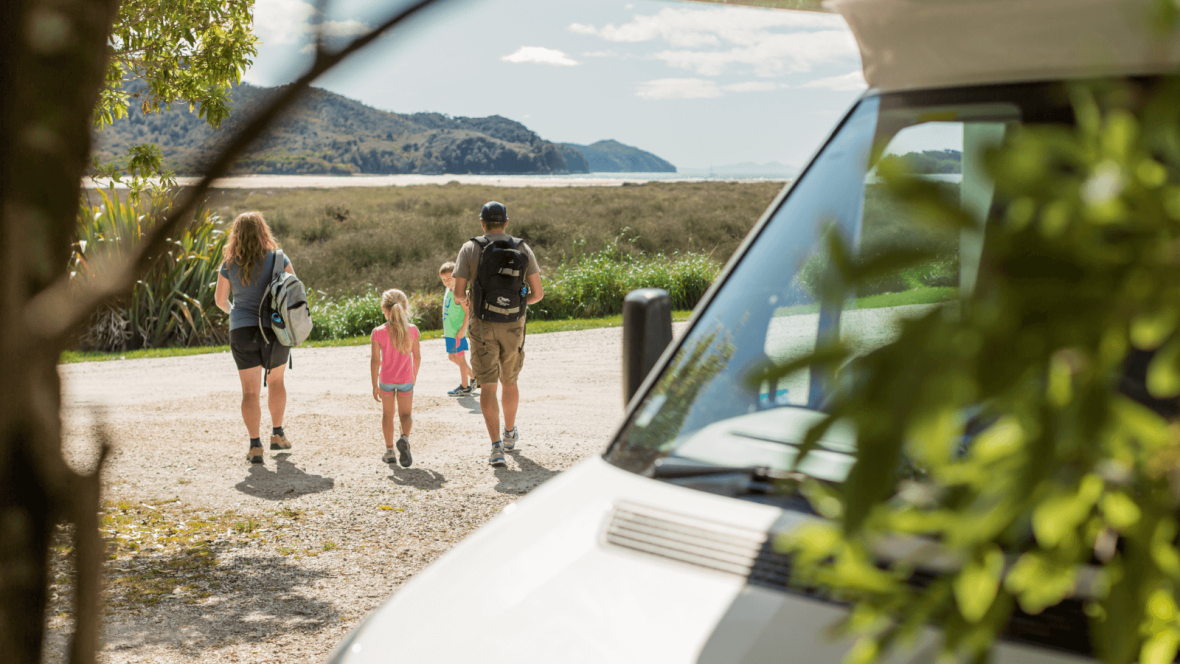 Pros of campervanning with kids vs camping
No tent, no problem!
Let's face it - there's a lot of kerfuffle that comes with camping outdoors, from setting up and packing down tends and bedding, not to mention the risk of losing crucial poles or pegs. It's even more challenging when the weather isn't on your side and you've got tired kids. Hiring a campervan means your set up and pack down is minimal, and you can have an intrepid and hassle-free holiday.
Meals on wheels, literally.
Campervans also mean you don't have to load the car up with everything, including the kitchen sink, because of course, a campervan has one already! All the gear comes with you, in your cool little home on wheels, so as soon as everyone has had brekkie, you can get down to the business of exploring. With a campervan, family mealtimes are fuss-free. It's easy and quick to heat a bottle of milk or cool down hot kids with a popsicle, and you can keep your camper stocked with healthy snacks for long drives.
Catch more Zzzzzs
Sticking to a nap schedule is a lot easier with a campervan, with beds built-in and ready to go.
Make friends with other families on the road
Another pro of campervanning with the kids is that you meet so many lovely people, with plenty of other families doing the same thing. Staying at family-friendly campsites means there are plenty of playmates no matter where you go.
Warm and dry no matter what the weather
Don't forget the added practicality of a campervan versus a tent - it's a lifesaver on a rainy day (board game anyone?) and warm in winter, so year-round travel is easy.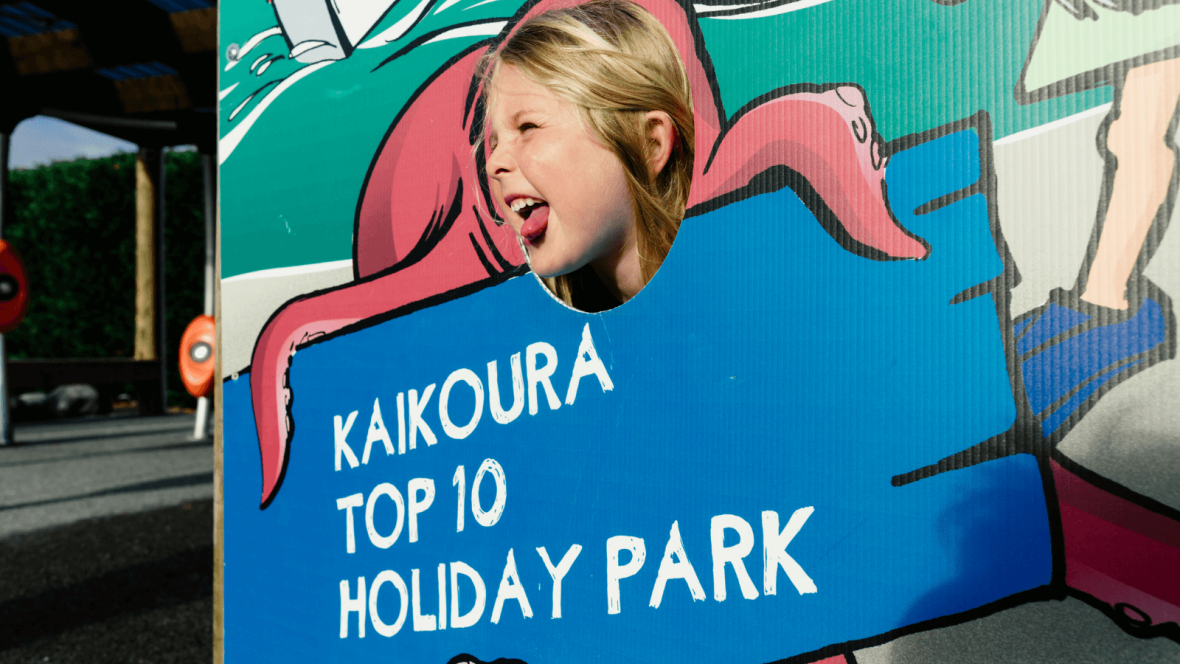 Types of campsites in NZ
Before you leave for your adventure, it's good to have a bit of an idea/plan of where you're going to stay - and here in New Zealand, there are quite a few different types of campsites where you can park up with your campervan. Here's a quick rundown on what to expect, so you can choose which ones may suit you and your family best.
Council/ Local Campsites
These are campsites managed by a region or city's local council. The facilities available will differ depending on the site and can be from the very basic, to more substantial. They are usually relatively cheap per night, or sometimes free, you just need to check before you travel so you can know how to book and where they are located.
Top 10 Holiday Parks
Top 10 campsites/holiday parks have all the mod cons you need while on the road with the family, which makes them a popular choice for those travelling with kids. From dedicated powered sites to shared facilities (like bathrooms, game rooms, lounges) and fun stuff for the kids like playgrounds and pools, it's a great idea to stop off and stay at one or two of these holiday parks while on your road trip. These sites can cost a bit more than council sites but for all the extras, most families find them well worth the money.
DOC Campsites
Run by the Department of Conservation, these campsites are usually well off the beaten track, so are perfect if it's an off-the-grid adventure you're looking for. DOC sites range from basic to standard and serviced sites, with a handful of them offering powered sites. These are great for a one night stop between powering up and are popular during peak seasons, so it pays to book ahead. Some charge a small nightly fee (around $15) and some are free.
Freedom camping
Freedom camping is pretty much what the word suggests - it's all very relaxed and casual, with not a lot of amenities available (if any at all). These campsites are often on the bank of a river, a reserve or even a car park. Only self-contained campervans are allowed to stay overnight, but it can be tricky to know exactly where you can park up - so make sure you check with the local i-SITE visitor centre.
For a more in-depth look into the different types of campsites in NZ, have a look at our complete guide on where to stay.
10 Family-friendly campsites to stay at in New Zealand
Looking for the best family campgrounds in the North Island? Here are our top five picks!
North Island family-friendly camping grounds
Top 10 Holiday Park - Waihi
If the beach and the bush is your idea of bliss, the Waihi Beach TOP 10 Holiday Park is the place to go. Powered sites mean you can park up and plug in, then hit the heated swimming pool, playground, sauna, spa or gym! There are also BBQs for use, a pizza oven, under 5's family room and a jumping pillow.
Waihi Beach itself is a super popular holiday destination for families, and it's not hard to see why. A golden sand beach and stunning native bush - it's nature on your doorstep. Perfect for those active families who like to get out and about.
Waihi is a perfect stop when travelling the east coast between Auckland and Hawke's Bay. Check out our guide to The Coromandel & Pacific Coast for more must-see stops.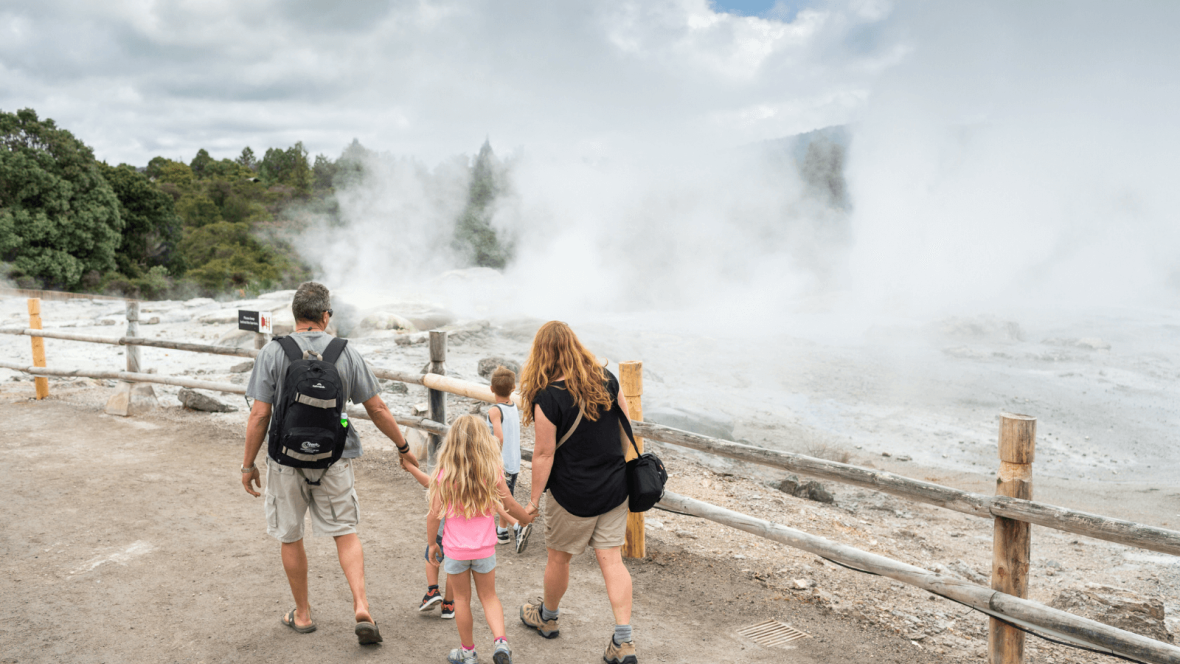 Top 10 Holiday Park - Rotorua
Rotorua is always fun with the kids - there's so much to see and do! The Rotorua TOP 10 Holiday Park offers everything you could need from a place to park your camper, including an amazing Mineral Pool complex. And because the Holiday Park is located in town, it is within walking distance to shops, cafes, restaurants and local attractions - like the museum and art gallery.
Family-friendly activities? Rotorua has them in spades. From the gondola and luge to Rainbow Fairy Springs, Paradise Valley, the Redwoods Treetop Walk and Te Puia - the largest active geyser in the Southern Hemisphere.
Take an 8-day road trip along the Thermal Explorer Highway to see Rotorua, Taupo, Orakei Korako and more.
Top 10 Holiday Park- Wellington
The Wellington TOP 10 Holiday Park is a great destination for those who want a bit of Wellington's cultural vibe, without being caught up in the hustle and bustle of the CBD. Fifteen kilometres from the city centre, there's room for the kids to stretch their legs on the playground, or have a rest in the TV room before heading out to explore everything on offer in Wellywood - from Te Papa Museum to the Weta Workshop, the iconic cable car and Wellington Zoo.
Wellington is a great place to kick off your family road trip. Fly into the city, pick up your camper and head north to explore the Central North Island.
A notable campsite mention for the Wellington region is Paekakariki Holiday Park on the Kapiti Coast. Only 200m from the beach, this is where city folk come to get away from it all.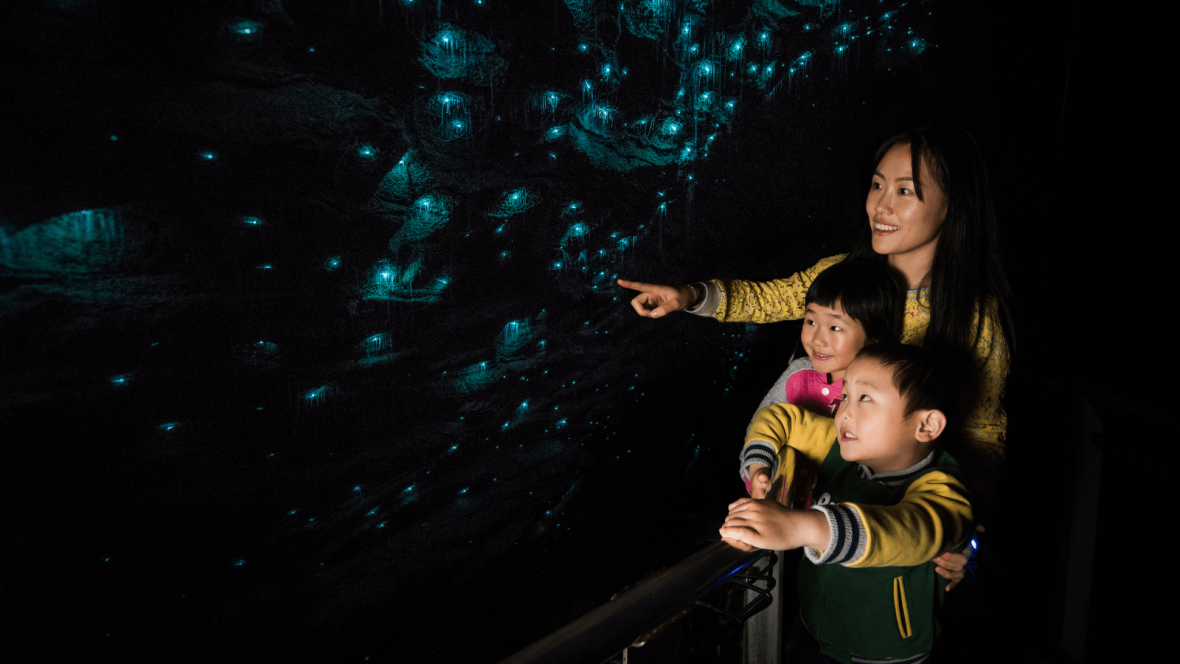 Top 10 Holiday Park- Waitomo
A stop at the Waitomo TOP 10 Holiday Park is a must-do - it's a great way to break up the road trip no matter where you're headed, but it's also a destination itself. Here you can park up your camper and wander into Waitomo Cave Village where you can visit the local museum, head on a farm tour, enjoy a meal at one of the restaurants or for the more adventurous families - go caving! The Waitomo glowworm caves are world-famous for their spectacular underground worlds. Travelling with teens? Give them an experience to remember with the legendary black water rafting co.
Set off from Auckland and travel the Waitomo-Rotorua loop, for a fun-filled family trip. Extend your holiday with a few side trips to Hobbiton and Marokopa Falls. Check out Saxon and Nicola's 10 day Waitomo and Raglan trip for inspiration.
Top 10 Holiday Park - Hastings
The Hastings TOP 10 Holiday Park is set in 10 acres of park-like grounds, making it a lovely destination to set up camp for a couple of nights or longer - especially when the kids realise there are private spa pools and a heated swimming pool on offer. Located on the fringe of Hastings town centre, the holiday park is close to all the usual amenities, as well as being an easy drive to the National Aquarium of New Zealand and the stunning beaches that run the length of the sunny Hawkes Bay coastline.
Hastings is only a short drive from other great family-friendly spots and is lovely and warm in summer. Check out our top tips for summer travel.
South Island family-friendly camping grounds
Looking for the best family campgrounds in the South Island? Here are our top picks!
Top 10 Holiday Park - Wanaka
What's not to love about the Wanaka TOP 10 Holiday Park? It's in one of New Zealand's most spectacular natural surroundings, and after a day of adrenaline-filled adventures, the park is your home away from home.
With unlimited WIFI, you can send all the photos you want to your family and friends - to make them extremely jealous of course. Visit the famous Wanaka Tree, stroll along the gorgeous lakefront, hire mountain bikes, jump on a horse for a trek or go on a four-wheel drive tour. Visiting in winter? Hit the slopes at the incredible Cardrona ski field (just note that campervans are restricted from driving on the Crown Range Road, so you'll need to shuttle in).
Lake Wanaka is just one of many stunning stops in the Southern Lakes District. Rent your campervan in Christchurch and get exploring!
Top 10 Holiday Park - Queenstown
If you want to end your trip on a high point - the Queenstown TOP 10 Holiday Park is the perfect place to park up for a few nights and then (sadly) bid your camper farewell, flying out from the international/domestic airport. There's a fantastic playground available for the kids, a TV room for relaxing and plenty of space to set up home with the camper. Downtown is a quick six-minute drive away, or you can simply enjoy the attractions available nearby - the Shotover Jet, a historic tunnel walk and strike zone.
Queenstown itself is renowned for its outdoor activities for year-round fun - from the gondola and luge to more grown up adventures like ziplining and bungee jumping. It's a must to do with the family!
Top 10 Holiday Park - Kaikoura
The Kaikoura TOP 10 Holiday Park practically has a front-row seat to the stunning east coastline, with the Southern Alps mountain range in view to the west. With a swimming pool and recreational gear for hire - the kids will never be bored here, and of course, there's plenty to do in this scenic location. Famous for its whale watching, getting out on a boat to catch a glimpse of these majestical mammals is an essential activity when you're in town. While you're out looking for animals, check out the seal colony on the Kaikoura Peninsula Walkway, or book your spot on an Albatross Encounter tour.
Take a 10 day road trip around the top of the South Island and stop in at Blenheim, Nelson and Hanmer Springs. Even a short 4 day trip from Christchurch to Kaikoura will leave you with an album full of memories.
Top 10 Holiday Park - Christchurch
Set up with families and fun in mind, the Christchurch TOP 10 Holiday Park has everything you need on holiday, and so much more! There's a heated indoor pool, a spa, NZ's only snookball table, indoor and outdoor play areas (including a jump pillow) and free WIFI. Within walking distance you'll find a great selection of shops, boutique retailers and restaurants, handy for those nights you want a rest from cooking in the campervan.
Christchurch is the best place to start and end your South Island Campervan Holiday. Get inspired by our traveller stories around the South Island.
A notable mention must go to the Amber Kiwi Holiday Park. It's conveniently located close to Christchurch's CBD, with well-appointed facilities and amenities - perfect for a city escape!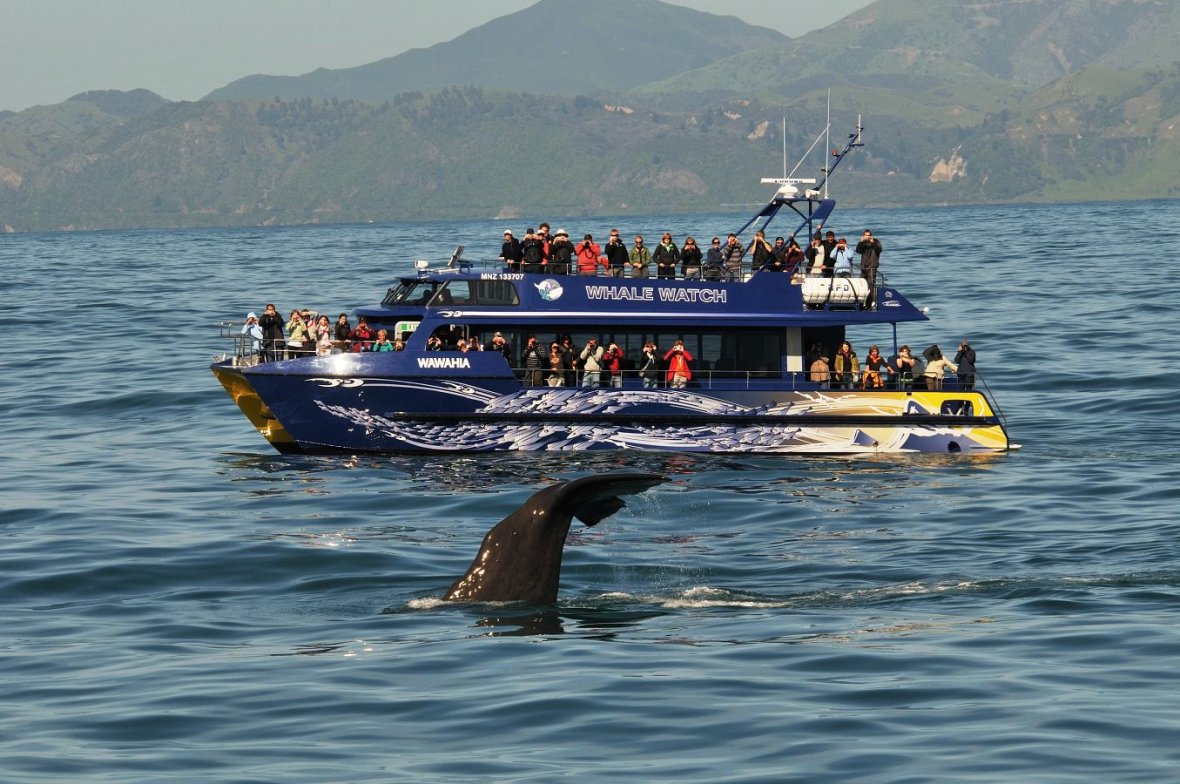 Top 10 Holiday Park - Picton
It's where the North Island greets the South (or vice versa), as the port of call for the Interislander Ferry from Wellington. And you don't have to go far from the wharf to land at the Picton TOP 10 Holiday Park. There's a swimming pool, recreational gear hire and it's only 1km (easy walking distance) from the centre of town, which sits across from the gorgeous marina.
You can either hire your camper in Wellington and take the ferry across or drive up from Christchurch. Either way your journey goes - book a spot on the boat, the Marlborough Sounds are absolutely breathtaking.
Have a family holiday with Britz
Ready to pack your bags and head away on a family campervan holiday? Get going with Britz. Book your campervan today and start planning your family holiday.