Join thousands of fellow campervan travellers
Sign up for our Britz newsletter to receive inspirational travel content and awesome deals, and we'll send you a copy of our Ultimate RV guide!
Thanks
Please confirm subscription in your email.
1. A campervan holiday is just fun
According to Laurie, winter is an awesome time to travel in a camper van.
She says "There's something pretty exciting about packing the car for a road trip, and packing up a campervan is even more fun! With a van, you get to unpack all your gear, load up the fridge, plan your day and then hit the road. There is loads of space for your journey, and huge windows to take in the ever-changing view. Once you're parked up, everything you need is right at your fingertips. Whether you choose to get close to nature in a conservation campsite or make new friends in a holiday park, there are options for everyone." What's not to love about that?
We also love that van travel during off-peak seasons usually means fewer people on the road, and more opportunities to stop and see all the best sites in New Zealand without needing to queue!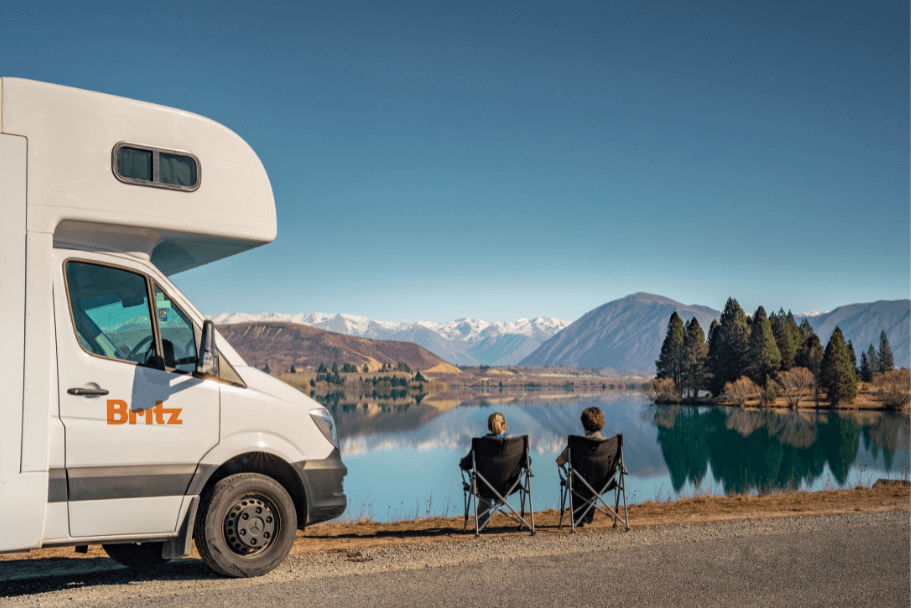 2. All the cosy comforts of home are with you
Although there is lots of extra space in a campervan compared with a car, you actually have a lot of the everyday necessities already included in the campervan hire! From bedding to bowls and even a toaster, there is very little you need to bring from home.
A Van hire with Britz includes:
Bedding - This covers linen, pillows and duvets
Towels - You will have bath towels, bath mats and even tea towels for the washing up!
Household items - All of your kitchen items are included, such as cutlery, crockery, glassware and basic appliances like a toaster and electric jug
Still on the fence? Check out our handy guide on everything you need to know about winter campervan travel in NZ.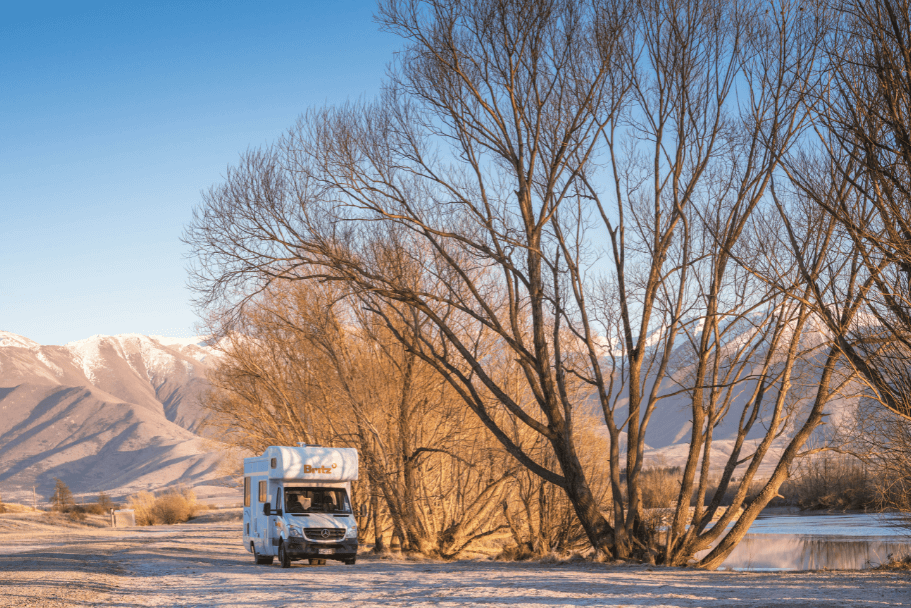 3. It's easy to stay warm
One of the great benefits of travelling in a motorhome is that you can stay warm while you enjoy the sites on the road. You can also enjoy some stunning winter views in the evening like the clear starry skies over Wanaka, without having to leave the warmth of the camper! Staying warm in a campervan is easy with the heaters on board, and of course, passengers can also throw a blanket over their knees while on the move as well!
Once you have finished adventuring for the day, it's easy to plug in at your campsite and warm up in the camper which comes with a heater that runs on electricity or gas. Throw in a warm drink and a hot water bottle made with the kettle and you'll be nicely thawed in no time!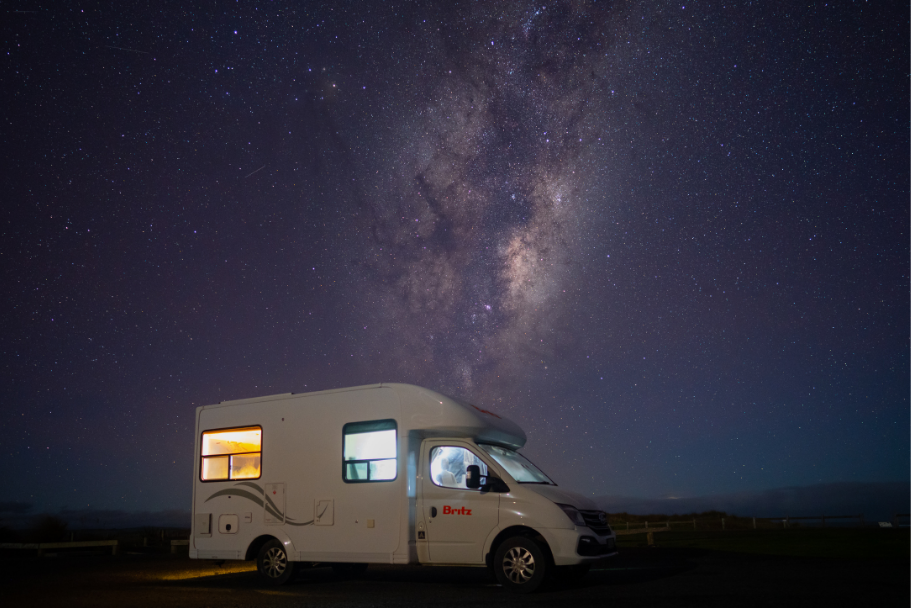 4. A campervan gives you the ability to be flexible
For travelling photographer Laurie, a campervan is the ultimate in flexible travel. She reckons "For those looking to explore NZ, this is a great benefit. Your campervan is both your vehicle and your accommodation and so you can make and change plans without much hassle." She loves that during the winter season, you don't need to worry about booking campsites or holiday parks too far ahead. She says "You can be as structured or unstructured as you like – part of the fun can be waking up in the morning and mulling over where the road will take you next. If the weather is bad, you can carry on to another spot. If the weather is amazing, you can stay an extra day. Planning the next day is all part of the fun!"
We agree with Laurie, the flexibility a campervan gives can't be beaten, and changing your plans couldn't be any easier. Our thl Roadtrip app is a must-have when you're on the road and is packed with downloadable maps plus tips and trips on everything to do with your vehicle. At Britz we also offer 24/7 support via phone, email or even webchat!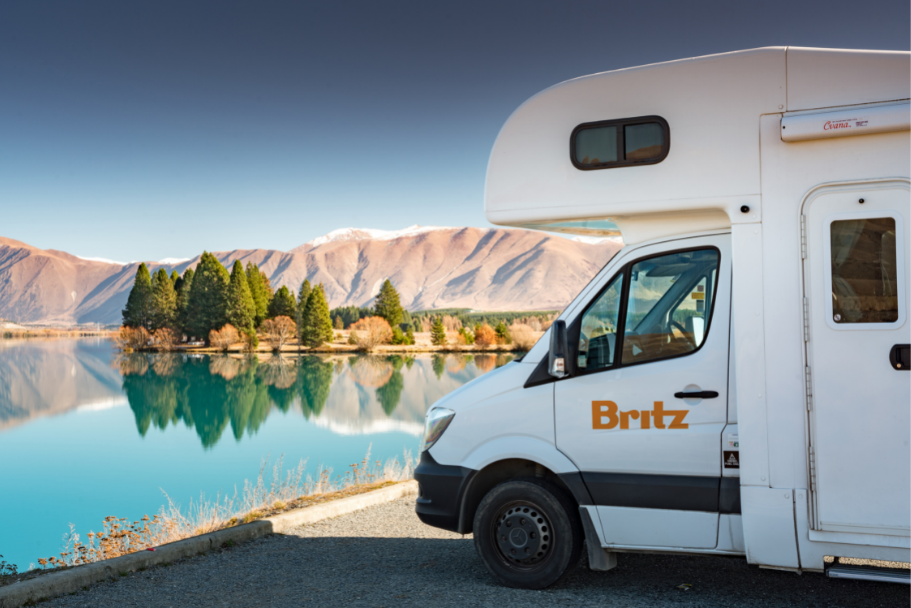 5. All the cosy comforts of home are with you
Being away on holiday usually means having to leave your creature comforts behind, whether that is your favourite woollen blanket or your slippers. Travelling in a camper means you can bring all of those cosy items along without fear of them getting covered in mud whilst tenting, or getting left behind in a hotel.
Laurie says; "Modern campervans and motorhomes are cleverly thought out and have everything you could need for a holiday away. Most have indoor cooking and dining spaces, a fridge, a lounge with windows to take in the view, lots of storage space, and a toilet and shower." She continues "Campervans have good insulation, plus you'll often have forms of heating in your van, and warm, heavy duvets at night. There's no worrying about hotel check-in and check-out times, what a room will be like – so you can focus more on your holiday and less on the admin." Worry-free holiday? Yes, please!
Did you know you can also bring your pet along for the journey? Surely there is nothing more comforting than that!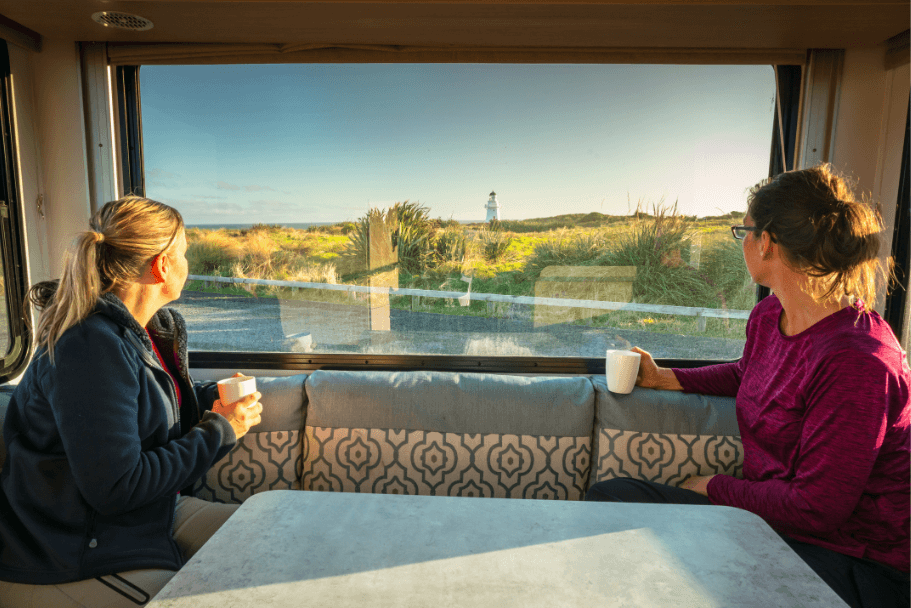 Things to pack
To make your camper feel even more like home when on the road, here are some extra bits to bring along:
Additional blankets or a hot water bottle...For the times when you don't have your campervan heaters going, it's nice to have a small blanket on hand to stay warm. Remember to bring a blanket you don't mind taking outside too, as they will be a welcome addition if you sit out for some stargazing in the evenings! A hot water bottle is a cosy addition that doesn't take up much space and can be a real comfort on cold nights.
Extra layers of clothing... Keep warm at night with bed socks, and extra layers of clothing like thermals. If you are hitting the ski fields or taking a glacier walk, remember to bring gloves and warm hats too.
Night time gear... Find your way around the campsite much easier at night with a torch and some good footwear. Nothing worse than stepping in something and bringing that back into the camper!
6. You can stop anywhere!
Parking up at your campsite and enjoying a snack is a great way to make the most of campervan life. See a view you like? Make a pitstop to throw open the campervan doors and enjoy the view, along with your roadtrip snack of choice. Laurie says; "One of the loveliest things about life on the road is that there is often no hurry. Everything you need is always with you. This means when you are driving past a stunning view, it's easy to pull over, throw the doors open and enjoy a moment whilst taking in the beautiful scenery."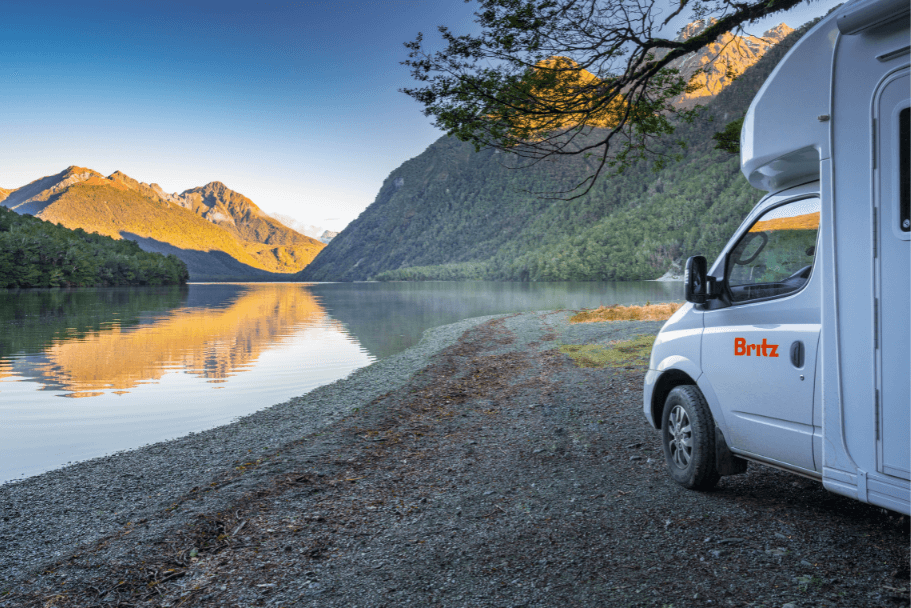 7. New Zealand has campsites in the most amazing places
As a New Zealand landscape and nature photographer, Laurie knows a thing or two about beautiful places. She says of camping in NZ; "Whether it be a Department of Conservation campsite, a holiday park, or a designated freedom camping site, some of the places you can sleep overnight will actually take your breath away. Many camping spots are right there by the beaches, rivers and mountains." She continues "Whether you wake up to the sound of waves crashing or forest birdsong, there is nothing quite like being immersed in nature. There is something quite special about waking up in the morning, opening your curtains and taking in an amazing view."
We also love that winter in NZ is the quiet season for travel, so you can scope out the best campsites to visit and have your pick of the bunch with fewer people around!
8. New Zealand scenery is diverse and accessible
The large windows in Britz campervans frame the beautiful landscapes like a work of art, so you can admire the views whether you are parked up for the night, or exploring on the road.
Laurie says; "As a tiny country, we have a remarkable amount of diverse scenery. On one day you can be sleeping next to the ocean, and the very next you can be gazing up at towering mountains. People often comment that NZ more than holds its own on the international "epic scenery" stage. Travelling by motorhome can allow you to get to many of these amazing places in a short amount of time. Not only that, crisp winter mornings create some of the most beautiful scenes you can imagine – snowy peaks, icy trees and stunning reflections in still lakes. What are you waiting for!"
Our Top Tips for driving in winter
Remember to use snow chains... If you know you'll be driving in areas that have snowfall, remember to add snow chains to your booking! These provide some much-needed grip for safe driving in the snow. Simply attach snow chains before you hit snowy roads and you'll be good to go.
Take safe routes... There are some roads restrictions that need to be followed when travelling in your Britz camper. It's important to plan your routes in advance so you don't miss out on seeing anything on your travel wishlist! A great way to plan your trip is to use a campervan itinerary, which will help to take the guesswork out of what path to take, whilst providing some travel inspiration!
Enjoy the ride and take your time... Winter in NZ brings ice and snow on the road in some areas, so taking your time when travelling will go a long way in keeping you safe. Remember there will be very little traffic, so you can cruise to your next destination without fear of missing out on anything.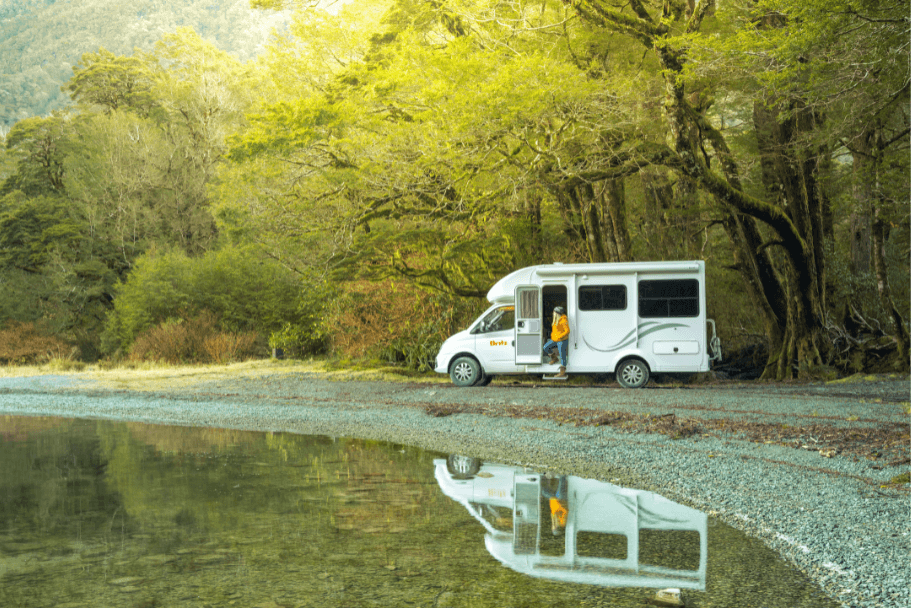 The best destinations to visit in NZ winter
There are so many things to do in NZ winter, from sightseeing to indulging in food or experiencing some of the events and activities only available at this time of year. Here is a roundup of our top locations and favourite things to do in NZ winter.
Tongariro National Park
This world heritage listed park offers a little something for everyone! Boasting the two largest ski fields in New Zealand, Whakapapa and Tūroa, as well as guided quad bike adventures and family-friendly walks - you could easily spend a few days here enjoying the scenery around the three volcanic mountains of the area.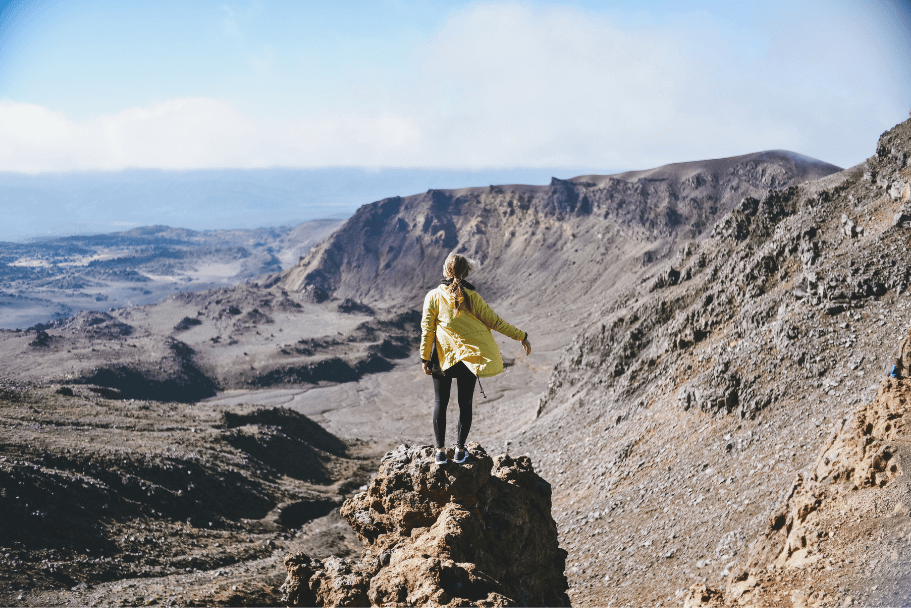 The Coromandel
Winter is a great time to visit The Coromandel as the area is far less busy compared to the summer months. Pack the bikes in the camper to ride through the Coromandel bike park, or take a scenic cruise on a glass-bottom boat out to the famous Cathedral Cove. Looking for something indoors to shelter from the cold? Check out the Waihi Gold Tour where you can learn about historic gold mining in the area and try out some interactive activities in the Discovery centre.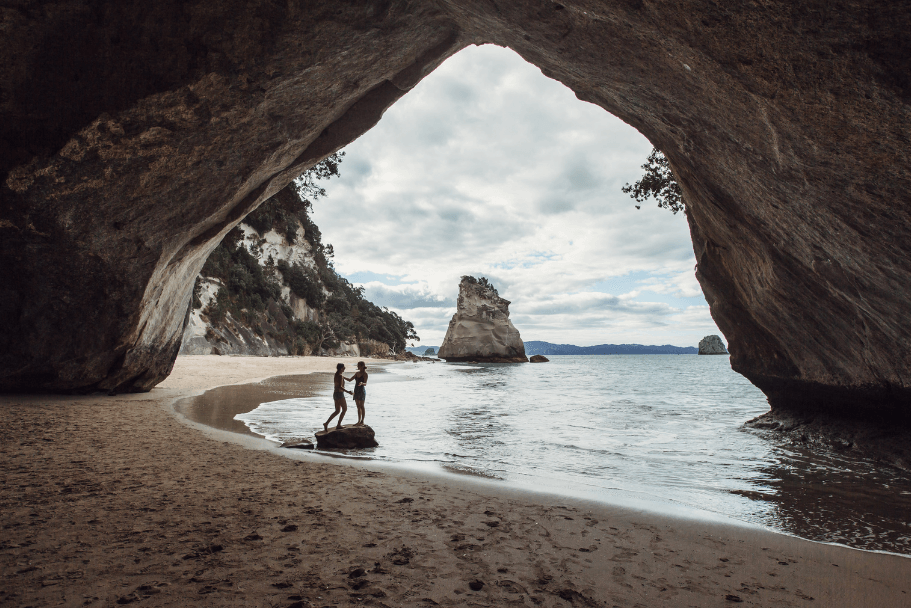 Kaikoura
If you want to experience nature at its finest you will love Kaikoura. Whale watching tours is a South Island must do as humpback whales migrate here in winter. Warm up indoors at the Kaikoura museum where you can learn about the intriguing marine history of the area, and view plenty of interesting displays from fossils to traditional Maori and European items from the early days of settlement. Finish off the day with a visit to the local Emporium brewery where you can not only purchase their beer but play a round of mini-putt or try out an escape room challenge!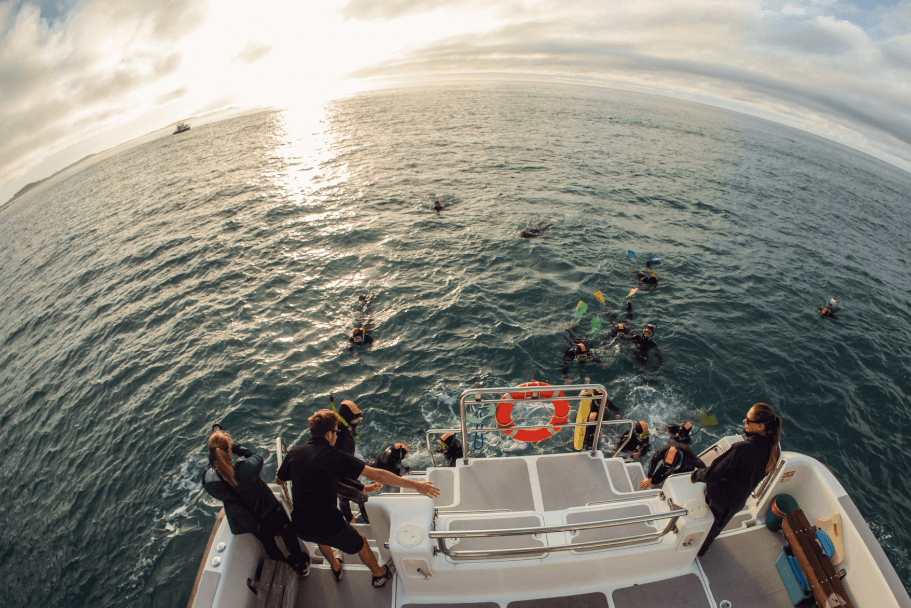 Dunedin
A visit to Dunedin in winter has to include stopping by the Mid Winter Carnival! This annual event includes costumed performers, giant lanterns, and of course music and dancing! Head to the night market to enjoy some mulled wine, a variety of cuisines and sweet treats. Larnach Castle is another must-see in Dunedin. Constructed in 1871, this is New Zealand's only castle. With a 14 hectare garden, guided tours and a cafe set in a ballroom, this is a peaceful way to spend a day on the stunning grounds. Want to get moving to warm up on a cold day? Check out the Dunedin ice stadium. This family-friendly spot has ice skating and bumper cars!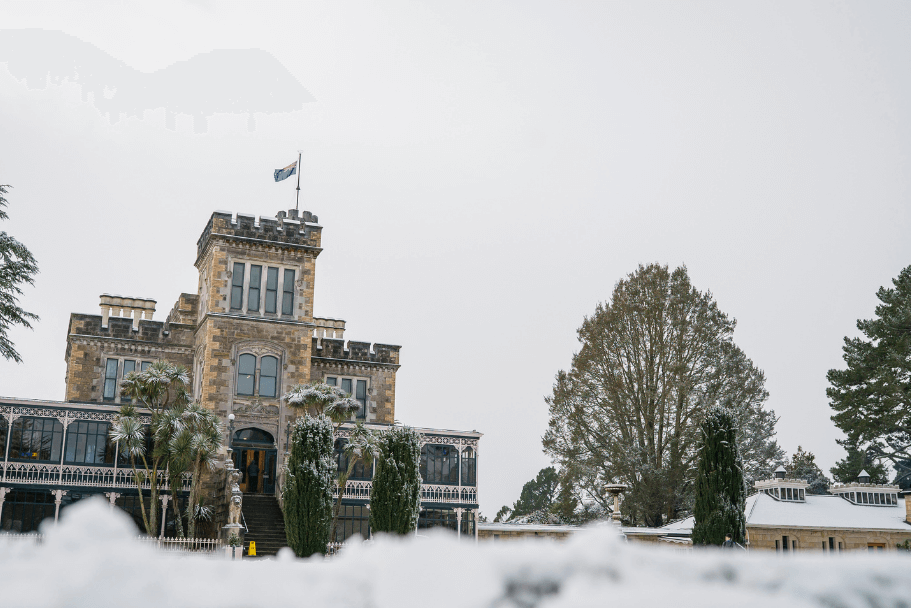 To follow in Laurie's footsteps and explore the stunning vistas just as she has, take a look at our most popular routes. Check out Laurie's South Island Adventure - it's a photographer's dream trip. Book your own Britz winter adventure today!
Laurie Winter is a landscape photographer, with a passion for capturing beautiful scenes around New Zealand. She travelled courtesy of Britz. To see some of her work or read other blog posts visit: www.lauriewinterphotography.com
Explore New Zealand with these great deals