Join thousands of fellow campervan travellers
Sign up for our Britz newsletter to receive inspirational travel content and awesome deals, and we'll send you a copy of our Ultimate RV guide!
Thanks
Please confirm subscription in your email.
Queenstown, Wanaka, and Te Anau are located towards the southwest of the South Island. Packed with a range of both relaxing and adrenaline-pumping activities, these destinations make for the perfect holiday and are all within a short driving distance of each other. These regions are home to an abundance of epic outdoor activities which will allow you to truly embrace the New Zealand landscape.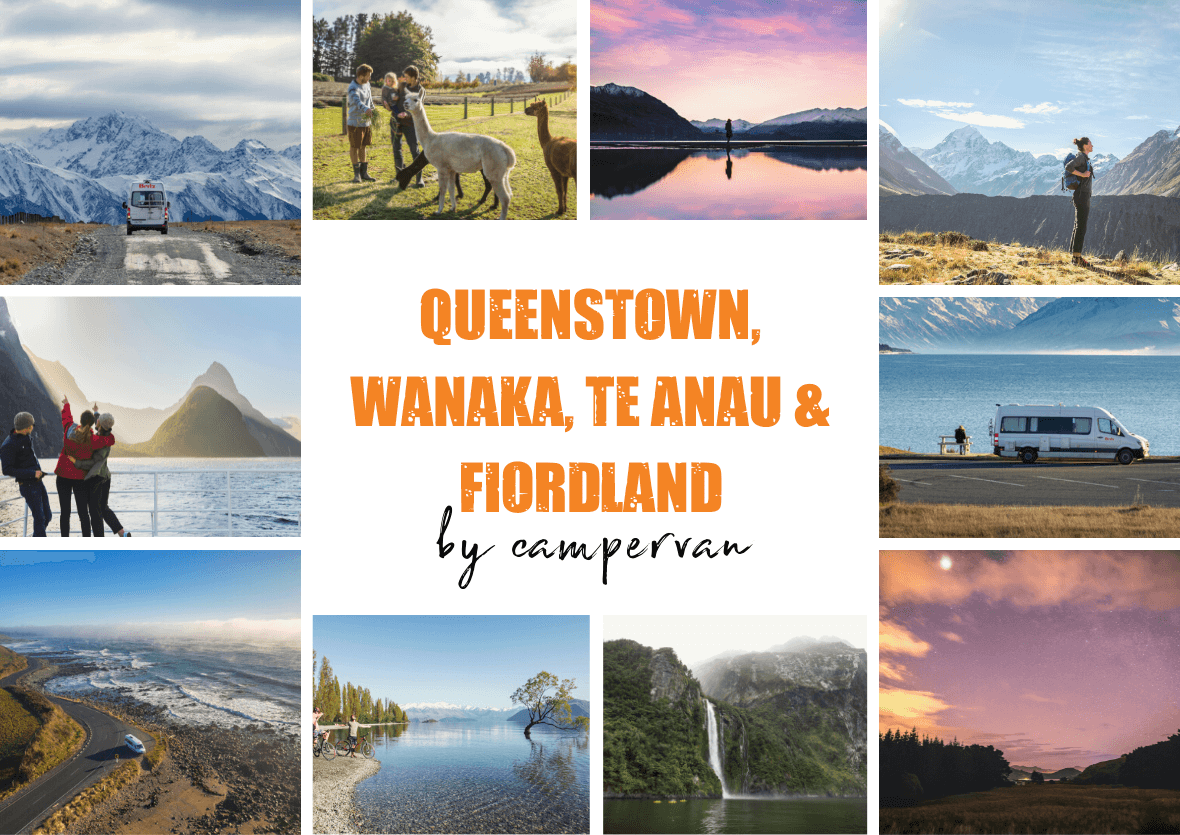 To truly embrace all the incredible things on offer in these regions, as well as make the most of the world-class scenery they are surrounded in – the perfect way to see and do more is in a Britz Campervan. Enjoy the peaceful alpine views with breakfast at one of the many Queenstown dining hotspots, before hitting the road and driving an iconic stretch before relaxing in front of some incredible national landmarks.
Campervan travel enables you with the freedom to stop wherever you please, follow wherever the road takes you, and uncover hidden gems along the way. Campervan travel is a great budget-friendly way to travel, with costs saved even more when you freedom camp.
Pack your walking shoes and consider adding a bike rack to your hire so you can make the most of this destination!
Sign up to the thl community now!
thl is the world's largest provider of global RV experiences. Travel the world with us and discover our family of brands - maui, Britz, Mighty, Road Bear RV, El Monte RV & Just Go.
We are committed to protecting your privacy and information security. Your information will be held securely and used in accordance with any applicable privacy law, our internal policies, and our Privacy Policy which explains how we collect, use, disclose, transfer and store your information.
Southern Lakes & Fiordland Must Do's
Southern Lakes & Fiordland Campervan Road Trips
Southern Lakes & Fiordland Travel Tips & Inspiration

Queenstown
The Britz Queenstown branch lies at the bottom half of the South Island and is the perfect place to kick off your trip. Grab a camber and hit the road to explore the stunning scenery.

Christchurch
The drive from Britz Christchurch on the east coast of the South Island, to the west is between 6-7 hours, depending on whether you travel inland past Lake Tekapo, or along the east coast through Timaru and Oamaru.
Things To Do in Queenstown
Things To Do in Wanaka
Take this short walk to a viewpoint above the native beech forest and enjoy the panoramic views of Mt Aspiring National Park. An easy 2km walk, around an hour return, this track will take you through a stunning mixture of remote wilderness, high mountains, and scenic river valleys. It is a walker's paradise and perfect for all fitness capabilities. Wanaka is home to an abundance of walks, with options for shorter tracks as well as half-day and full-day hikes.
This iconic hike has one of the most famous viewpoints in New Zealand. Roy's Peak track plays host to spectacular views of the Southern Alps. Not for the faint-hearted, this is a 16km track that takes around 7 hours to complete. Most of the hike is uphill along a well-marked track. If you are looking to tick this hike off your list, be sure to plan accordingly as Roy's Peak is closed between the 1st of October and the 10th of November each year for lambing season.
Spread across 20 acres, a visit to the Wanaka Lavender Farm is a perfect family activity. Enjoy a walk through the stunning purple flowers, meet and feed the friendly farm animals, play a game in the garden, and indulge in lavender ice creams. The best time to visit to see the lavender blooms in all their glory is from November to the beginning of March.
The iconic Wanaka tree with its very own hashtag is one of the most photographed trees in New Zealand. It is one of the best budget-friendly things to do in Wanaka, located just a short walk from the town centre along the lakefront. The best times to enjoy the view are at sunrise or sunset with the glowing backdrop of Lake Wanaka and the iconic Southern Alps.
A unique attraction that embraces the theme of 'weird', Puzzling World is the perfect place to feel like a child for a few hours. Home to the Great Maze, as well as a collection of other activities – spend a few hours here challenging yourself. Enjoyable and affordable for all ages, Puzzling World is a perfect rainy-day activity.
Things To Do in Te Anau & Fiordland
Be transported to a mysterious underground world with a guided cave tour through an underground stream. Then drift in silent darkness beneath a glowing ceiling made up of hundreds of glowworms. The trip begins with a cruise on the western shores of Lake Te Anau before heading underground into a subterranean wonderland.
Located in Fiordland National Park, the newest Great Walk, the Kepler Track starts and finishes in Te Anau. The full loop is 60km long, although there are options to do a guided day walk on the track, suited to a range of fitness levels. A true wilderness adventure, take in views of giant beech trees, and fern forests as you listen to the call of New Zealand's cheeky alpine parrot, the kea.
The unofficial 8th wonder of the world is an absolute must-see when visiting Te Anau. As well as its picture-perfect scenery, there are many ways to explore this iconic destination. The most popular way is by boat, floating along the dark waters of the fiord. To stretch your legs after the cruise, take the easy 400m Milford Foreshore Loop track for more incredible scenery. For a more bucket-list-worthy experience, consider a kayak tour through Milford Sound to get up close to waterfalls and the local sea life – a sunrise tour is an ultimate way to catch Milford Sound in all its stillness and glory.
Located near the River Waiau, a popular Lord of the Rings filming spot, the Rainbow Beach Swing Bridge is a great way to explore more of the outdoor in this epic region. Embark on a 3-hour walk from Rainbow Beach to Shallow Bay hut or the beachside Moturau hut. This walk is a great option to get a taste of the Kepler Track if you are travelling with the kids in tow.
New Zealand is famous for its pies – head to Te Anau town center to try the incredible Miles Better Pies. If you're after something more adventurous, sample some local kaimoana from the fiords such as blue cod and hapuka, or try some local Fiordland crayfish and lobster. Another must-try food spot is Bao Now – passionate about sourcing fresh and local ingredients, serving up incredible food from baos, sushi bowls, and dumplings to the best fries in town.
Helpful Tips For Visiting Queenstown, Wanaka, Te Anau & Fiordland
Climate and seasons in Queenstown, Wanaka, Te Anau & Fiordland
Fiordland's weather contributes to the unique character of the region. With the weather system coming from the west, the weather here is very wet, with rainfall being a common occurrence. Although there is a lot of rainfall, there are also periods of settled, warm weather, especially in the summertime. Summer in Fiordland brings the warmest months of the year when temperatures can reach up to 30 degrees. Although rain and wind are still common, there are periods of long-settled weather. Winter in Fiordland is the most settled time of the year. The daylight hours are much shorter than the rest of the year, but the skies are often blue with very few clouds. The South Island, in particular, the Queenstown, Wanaka, and Great South regions can be as cold as –10 degrees in the winter months because of the alpine environment. Rainfall is moderate and sunshine hours are long.
Where to stay in Queenstown
Where to stay in Wanaka
Where to Stay in Te Anau
Nearby Day Trips and Attractions
Arrowtown. Only 20 minutes away from Queenstown, Arrowtown is well known for its spectacular scenery and charming character, making it a must-see for all visitors to the region. This quaint town's rich heritage and historic buildings add to its vibrant energy, as well as world-class dining destinations, boutique shopping, and attractions.
Gibbston. The Valley of the Vines aka Gibbston is home to some of the oldest vineyards in the region. Located only a 25-minute drive from Queenstown, Gibbston plays host to a collection of wineries, pubs, restaurants, and the historic Kawarau Suspension Bridge. Producing award-winning pinot noir, spend your time here exploring the collection of cellar doors against the backdrop of ruggedly beautiful schist mountains.
Glenorchy. Glenorchy is an incredible slice of New Zealand paradise. Surrounded by spectacular snow-capped mountains with panoramic views of pristine lakes and beech forests, Glenorchy is a dreamy destination for all kinds of outdoor activities. Home to incredible hikes, the scenery has formed the backdrop for films such as Narnia, The Hobbit, and Lord of the Rings. You'll never be bored with an abundance of activities on offer to truly explore the incredible nature here.
What to Pack
Layers. A safe way to prepare for the climate in New Zealand's South Island is to bring various layers of clothing. Two or three layers of thin clothing, rather than one heavy layer means you can be comfortable no matter what the weather brings. Fabrics such as merino wool are good insulators and great for layering. Be sure to pack wet weather gear if you are heading outdoors, as well as good walking shoes! In the winter months, the temperature drops a lot. Although the snow usually stays in the mountains, it will pay to have at least a few winter layers such as a warm jacket, gloves, and a hat. If you plan to hit the slopes, equipment is easy to hire in Queenstown.
Campervan add-ons. If you are bringing a bike, all three of our branches offer bike rack hire which you can add to your campervan hire.
Sun protection. Be sure to pack a bottle of sunscreen, a hat, and sunglasses – especially if you are visiting in summer and planning to make the most of the region's epic outdoors.