Join thousands of fellow campervan travellers
Sign up for our Britz newsletter to receive inspirational travel content and awesome deals, and we'll send you a copy of our Ultimate RV guide!
Thanks
Please confirm subscription in your email.
Route 1: Wanaka and Surrounds
This route through Wanaka and surrounds takes in the best of the Central Otago district including national park hikes, cross-country cycle trails, and world-class wineries; how long you take to complete it is entirely up to you. It is not a long journey but there is so much to see that you could easily spend a week meandering up and down the roads in your camper. Equally, you could complete the trip in as little as a couple of days if you wanted to continue onto the rest of the South Island.
From Queenstown, head north to discover the charming little gold mining town of Arrowtown before continuing on to Wanaka via Cromwell. Please note our campervans are not permitted to travel via the Crown Range, so the scenic drive through Cromwell is your best bet! Set on spectacular Lake Wanaka and not unlike Queenstown, although smaller, Wanaka is a place worth getting to know. It is a vibrant, energetic town, and there are multiple caravan and camping parks in and around town, so find a view you love and settle in.
When you've experienced everything Wanaka has to offer, it's time to head back to Cromwell, through the wine country. This 55km route will take you south again, past the many vineyards and orchards. Take the time to stop at Clyde, just 23km further south, and the start/end point of the infamous Otago Rail Trail, before retracing your route back to Cromwell and heading west back to Queenstown.
For the full itinerary on Wanaka and the surroundings check out The Deep South.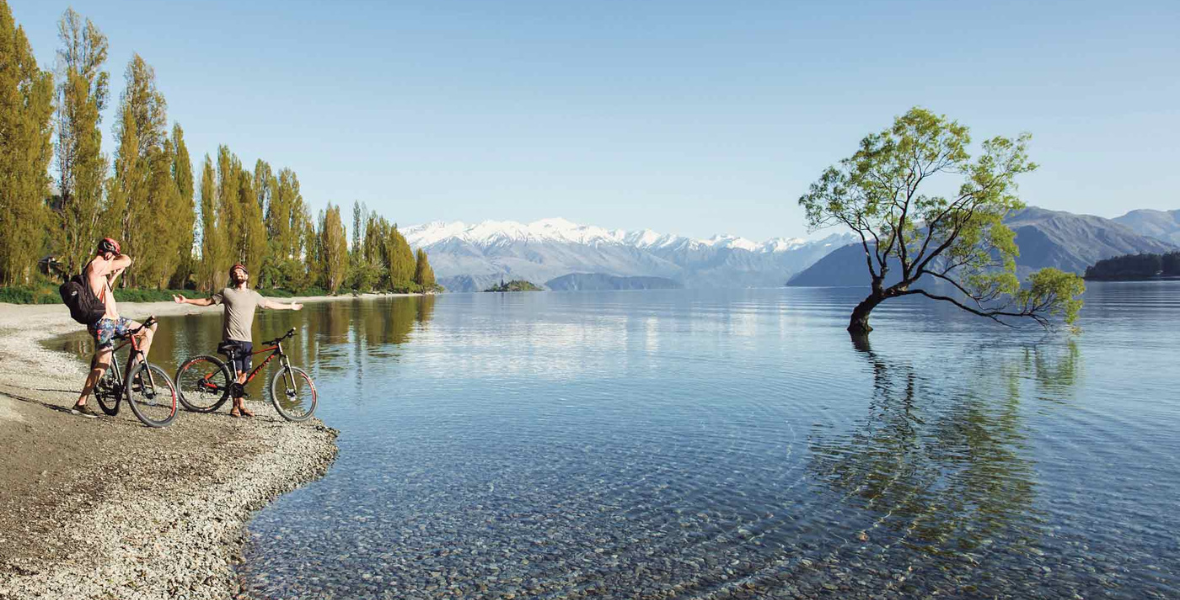 Route 2: Milford Sound/Te Anau
People visit Queenstown for many different reasons but using it as a base from which to visit spectacular Milford Sound would be up there as one of the most popular. Many people without transportation take commercial bus trips, often in one very long day, to visit the spectacular Milford Sound/Te Anau region, however, those with a campervan at their disposal, are able to take the stunning drive themselves and really explore the region.
Te Anau is a 172km (or about two hours' drive) south-west of Queenstown. Upon arrival, you'll find Lake Te Anau - the largest lake in the South Island. Te Anau is the jumping off point for the Fiordland National Park and the awe-inspiring landscapes of Milford Sound. It is advised to stay the night in Te Anau before departing for Milford Sound the following day, in order to give yourself enough time to explore. Take the two-hour drive north along the Te Anau-Milford Highway and be prepared for some of New Zealand's most stunning scenery. It's an easy self-drive and you can take your time to absorb one of the most spectacular road trips in the world.
Once you arrive, you'll be blown away by the size and beauty of Milford South, with its steep cliffs falling into the deep blue water below. A boat cruise or renting a kayak is the best way to experience this majestic part of the world. Alternatively, you can just drive 20 minutes south of Te Anau to Lake Manapouri, where you can leave the camper and jump on a tourist boat to Doubtful Sound.
Did this spark your interest? Then read more about Milford Sound and the Te Anau area in our Britz Southern Explore Road Trip Itinerary.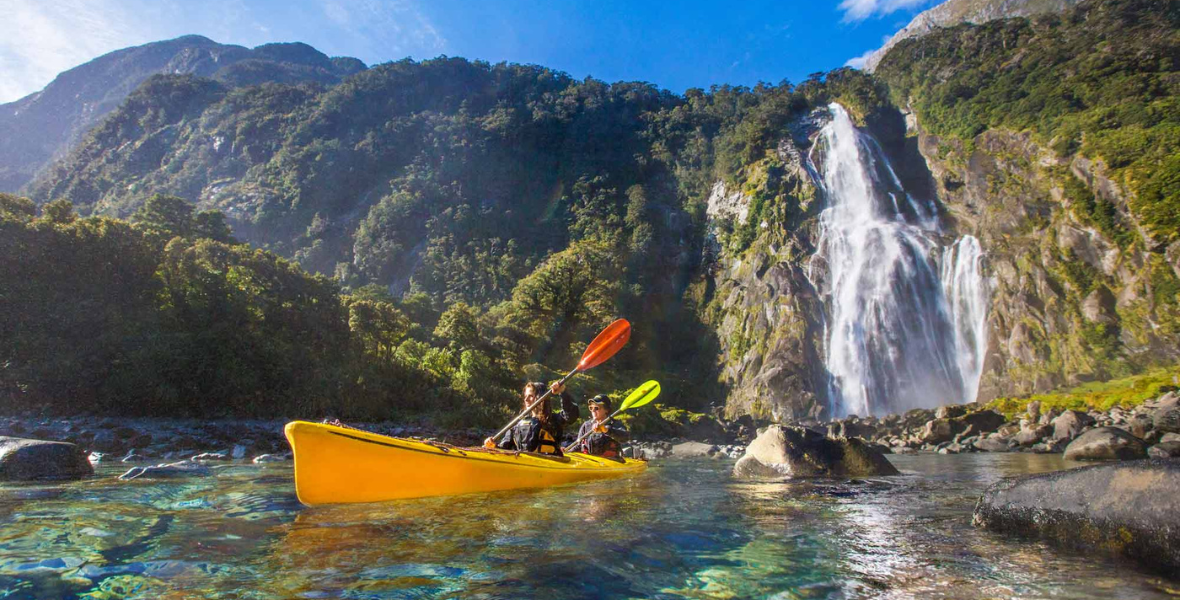 Route 3: Caitlins & Dunedin
The Southern Scenic Route - a 610km drive that takes in the very best scenery and locations in New Zealand's deep south - is the perfect way to discover the bottom of the South Island. From Queenstown, head south to Te Anau and Milford sound before continuing further south to the coast and then heading east into Invercargill. Alternatively, you can head south-west from Queenstown, passing through lovely Clifden and the iconic Clifden Suspension Bridge before continuing on to Invercargill. Located on New Zealand's far south coast, Invercargill is a small city with wide open streets and a laid-back, 'yesteryear' vibe.
The Southern Scenic Route then takes you east across the bottom of the island, through the Catlins Forest Park before heading north to Dunedin (roughly 240km from Invercargill) on the east coast. From here, you can continue your trip north up the coast towards Christchurch, where Britz has another branch, or cut back through the island towards Queenstown and return your campervan there.
To read upon further highlights and to-do's around Catlins and Dunedin check out the Southern Scenic Route Itinerary.
How to Get There
Queenstown is home to a busy, although compact, international and domestic airport (located 8km from the city centre), as well as a Britz Campers branch (located at the airport), making a fly-drive holiday to this beautiful part of the world as easy as possible. Alternatively, Queenstown can be reached by road and is located 480km from Christchurch, where another Britz Campers branch is situated.
To get started on this journey, book a Britz campervan today. Or check out our latest deals and specials here.