Join thousands of fellow campervan travellers
Sign up for our Britz newsletter to receive inspirational travel content and awesome deals, and we'll send you a copy of our Ultimate RV guide!
Thanks
Please confirm subscription in your email.
Why Hire a Campervan in New Zealand?
Why hire a campervan in New Zealand over a hotel and hire car? Well, for a start, the campervan gives you a huge amount of flexibility and freedom. Don't fancy planning every minute trip detail out before you go? No problem - because you already have your accommodation, you just have to decide where to stay, using a travel app like the Britz road trip app to choose from one of the many holiday parks, campsites or freedom camping areas for self-contained campervans. And because you're not confined by check-in or checkout times, or pre-arranged group transport, you'll have more time to explore.
Find somewhere you really love? Why not just stop and spend a little longer there - you haven't got a fixed itinerary with a campervan trip. And with a host of practical features, such as comfortable double beds, kitchens complete with an oven, stove, microwave and fridge, and a bathroom with a toilet and shower, you really can stay as long as you want. Pick point A and B, and discover the secrets in between, taking the opportunity to make some lifelong memories along the way with friends, family, and loved ones.
New Zealand Travel Highlights
There sure is plenty to see along the way too! New Zealand is absolutely packed with amazing locations to visit by campervan - in fact, anyone who has ever been on social media or read a travel website will attest to that. We'd suggest starting off in one of the main hubs of Auckland, Christchurch or Queenstown as this is where the majority of campervan hire branches, including Britz, are based. To get you started, here are our top 6 locations you must visit when campervanning in New Zealand.
South Island
Queenstown Attractions
Queenstown is one of the most popular locations in New Zealand, and it's not hard to understand why. A great place to start a campervan trip, the town itself is an adventure paradise with every sort of attraction imaginable, from skydives to jet boat rides, scenic flights to wineries, and skiing to mountain walking. Surrounded by vast miles of sparsely populated land, there's access to some of the most stunning sights in NZ, such as the West Coast Glaciers descending to just above sea level, Milford Sound with its deep fjords and towering peaks, and the Catlins full of stunning coastline and bustling wildlife.
There are a wealth of Queenstown campervan itineraries, but some of our most popular are the Southern Scenic Route via Te Anau and Invercargill, the Southern Explorer via Wanaka, Bluff and Milford Sound, and the South Island Adventure via Tekapo, Milford Sound, and the Glaciers. For those conscious of the environment, there's a fantastic itinerary designed with electric campervans in mind, such as the Britz Evolve.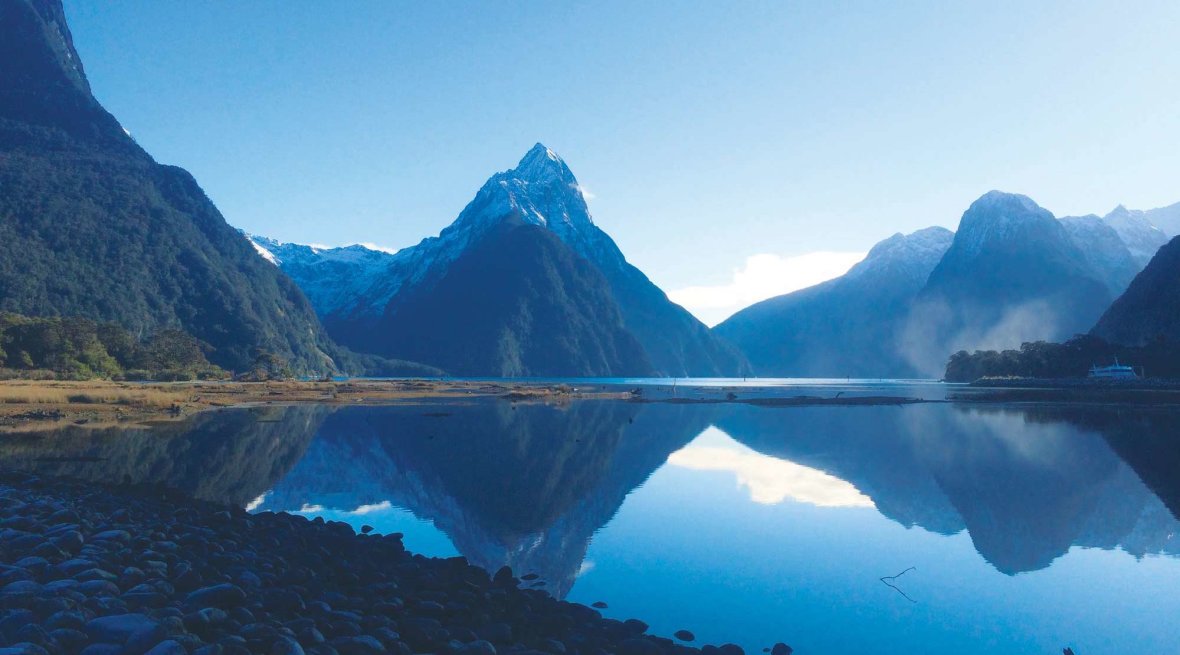 Abel Tasman National Park
If relaxing on golden beaches, kayaking in crystal clear water and walking through native forests get you excited, then you'll be wanting to visit Abel Tasman National Park, which has all three in abundance. Although it's New Zealand smallest National Park it packs a punch in terms of activities. Soak up the area by air on a scenic flight or skydive, by water via kayak, boat trip, scuba diving or canyoning, or by land on a mountain bike or walking on one of New Zealand's famed Great Walks tracks.
Although Abel Tasman's closest city Nelson doesn't have an international airport, it's still easy to include this on your South Island campervan itinerary. Pickup in Christchurch and explore Top of the South Island via Nelson, Marlborough and Kaikoura, before heading back to Christchurch or heading north for the Scenic Sights of Auckland via Wellington, Taupo and Rotorua.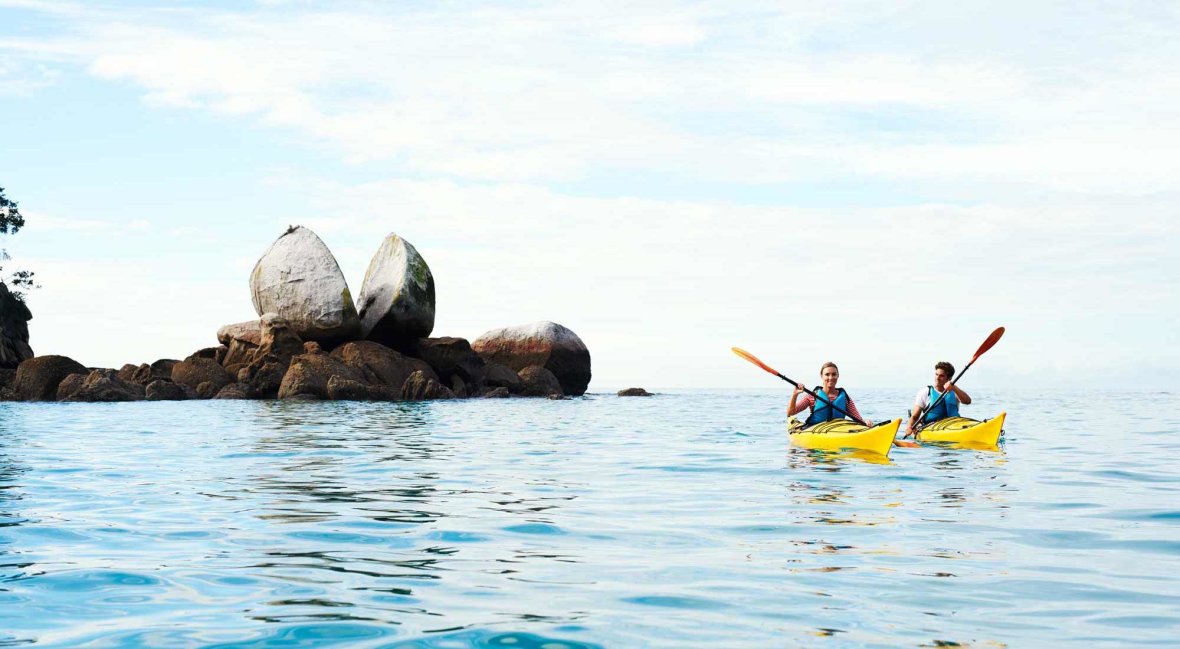 Things to do in Lake Tekapo
If you think of a South Island campervan trip, the first thing that springs to mind is likely snowcapped mountains behind vivid blue lakes. Yes, this place really does exist, and the best part is that it's one of the most accessible parts of South Island. Located roughly 3 hours from both Christchurch or Queenstown, it's the perfect spot to base an itinerary around. Spend a couple of days exploring, take a guided walk on the glaciers, take a scenic plane ride over it all, or ride along the mellow river trails on the Alps 2 Ocean cycle route. With camping at the base of Mount Cook, you can wake up to an amazing morning view from your campervan every day!
A key location on most Christchurch to Queenstown campervan itineraries, we'd suggest incorporating it into the Southern Alps road trip via Mount Cook & Wanaka, a Christchurch return trip to Mount Cook & the West Coast Glaciers, or try this electric campervan itinerary from Queenstown to Tekapo & Dunedin.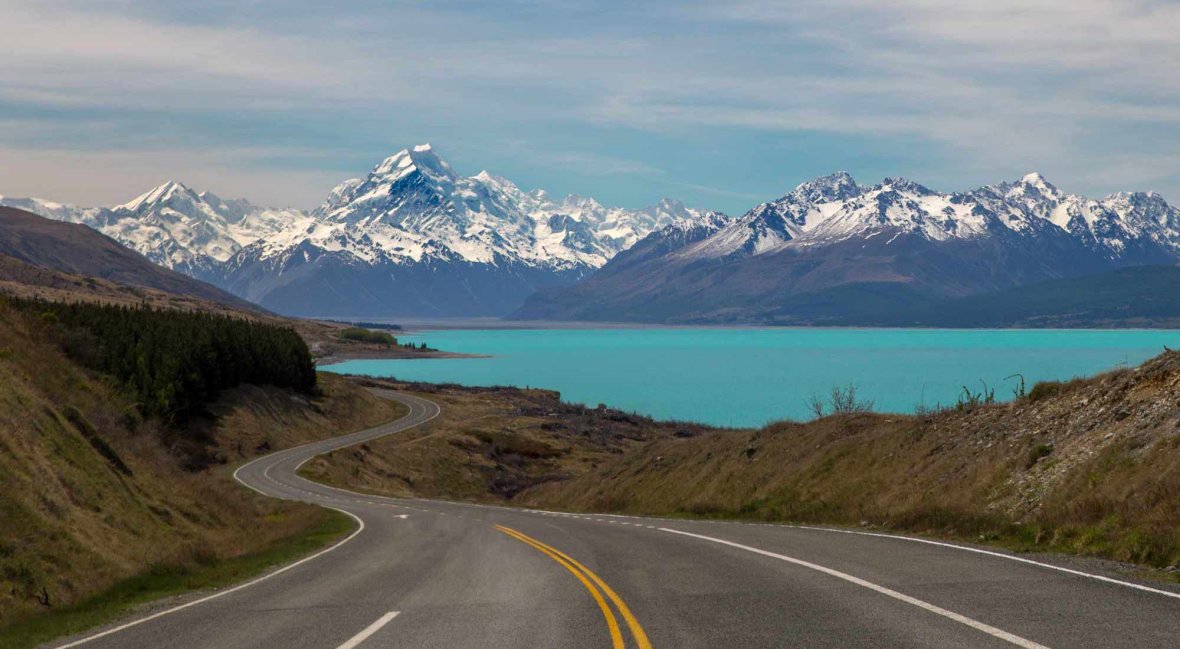 North Island
Things to do in Bay of Islands
Encompassing more than 140 subtropical islands, the Bay of Islands is an idyllic place to relax and explore. Known for its stunning beaches, water activities and marine life, it's a must-do on your North Island campervan trip. Take a guided boat trip to get up close to the whale and dolphin populations, or for those wanting to get more hands-on, hire kayaks and explore the stunning coastline of the area. And of course, make sure to tick off a beach sunset from Russell and fish and chips for lunch.
Exploring the Bay of Islands is best done as an Auckland return trip. The comprehensive Twin Coast Discovery takes you all the way to the northern tip at Cape Reinga, and everywhere in between. If you're shorter on time, this 5 day Northern Adventure gives you a whistle-stop tour of all the main sights and sounds.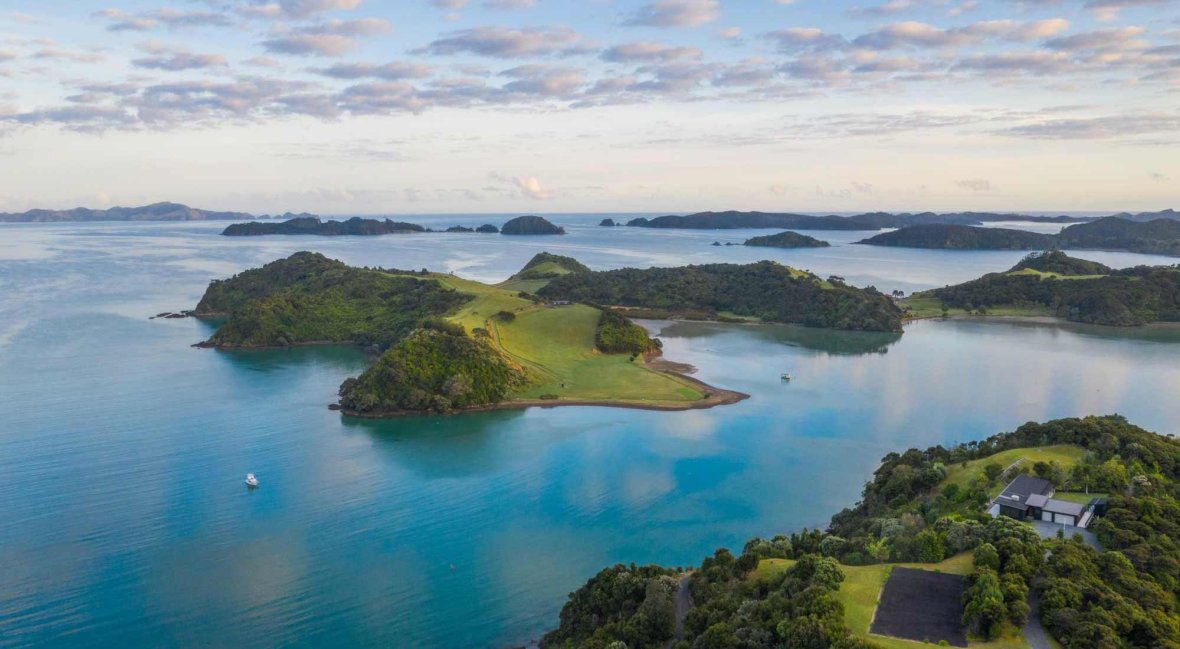 Lake Taupo & Tongariro National Park
What would a North Island campervan trip be without a trip to the iconic Mount Doom from Lord of the Rings. Well known for its iconic freshwater lake providing nearly every water activity imaginable, as well as winter skiing on the side of an active volcano. Another of the New Zealand Great Walks, Tongariro Crossing is the perfect day walk taking you into unique landscapes, past the foot (and up to the top for those keen) of Mount Ngurahoe (Mount Doom) and past green geothermal lakes.
Taupo is best accessed on the Central Volcanic Plateau itinerary, driving direct from Auckland to Taupo and taking in the best of the area over 8 days or the slightly shorter Auckland to Taupo loop.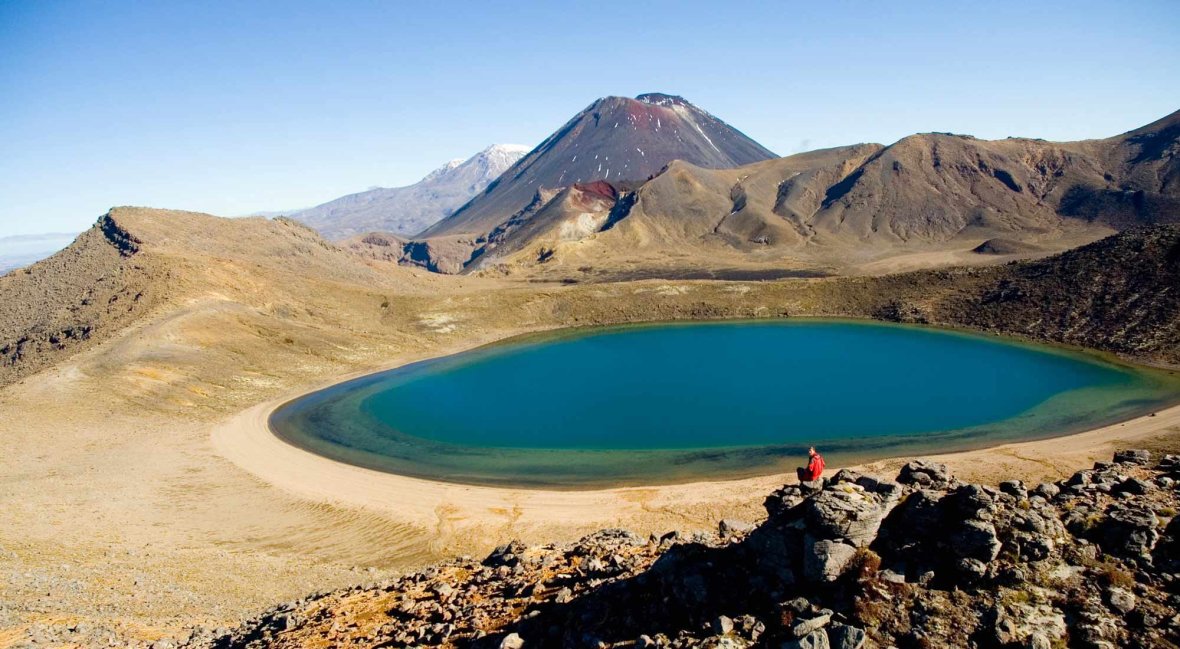 Rotorua Attractions
Famed for its geothermal activity, Rotorua is also one of the best locations in New Zealand to dive deep into Maori culture and history. As you enter the town you'll be greeted by puffs of steam emanating from all around, particularly prevalent on colder days, when the warm underground gases meet the cool air. Some of the best places to see this are the free walk in Kuirau Park, or at Te Puia resort, where you can learn more about the Maori culture, attending a traditional welcoming ceremony and hangi dinner. Rotorua is also a world-class mountain biking destination, so grab a bike from MTB Rotorua and explore the forest before relaxing weary legs in one of the local natural hot pools.
Include the highlights of Rotorua with our Waitomo and Rotorua Loop, or more immersive Thermal Explorer itinerary via Hobbiton, Rotorua, Taupo and Napier.
More New Zealand Itineraries
How To Choose A Campervan
There's plenty to consider when looking to rent or hire a campervan in New Zealand. So, initially, it's worth thinking about the size of your group, who's travelling with you and your potential needs, as this will help focus your campervan search.
Your group size and make up will determine the size of the campervan, for example, if you're a couple, a 2 berth Venturer would be perfect, however, if you're parents of two young children, you might value having the extra space of a 6 berth Frontier campervan to contain and entertain them. Each campervan comes with a variety of bed configurations and locations - including, over the cab, drop-down permanent beds and lounges that convert to a bed.
Thinking of travelling to remote locations and staying in campsites rather than holiday parks with kitchens? Then you'll value having a full kitchen with fridge, oven, gas stove and microwave to cook as you go. And of course, a toilet and shower, as some of the more basic campsites in New Zealand don't have them.
If you are thinking of travelling off the beaten track, you'll need to make sure you have a self-contained campervan. Basically, this means you have everything you need within your campervan including bed, kitchen and toilet and allows you to stay overnight in a much wider range of areas. See more on freedom camping and rules around self contained campervans in New Zealand.
A final thing to consider is the age of your campervan hire. Some campervan operators in New Zealand have vehicles up to 10 years old. Britz as an example, run their fleet between 3-5 years old, with a select number of 1 and 2-year-old campervans. This means more up to date features such as drop-down beds, Bluetooth and electric-powered vehicles for some models.
For more on this see our guide on how to choose the right campervan and compare campervan features in New Zealand.
2 berth - perfect for a couple
4 berth - ideal for young families
6 berth - space for all the family
Where To Stay
There are a range of different overnighting opportunities when you travel by campervan in New Zealand. We'd suggest utilising our road trip app to help plan where to stay before your trip and on the go. But first, it's important to understand the different options.
Holidays parks, which tend to have a full range of facilities such as kitchens, lounges, shower blocks and electricity to power your campervan, also tend to be the most expensive option. Campsites and DOC camps tend to have fewer facilities, often a toilet, sometimes a communal BBQ and sometimes plug-in electricity for your campervan. Freedom camping is the cheapest way to overnight in New Zealand, but also provides no facilities, so you'll need to make sure you have a self-contained campervan.
For more details, see our where to stay page with suggestions on the best places to stay around Auckland, Christchurch and Queenstown.
Freedom Camping in New Zealand
Freedom camping is a popular camping option in New Zealand where campervans are permitted to camp for free on specific areas of public conservation land. These areas are designated by signage meaning you can park up for the night here, but only in a self contained vehicle. All Britz campervans in New Zealand are self contained, as denoted by a sticker matching the blue signage on the back.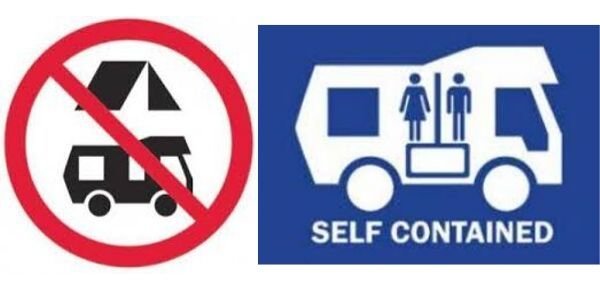 It's worth noting that some of these spots are limited in numbers to stay, and fill up quite quickly over summer, so it's always worth having a plan B as freedom camping is well policed in New Zealand. There are fines between $200-$10,000 for breaking the rules, so it's important to know the rules and regulations around freedom camping, and also be aware of responsible freedom camping tips.
Responsible Camping
We're passionate about keeping New Zealand clean and green, but we can't do this without your help. We want to preserve this magical country so when your children travel, they will enjoy it as much as you did.
Our golden rule on camping is to be responsible with your waste wherever you camp. Carry in, carry out. Leave no trace.
Here are a few basic tips to live by when travelling New Zealand;
dispose of all rubbish responsibly, leaving the camping area as you found it
always use a public toilet or the toilet in your self contained vehicle
recycle everything you can
use designated waste disposal stations to empty your motorhome toilet and wastewater
See more on responsible camping and your responsibility to look after it with the Tiaki Promise.
Campervan Tips
Whether you're new to campervanning or have done multiple trips before, there are certain campervan tips to travelling in New Zealand that it's worth knowing about. For example, the roads in New Zealand are notoriously tight and windy, so what looks like 2 hours on Google maps, might take you a little longer. That travelling south to north is more economical than north to south, and that campervans fill up quickly for travel over the December to February period, so it's worth booking 3 months ahead to get the best deals and options on vehicles.
Here's our customer's top 10 campervan holiday tips on how to get the best out of your campervan trip.
Frequently Asked Questions
So hopefully by now, you've got a fair idea on how to campervan in New Zealand picking up tips along the way. It's likely you'll still have a few questions outstanding though, so we thought we'd point you in the direction of a few key pages to answer these for you.
Our travel info pages provide an overview on what you need to know during booking, when picking up and whilst on the road. There's some handy hints on things to bring along with what's included in your campervan. There's some handy guides to travelling in New Zealand, planning your trip, driving tips for New Zealand roads and where to stay whilst on the road.
Still got a question? See our FAQ's for all your answers, or contact our Auckland based team.
When to Visit New Zealand
Dependent on where you are in the world, you could be travelling from winter to summer, which by all accounts can be a bit difficult to get your head around. Regardless, New Zealand is far enough away, even from the likes of Australia to have it's own unique weather patterns and conditions.

Summer occurs between December and February, bringing long warm days with average temperatures between 20-25⁰C. It's a popular time to travel as there is a lot festival and event-wise going on, so prices will be at their highest and availability at it's lowest.
Autumn is between March and April, and provides average temperatures anywhere between 17-21⁰C. Head north where the beautiful sunny days and changing colours that will astound you. Less crowds make it a great time to be campervanning in New Zealand, with some amazing deals available.
Winter covers June - August with temperatures of 12-16⁰C. June often provides some stunning cloudless days with relatively warm sun, while later winter the mountains open for the ski season. Not only are there some great deals on campervans, you'll be able to be flexible and last minute with your accommodation.
Spring forward into September, October and November. Coming out of winter expect longer days, warmer weather with averages of 16-19⁰C. It's a great time of year to travel as New Zealand is still quiet, but there's an abundance of colour in the wildflowers, fresh blooms and lambs bouncing in the fields.
Starting out
Most campervan hire companies in New Zealand have a rental branch in Auckland, Christchurch and Queenstown airports, including Britz. Getting off your flight and to the branch couldn't be easier, especially with complimentary shuttles that some companies like Britz provides. So starting your trip from one of these locations is easiest. It's also often cheaper to travel south to north, so from Queenstown to Christchurch, or Queenstown/Christchurch to Auckland. For suggestions on how to connect these locations, see our most popular driving routes in New Zealand.