Key Specifications
Automatic
Shower & Toilet
Certified Self Contained
2018 models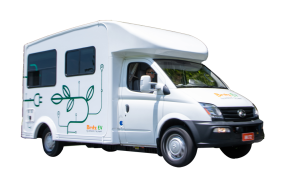 Green, quiet and smooth
The Britz electric campervan is on the road now and available for hire out of Auckland and Queenstown. The smooth and super-quiet e-LDV chassis is a dream to drive and sleeps two people comfortably, with a driving range of up to 120km, depending on driving style. Combined with the shower, toilet and cooking facilities, this custom-built vehicle allows you to enjoy all the benefits of a campervan holiday while reducing your carbon-footprint. With the Britz EV you'll:
Save money on the road, with no fuel or electricity costs! We've covered the cost of dock charging at 100's of points throughout NZ. See all locations on PlugShare.
Receive a detailed electric campervan show through on pick up to fully get to know your vehicle and ask any questions you may have, as well as the backing of our on road team, 24/7. We've put together these helpful tips to assist you to ensure you have a great holiday in your EV.
With fast charging plugs it takes approximately 2 hours, or with a regular plug it takes an overnight charge to fill up. For more information on Charging the EV, click here.
No EV road user charges.
Really take the time to explore New Zealand; plan your itinerary by where you'll be charging throughout the day and take the time to stretch your legs, meet the locals and explore a new destination. To start you off, check out our South Island and North Island itineraries, created specifically for touring in an Electric Vehicle.
With the Britz eVolve being new to the Britz range, our customer feedback has been really positive. The electric campervan provides a low emission driver experience that enables you to experience New Zealand in a truly comfortable and eco-friendly way.