Join thousands of fellow campervan travellers
Sign up for our Britz newsletter to receive inspirational travel content and awesome deals, and we'll send you a copy of our Ultimate RV guide!
Thanks
Please confirm subscription in your email.
Perched on the North Island, Auckland is New Zealand's largest city. With a sunny climate for most of the year, you'll be set up with the perfect environment to explore the incredible food, wine, and shopping scene as you discover the largest and most diverse city in New Zealand. With so many experiences nearby, Auckland is the perfect place to experience campervan travel.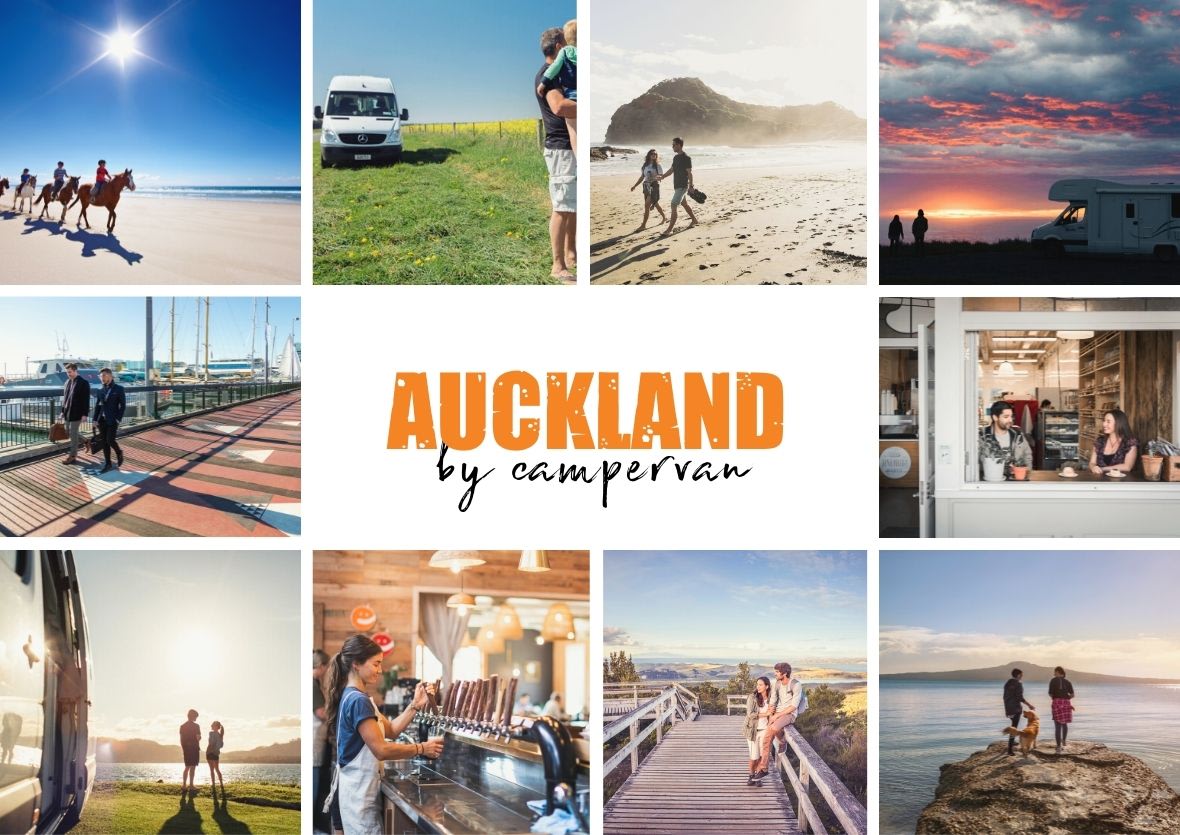 With easy access to the top of the North Island as well as the Coromandel and central North Island, Auckland makes for an ideal destination to kick off your campervan road trip in New Zealand. Choose to head toward Northland to discover magical coastlines and pristine beaches, or head south to discover the adventure-packed, geothermal region in Rotorua and Taupo.
Sign up to the thl community now!
thl is the world's largest provider of global RV experiences. Travel the world with us and discover our family of brands - maui, Britz, Mighty, Road Bear RV, El Monte RV & Just Go.
We are committed to protecting your privacy and information security. Your information will be held securely and used in accordance with any applicable privacy law, our internal policies, and our Privacy Policy which explains how we collect, use, disclose, transfer and store your information.
Auckland Campervan Road Trips
Auckland Travel Tips & Inspiration

Auckland
Pick up your campervan from our Auckland branch and explore the wealth of wild places to visit, such as ruggest west coast beaches and the island of Rangitoto. Head North for a classic New Zealand road trip that's full of seaside scenery as you head to highlights like the Bay of Islands in Northland. Or if you're looking for an adventure packed holiday, head south to explore the central North Island.

Christchurch
The drive from the upper North Island to Christchurch offers a few different paths. Follow the Pacific Coast Highway from Auckland, stopping in at highlights of the Coromandel, Bay of Plenty and Taupo before heading to the capital of Wellington and jumping on the Interislander across the Cook Strait to the South Island. Our Christchurch branch is then a 4 and a half hour drive down the east coast. The perfect road trip if you're looking to see as much of New Zealand as you can in one trip.

Queenstown
New Zealand's renowned adventure playground, Queenstown is an exhilarating, year-round alpine resort. With somany activities and natural delights to choose from, no campervan trip is complete without a visit to this hot spot. Although a long drive from the upper North Island, taking some extra time to explore all the pockets and highlights along the way, you're bound to discover more of New Zealand than ever before.
Helpful Tips For Visiting Auckland
Climate and Seasons in Auckland
Auckland enjoys a warm coastal climate without extreme temperatures all year round. Summer in Auckland stretches from December to February, Autumn is from March to May, Winter is from June to August and Spring is from September to November. January and February are the hottest months, with daily temperatures averaging around 23 degrees, with July and August being the coldest months at around 14 degrees.
Nearby attractions and day trips from Auckland
Tawharanui Regional Park
One of north Auckland's best-kept secrets, Tawharanui Regional Park is a must-see destination for anyone exploring the region. Previously a private farm, the Tawharanui Regional Park covers the end of a peninsula that juts out into the Pacific Ocean. The long sandy beach on the northern side is labelled one of the best swimming and surfing spots in Auckland. Enjoy a picnic on the grassed areas above the beach against a backdrop of some of the region's most beautiful white sand beaches, rolling pastures, shingled bays, and native coastal forest.
Pakiri Beach
Covering a wide stretch of pristine coastline to the southeast of Wellsford, you will find Pakiri. Perfect for swimming, surfing, kayaking, and fishing, this beach playground location is made to enjoy by all with its abundant beach activities. While the beach stretches long enough for you to get your steps in, exploring Pakiri's Regional Park will offer you some incredible views from up high.
Tapapakanga Regional Park
A beautiful coastal farm park, Tapapakanga is home to a rich Māori and European history and is home to an accessible, Pohutukawa-edged beach on the western shores of the Firth of Thames. An easy hour's drive from our Auckland depot, a visit to this regional park will provide you with a peaceful escape to nature from the city. The highlight of this spot is the bay itself, sheltered from the elements, it is perfect for swimming and fishing and is surrounded by lots of space for the kids to get out and stretch their legs.
What to pack
Auckland doesn't experience extreme temperatures, but the weather can change quickly so it's important to ensure you have all your bases covered. In summer you may be wearing shorts and a T-shirt most of the time but be sure to pack a warm layer on the chance the weather turns cooler. Whatever the season, bring a light rainproof jacket, in case of the odd shower. If you're in Auckland between May and September, be prepared for cooler temperatures by bringing layers and a hat and gloves.
Where to stay in Auckland with a campervan