Join thousands of fellow campervan travellers
Sign up for our Britz newsletter to receive inspirational travel content and awesome deals, and we'll send you a copy of our Ultimate RV guide!
Thanks
Please confirm subscription in your email.
Wellington and Wairarapa sit at the bottom of the North Island, with loads of adventure-filled attractions within a short driving distance of each other.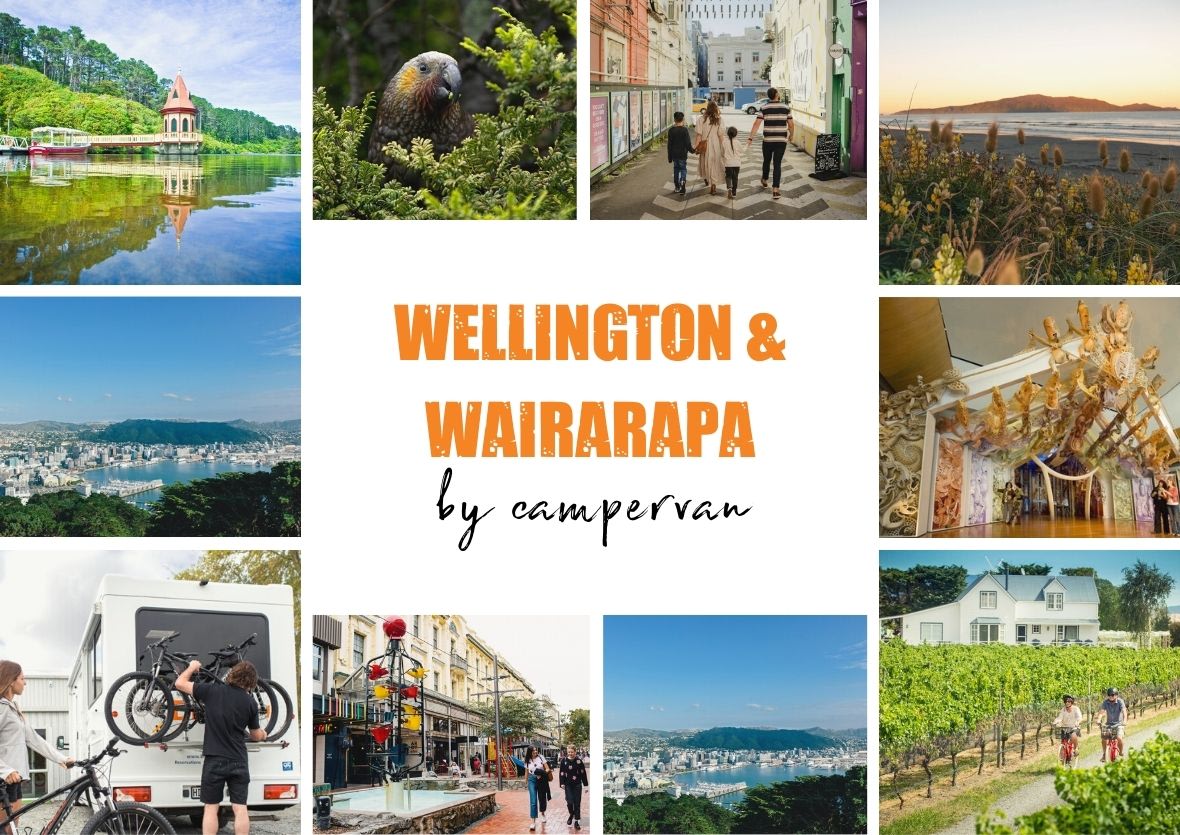 To make the most of everything on offer, there's no better way to travel this beautiful part of the country than with a Britz campervan. Enjoy breakfast within Wellington's lively café scene, see the sights throughout the day, and relax with a beachside dinner of fish and chips as the sun sets over coastal Castlepoint.
Campervan travel allows you the freedom to stop where you please, take your time, and discover all the hidden gems of this diverse region. Travel by Britz campervan is also a great way to keep expenses down, especially if you enjoy freedom camping.
Wellington has loads of fun and free attractions to explore such as Te Papa Museum, Mount Victoria Lookout, or just strolling alongside the beautiful waterfront. It's also the starting point for some amazing New Zealand road trips. And When you're ready to explore further afield, Wairarapa is just an hour's drive north. Plan to visit the wild coastline, bike a cycle trail, or explore the welcoming townships including Carterton, Greytown, and Martinborough.
Vibrant arts and culture
Sophisticated dining and bar scenes
Gardens, parks and scenic reserves
Wairarapa wineries
Sandy, sunset beaches
Wildlife, particularly birds and seals
Wellington & Wairarapa Must Do's
Wellington & Wairarapa Campervan Road Trips
Wellington & Wairarapa Travel Tips & Inspiration

Christchurch
The drive from Britz Christchurch to Wellington takes you along the South Island's scenic eastern coastline. Make a stop in Kaikoura for a whale watch cruise before continuing north through Blenheim and across the Cook Strait via the Interislander.

Queenstown
Britz Queenstown lies at the bottom half of the South Island and is about 14 hours drive from Wellington. To make the most of the stunning scenery on this West Coast drive, split the journey up over a couple of days or more – there is plenty to do on the way!

Auckland
The road trip from Britz Auckland down to Wellington takes around 8 hours, so you may like to plan a stop midway in Taupo for a spot of fishing, or a soak in the hot pools. Head straight down the island via SH1 for the fastest route, or take a little more time and see the sights in Napier and Hastings in the east, or New Plymouth and Taranaki to the west.
Helpful Tips For Visiting Wellington & Wairarapa
Climate and seasons in Wellington and Wairarapa
Wellington averages around 2055 sunshine hours per year. The region is known for being windy, thanks to the Cook Straight's wind-funnelling effect.
Wind records show that Cape Palliser and Castlepoint in Wairarapa are among the windiest spots in New Zealand.
Temperatures usually sit between 19°C-21°C during summer, and around 6°C-12°C in winter. Spring and autumn are generally mild with temperatures in the vicinity of 14°C-19°C. The best weather in Wellington is between October and April, with temperatures between 17°C and 21°C.
The average annual rainfall is around 1249mm, with June and July being the wettest months.
Where to stay in Wellington & Wairarapa
Wellington
Wairarapa
What to pack
With so many great outdoor activities to enjoy, you'll want to make the most of your time in Wellington and the Wairarapa with a well packed campervan and a backpack ready for adventure!
Outdoor gear. It can get windy in Wellington at any time of year, so don't forget to pack a warm hat and thermals. With plenty of elevated vantage points to see the sights, it's also worth packing a pair of binoculars.
Campervan add-ons.If you are bringing a bike, the Auckland, Christchurch, or Queenstown branches offer bike rack hire which you can add on to your campervan hire.
Sun protection. Be sure to pack a bottle of sunscreen and a sunhat, especially if you're visiting in summer and planning on making the most of the region's tracks and trails.
Nearby attractions and day trips
Kapiti Island
This internationally renowned sanctuary makes for a great day trip from Wellington. Plan a guided tour to make the most of your experience as you learn about the fascinating wildlife, flora, and fauna of this special island.
Kapiti Coast
Stretching 40km of coastline, the Kapiti Coast is a beach lovers paradise with one sandy, beautiful beach after another. The coast is packed with adventure filled attractions, great cafes and restaurants, and outstanding scenery.
Waikanae Beach
This family friendly destination is a popular spot for kite surfing, swimming, kayaking, fishing, and whitebaiting. Those keen on a spot of birdwatching can join a bird tour and see herons, oyster catchers, dotterels, and more.