Join thousands of fellow campervan travellers
Sign up for our Britz newsletter to receive inspirational travel content and awesome deals, and we'll send you a copy of our Ultimate RV guide!
Thanks
Please confirm subscription in your email.
The subtropical region of Northland continues north from Auckland to the very top of the North Island, capped off by Cape Reinga. With an abundance of islands and secluded beaches, ancient kauri forest, lush native bush and an incredibly rich history, every beach, bay, shore, and forest in Northland have a story to tell, which has to be seen to be believed.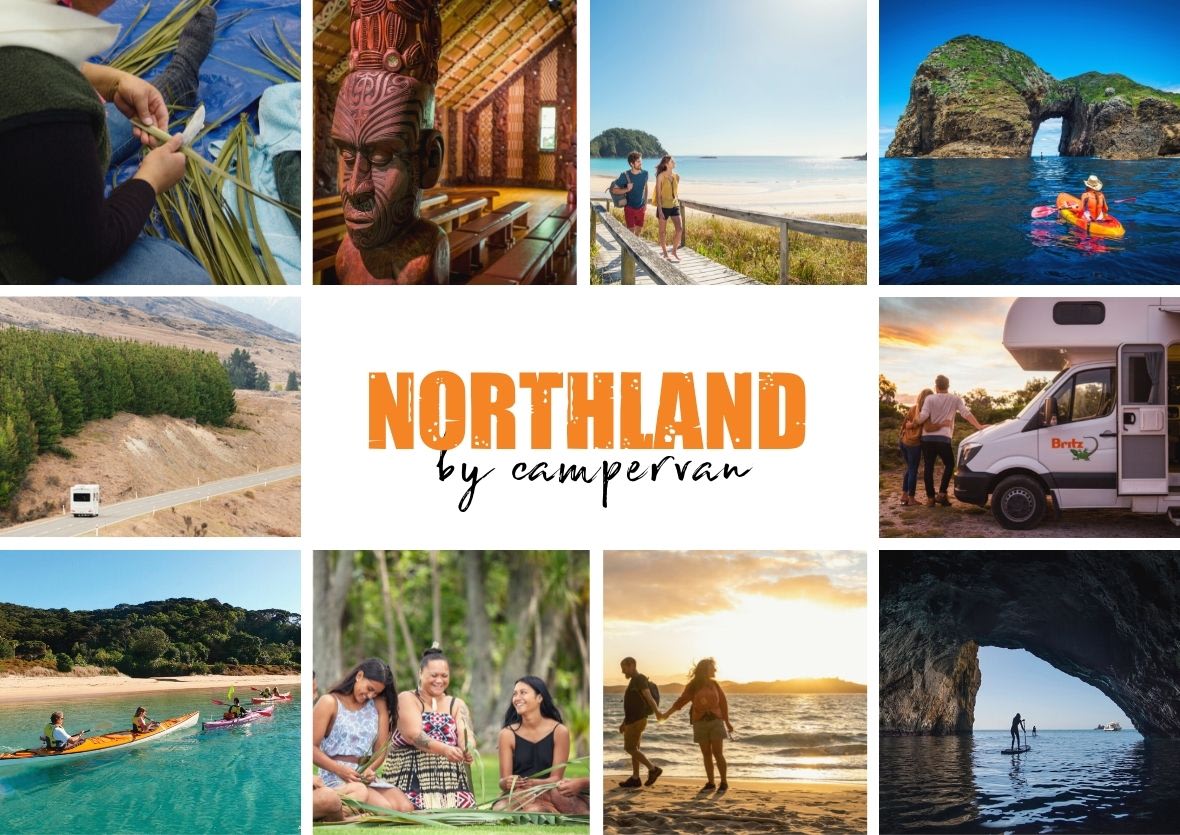 The classic road trip to New Zealand's northern extremity is best made up one coast and down the other, making sure you get a glimpse of all the magical seaside scenery on the way. Explore the rugged west coast and the relaxed east coast. In the beautiful Bay of Islands, take a boat cruise, view dolphins, explore under the sea or, relax and embrace the winterless weather.
Auckland to Paihia is an easy 3-hour drive on State Highway 1, with plenty of highlights along the way, stopping off at popular spots and giving the family a chance to stretch their legs.
Incredible coastal scenery
Towering Kauri forests
Bay of Islands cruises
Marine life encounters
Landmark historic sites
Popular Northland Road Trips & Itineraries
Northland stretches north from Auckland all the way to the very top of New Zealand. Journeying along the Twin Coast Discovery Highway will take you to a range of icons, such as Bay of Islands, the Kauri Coast, the Far North and Whangarei. Suited perfectly for self-drive holidays, the easy drive along State Highway 1 from Auckland to kick off your Northland road trip.
---

Whoops, it seems like we haven't got any Popular Routes
Please try a different combination or click below to reset your search
Things To Do In Northland
Helpful Tips for Visiting Northland
Climate and seasons in Northland
Because of its northern location, low elevation and close proximity to the sea, Northland is characterised by its tropical climate. The region enjoys a mild, humid climate. Summers are warm and tend to be humid, while winters are mild with many parts of the region only having a few light frosts each year. If you're looking to enjoy an endless summer or escape the winter chills of other parts of New Zealand, Northland is the perfect place for you to explore by campervan.
Nearby attractions and day trips from Northland
Waipu Caves
A visit to Waipu Caves will really have you going off the beaten track. Experience the raw beauty of these untouched caves as you explore the stalactites and a galaxy of glowworms. Located on Waipu Caves road, 25 minutes south of Whangarei, explore these incredible caves and take the nearby walking track through farmland and limestone formations to admire the sweeping views of the Whangarei Harbour.
Tutukaka Coast
Home to some of the best beaches in Northland, the white sand beaches of Whale Bay and Matapouri are bucket list locations when travelling New Zealand by campervan.
Matauri Bay
Another gem in the Northland region, Matauri Bay is a popular surfing destination during an easterly swell. Otherwise it's calm pristine waters and golden sands which make it the perfect spot for snorkelling.
What to pack
Northland enjoys a mild climate year round, but it's important to make sure you have all bases covered when you are packing. In summer you will most likely be dressed in shorts and a shirt or light clothing most of the time, but make sure you bring some warm layers and a waterproof jacket in case it gets cooler in the evenings or there's an odd shower. If you're in Northland between May and September, it will most likely still be pretty mild so heavy layers aren't necessary but be sure to pack some warmer options.
Where to stay in Northland with a campervan