Join thousands of fellow campervan travellers
Sign up for our Britz newsletter to receive inspirational travel content and awesome deals, and we'll send you a copy of our Ultimate RV guide!
Thanks
Please confirm subscription in your email.
Raglan Holiday Park
Te Kopua Whanau Camp
Solscape
Karioi Lodge
Ruapuke Motor Camp
We'll also take a look at some family-friendly activities in Raglan, including:
Explore the town centre
Raglan Harbour Sunset Cruise
Kayak the Limestone Coast
Fish at the Raglan Wharf
But first, why should your family camp in Raglan?
Raglan is one of those quintessential little New Zealand townships that city dwellers dream of living in. With its chilled-out year-round holiday vibe, friendly community, and beautiful scenery, it's also a mecca for motorhome and campervan travellers.
Renowned around the world for its incredible surf, this picturesque North Island township is just a two-hour drive from Auckland. That makes it an ideal destination for a relaxed New Zealand road trip. One of the big attractions of Raglan for families is that it's a great place to reconnect with nature. The kids can switch off from their devices, kick off their shoes, swim, play, and have fun in the fresh air.
From rock climbing and cave exploring to mountain biking and kayaking, there's something here for everyone. There are also some great walks to enjoy in Raglan. One of the most popular is the 10-minute walk to the top of Bridal Veil Falls. Add in some relaxing campgrounds and holiday parks, and it all adds up to an excellent spot for a family holiday. Let's take a look at the top Raglan campsites worth including in your road trip itinerary planner.
Top 5 family-friendly campgrounds & holiday parks in Raglan
Want to get back to basics with a non-powered campsite? Prefer a campground with the full range of campsite facilities? We've got you covered.
Raglan Holiday Park
Location: 61 Marine Parade, Raglan
Almost completely surrounded by the waters of Raglan Harbour, the Raglan Holiday Park is the perfect spot to escape and relax. Te Kopua Beach is just minutes away from the campsite. That means no worries about packing up or driving to take the kids to dig sandcastles or go boogie boarding. It's also an idyllic backdrop for dinners of fish and chips or lunchtime picnics. There's a great takeaway store just a short stroll away.
When the kids have had enough of the beach, there are plenty of other onsite activities. They'll love the playground, jumping pillow, and games area. Nearby, there's also a great skate park and pump track – so bring along the skateboards, scooters, and bikes.
Te Kopua Whanau Camp
Location: 75 Riria Kereopa Memorial Dr, Raglan
Enjoy a genuine camping experience at the Te Kopua Whanau Camp. Situated close to Ngarunui Beach, this unpowered campground is just $10 per night and includes showers and toilet facilities. Because it's so close to the beach, it's a magical spot to watch the west coast sunsets. Ngarunui Beach is the main sandy beach in Raglan. It's a fantastic spot to learn to surf and is patrolled by surf lifeguards from October until April. You can also hire boards and wetsuits by the hour near the main beach entrance. There are some great picnic spots and walking trails in the area above the beach.
Solscape
Location: 611 Wainui Road, Raglan
Looking for somewhere special to relax, rejuvenate, and make the most of your holiday? Located just a short walk from Manu Bay and Ngarunui Beach, Solscape is just that place. This eco-retreat sits on 10 acres at the foot of Mt Karioi. It offers a variety of accommodation including the Te Ao Whaanga Camping Area. The camp area is much like a DOC campground with basic camping facilities including an indoor/outdoor kitchen, dining area, toilets, and cold-water showers. Choose from non-powered or powered camping sites.
Enjoy a morning yoga class at Solscape or have them book the family on a horse ride on the beach or a kayaking experience. You might also like to head to Manu Bay to watch a surfing competition. While you're there, check out the tattooed rocks which are carved with scroll-type patterns.
Karioi Lodge
Location: 5b Whaanga Rd, Whale Bay, Raglan
Another of Raglan's great eco-retreats, Karioi Lodge sits within 110 acres of native bush in Whale Bay. The lodge offers powered camping sites and a range of facilities including mountain bike hire, pool and ping pong tables, barbecues, lazy hammocks, and a TV room.
This campsite is a great spot to learn to surf with the Raglan Surfing School onsite. Other great activities on offer include coastal horse trekking, fishing charters, sunset harbour cruises, hot rock massages, and more. For a fun, free family activity, plan a walk of the Mt Karioi Track. On a clear day, you can see the peaks of Mt Tongariro, Mt Ngauruhoe, Mt Ruapehu, and Mt Taranaki.
Ruapuke Motor Camp
Location: 1510 Whaanga Rd, Raglan
For many families, camping just isn't the same without the family dog. The good news is, your fur babies are welcome at Ruapuke Motor Camp. This idyllic campground is all about camping the way it used to be. Beautiful scenery, peace and tranquillity, and everything needed for a great family holiday. It also offers all the must-have campsite facilities for families. These include powered campsites, a communal kitchen, toilets, showers, washing machines ($3 per load), and barbecues.
This motor camp is a great spot for the kids to switch off and get back to nature. Make the most of swimming and surfing at the beautiful Ruapuke Beach. Take a horse trek, watch the sunset, and simply enjoy reconnecting with family.
Other family-friendly activities in Raglan
Because Raglan is quite a small town, it's easy to drive from one spot to another in next to no time. Each of these attractions is nice and close to the above campgrounds, so getting there will be a breeze.
Explore the town centre
Raglan may be synonymous with sand, sun, and surf, but it's also got a great little shopping centre with an eclectic range of shops to explore. You'll also find plenty of great eateries and excellent coffee. We recommend grabbing your morning brew from Hole in the Wall on Volcom Lane, or Raglan Roast Food Department on Wainui Road. For a family lunchtime treat, head to Rock-It Kitchen on Wainui Road or The Shack on Bow Street.
Like many small towns in New Zealand, Raglan has a thriving art scene. Be sure to check out some of the great galleries and exhibitions.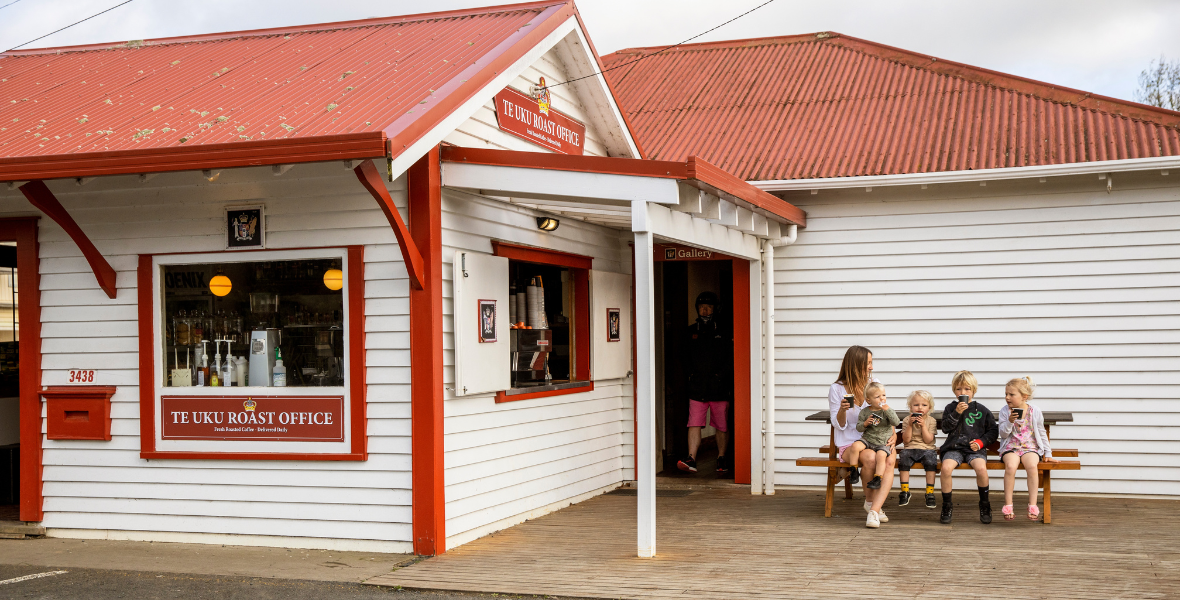 Raglan Harbour Sunset Cruise
Thanks to its west coast location, Raglan has some incredible sunsets. One of the best ways to enjoy them is on a Raglan Harbour Sunset Cruise. The 90-minute cruise starts at Raglan Wharf and heads out into the Whaingaroa Harbour. Watch as the sun sinks lazily into the horizon and a mesmerising orange and red glow spreads across the water. You'll cruise past ancient limestone formations and may spot dolphins and other marine wildlife. There's a licensed bar on board, and you can also choose the option to have a tasty meal of fish and chips as you watch the sunset.
Kayak the Limestone Coast
Pack a picnic, put on some sunscreen, and get ready for a great family day on the water (with not a surfboard in sight!). One of the very popular things to do in Raglan is to explore the Pancake Rocks with a Raglan Kayak and Paddleboard tour. You'll paddle your way through the heart of the Limestone Coast and get up close to the unique pancake rock formations. Join a guided tour, or hire a kayak and explore the beautiful coastline at your own pace.
Fish at the Raglan Wharf
In the mood for fresh fish for dinner? Be sure to pack your fishing gear because there's great fishing to be had at Raglan Wharf. Plan your fishing trip for the incoming tide when you are most likely to catch a tasty kahawai. Need extra fishing supplies? The friendly folk at Harty's Fishing and Hardware will set you up with everything you need.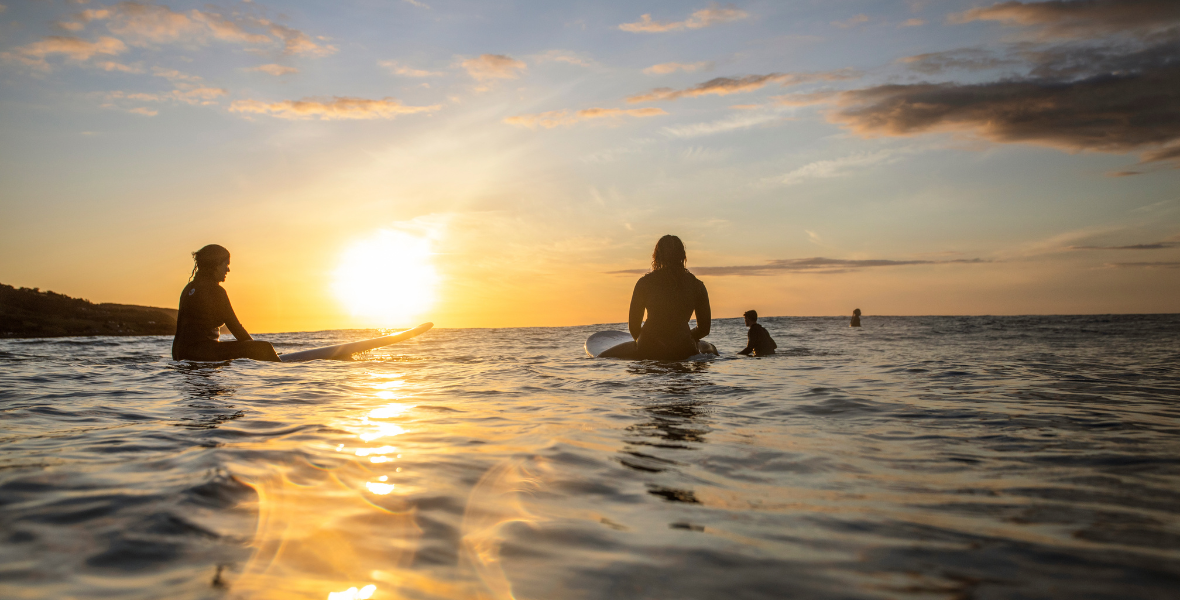 Ready to explore Raglan?
Whether you're keen on rest and relaxation, or adventure and action, you'll find it in Raglan. And because it's just a two-hour drive from Auckland, it makes for a great road trip destination.
Britz New Zealand has a branch conveniently located in Auckland. With a range of different campervan options, you can easily find your perfect travel option. You might even find a great bargain on a Britz campervan hire so don't forget to check out the deals we have running.
Need a little inspiration to help plan your New Zealand campervan holiday? We can help with that too!