Key Specifications
Automatic
2022 model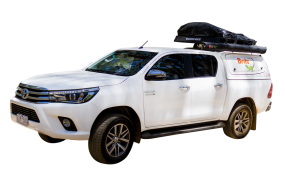 The brand new Safari 4WD is our very first roof-top tent model featuring automatic transmission!
With the set-up much like the beloved Safari Landcruiser 4WD, the Safari Auto 4WD is built on a mix of Isuzu D-Max and Toyota Hilux chassis*.
Designed and built exclusively for Britz customers, the ride in the Safari Auto 4WD is smooth and comfortable on the road, with the ability to tackle the tough outback terrain with ease. Two people can sleep in the roof-top tent, with the remaining three people in the attached ground annexe, on the self-inflating sleeping mats provided.
There's no stopping you now! Get out there and explore Australia your way. Find the hidden outback gems in places you can only access by 4WD. We'll supply the vehicle – you bring the adventure!
For all the important information around Safari Auto 4WD pickup locations, road restrictions and how to drive a 4WD click here.
The Safari Auto 4WD is available from Perth, Broome, Darwin, Alice Springs, Cairns and Brisbane.
Travel available from: 15 April 2022 – 30 November 2022.