Join thousands of fellow campervan travellers
Sign up for our Britz newsletter to receive inspirational travel content and awesome deals, and we'll send you a copy of our Ultimate RV guide!
Thanks
Please confirm subscription in your email.
Travel in one of our great new 4WD campers
Check out our range of unique 4WD campers, perfect for couples, families and mates! The brand new Scout AWD, Outback 4WD and Safari Landcruiser 4WD are all guaranteed to be under 6 months of age and sleep from 2 to 5 people. We've designed our 4x4 campers based on feedback from what you want for an Aussie off road adventure. Ensuring each customer who hires an Australian 4WD gets a vehicle they can be proud of, with everything they need to keep them comfortable in the outback.
All campers come with fridges to keep the drinks cold, camping chairs and table, storage for your gear, tents built for the Australian outdoors with sleeping mats and bedding – all perfect whether you're travelling with mates, family or solo.
Get the ultimate 4WD guide
Considering an off-road holiday with Britz 4WD? Find out everything you need to know, from top tips and customer favourite itineraries to the best 4WD for your needs by downloading our free Ultimate 4WD Guide.
Download your copy now!
Fill out the form below to get your copy now!
We are committed to protecting your privacy and information security. Your information will be held securely and used in accordance with any applicable privacy law, our internal policies, and our Privacy Policy which explains how we collect, use, disclose, transfer and store your information.
Best destinations to take you off-road in Australia
Hiring a 4 Wheel Drive and going on an adventure of a lifetime takes you up close and personal with the real Australia; where locals will point the way to the unforgettable discoveries around every corner. Every trip is unique. Local knowledge, a bit of navigation and your own instinct will guide you as you live your own stories. Uncover stories that are begging to be told – or share your own around the campfire before packing up and moving on as the road beckons.
We offer 4x4 hire across Australia, so we're sure to have the vehicle you need to get you where you're going. Our 4WD campervans are available from Darwin, Alice Springs, Broome and Perth so there's no shortage of great places to explore. We've also got you covered if you want to pick up at one location and drop off at another of your choice, no worries.
Popular 4WD routes
Looking for adventure? Well in a 4WD camper you're sure to find it! Here are a few of our customer's favourite routes to get your journey started - from the iconic Gibb River Road where the journey is as good as the destination to Nature's Way dropping in at three of the most iconic National Parks in the North Territory. Look no further for your next adventure.
---

Whoops, it seems like we haven't got any Popular Routes
Please try a different combination or click below to reset your search
Start Exploring These National Parks
Kakadu National Park
Explore the stunning landscapes of Kakadu National Park. Located close to Darwin, it's one of the must-visit places in the Northern Territory Dominated by breathtaking gorges, sparkling waterfalls and a mix of vibrant flora and fauna, there's plenty to see and do in this 20,000 square kilometres of National Park, you'll have to plan well to fit it all in.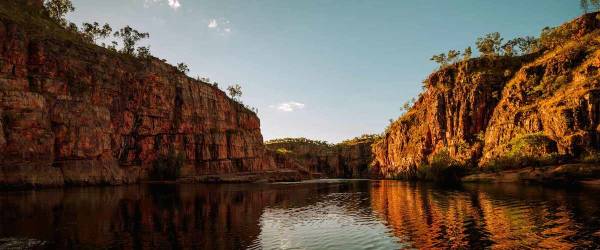 Nitmiluk National Park
Soak up the spectacular sandstone landscapes and 13 impressive gorges of Nitmiluk National Park, including the magnificent Katherine Gorge. A great place to explore on foot, on the water with a boat cruise or canoe, or even a guided flight - just make sure to reserve some time to relax and cool off in some of the tranquil watering holes such as Edith Falls.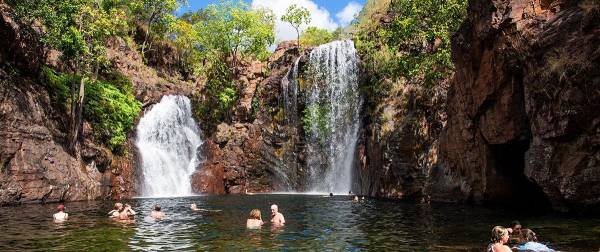 Litchfield National Park
Small by comparison, what Litchfield lacks in size it makes up for in beauty. Home to multiple stunning waterfalls, natural swimming pools and unique attractions such as the Lost City and the Magnetic Termite Mounds, it's a great place to spend a few days exploring. A place that entices you to slow down, relax and take in the magic of the Outback.

Get the most out of your 4WD adventure
A 4WD camper trip isn't your average beach holiday. In fact, it's pretty unique even compared to a 2WD campervan holiday. The key thing that attracts most to a 4WD camper holiday is the adventure and freedom, but along with that comes the need for some planning and preparation to stay safe. Find out all you need to know about 4WD here, from what to pack, to how to change a tyre, tip for driving through the water to how to set up the tent.