Join thousands of fellow campervan travellers
Sign up for our Britz newsletter to receive inspirational travel content and awesome deals, and we'll send you a copy of our Ultimate RV guide!
Thanks
Please confirm subscription in your email.
Nature's Way
Start & finish In Darwin, 7 days, 985km
Nature's Way comprises of the adventurous trip from Darwin to Katherine via Kakadu and Litchfield National Park. Explore the sights and sounds of the World Heritage Listed Kakadu and Katherine National Park packed with beautiful gorges, vibrant flora & fauna as well as unique animal life.
Immerse yourself in Litchfield, the smallest of the National Parks, but one that packs a huge punch for its size with its fantastic collection of waterfalls such as Florence Falls, Wangi Falls and Buley Rockhole.
And while you're exploring, don't forget to take the time to cool off and relax in the picturesque plunge pools dotted around the NT.
No wonder Nature's Way is one of our most popular journeys!
Wool Wagon Pathway
Start & finish in Perth, 6 - 12 days, 3200km
Sure, there's a lot of coast in Australia but if you wanted to compile a list of the best of the best locations, Ningaloo Reef & Exmouth would be right up there. We reckon the Wool Wagon Pathway is a great option to explore the area a little deeper - grab a 4WD and take an unforgettable trip through the expanses of the stunning Australian Outback traversing some of the legendary sheep and wool country.
But don't worry, after your hiatus in Exmouth swimming with dolphins, snorkelling and coastal hikes, jump on the coastal route back to Perth to soak up the rest of Coral Coast. Swim with Dolphins as Monkey Mia, take a boat trip and see the marine life at Shark Bay and soak up the unique landscapes of the Pinnacles.
Sound your cup of tea? Check out the Wool Wagon Pathway, along with our other self-drive itineraries in Western Australia.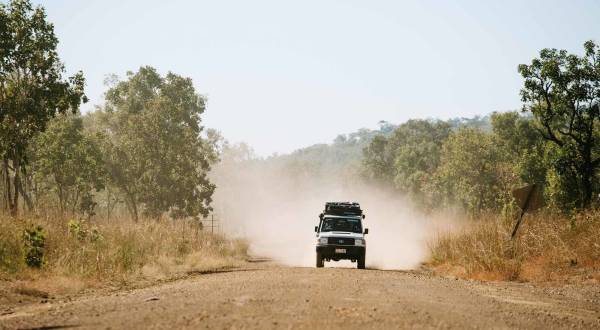 Gibb River Road
Start & finish in Broome, 10 - 14 days, 1200 km
One of Australia's most unique 4WD adventures, the Gibb River Road should be at the top of your 4WD to-do list if. The legendary 660-km route, originally built for driving cattle stock across the hills is now one of the go to's for 4WDers in Australia looking for an authentic off-road adventure.
Along the way, you'll drive deep into the heart of the Kimberley's full of magnificent gorges, authentic outback cattle stations, ancient Indigenous culture and captivating pioneering history. You'll be immersed in nature at every turn, with the opportunity to see freshwater crocodiles in their natural habitat, walk amongst the towering gorges, swim in the crystal clear plunge pools and soak it all up from above on a scenic flight.
The Gibb River Road is one of those we can never decide if it's about the journey or the destination as both are equally impressive!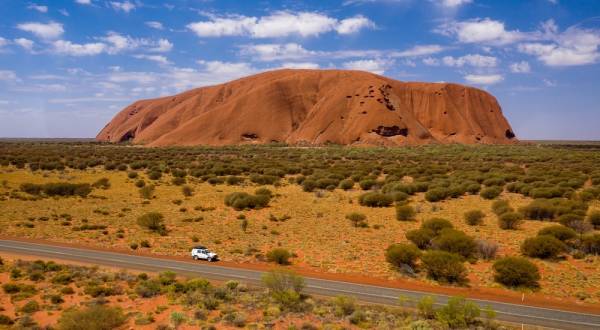 Red Centre (Alice Springs & Uluru)
Start & finish in Alice Springs, 5 days, 1244km
The Red Centre is that quintessential Australian 4WD trip that goes right to the heart of the country and explores the most iconic locations in the Outback. Delve into the fascinating local aboriginal culture, soak up the rock art dating back hundreds of years and discover the history of this unique part of the world.
And then there's the scenery - we're pretty sure you won't be disappointed here either. Think vibrant red landscapes with giant rocky features jutting out of them, visible from many kilometres away. It's not hard to understand what attracted the Aboriginal people to the Uluru and Kata Tjuta area - it feels magic just being in its presence.
Red Centre truly is one of those trips you'll tell the grandkids about one day.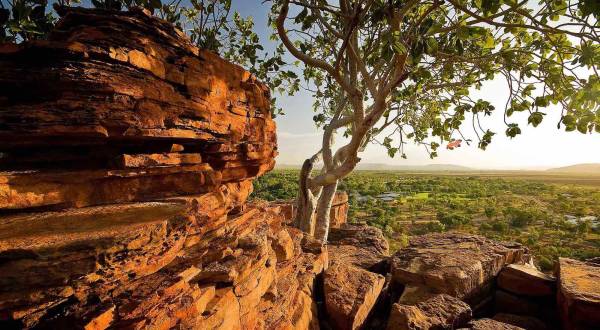 Savannah Way
Start in Cairns, end in Broome, 14-18 days (but you won't want to rush), 3578km
Epic in size and scale, the Savannah Way is that once-in-a-lifetime journey that will be the source of stories for years to come. Taking you from Cairns to Broome, the 3,500km route guides you through Tropical Queensland, the Northern Territory's Top End, and Western Australia's Kimberley region - can you even imagine the variations of landscapes wildlife you'll see?!
This cross Australian route links 15 national parks and five World Heritage areas - so you'd better make sure your camera batteries are charged! From underground caves to sitting in crystal clear waterfall plunge pools, hikes via stunning viewpoints to riding camels on the beach, you certainly won't get bored.

Keen for the challenge? Check out the Savannah Way along with more self-drive ideas for Queensland, Northern Territory and Western Australia.
Some more of our popular 4WD routes
---

Whoops, it seems like we haven't got any Popular Routes
Please try a different combination or click below to reset your search