Join thousands of fellow campervan travellers
Sign up for our Britz newsletter to receive inspirational travel content and awesome deals, and we'll send you a copy of our Ultimate RV guide!
Thanks
Please confirm subscription in your email.
The thing about Kakadu and Litchfield National Parks is that they're just so extraordinary and there's so very much to see, to wander past, to smell and to dunk yourself in that you could easily soak up a week or more. So whilst Britz's recommendation is to give yourself plenty of time and visit both for the ultimate Australian off-road camper adventure, we appreciate that this isn't always possible.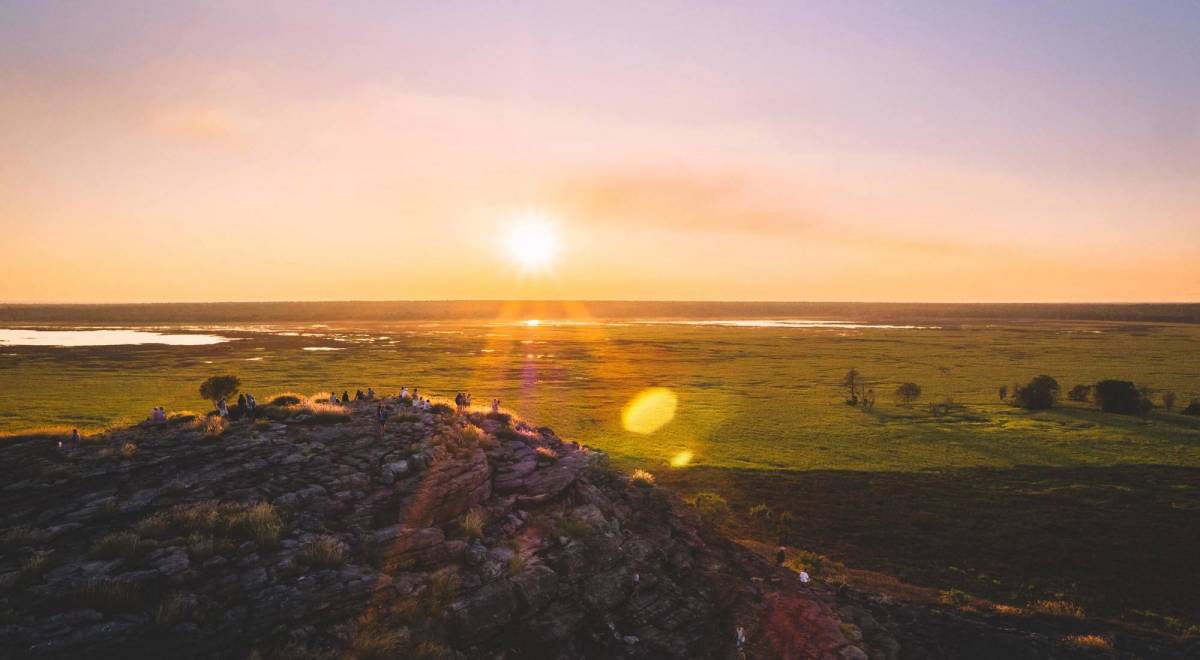 To help you decide how to spend your time we have summarized the highlights of each park, so you can figure out which bests suits your time and resources. For the time-strapped traveller, one big plus is that the distance from Darwin to Litchfield National Park is only 115kms, or an hour and 20 minutes. It's a little more of a trek for those picking up their campervan in Alice Springs, but once you're there, the compact park with its mainly sealed roads is pretty easy to experience in a day or two and boasts an array of swimming holes, historical sites and quirky wildlife. And for travellers less inclined towards off-road adventures, then Litchfield and a 2WD camper is a great option. In contrast, Darwin to Kakadu is a 4+ hours drive, and whilst Kakadu has a small entrance fee it is an enormous, widespread wonder, which really deserves at least 3 days of exploring to capture the range of vertigo-inducing sheer-drop waterfalls, billabongs filled with fish and ancient rock art. In order to access all that is magic about Kakadu, our recommendation is to hire a 4WD camper so that you can reach some of the more remote and wonderful places the park has to offer.
Travellers will discover wonderful waterfalls, sensational swim spots and meditative walks at both Kakadu and Litchfield. Here are just a few sweet spots of each park, to help plan your adventure.
Kakadu National Park
Waterfalls
Jim Jim Falls, is one of those special spots that require a 4WD to access. Once you have navigated the 50km of unsealed road and 2km hike, this glorious pool nestled in the shadows of enormous 200m-high cliffs is definitely worth the effort.
Twin Falls boasts a split cascade that tumbles into a deep pool. During the dry season the falls can be reduced to a trickle, but if you take a picnic the sandy beach at the base of the gorge is the perfect pit stop.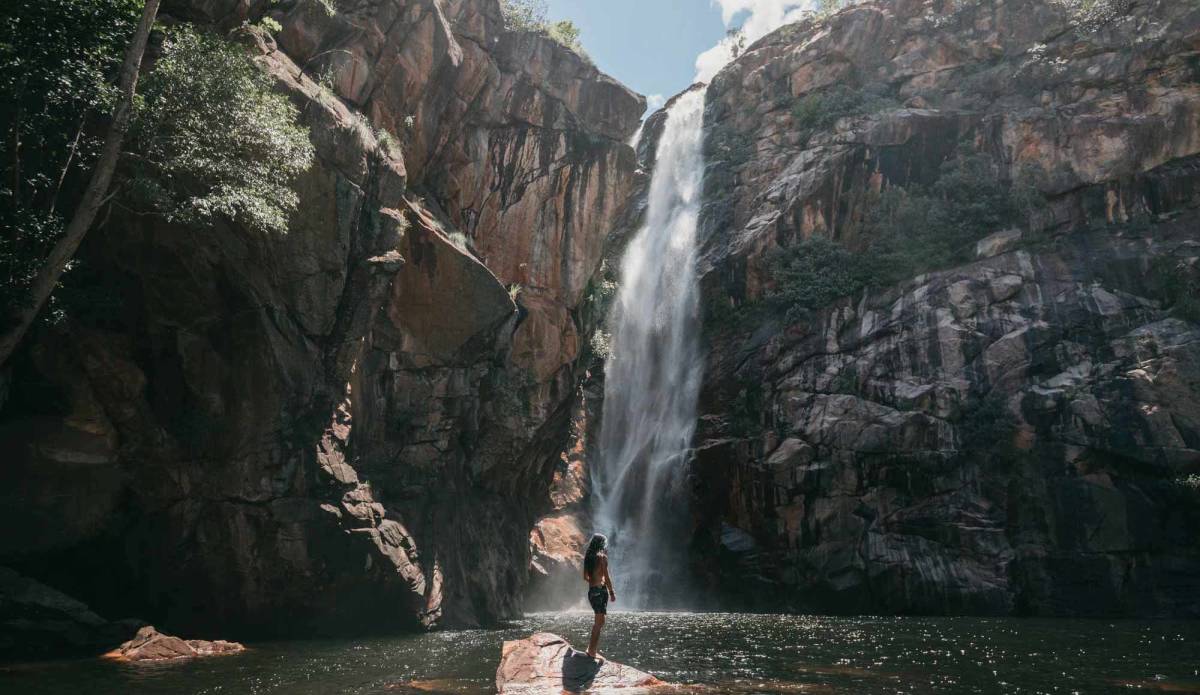 Gunlom Lookout and Plunge Pools is another worth putting on the must-do list. Reaching the top pools at Gunlom is a rather steep climb up the escarpment, however, when you reach the top you'll find a fantastic series of three swimming pools with incredible views over Kakadu's southern hills. For those preferring less exertion, then the crystal clear Gunlom main pool at the base of the waterfall is a perfect swim spot for you.
Motorcar Falls is a little difficult to get to, but the 7.5 km round trip leads hikers to a vivid emerald pool and towering waterfall which is sure to please everyone.
Maguk Gorge is a spectacular waterfall-fed gorge with intense, crystal clear water. And because it's a 14km 4WD only access track you may well be the only ones enjoying this idyllic spot.
Walks
There are over 30 walks in Kakadu, ranging from half an hour walks to 5 days hikes. The super helpful teams at the visitor centres will outline them for you. But do make sure to consider including one of the Yurmikmik walks whilst in the park. There are both short or long walking options that end, either with a swim beneath a waterfall - Mototcar Falls walk - or simply superb views on the 1 ½ hour walk to Mirrai Lookout at the top of Mt Cahill.
Indigenous Art
For Aboriginal art make sure you see the naturalistic paintings, x-ray art and depictions of encounters with early Europeans at Ubirr's or Nourlangie's extraordinary, almost 30,000-year-old rock galleries.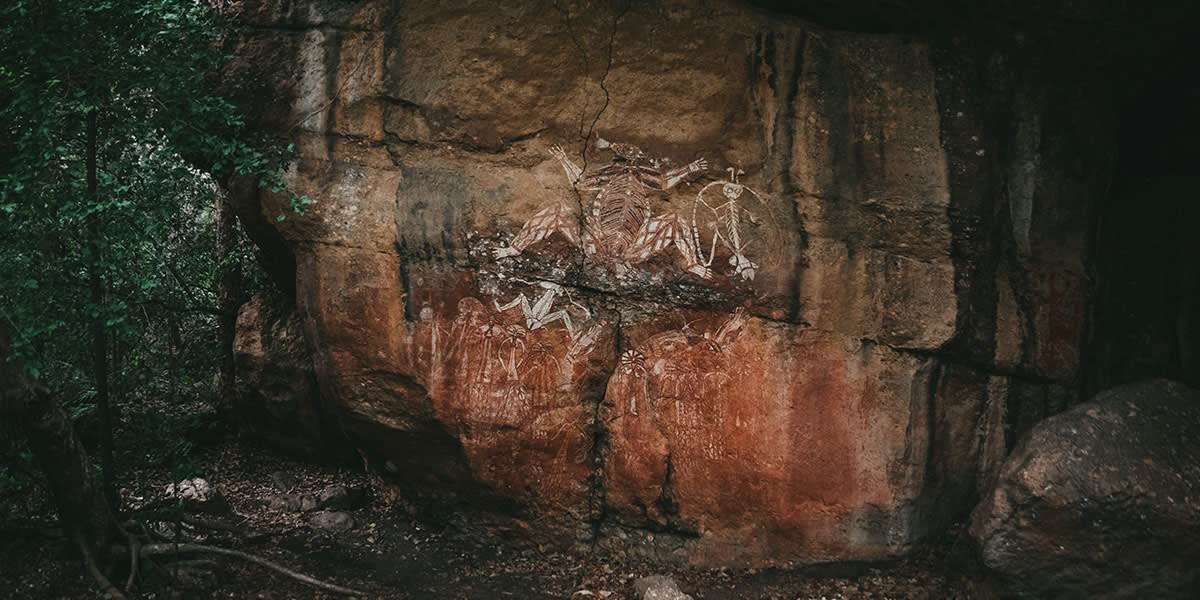 Wildlife
Kakadu's wildlife is often spotted in the dawn and dusk magic hours, however if you take a river cruise you'll be sure to see wallabies, kangaroos, a plethora of birds and catch sight of the varied marine life on your way to the Twin Falls Gorge. And if birds are your thing, then during the dry season, head to Bubba Wetlands in the Nourlangie region or the Yellow Water Billabong for sunset or sunrise spotting.
Litchfield National Park
Whilst Litchfield doesn't have any great floodplains or billabongs, this compact park has a superb range of mostly easy access swimming spots, incredible insect architecture and geological wonders.
The Lost City
If your interests lie with phenomena of a more geological nature, then visiting the Lost City is a must. This is definitely one for intrepid travellers looking for something a little "off the beaten track" as this landmark is accessed by a rough,10km, 4WD only track. The Lost City is a gallery of monumental natural sandstone sculptures that have been carved by wind and rain over millions of years so that today they feel like the remains of a once busy town. When you stand beside the large domes and passages you can picture yourself amongst twisted alleys winding between imaginary buildings of an ancient and fictitious civilization.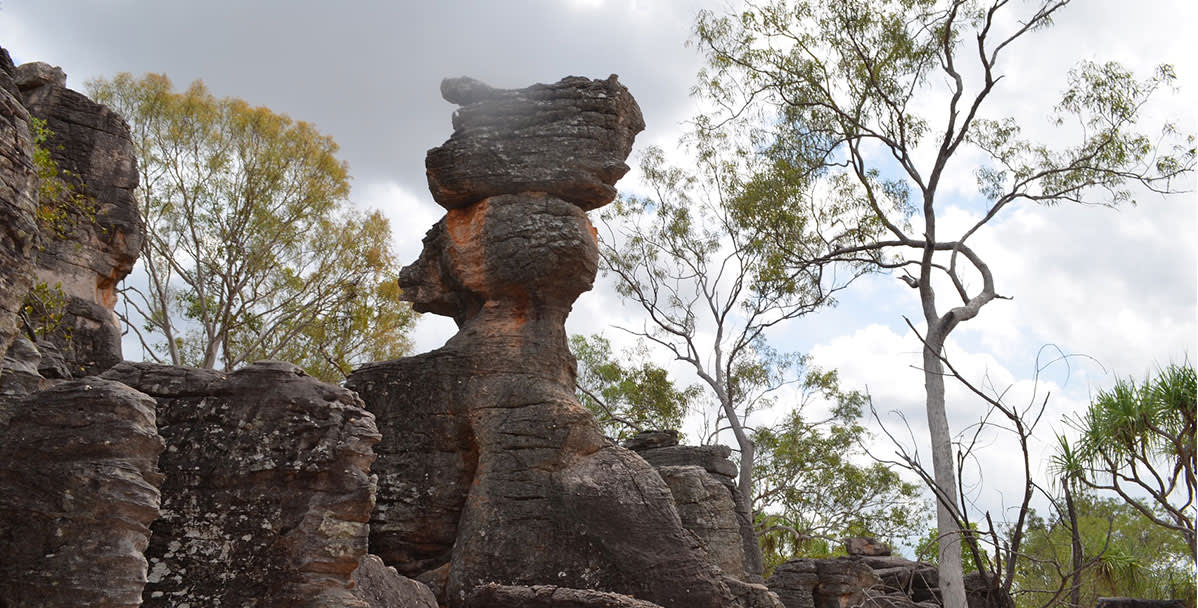 Waterfalls
There is a myriad of glorious waterfalls for you to ogle and splash about beneath, so make sure to include them in your Litchfield itinerary.
Wangi is that glorious waterfall that cascades over towering limestone cliffs that you've seen in numerous Instagram shots of the park, and the nature trails that lead to the top of the falls are wonderful.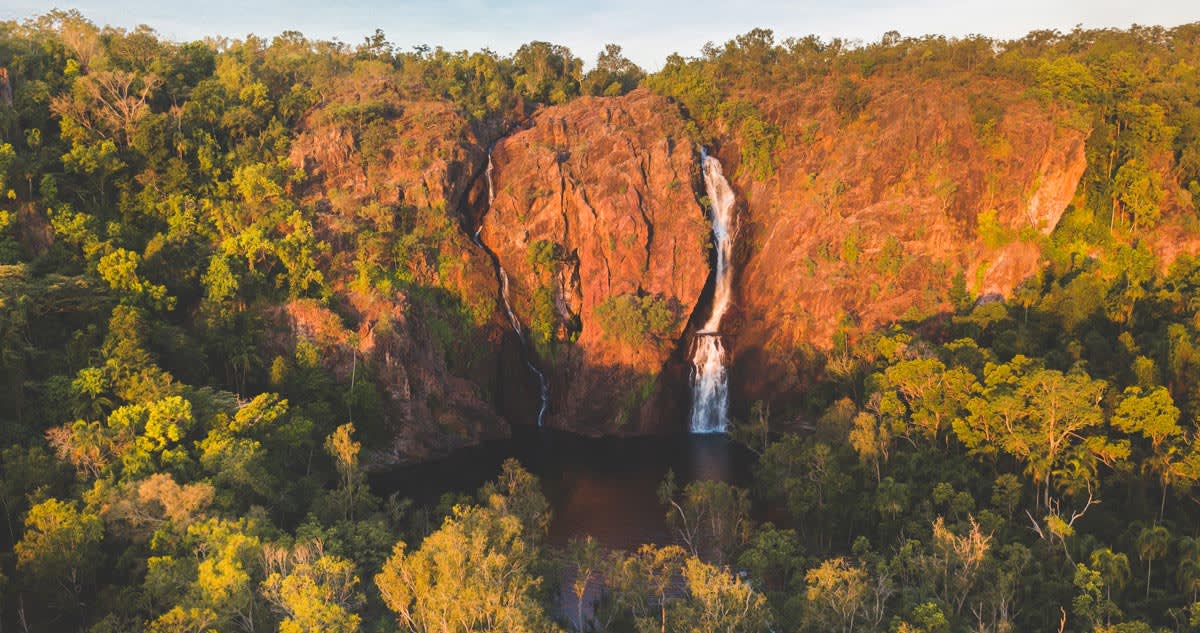 Florence Falls is a superb deep water pool and the perfect place for a dip and a chance to be awestruck by nature. The falls are in fact two waterfalls cascading from a stream that has carved its path through the craggy rock outcrop. Access is via paved paths and stairs cut into the hill so happily you won't need to pack your abseiling gear to reach the pool.
Located beneath Florence Falls is the well known Buley Rockholes, a fabulous collection of waterfalls and whirlpools which create natural spas for travellers to submerge and relax in (or for those with a little more energy the deeper pool is the perfect spot to practice refining your deep water "bombing" techniques (though please do be conscious of your fellow Buley visitors as some might be more relaxation oriented). You can reach Buley along the Florence Creek Walk, which is about 3.2kms long.
Surrounded by forest, Tolmer Falls tumbles more than 100 metres into a tranquil pool cut out of the limestone gorge, and the path leading to the top gives walkers superb views over the Northern Territories, especially at sunset.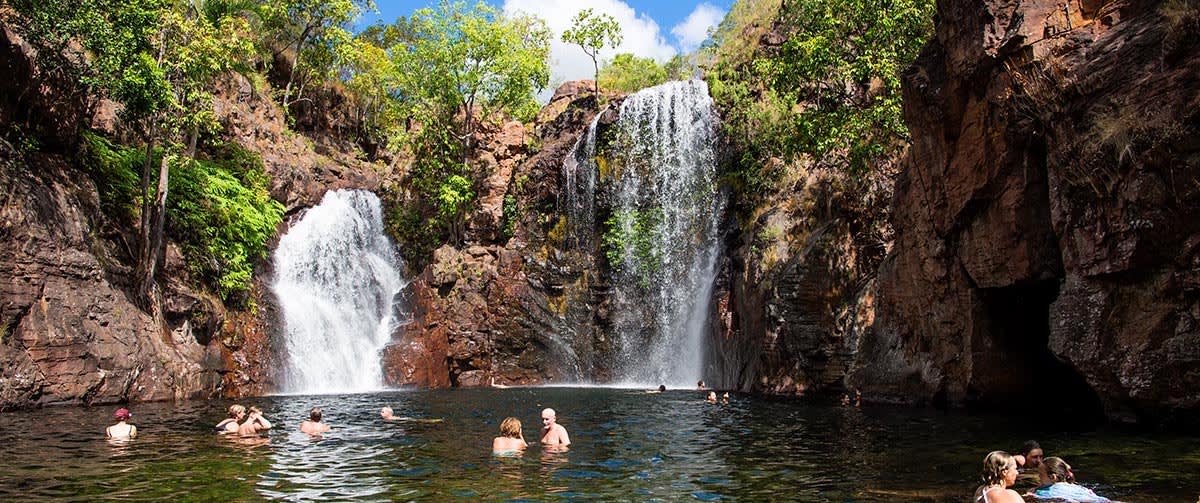 Walks
There are plenty of walks for all fitness levels weaving their way around Litchfield Park. The trick is shortlisting them as they all offer either waterfall destinations, jaw-dropping views or opportunities to spot crazy Northern Territories wildlife.
Greenant Walk takes you to the sacred Aboriginal site of Tjaetaba Falls (please respect the custodians and swim only above the falls.) This 2.7km walk ambles alongside Greenant Creek taking in lots of the areas flora and fauna, before climbing to the impressive Tjaetabe Falls Lookout. This is a walk for those with moderate fitness levels and it will take about 1 ¼ hours to complete as there are a few steeper sections.
Tabletop Walks comprises of 39kms of diverse and extraordinary tracks, suitable for fit and experienced hikers. You can do the whole lot over 4-5 days or opt for bite-size chunks accessing the main track by one of the 4 link walks – Florence Falls walk, Walker Creek, Greenant Creek or Wangi Falls walk. Whichever way you choose make sure you plan your walk properly and take a map with you to ensure you stay on track and know where your next water stop is. Britz suggests travellers plan to walk these walks at the beginning of the dry season when the temperatures aren't too high and the swimming spots have been topped up by the deluges of the wet season. Check out the NT Parks website for permit info and maps.
Wildlife
Litchfield is home to wallabies, quolls, flying foxes, lots of birdlife and around Tolmer Falls live the curious, endemic orange leaf-nosed bats. And of course crocodiles. Salties and the slightly less ominous freshwater variety inhabit both parks so please head all warnings, be croc wise and our recommendation is to travel in the dry season and avoid the rainy season which these sharp-toothed reptiles love!
So, Kakadu or Litchfield? Which NT wonderland is right for you?
This is not an easy decision, because if you had all of the time in the world, we would suggest you explore both as they are unique and extraordinary, offering all manner of exciting things to do, see, smell and walk to.
However, if you have to make a choice then for those with limited time, Litchfield National Park is a clear winner as it is close to Darwin and the many sealed roads mean that most areas can be accessed by 2WD. Litchfield is a little easier to navigate because most things are in close proximity of one another, there are a superb range of waterfalls and swimming holes in the park as well as some extraordinary sites to include in your visit.
For travellers with more time and a sense of adventure, then the bigger and more diverse Kakadu National Park may well be the park for you. Wilder and more untouched, most of the fabulous places of Kakadu require a 4WD such as our Safari Landcruiser to access - so you will need to embrace driving off road for much of your Kakadu journey. Your inner intrepid traveller will be captivated by the fact that often you may well be the only person visiting a place and for those wanting to explore the more cultural side of Australia, then access to the ancient rock art galleries of Kakadu is a huge drawcard. And please remember - for both parks you need to be very croc conscious.
For those with the luxury of more time up their sleeve, or simply those with a tremendous wanderlust - our recommendation is to experience both. You can travel Natures Way to incorporate both of these itineraries and enjoy, explore and be prepared to be completely enchanted on the ultimate Northern Territories roadie.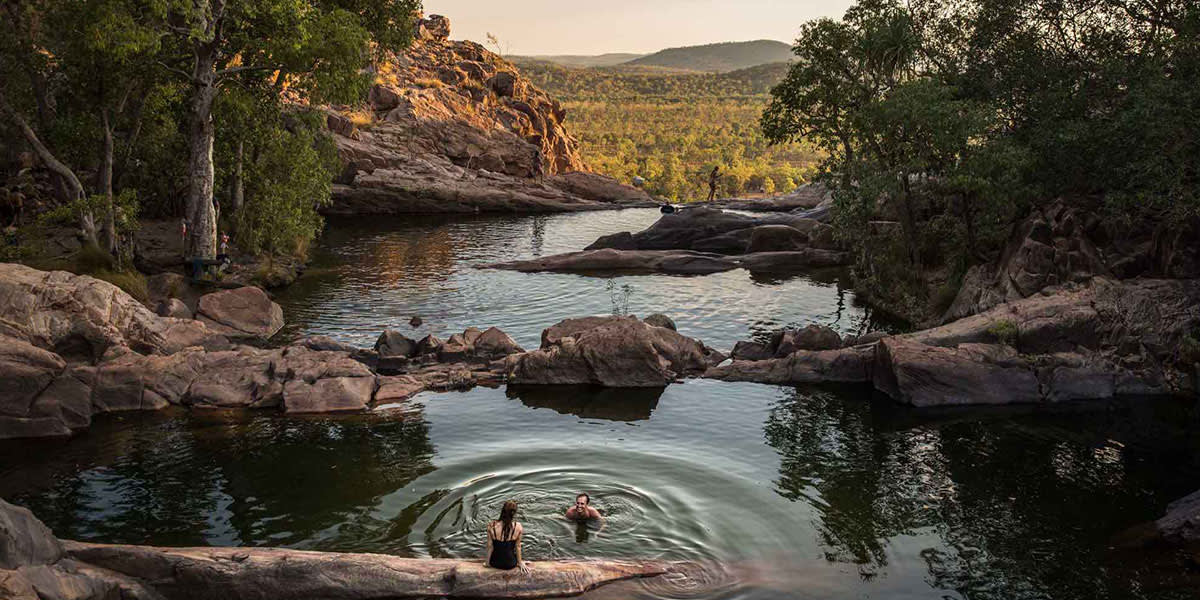 Explore These National Parks
When to visit
Both parks have a tropical climate and the dry season, from May to October, is the very best time of year to explore. However, if you hit the NT in the shoulder seasons, then you will probably be rewarded with both dry weather and fewer tourists on your trails. November to end of April is the wet season. Typical of this time of year are massive downpours, flooding and adventurous crocs. So not only are many of the dirt roads closed due to flooding but swimming holes can be closed, as curious crocs can spill over into the pools. Please be warned, whilst they may look peaceful, they are dangers and stealthy hunters and all warning and closed signs MUST be adhered to.