Join thousands of fellow campervan travellers
Sign up for our Britz newsletter to receive inspirational travel content and awesome deals, and we'll send you a copy of our Ultimate RV guide!
Thanks
Please confirm subscription in your email.
So whether you decide to self-drive Litchfield National Park or go on one of the many National Park tours you can make a quick trip from Darwin to Litchfield and explore everything the parks have to offer. Whether you take a day trip to Litchfield National Park or go for a few nights, there is an array of stunning waterfalls, glorious walks, kooky geology and bountiful wildlife for you to see. Litchfield National Park is the perfect NT wilderness to explore in a campervan or on foot. Still not sure if it's for you? See how Litchfield compares to Kakadu National Park.
How Far is Litchfield National Park From Darwin?
If you are starting your campervan hire in Darwin, make sure you have investigated the benefits of a 4wd camper as this will give you access to some of the more picturesque and remote parts of the park. However, if you are a little pressed for time or prefer to stick to the sealed roads, then any Britz campervan from Darwin will suit. And, with the distance from Darwin to Litchfield National Park being a mere 116km's along The Stuart Highway's tarmac, it's easy for every road tripper to access.
If you are keen on a comprehensive Northern Territories 4 wheel drive camper van trip then Litchfield National Park is one of the major stops on the iconic and scenic Nature's Way roadtrip. You also need to be sure to make time to visit all of Litchfields 4WD tracks, so whilst you're planning your trip check out Britz's self driving road trip itineraries to find the route that inspires you most.
When's the Best Time to Visit Litchfield National Park?
The superb thing about Litchfield is that you can visit any time of the year as most of the roads are sealed. However, if you are chasing an adventure on one of Litchfield's 4WD tracks, then we recommend that you visit during the dry season – from May to October. In fact a few weeks either side of this time is often the best time to explore as it's still warm and dry enough for swimming in the crystal clear pools with the added bonus that most of the visitors have left - so you just might find you have the park to yourself. If you visit at the beginning of the dry season you will also see the rainbow of wildflowers that adorn the park.
If you do decide to visit the park in wet season (November to March), you will find that the offroad areas are closed as they flood. So please check out roadreport.nt.gov.au or 1800 246 199 for updates on road conditions and risks or contact our Britz Darwin branch.
Litchfield History
Originally home to the Wagait people, Litchfield National Park covers 1,500 square kilometers of wilderness and we recommend spending a couple of days in the park in order to soak up all of the spectacular sights. If you want to learn more about the areas Indigenous history, book yourself a tour with Northern Territories Indigenous Tours. You will explore the spiritually significant waterfalls, ancient rainforests and their places in Aboriginal culture.
Where to stay in Litchfield National Park?
Before you set off on your trip, you may be wondering where to stay in Litchfield National Park once you get there. Once you're in the park there are several great camp areas to set yourself up in. Litchfield Tourist Park is on the north-eastern side of the park and has a range of accommodation options as well as the opportunity to dine on crocodile, barramundi and buffalo burgers.
A slightly more basic option, offering camping or caravan sites is the Litchfield Safari Camp near Wangi Falls, with hot showers, BBQ's and non-powered campsites.
But if these are all booked up then there are more accommodation options just outside the park in Batchelor.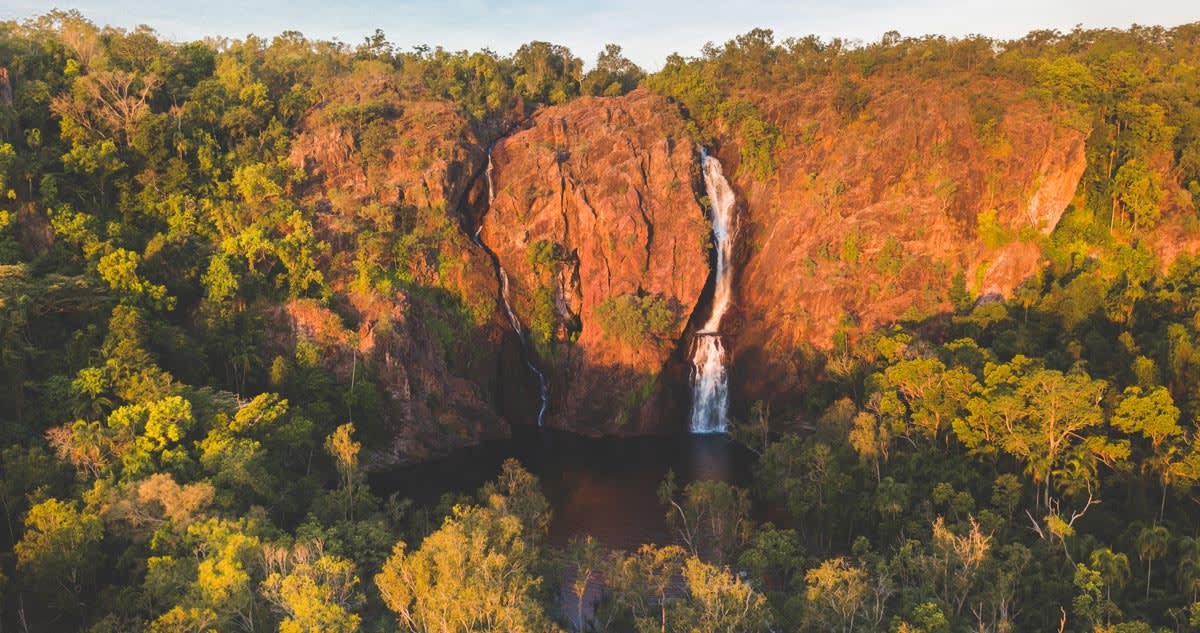 Spectacular things to do and see in Litchfield National Park
Waterfalls
You'll probably be familiar with Wangi Falls as its glorious falls cascading over blunt faced towering limestone cliffs is frequently photographed. Dive into the crystal clear pool of Wangi Falls, Litchfield National Parks biggest waterfall. Better still, take your snorkel and explore this rainforest surrounded pool.
There is a nature trail from the Safari Campgrounds that takes walkers to the top of the falls. And if you have driven to the carpark, you should take the steepish walk to the top. The glorious views are definitely worth the climb. Just please note that in the wet season the Wangi Falls can be closed for swimming due to croc sightings and strong currents.
Florence Falls
Set in an enclave of rainforest, Florence Falls is one of Litchfield National Parks crown jewels. The dual falls is a spectacular sight to behold. Splash about in the crystal clear water, dive under the falls themselves or walk to the viewing platform high above the falls for jaw dropping views of the valley landscape and falls.
Tolmer Falls
Tolmer Falls is an awesome cascade that plunges over two escarpments into a tranquil pool cut out of the limestone gorge, surrounded by trees. It's particularly nice at sunset as the landscape is lit in a warm orange hue. When you're at the carpark you have the option to take the path to the pools or walk to the viewing platform for a big gulp of Northern Territories views. Please note swimming is not permitted above the falls.
Buley Rockhole Lower Pools
Situated before Florence Falls, Buley Rockhole Lower Pools is fed by a flowing cascade of crystal water. Accessed via the Florence Creek Walk (about 3.2kms), Buley Rockhole is a collection of whirlpools which create a natural spa – just for your enjoyment.
Litchfield National Park Walks
With such a large, wonderful web of pathways and trails to explore, Litchfield National Park walks are all well worth lacing up your sneakers and popping your cap on for, especially as most of them end up at a swimming hole or waterfall.
Greenant Creek Walk is a 2.7km track that follows the creek before a steep climb takes climbers to the sacred Aboriginal site of Tjaetaba Falls lookout. Please remember that this is indeed sacred and the custodians request that visitors please only swim above the falls.
The walk takes about an hour and a half and is surrounded by an abundance of flora and fauna. Look along the forest floor to see if you can spot the lizards, geckos, the shy little wallaroo and the curious frogs of the area.
Tjaynera Falls/Sandy Creek Falls
Pack your picnic and perhaps your tent before setting out on the track to Tjaynera Falls, a gentle 1.5km stroll through a paperbark lined valley. Tjaynera is the perfect spot for a swim beneath the falls and because you will need a 4WD to access the area, when you spread your picnic blanket out you may just find that you are the only ones there. If you have a permit you can pitch your tent here too and make a weekend of it. For information about campgrounds and camping fees check out the NT Parks and Reserves camping information sheet, and then get your permit.
The Tabletop Track
Tabletop Track is a picturesque longer walk (39kms) that weaves through woodlands, beside bubbling creeks and can be accessed from Greenant Creek, Walker Creek and Florence Falls. Suitable for fit, well prepared and experienced hikers, this 3-5 day walk embodies all that is Litchfield National Park and is a great chance to really experience the National Park, as camping in the designated campgrounds gives you a taste of the solitude and sound of this magical land. Please note you will need a permit for this walk which you can get here.
You can walk from Wangi to Walker Creek, with crazy beautiful views as you make your way to Walker Creek for a swim. From there you cover 12.3kms to Florence Falls passing sandstone sculptures amongst rich rainforest. And the last leg of the walk is about 18kms and leads to Wangi Falls past majestic boulders and Wangi Creek.
Lost City
For those keen on geology, (and also for those not necessarily geologically inclined) a trip to the Lost City, a series of large sandstone natural sculptures, is a must. This eerie natural phenomenon is reminiscent of an enormous ancient monument and is only be accessed in a 4WD vehicle as the track itself is rocky and rough.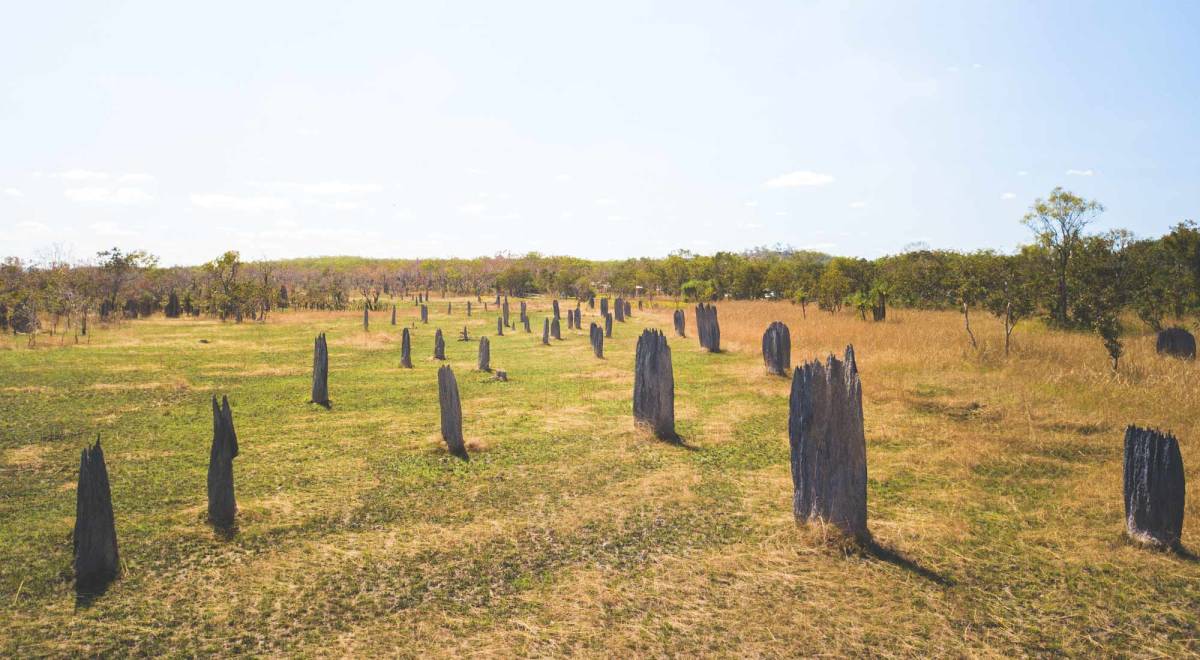 Magnetic Termite Mounds
If you don't have a 4WD camper, then don't despair as you can access the equally quirky and fascinating magnetic termite mounds. Thousands of little termites have busily engineered these sometimes 2m high, north to south facing skyscrapers. Positioned to minimize sun exposure they're complete with insulation, chimneys, nurseries, arches and tunnels and can be up to 100 years old. There is a really helpful information shelter at the start of the boardwalk, that tells you all about these busy little creatures and the apartment blocks that they construct.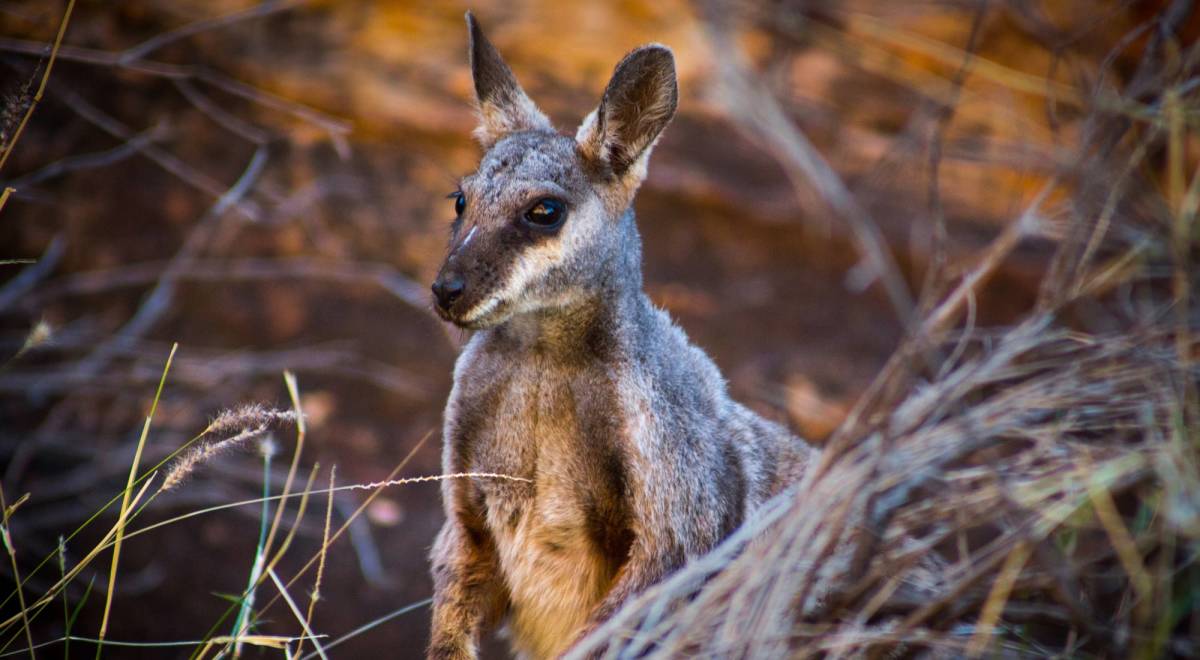 Wildlife
Beside curious insects, the park is home to a plethora of wildlife and flora. Wallabies, quolls, possums, kangaroos, sugar gliders, dragon like frilled necked lizards and flying foxes are commonly seen here. And for the bird spotters, you'll be rewarded with sights of the fig bird, Pacific koel, spangled drongo, the generously named dollar bird to name but a few of the many little feathered friends living near the waterfalls. And for everyone, make sure you check out the endemic orange leaf nosed bats that live in the caves around Tolmer Falls.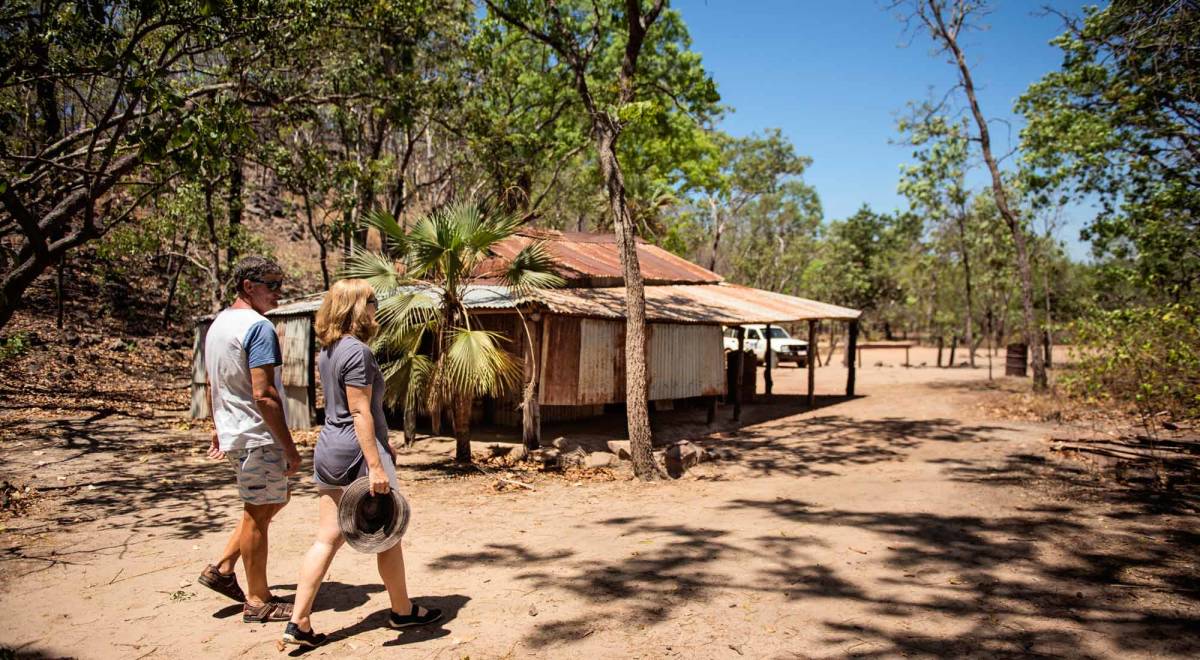 Blyth Homestead
We always slightly roll the eyes when we hear about how tough they used to have it, but when you visit Blyth Homestead you do get an appreciation for the pioneer spirit and strength of will required at the turn of the century. Built in the 1920's out of cypress pine bound together with wire, the house was occupied until the mid 1980's and is now a museum with an interpretive display that explains the lives and hardships of settlers to this remote land. Blyth Homestead is also 4WD access only and please note that the road is closed over the wet season.
Petrol/visitors bureau and amenities - shopping
Batchelor is handily positioned just beside Litchfield and is a great place to fill up your gas tank and pick up any last minute supplies.
For a bigger shop the best places to stock up are your main centres where you pick up your Britz Australian 4WD camper, so in Darwin head downtown to Parap Village markets on a Saturday morning or the Casuarina or Palmerston Shopping Centres.
Packing and travel tips
Litchfield National Park is pretty easy going as far as NT National Parks are concerned but there are a few travel tips that are worth bearing in mind.
Swim only where recommended and adhere to warnings. Crocs are superb and silent hunters!
Always take lots of drinking water, wear a sun hat, sunscreen and sensible shoes.
Please remove all of your rubbish or dispose of in the bins when available.
Remember that all cultural areas and wildlife are protected, so please respect this and keep your distance, and please observe all fishing regulations at all times.
Collect only enough firewood for your immediate need and please, only light fires in areas provided.
Please avoid using soaps and detergents in or near the waterways, and always use toilet facilities provided, or those in your camper.
And avoid sitting on the bare ground as this will protect you from tropical disease.
Britz have a great 4 wheel drive packing list, to help you ensure you bring all the essentials as well as some things you didn't know you needed, when out trekking in a 4WD. But also remember to pack your snorkel and goggles for swimming in the oh so clear plunge pools. And have a ball! We know you will.
More National Parks to explore