Join thousands of fellow campervan travellers
Sign up for our Britz newsletter to receive inspirational travel content and awesome deals, and we'll send you a copy of our Ultimate RV guide!
Thanks
Please confirm subscription in your email.
Where is Nitmiluk National Park?
244 kms southeast of Darwin is the glorious Nitmiluk National Park. Meaning place of cicada dreaming, Nitmiluk is garlanded by the Katherine River, which carves its way through the park with a series of 13 majestic, sheer faced gorges. Both the route from Darwin to Nitmiluk National Park and most of the park itself, is decorated by a plethora of waterways; rivers, pools, waterfalls and gorges.
How to get to Nitmiluk National Park?
At just 3 and a half hours from Darwin and only 30kms of sealed tarmac from Katherine, Nitmiluk National Park is the perfect destination if you start your campervan hire in Darwin. And we suggest you allow at least two days to get a decent bite of Nitmiluk magic. Most national parks in the region have campervan parks and allow camping, Nitmiluk National Park is no different. However with Kakadu and Litchfield National Parks so close, you may want to visit them all as part of our Nature's Way itinerary to create the ultimate Australian off-road adventure and spend longer in the region.
Given Nitmiluk National Park has a number of fabulous places accessed only by 4WD, we suggest you hire a 4WD campervan, and Britz has a range of 4WD campers for hire at both their Darwin or Alice Springs offices. And if you do have any questions about which vehicle is best suited to your expeditions needs, then the Britz team will happily help you with your choice.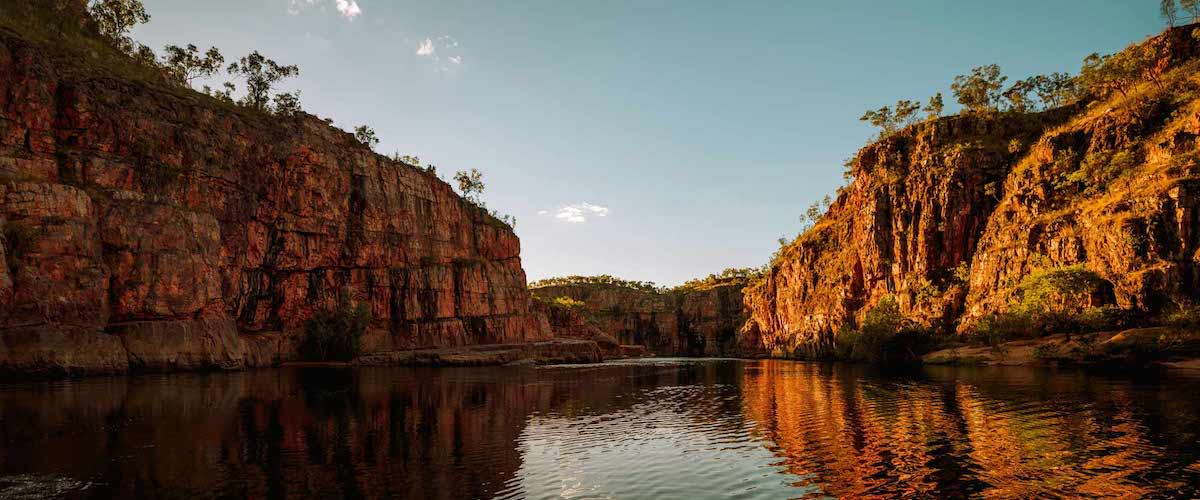 When to go to Nitmiluk National Park
You might be thinking to yourself, when is the best time to visit Nitmiluk? Or considering when to go to Katherine Gorge. The best time to visit Nitmiluk is usually during the dry season, or a few weeks either side (this often means you get the drier weather without the crowds). Dry season is May - October and you can pretty much be guaranteed blue skies, balmy temperatures and open roads. The wet season, November to April, brings with it tropical humidity - think heavy, wet, hot air - and lots of monsoon rain. Whilst the waterfalls are magnificent at this time of year as they thunder down sandstone cliffs, it also means that many roads are closed due to flooding, and swimming spots are shut as artful crocs spill over into the waterways. (And you don't want to risk messing with a croc as they are stealthy, clever hunters!)
If your schedule dictates a wet season Nitmiluk trip then be sure to check the road conditions and risks at roadreport.nt.gov.au or 1800 246 199 or contact us!
Nitmiluk Must Do's
Paddling up the Nitmiluk (Katherine) gorge
Katherine Gorge is at the heart of the almost 3,000 sq km (292,800 hectare) national park and has been carved out by the Katherine River over millennia as the river travels from Arnhem Land to the Timor Sea. The 13 sandstone gorges making up the Katherine Gorge offer all manner of epic experiences as they are dotted with rapids and magical waterfalls, and during the dry season the river cruises along gently, perfect for a self propelled canoe expedition.
You can hire a canoe or get a permit to use your own canoe from the Nitmiluk NP Visitor Centre and then paddle to the 4th, 6th and 9th gorges, camping overnight on the river shores. Please just do make sure to book ahead by calling Nitmiluk Tours (08) 8972 1253 or 1300 146 743, as they get booked up during peak season.
And if you want to forge deeper into more untouched areas of the gorge you will need to carry your kayak over the rocks that separate the gorges - great exercise for the biceps!
While there are a number of katherine gorge tours from darwin, you shouldn't miss the opportunity to explore the place yourself. However, if a more leisurely excursion appeals then reserve yourself a spot on a boat tour, again with Nitmiluk Tours, booked at the visitor centre. Please just note that the boat tours only extend to the first and second gorges.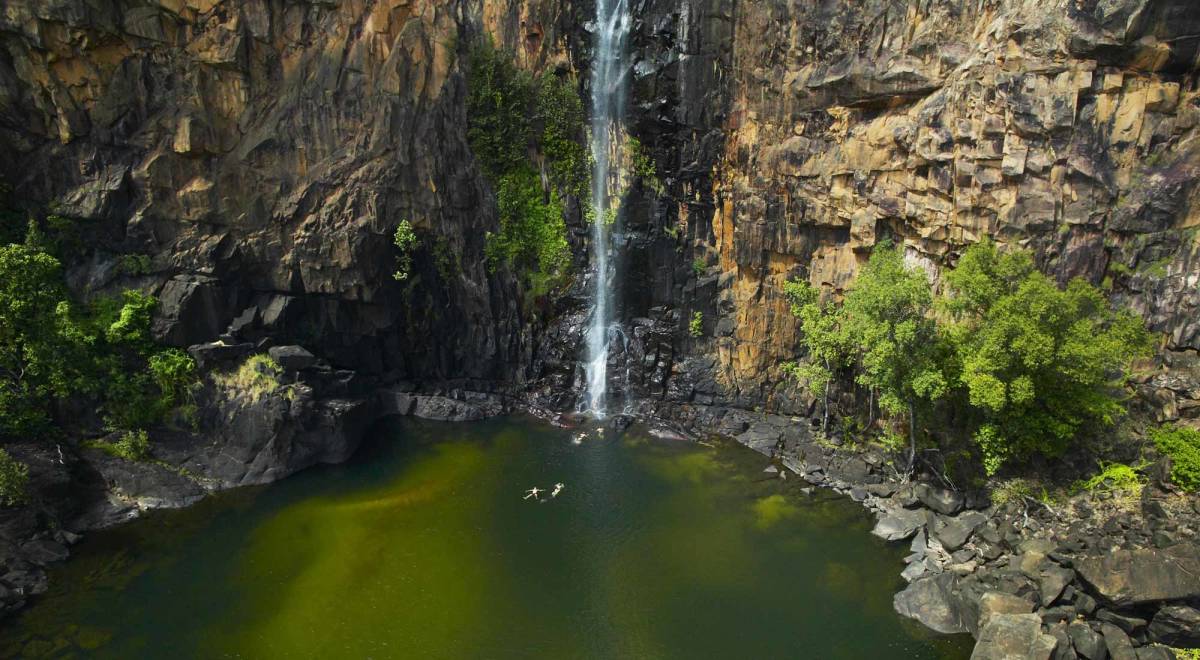 Waterfalls and swim spots
One of Nitmiluk's most iconic spots is Leliyn - or Edith Falls. The 2.6km loop, moderate walk to the falls takes about an hour, but hikers are rewarded with the breathtaking views of the falls and the Edith River from the two lookouts along the way. And you can finish off with a refreshing dip, (in the dry season), in the spectacular top pool.
It is a days moderate walk to the fabulous swimming spot - Sweetwater Pool. Better still spend a couple of days and purchasing a permit from the Leliyn Visitor Centre and then camp overnight.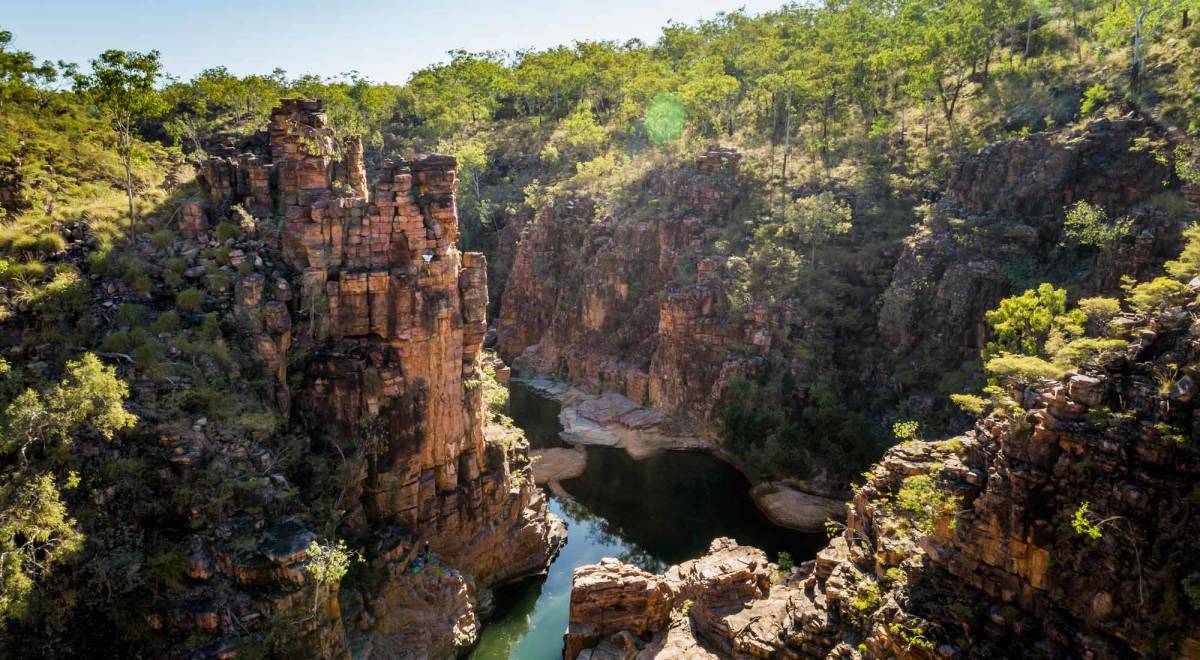 Katherine Gorge Walks (and more swimming spots)
Maps of the many katherine gorge walks are available from the visitor centre. These maps cover all the routes available for nitmiluk national park walks as well as additional information about the hikes and gorge system. However, we do suggest that you print out your katherine gorge map before you get there so you have them on hand.
It is tremendously hot during the summer and can often be 10 degrees hotter on the escarpment than near the river. So do try to walk in the cool of the day and drink plenty of water. Check at the visitor centre for the availability of drinking water in the park and remember to always carry 3 litres per person when out hiking.
And please note, for overnight walks you must get your permit from the Nitmiluk Visitor Centre between 7am and 1pm. And camping fees need to be paid in cash.
The Jatbula trail runs between Katherine Gorge and Leliyn and follows the route used for centuries by the Jawoyn people. Starting at the Nitmiluk visitor centre, the diverse, 58km, 5 day trail takes in Leliyn (Edith Falls), the perfect spot for a swim and a waterfall selfie, winds through rainforest, past ancient Aboriginal rock art (at the Amphitheatre), grasslands and sandstone escarpments. Just remember when you're at the visitor centre to get your camping permits.
Waleka Walk is a 2-3 day, 16.5 km one way hike that explores the trail from Pat's Lookout to the 8th Gorge. This walk is grade 5 for difficulty, so only for fit and experienced walkers, as it traverses the sandstone escarpment passing over undulating rock platforms and shallow gullies. However the views of the second gorge from Jeddas Rock and the upper gorge area are worth all of the effort.
For those more interested in shorter walks, the 4 hour Butterfly Gorge Walk is perfect. Up a side valley of the Katherine Gorge, this shaded walk is home to a rainbow of butterflies, rainforest and wow moment views. There are also several great spots for a dip along the way to refresh weary walkers.
Or you can wander along the river on the Windolf Walk which leads walkers up to Pat's Lookout where views of the First Gorge are fabulous. This moderate 3 ½ hour (8.4 km) walk also has the opportunity for a delicious swim at Southern Rockhole - a seasonal waterfall.
Another colourful day walk is Lily Ponds via Yambi Walk. Taking about 6 ½ hours and covering 19.8kms, the grade 4 Lily Ponds walk follows the creek and has views of the mighty Third Gorge. Be aware that the last 1km is rather taxing, so take it easy leading up to this. Swimming in the river is seasonal as is the cascade of the beautiful Lily Pond Falls.
Or for a quick stretch of the legs, the Baruwei Walk via the lookout has the option of a one or two hour walk. The shorter grade 3 walk has views of the picnic area, Katherine Gorge & 17 Mile Valley, whilst the two hour walk continues from the lookout along escarpment and back down to the visitor centre.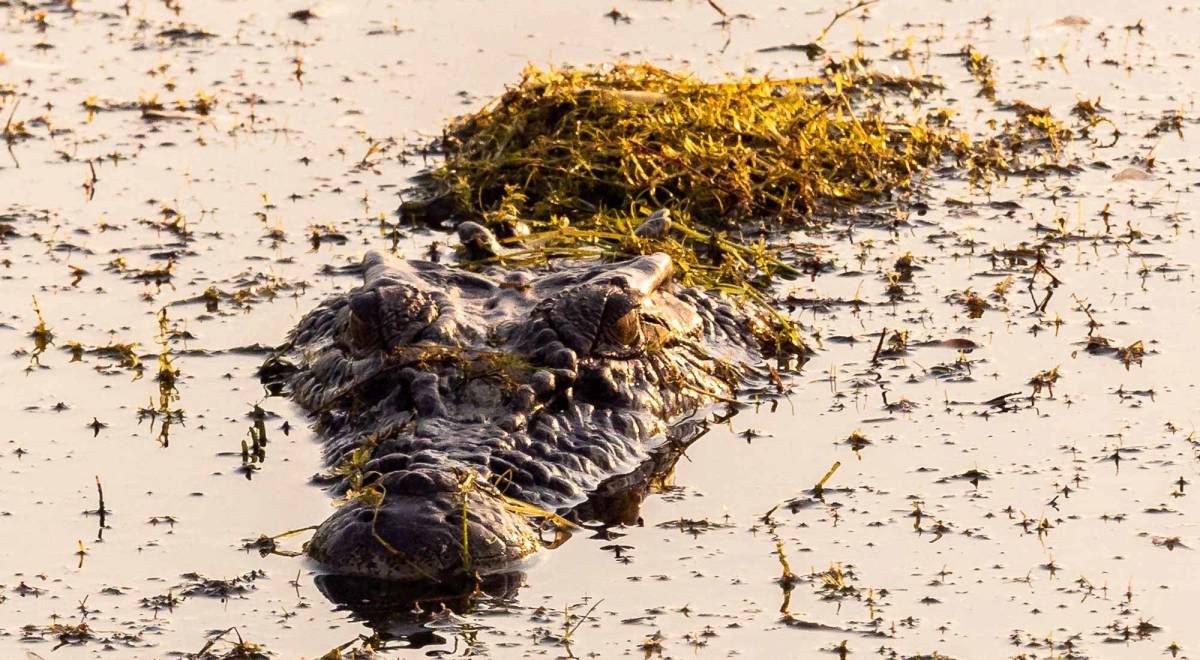 Wildlife
Nitmiluk is home to an array of wildlife with 206 species of birds and 44 species of mammals such as wallabies, bats and wide eyed possums.
Crocodiles inhabit the gorges, both saltwater and the less scary, somewhat shy, freshwater versions. Fresh water crocs are best spotted in the mornings and are pescetarians, devouring only fish, as opposed to the broader tastes of their saltwater cousins who happily chow down on larger animals. The park rangers keep a constant eye out for "salties" and will close swimming spots during the wet season and indeed at other times of year if they need to relocate one of these ancient creatures. So please, please heed all safety and closure notices and if you do spot a croc, have a look, snap some pics for your Insta page, but do not get too close!
Birdlife is incredible at Nitmiluk. If you are a twitcher, or simply interested in Australia's wonderful wildlife you could spy ospreys, regal red-tailed black cockatoos, white gaped honeyeaters and red-winged parrots.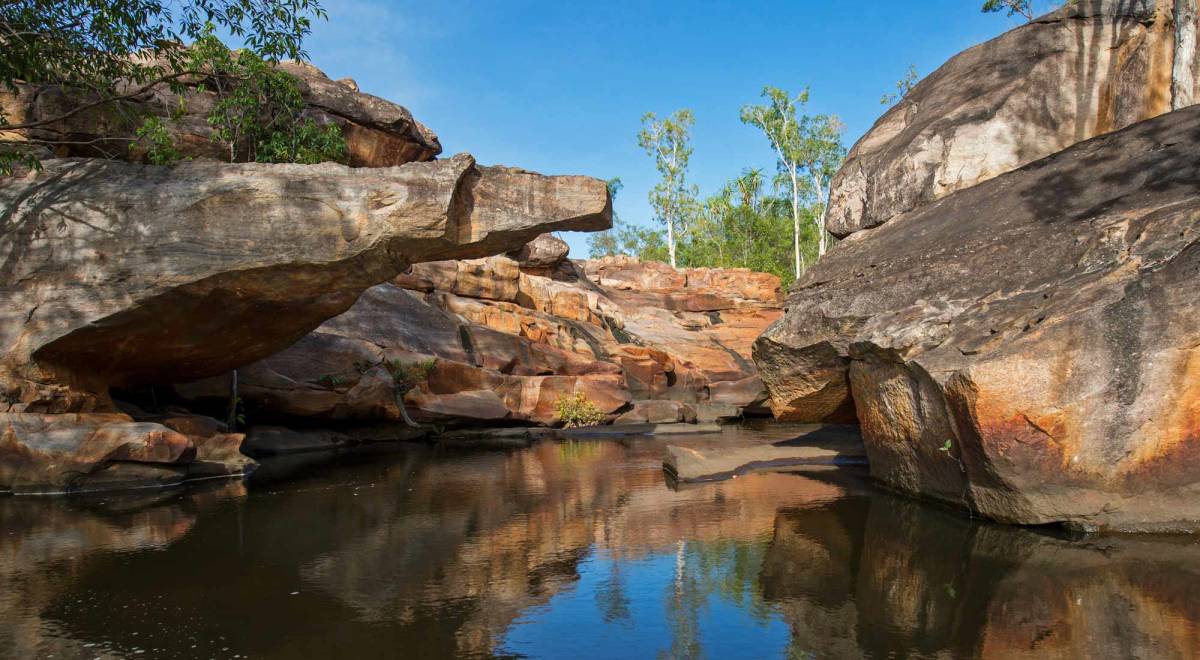 Aboriginal Arts
The gorges and the surrounding lands are ceremonially significant to the local Jawoyn people, who are the custodians of the national park. There are fascinating rock art sites peppering Nitmiluk and you can learn about the Jawoyn peoples connection with the land at the information centre or by taking one of the boat cruises up the gorge where the art can be seen on the base of the sandstone escarpment.
Aboriginal guided tours will give you insights into the ecology of the park and the sacred places of their people, whilst describing the dreaming stories that are such a large part of the park's history.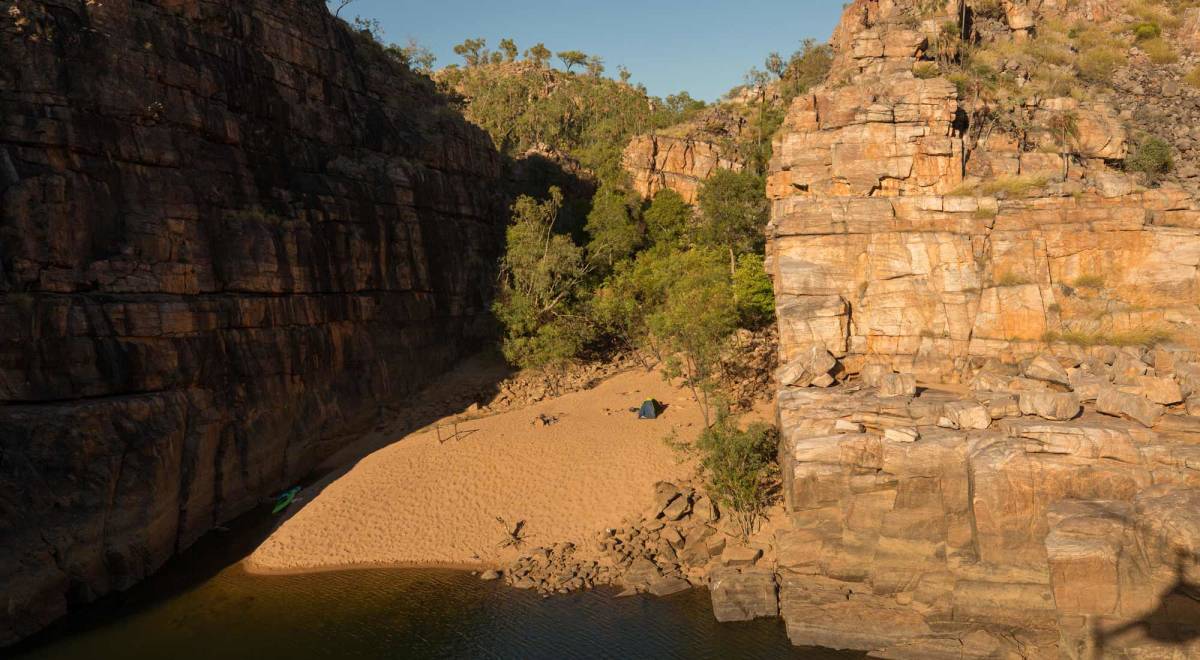 Accommodation
There are two permanent campgrounds for tents and caravans with powered sites at the gorge - Nitmiluk Caravan Park - and an unpowered campsite at Leliyn which has showers, a kiosk and toilets.
There are also a number of superb, pristine bush camping spots so just check with the visitor centres for locations and permits and if you are kayaking up the river, make sure you check out the raw and beautiful beach camping spots.
You will need to book all campsites with the visitor centre, as sites are limited and have limited facilities, so at the same time, check on the availability of drinking water and the locations of public toilets on your routes. (Remember to bring your own toilet paper - so make sure to keep a roll in your day pack.)
Packing list
There is a super handy 4WD campervan packing list on Britz.com to help you cover the basics of what you'll need. But there are some other essentials to bear in mind.
One thing that is especially important and often overlooked for your daypack are loo paper sunscreen, a sun hat, and a reusable drinking bottle. You will also need to make sure you pack plenty of drinking water (at least 3 litres per person per day), sensible walking shoes and insect repellant.
Logistics/Facilities/Shopping and some helpful tips
The Nitmiluk Visitor Centre is a great resource and will help you with permits, make bookings and give you an overview of the park along with hiking and gorge maps. In addition, the information boards explain about the landscape and the significance of the land for the local Jawoyn Aboriginal people. You can contact the centre on 1300 146 743. Facilities at the gorge include picnic areas with gas BBQ's, tables and public loos.
There are some pretty important safety and conservation things to bear in mind :
Please observe all safety and warning signs
Swim only when and where recommended
Carry plenty of drinking water
Please make sure you take all of your rubbish with you!
Keep to the designated tracks and remember all wildlife and cultural items are protected and you should please be respectful and keep your distance at all times.
So please do not touch the art work and please do not feed the animals.
Fishing nets, animal traps and firearms are NOT permitted!
Avoid using soaps and detergents near waterways and please always use bathroom/toilet facilities provided.
Please observe all fishing regulations, there is no fishing at Edith Falls, and only lures may be used on the Katherine River at all times.
Please check that your vehicle is not transporting weeds or cane toads
Only fuel stoves allowed.
Pets are not permitted in the park, nor are generators.
More National Parks to explore