Join thousands of fellow campervan travellers
Sign up for our Britz newsletter to receive inspirational travel content and awesome deals, and we'll send you a copy of our Ultimate RV guide!
Thanks
Please confirm subscription in your email.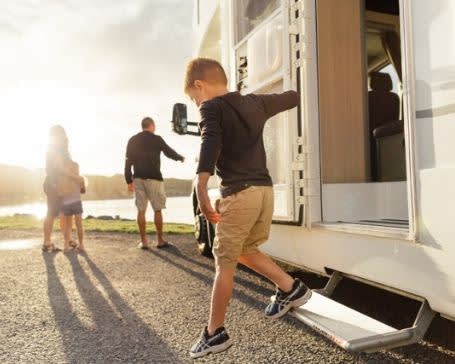 Better with Britz
We've got your back even if your circumstances change. Check out our flexible booking options and travel with confidence.
Bring all the family, including your beloved pet, with just a $299 pet fee. (Make sure you plan your route ahead, as some National Parks do not allow for pets)
All of our motorhomes are brimming with thoughtful conveniences and stocked with fresh bedding, cutlery, and crockery, allowing you to comfortably go beyond.
Certified as a COVID Clean Practicing Business we ensuring the highest hygiene and safety standards at pick-up
The thl Roadtrip app enables customers to search for attractions and campgrounds across Australia. Our "how-to" videos will ensure you can confidently navigate your backyard by like a pro.
Our variety of Liability Options ensure you have complete peace of mind when you hire a Britz Campervan. You can add this to your camper hire throughout your booking journey.
Remember, you don't need a special licence – a standard driver's licence enables you to hire even a large six-berth motorhome!
Choosing your perfect campervan
Whether you're a seasoned pro or a first-time campervanner, our range of self-contained vehicles mean there's something to suit everyone's travel style. Our smaller 2 & 3 berth campervans are ideal for smaller families or couples looking to get away, whilst our 4 & 6 berth campervans make it easier to take the extended family on an adventure, or for those looking for a little extra space when on the road.
For the nimble adventurer
Our fleet of 2 – 3 berth vehicles, which include the Britz Venturer, are perfect for a couple or young family looking to get away. With flexible and spacious bed configurations and toilet and shower facilities onboard it is a true home away from home.
Comfort and Style
Our fleet of 4 berth vehicles, including the Britz Discovery, make for the ultimate freedom machines. Travel in comfort with friends and family and enjoy panoramic views from where you lay. There's also a little extra space for should you want to bring along your toys and creature comforts; your favourite cookbook, cricket bat, bike or boogie board.
For those who like a little bit more room
Whether it's spoiling the family, going on a roadie with your nearest friends or just the luxury of having a bit more space and storage, then our fully equipped fleet of larger 6 berth vehicles like the Britz Frontier is just what you need. Brimming with all the creature comforts of our main fleet and more you won't be disappointed.
South Australia Itineraries
From the ancient outback and undeground town of Cooper Pedy, to the magnificent Limestone Coast and world-class wineries of the valleys, there's an adventure for everyone in South Australia. Dream about the possibilities and plan your campervan with some of our most popular SA itineraries.
---

Whoops, it seems like we haven't got any Popular Routes
Please try a different combination or click below to reset your search
Terms and Conditions
1 September - 23 September 2022

17 October - 15 December 2022

Pick-up and drop-off locations

7 September - 20 October 2022

All standard Britz Campervans fees and charges apply including but not limited to credit card administration fees, location fees, public holiday surcharges, liability reduction and inclusive pack fees and express return pack charges. More here.
Booking must be made using promo code MOREINSA10
All Britz Campervans terms and conditions apply
Britz Campervans reserve the right to withdraw this offer at any time
Offers and vehicles are subject to availability at all times - this offer may not be available on all dates or in all locations