Join thousands of fellow campervan travellers
Sign up for our Britz newsletter to receive inspirational travel content and awesome deals, and we'll send you a copy of our Ultimate RV guide!
Thanks
Please confirm subscription in your email.
Go Cultural Aboriginal Tours & Experiences
Perth, WA
Described by the early colonists, the land where Perth City now sits has been home to the Noongar since the Dreamtime. The Noongar people are the traditional Aboriginal people of this land and are made up of fourteen tribal clans of Western Australia's southwest. Weaving a Go Cultural Aboriginal Tour & Experience into your itinerary will provide you with a glimpse into the culture of the Noongar people. Take a short walking tour of Perth and uncover stories of the Dreamtime, sacred sites, and networks of forgotten lakes and ancient campgrounds that lie under the modern skyscrapers of Perth City. Most of these tours will take you around iconic city locations in Perth.
These tours are guided by a well-respected Noongar man, Walter McGuire. Walter will provide an introduction to the cultural past of Perth before diving into his history and connections to the culture of the Noongar people. Having been schooled in Noongar culture, language, and customs by both recognised Elders and his parents, Walter can conduct incredibly deep tours with respect to his Ancestors, fellow Noongar, and the First Peoples of Australia.
The Goomup Walking Tour sets off from Elizabeth Quay. This 90-minute experience will provide you with a glimpse into the world's oldest living culture told by Dreamtime stories, Noongar language, and traditional songs. An easy stroll from the Perth CBD, enjoy learning and being surprised by stories of the Noongar people and how the natural world and its elements have influenced how they live.
The Karrgatup Walking Tour, starting at Kings Park will provide you with stories about the hill's interesting past as well as the ongoing importance it has to the Noongar people. As well as taking you through the incredibly beautiful park with a backdrop of native flora, this tour includes Dreamtime stories, traditional songs, and the Noongar language.
The final tour taking place in Perth city is the Goologoolup (Yagan Square) Noongar Patriots tour which is dedicated to the Noongar Greats of Perth. This shorter, 60-minute walk is the perfect length for a lunchtime leg stretch. Listen to stories of tribal leaders and their resistance, and how their legacy lives on and impacts the lives of local Indigenous people to this day.
Go Cultural also offers two tours on Rottnest Island. Fancy taking a day trip just offshore from Perth city?These tours are the perfect way to explore the incredible beauty and wildlife of Rottnest Island while gaining an understanding of the significance of this place to the Noongar People.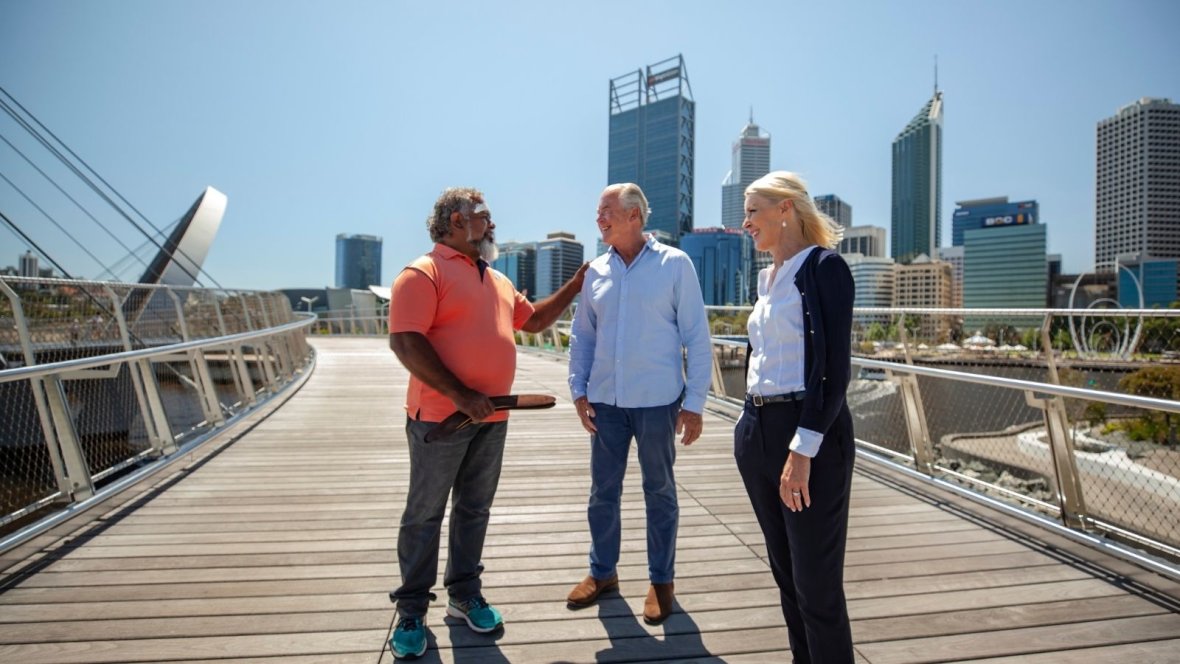 Image: Go Cultural, Perth, WA
Dale Tilbrook Experiences
Perth, WA
Dale Tilbrook Experiences place Aboriginal culture, art, and stories at the center of attention about bush tucker, and how plant and animal resources found in the bush can be used as both medicine and food. Food is our medicine and medicine is our food, although some plants are specific to medicinal uses.
Dale is a Wardandi Bibbulmun woman, from Western Australia's southwest. Her experiences are both personal and engaging. During these tours, Dale will share her lifetime of local knowledge and research in everything she does. Dale's journey in the realm of Aboriginal tourism began 25 years ago after her return from being overseas for 10 years. She began with her brother, opening a boomerang and artefact-making business, before leading on to her current focus on bush tucker, culture, and Aboriginal art.
Dale also runs the Maalinup Aboriginal Gallery, located in the heart of Swan Valley. This gallery specialises in fine art by Indigenous artists from the south west of Western Australi. Many styles are represented in the works on display in Maalinup, with colourful, contemporary paintings that are connected to the country.
Today, the focus of Dale's work is predominantly on activities and experiences. Have your try of a collection of wild bush foods in a relaxed setting. Learn about and sniff touch native Australian herbs and spices while you discover the uses of bush tucker plants as well as their medicinal properties and health benefits. Participate in an in-depth, hands-on journey as Dale guides you and provides some incredible insights into Aboriginal food traditions, like the yam garden along the Swan River.
These are multiple experiences on offer at Dale Tillbrook Experiences that delve into local history and culture with impeccable storytelling. Check out her website to choose one best suited for you.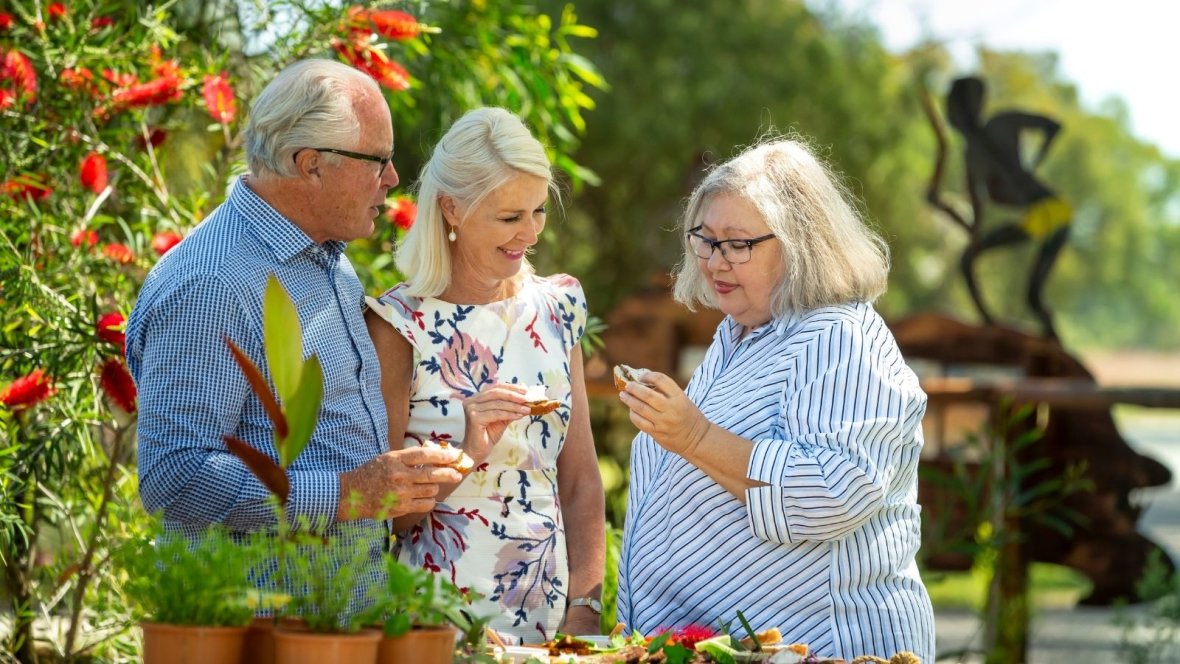 Image: Dale Tilbrook Experiences, Perth, WA
Koomal Dreaming
Margaret River, WA
For more than 50,000 years, the Wadandi and Bibbulman people of the Busselton, Dunsborough, and Margaret River areas of Australia's southwest have occupied this ancient land. Together with other Aboriginal groups of areas stretching from Leeman in the north to Esperance, they are known as Noongar. The Noongar culture is as rich and varied as the landscape they walk, and the knowledge they have of the environment is truly fascinating.
Koomal Dreaming is your chance to follow in the footsteps of the Noongar People and experience Wadandi and Bibbulman country through a new set of eyes. Wadandi cultural custodian, Josh Whiteland will provide you with the opportunity to taste native foods, discover bush medicine, and experience traditional fire lighting. Listen to stories of the Dreaming spirits that are linked to this traditional area, and go deep into Ngilgi Cave for a unique didgeridoo cave experience.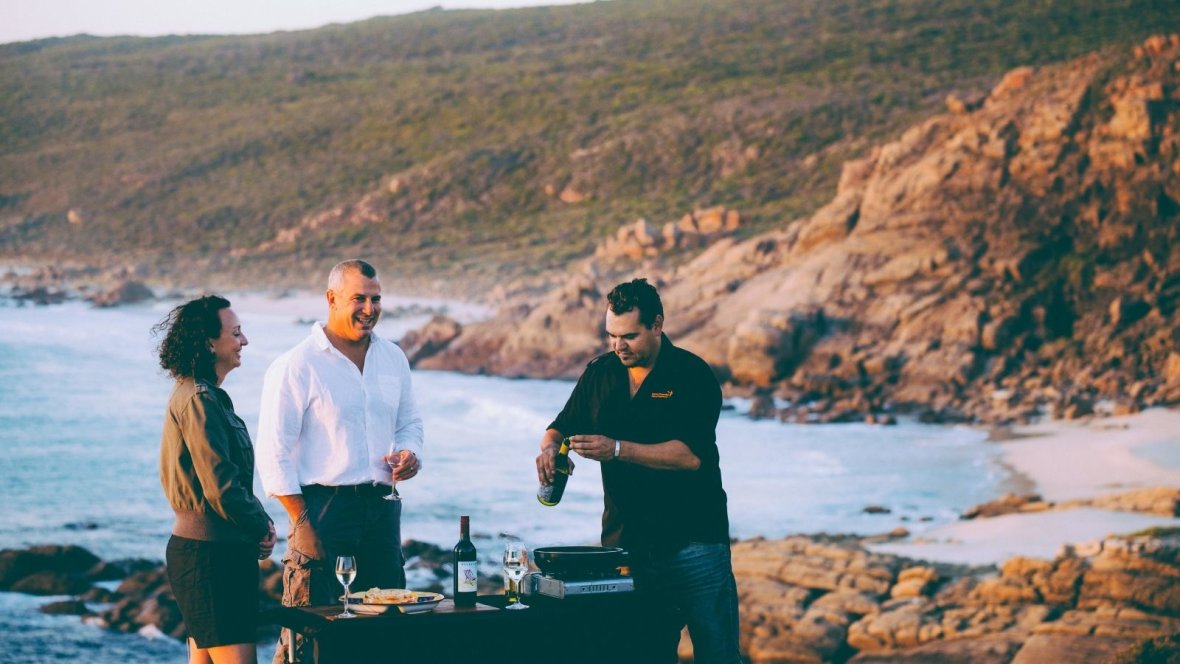 Image: Koomal Dreaming, Margaret River, WA
---

Whoops, it seems like we haven't got any Popular Routes
Please try a different combination or click below to reset your search