Join thousands of fellow campervan travellers
Sign up for our Britz newsletter to receive inspirational travel content and awesome deals, and we'll send you a copy of our Ultimate RV guide!
Thanks
Please confirm subscription in your email.
The great southern land lines up super cycling adventures for Britz campervan travellers
Egged on by favourable weather, stunning scenery, and energy to burn, Australia's cycle trails are cranking up. Bike-loving Britz Campervan travellers can easily find a satisfying ride– whether they're culture-vultures seeking a scenic route between inner-city sights, wine-lovers wanting to weave through vineyards, relaxed rail trail touring types, or more intrepid adventurers aiming for Australia's wild places. Here are a few ideas to get the wheels rolling.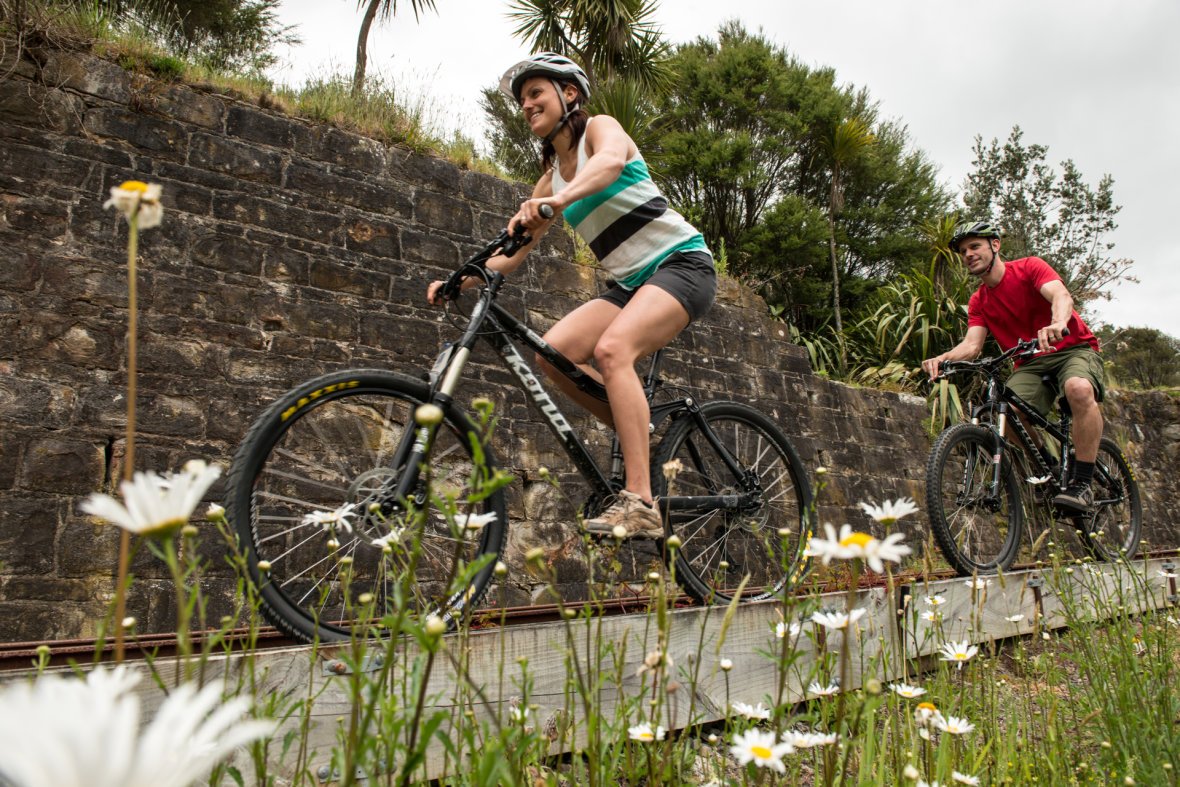 Murray to Mountains Rail Trail (Victoria)
One of Australia's most famous cycleways, this is more than 100km of smooth sealed pathway, passing through picturesque countryside and linking several popular tourist villages. A distinct mix of vistas is just part of the appeal, because this area – located between Melbourne and Sydney – is food and wine heaven. For a taster, check out the 'Pedal to Produce' itineraries at Murray to Mountains Rail Trail, which also lists tour and bike hire companies.
Oaks Fire Trail, Blue Mountains (New South Wales)
Explore Blue Mountains National Park on the easy Oaks Fire Trail. Just 28km long and 80% downhill, it's no wonder this is one of NSW's most popular rides. Located less than 100km from Sydney, the Oaks' highlights include Aboriginal rock engravings, stupendous views across the plains, exhilarating downhills, and a cooling plunge into Glenbrook Creek. For information and bike hire visit Blue Mountain Bikes.
Mt Buller MTB Trails (Victoria)
Cycling on the piste? Yes, you heard right! From November through April, Mt Buller – Victoria's largest ski resort – turns into a mountain biking mecca with more than 100km of cross-country trails for all abilities. The chairlift cranks up in January, lugging lazy-bones to the top for a whoo-hoo! whizz back down, although All Terrain Cycles offer all-inclusive day-tours for the duration of the cycling season. Relax with back-to-nature camping in nearby Alpine National Park.
The Riesling Trail (South Australia)
Two hours' drive north of Adelaide, the campervan-friendly Clare Valley is renown for world-class riesling, super semillon and spicy shiraz. Wheel your way through the vines on The Riesling Trail, 27km of old railway line. Gentle gradients and numerous loops allow easy exploration without covering the same ground. Unless, of course, you lose the plot. Which could happen. Clare Valley Cycle Hire offers family-friendly bike hire and transport.
Munda Biddi Mountain Bike Trail (Western Australia)
Snaking a positively pythonesque 1000km from west of Perth to Albany on the south coast, the Munda Biddi Mountain Bike Trail was named by National Geographic as one of the world's top 10 cycling routes. It's a true wilderness experience, passing through untouched forest and bush, with tangents into country towns, cultural sites, wineries and beyond. Numerous achievable day-rides are facilitated by ample overnight stops for your Britz campervan and bike businesses offering hire and tours.
Tasmanian Trail (Tasmania)
The 480km-long Tasmanian Trail wends north to south, pretty much through the middle of Tassie, passing through or near more than a dozen towns. Covering a range of terrain and featuring plenty of natural eye-candy – from deep forest to grassy highlands to river valleys – its 15 sections can easily be sliced and diced to match your pedal power. Bike hire and shuttle services are widely available, plus there are plenty of places to park your Britz campervan and get a taste of Tasmania's famously good hospitality.
Alice Springs (Northern Territories)
With its beguiling landscape and network of single track, Alice Springs is fast becoming a hot mountain biking destination. Ease into things along the cycle paths linking local sights such as Telegraph Station Historical Reserve, the Desert Park menagerie, and scenic Simpsons Gap – a watering hole popular with the Black-footed Rock Wallaby. Tours and bikes are available from Outback Cycling.
Brisbane Bikeways (Queensland)
Easy-going Brisbane has gone bananas over bikes, and now boasts around 900km of cycle trails. This extensive network is perfect for exploring its historic streets, lush gardens and outdoor markets. Beyond the city limits, the Brisbane River Valley Trail will stretch to 148km once fully completed. Prepare to go pedaling at Visit Brisbane and Briscycle. Newmarket Gardens offers good campervan sites just 4km north of the city centre.