Join thousands of fellow campervan travellers
Sign up for our Britz newsletter to receive inspirational travel content and awesome deals, and we'll send you a copy of our Ultimate RV guide!
Thanks
Please confirm subscription in your email.
Why Queensland is the ideal destination for family holidays
You'll find something for everyone; from tropical temperatures and rainforests up north to kid-friendly cities along the coast, national parks, miles of beaches and plenty of opportunities for island escapes. Queensland is a natural playground for Kiwis and Aussies alike. Plus, with unbeatable weather (not just in the summertime!), easy non-stop flights to Brisbane and Cairns, a Queensland holiday might be perfect for you and your crew. Even better, if you've got your eye on multiple destinations, or you just need an itinerary that keeps the whole family happy, then a campervan is the ideal mix of practical and fun to get the family on the road and off the beaten track.
Need more convincing? Here are 10 ways to spend your summer holiday in Queensland with the whole family, and all of it can be done in a campervan. Sweet!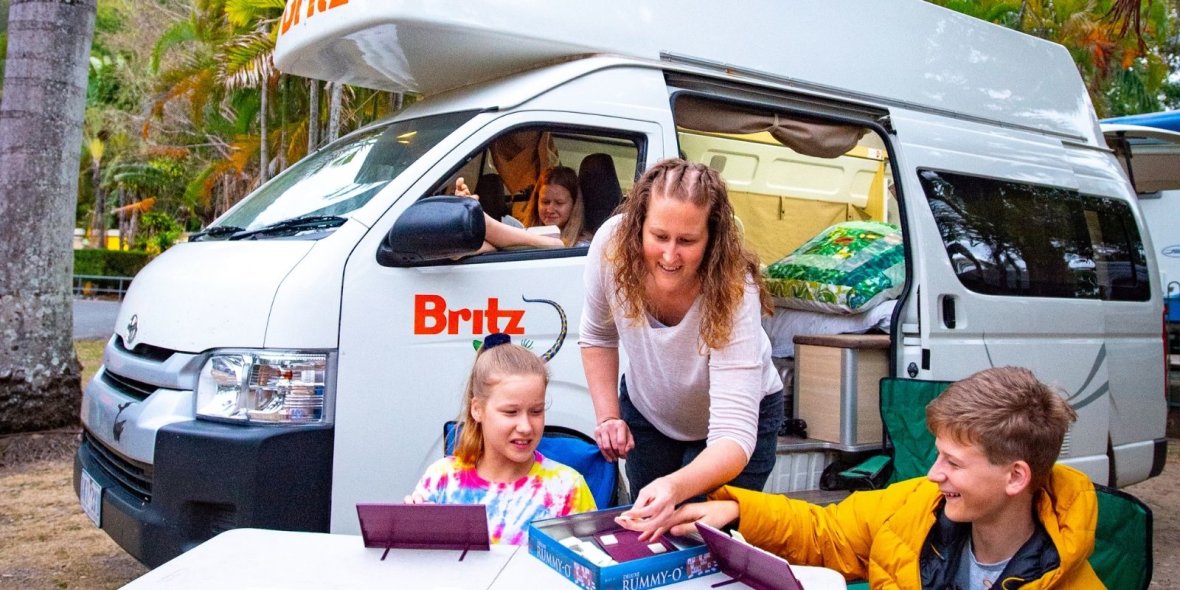 1. Take a campervan holiday to see and do more
When you're campervanning, the journey is just as important as the destination. To get started, you'll want to collect your new home-on-wheels from a Britz branch in Brisbane in the south or Cairns in the north of Queensland.
A campervan is a fun and fuss-free way of exploring further afield than Brisbane or the Gold Coast and can put you in touch with everything the state has to offer. Unlike a hire car and a bunch of hotel nights, you can ditch the hassle of check-ins, check-outs, and packing the kitchen sink - simply park up and use everything your fully-equipped campervan includes - kitchen sink included!
Campervanning comes with a raft of benefits, including the ability to be flexible - you're on your own schedule, after all. Plus, if you spot something cool, or the kids just need an extra day at the beach, you can amend your plans accordingly. And hey, if your kids wear themselves out, they can snooze while on the road, then burn off some energy at your next campsite while you sit back and relax. You'll be surprised at the number of other families you meet along the way, and with campervanning a popular holiday activity, you'll find plenty of campsites at or near all the places we recommend. Need some trip inspiration? Check out our popular Queensland itineraries and traveller stories.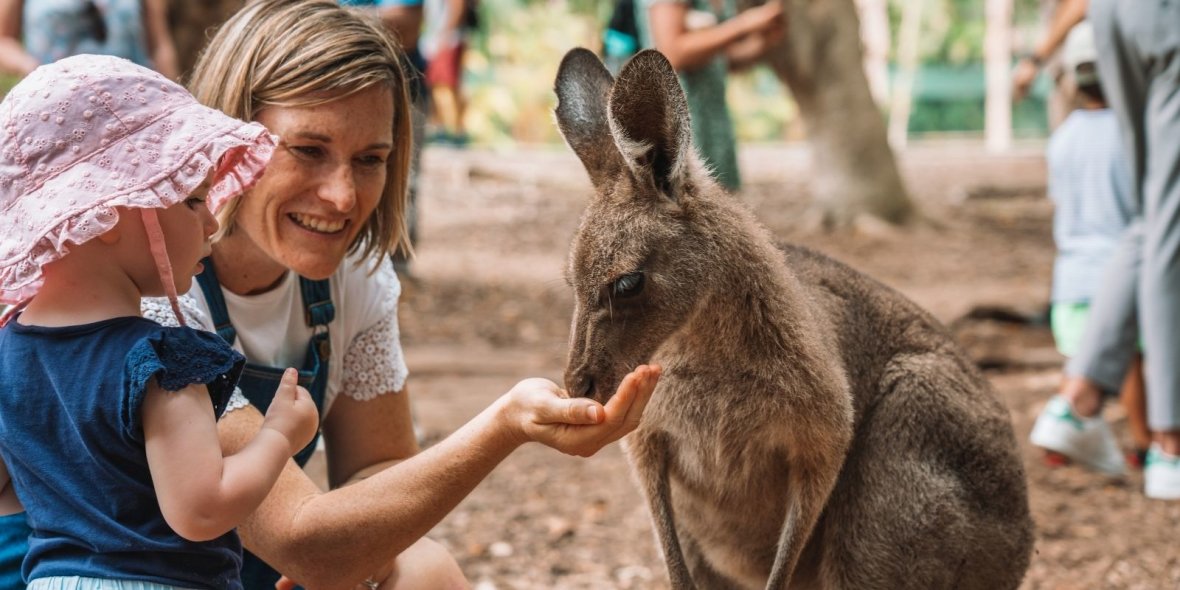 Image source: TEQ Visual Gallery
2. Have an animal encounter at these wildlife destinations
Crikey! If you've got an animal lover in the family, then you won't want to miss the chance to check out these fun wildlife spots on your adventure.
An hour north of Brisbane, Australia Zoo is Queensland's biggest zoo and was made famous by Steve "the Crocodile Hunter" Irwin. No matter what animals the kids are into right now, we reckon the big cats and the croc show can't be missed.
Staying in Brisbane, the Lone Pine Koala Sanctuary boasts over 100 koalas in its care. Get up close and personal with the wildlife in a safe and natural environment. From snake, dingo and koala-holds to kangaroo feeding, you'll get a hands-on experience with some of Australia's well-known animals.
Water-lovers will love taking a chance to go Whale watching in Hervey Bay, three hours south of Brisbane. Get out on the water and enjoy a half-day or day-long sailing to see humpback whales resting, playing and enjoying the warm water as they migrate.
To the north of Queensland in Townsville, Reef HQ Aquarium is home to the world's largest living coral reef aquarium, where the whole family can see thousands of unique marine creatures and experience life on a coral reef without getting wet!
And almost smack bang between Brisbane and Cairns, the Whitsunday Crocodile Safari offers the chance to spot some crocs out in the wild as part of a full-day tour, including a BBQ lunch. Sorted!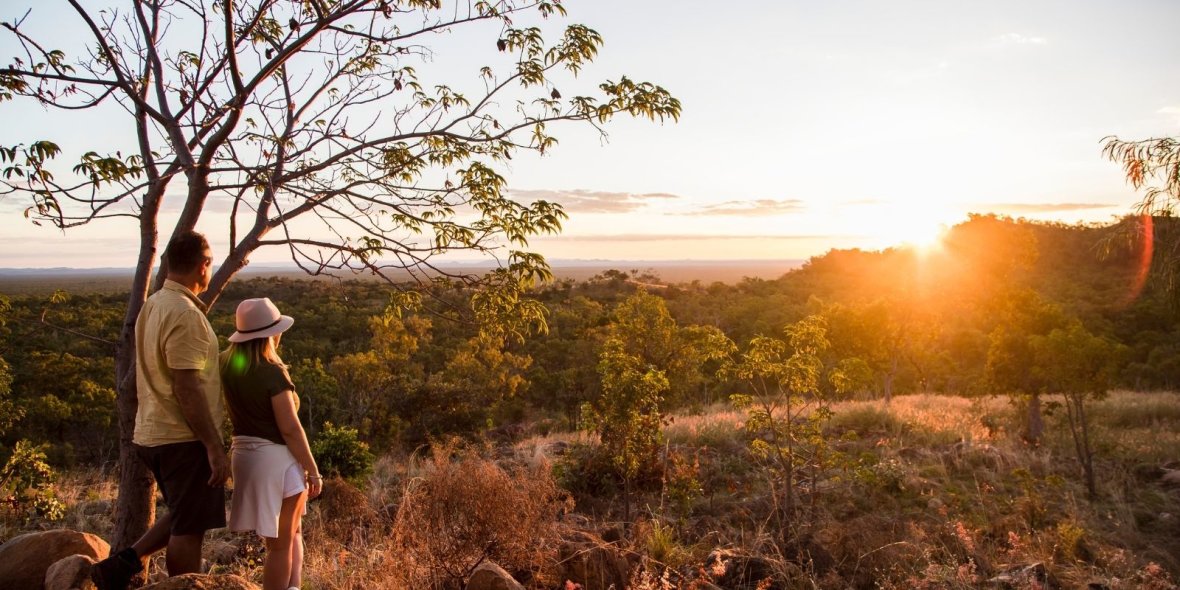 Image source: TEQ Visual Gallery
3. Spend some time in Queensland National Parks
Take some time to get back in touch with your environment by visiting any or all of these four National Parks. You'll find plenty to keep you busy, or the chance to relax and unwind in nature.
Ready to get a bit grubby? How does exploring a 190,000-year-old lava-carved tunnel sound? Undara Volcanic National Park is half a day's drive from Cairns, but it might take longer once you realise all the waterfalls and volcanic craters you can spot on the way. Sections of the caves are dangerous (which makes it more exciting, we think!), so you'll need a guided tour for this adventure.
Also from Cairns, head to the far north of Queensland and explore Daintree National Park to understand why Sir David Attenborough called it "the most extraordinary place on Earth". As one of the world's oldest tropical rainforests, it might be hot, but the kids will love having a go at boomerang throwing, catching mud crabs and swimming in refreshing waterholes.
If hiking, boating, fishing or just chilling out is on the wishlist, check out Cape Hillsborough National Park in central Queensland for all of the above and more! Set up camp here to make the most of all the activities and attractions the park has to offer.
Closer to southern hot spots like Brisbane and the Sunshine Coast, Noosa National Park is a short walk from the bustling Noosa township and boasts plenty of beaches, walkways, picnic spots and even the chance to spot a koala in the wild. Keep your eyes peeled!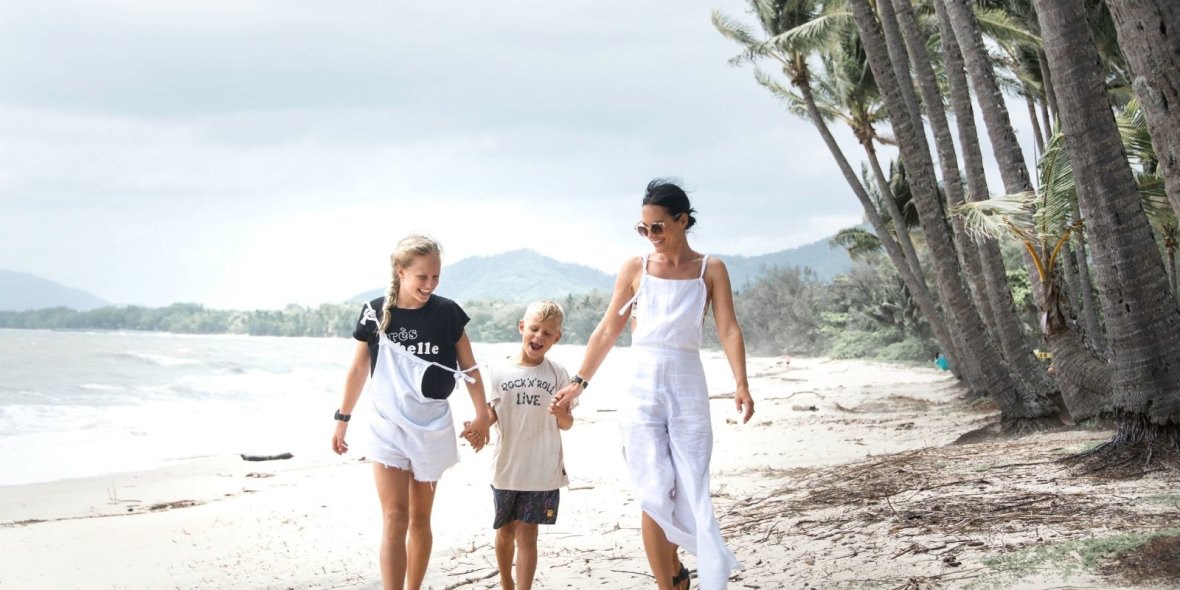 Image source: TEQ Visual Gallery
4. Just add water! Check out these spots for water babies (and beachy grownups too!)
Summertime without a trip to the beach, waterpark or pools just wouldn't be right for Kiwi and Aussie kids alike. If you're looking for kid-friendly water-based activities in Queensland, look no further...
Noosa
While there are plenty of family resorts in Noosa, heading to this jewel on the Sunshine Coast gives your water babies plenty of options for a dip. Jump on a SUP, kayak or even a BBQ pontoon at Noosa river before graduating to Noosa Main Beach for a deeper swim. Don't forget to stick a snorkel and some goggles in the campervan - Noosa offers an excellent opportunity for some fish spotting on your adventures. Check out our Cairns to Brisbane itinerary for other recommended stops along the coast.
Palm Cove
Home to one of Australia's cleanest beaches and voted Queensland's friendliest beach, Palm Cove is a chilled-out spot north of Cairns. With plenty of beaches for the kids to explore, plus another chance to hire SUPs, kayaks and even kiteboards, they'll wear themselves out while you can sit back and relax. Finish your day with some classic fish n chips on the beach just to remind yourself it's summertime!
Mooloolaba
Back on the Sunshine Coast, the whole family can have a go at exploring beautiful reefs and colourful fish on a scuba diving expedition and even get a chance to check out a sunken ship, the HMS BRISBANE. If ocean swimming doesn't appeal, head to the aquarium at Sea Life and have a go at swimming with a seal.
Airlie Beach
Gateway to the iconic Great Barrier Reef, and only a few hours south of Townsville, you'll find plenty of action at Airlie Beach. Learn to sail or take your pick between scuba diving or skydiving if someone is feeling adventurous.
Wet N Wild
What's a trip to Queensland without a trip to this must-see Gold Coast destination? Splash, swim and slide the day away at Australia's biggest water park, then feel smug knowing you've got your Gold Coast family accommodation sorted because you drove it there yourself!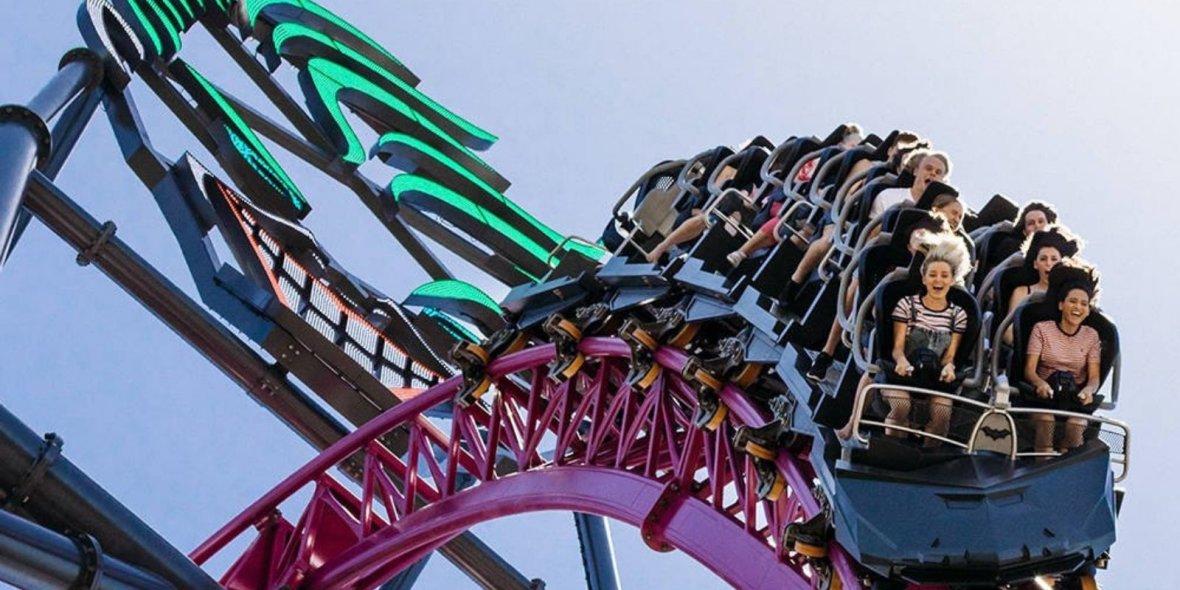 Image source: Movie World
5. Get your heart racing with adventure activities
If this is all sounding far too relaxing for your brood, explore these opportunities to tire the kids out and have a blast all at the same time.
There's plenty of things to do in southeast Queensland when you've got kids. As well as Wet n Wild, check out Movie World where you'll find a theme park full of rollercoasters, live-action stunts and more. Tire the kids out with a day of thrill-seeking.
Aussie World offers another chance at theme park rides and adventures that cater to the whole family back on the Sunshine Coast. There is something for everyone here, from low-key activities like mini-golf to Australia's tallest and fastest 360-degree pendulum.
Give the kids something to brag about when they get home by shouting some surf lessons at Noosa. You might be surprised at how quickly they can master getting upright on a board and how hard it is to get them in from the beach for dinner!
Head inland and explore the Capricorn Caves. If you're feeling especially adventurous, have a go at caving. You'll spend your time manoeuvring through the caves, tunnels, and shafts in ways that you might not have imagined.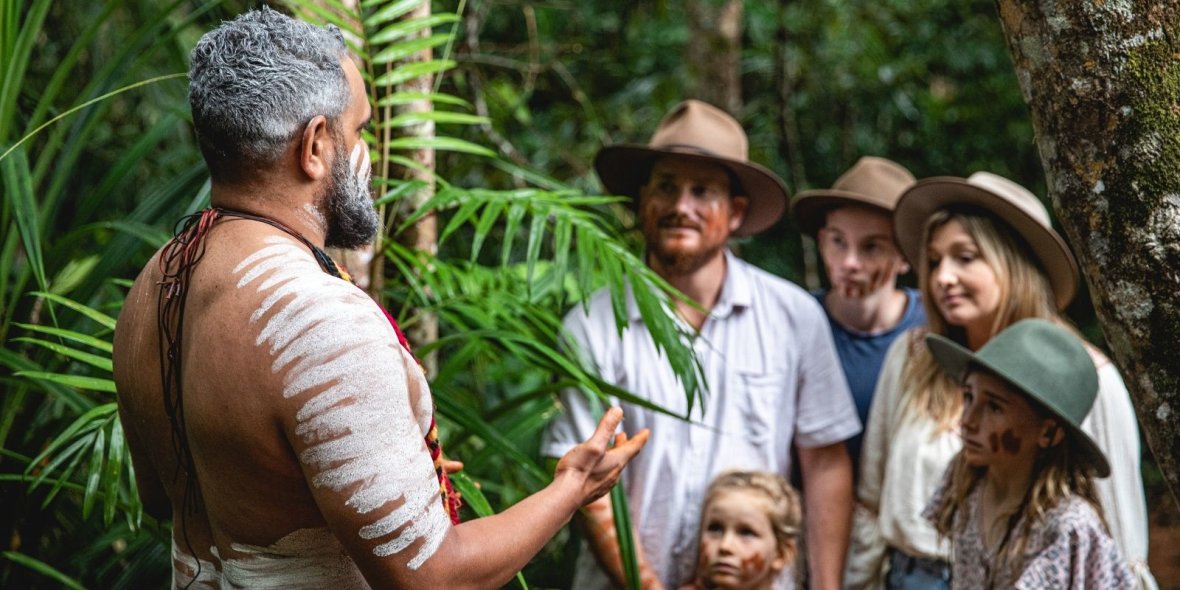 Image source: TEQ Visual Gallery
6. Learn about Aboriginal history while you're on holiday
Just because you're on holiday doesn't mean you can't learn something new.
If you're planning on spending some time on the Gold coast, take a trip to Jellurgal Aboriginal Culture Centre and immerse the family in First Nations culture and storytelling. Owned and operated by the local Aboriginal community, you'll be getting an authentic experience from the moment you arrive.
Head north of Cairns and keep going to reach the Torres Strait. You'll find a region full of amazing sights, including the Torres Strait islands. Torres Strait Eco Adventures offer tours where they share their significant knowledge and understanding of the diverse mixture of cultures and the islands' intriguing history.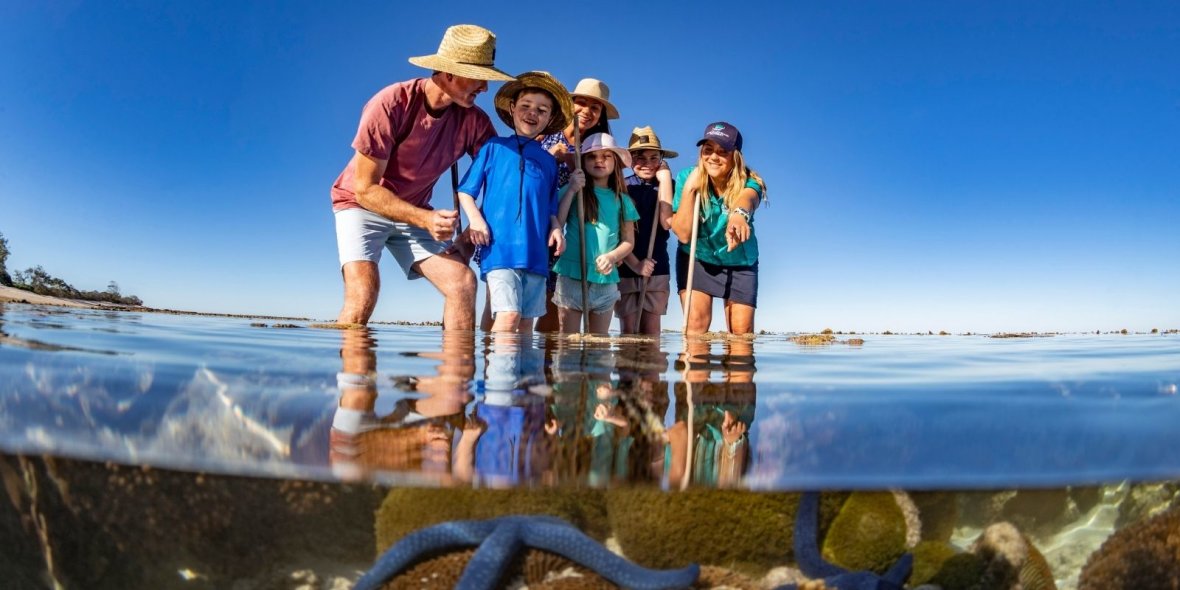 Image source: TEQ Visual Gallery
7. Have a Queensland island escape
There's something extra cool and exciting about visiting an island on your travels, and Queensland has plenty of great island trips available! Here are a handful of islands we reckon are worth checking out:
Lady Elliot Island
Jump on a chartered flight from various coastal hotspots and find yourselves at the southern tip of the World Heritage Listed Great Barrier Reef, where you can snorkel on the surrounding reef or stay dry on a glass-bottom boat. Either way, keep your eyes peeled for manta rays, turtles, and plenty of coral.
Fraser Island
Hop on a ferry or charter a plane and head to the world's largest sand island. Check out a famous shipwreck, swim in crystal clear water and spot a dingo or two as you conquer the 75-mile beach.
Hamilton Island
One of Australia's most popular holiday spots, where you'll find helicopter tours, diving tours and plenty of white sand beaches to chill out on. The island is car-free, so grab a golf-cart style buggy to get around!
Fitzroy Island
This tropical island just off Cairns hosts the Cairns Turtle Rehabilitation Centre, a National Park, and plenty of water-based activities to keep the family busy.
Moreton Island
Head out to climb the world's highest coastal sand dune for some epic 360 views before taking the chance to hand feed one of the wild bottlenose dolphins that visit the shores at sunset. Want more island recommendations?
Check out these 11 great barrier islands to visit for even more inspiration.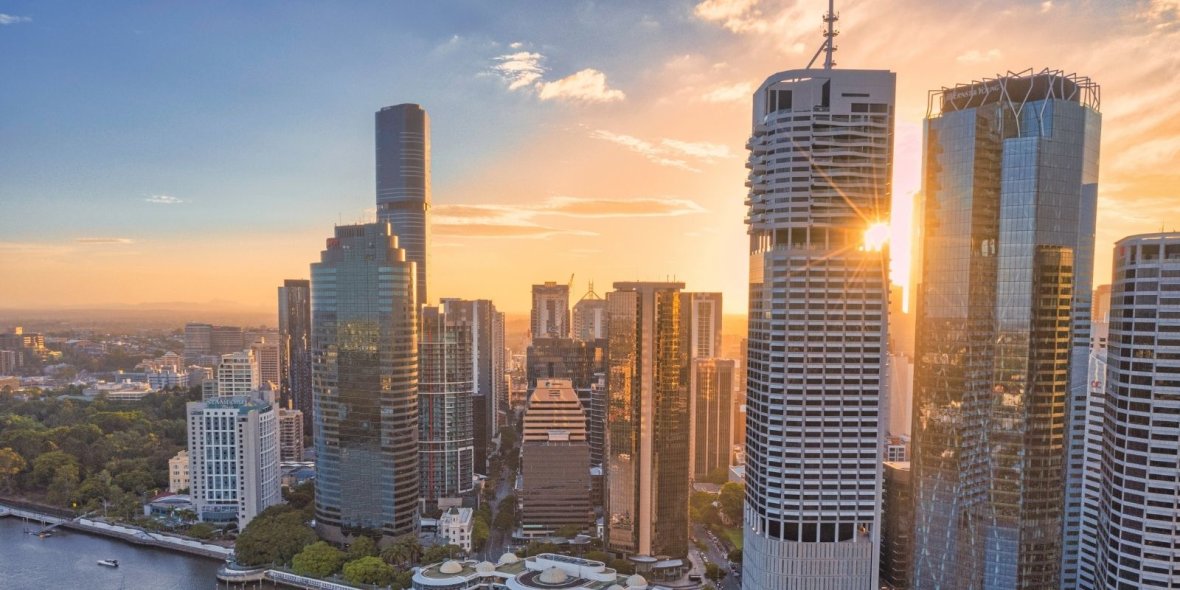 Image source: TEQ Visual Gallery
8. Explore the big cities in Queensland
Heading into the city might require a spot of forward planning - parking your campervan can prove a little challenging, but keep your eyes peeled for appropriate places, or park up out of town and go on a public transport adventure!
Check out these great things to do with the kids in Brisbane City:
Wander the botanic gardens, or explore everything that the Brisbane Cultural Centre has to offer. Hop on Brisbane's answer to the London Eye, the Brisbane Wheel, visit the Boggo Road Gaol (but don't get locked up!), cruise the river or hit the shops & markets for some retail therapy. Explore this itinerary to get your planning started.
Keep the kids entertained in Cairns:
Reach for the sky by visiting the high ropes course and zip line in a wildlife park. Or, take a refreshing dip at the Crystal cascades waterfalls. Relax aboard one of Australia's most scenic rail journeys or get your adrenaline pumping at Skypark, where you can try bungee jumping in the middle of the rainforest! There's plenty to keep you busy!
Explore Toowoomba with the family:
Toowoomba is a festival for the senses (but maybe not your allergies) with famous gardens and beautiful flowers to check out and enjoy. While you're out and about, check out the unmissable street art and learn something new at the Cobb & Co museum!
Discover what Townsville has to offer:
Climb Castle Hill, chase waterfalls or spark your kid's curiosity at one of many museums. When all else fails, don your swimmers and head to the waterparks for a bit of summertime respite.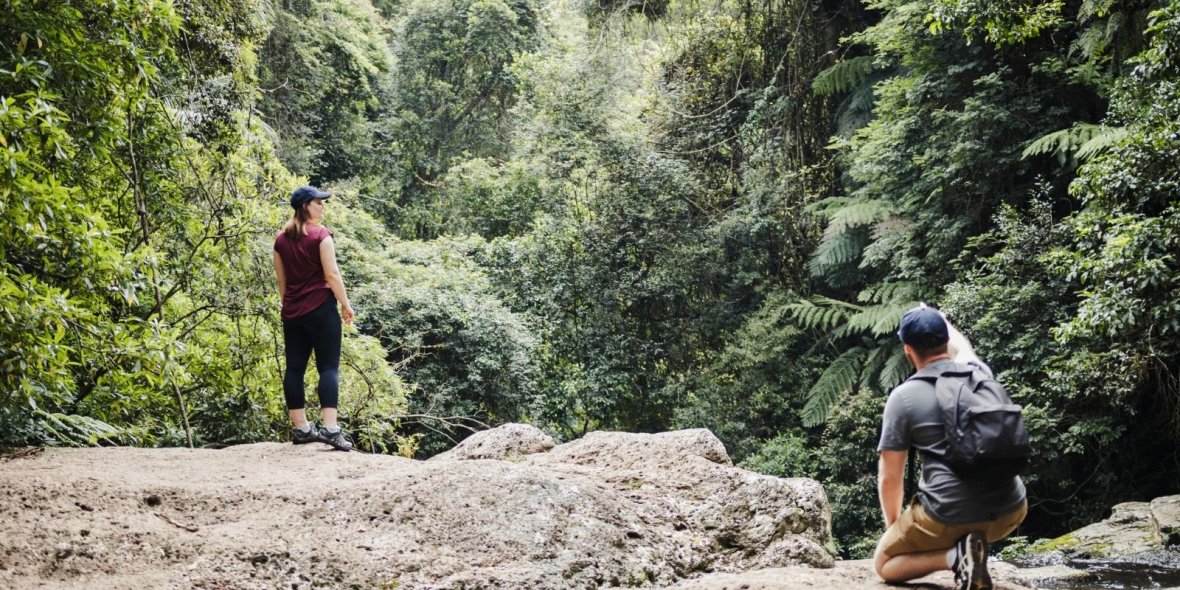 Image source: TEQ Visual Gallery
9. Discover Queensland's tiny towns
The big cities are well known, and often busy over popular tourist times like school holidays. Go a bit rural and check out these tiny but intriguing little Queensland towns.
Head inland to the scenic rim and visit Canungra for the chance to meet and hand-feed a whole troop of alpaca!
Go rural and visit Maleny, where you can get cosy with a dairy cow at a working dairy farm, or Visit the 'Jewel' of Maleny, the local botanic gardens and interactive bird encounter.
Tamborine Mountain has plenty of walks, climbs, markets and more to keep the family busy, but one "high light" is the glowworm cave (see what we did there?)! Who doesn't love spotting a glowworm?
Take a look at history, and get your heavy machinery fix at the Dalby Pioneer Park Museum before heading to the Darling Downs Zoo. For city kids, checking out the Jondaryan Woolshed could be an eye-opening experience.
Check out more short trips and unique destinations just a short distance from Brisbane.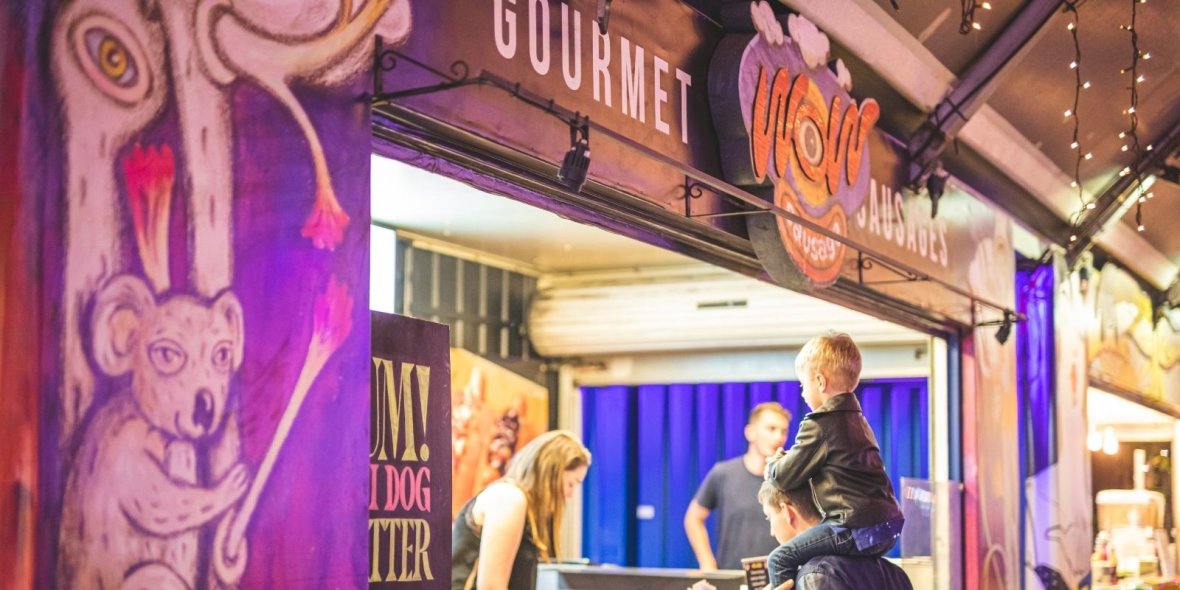 Image source: TEQ Visual Gallery
10. Fill your bellies at these great food attractions
One of the joys of summer holidays with kids is introducing them to new foods and having an ice cream or two on the way. If you've got little foodies on board, don't miss these tasty treats in Queensland.
Eat Street Markets, Brisbane
Hungry on a Friday or Saturday evening? Bring the whole family to Eat Street Markets in Brisbane and choose a meal from over 70 different vendors at this carnival-like street foodies mecca. There's something for everyone to sample, from burgers and pizza to some more wild and off the wall menu items, and with plenty of sweet options too, dessert is a must! Plus, you can make a night of it, with live entertainment and market stalls too.
Ginger Factory, Yandina
Want to learn how ginger grows or lock eyes with a bee and taste some honey? Head to the Ginger Factory, Yandina and discover how ginger is turned into all kinds of yummy foods. Sample the goods, then treat yourself to lunch while the kids take a ride on the Ginger Train. With lush rainforest to explore and plenty of space for the kids to burn off some energy, you could spend a whole day here.
Korromba Vinyards & Lavender Farm
Ever tried a lavender scone? What about lavender ice cream? Kooroomba Vineyards and Lavender Farm at Mount Alford offers both, alongside a whole range of other lavender goods, plus a cellar door, for those over 18. You are on holiday after all (and your campervan comes equipped with wine glasses) for when you're settled in for the night.
Eumundi Markets
Craving something fresh, or just looking for an excuse not to make dishes at breakfast time? Head to Eumundi markets on the Sunshine Coast on Wednesday and Saturday mornings, and you'll find no shortage of yummy fresh produce to taste. The longer you wander, the more likely you'll succumb to the aroma of something tasty for breakfast, brunch or lunch, and there are plenty of options to choose from!
The Velo Project, Mooloolaba
Sticking on the Sunshine Coast, if you want a cafe breakfast, head to The Velo Project Mooloolaba, where you'll find locally sourced seasonal offerings for the grownups, and a whole breakfast menu for the kids, too, include unicorn chinos for your littlest family members.
Get started with Britz
So, there you have it! 10 ways to keep the kids entertained on your Queensland family holiday. There's so much to see and do! Build your dream Queensland family itinerary and see it all with Britz. Book your campervan holiday now.