Join thousands of fellow campervan travellers
Sign up for our Britz newsletter to receive inspirational travel content and awesome deals, and we'll send you a copy of our Ultimate RV guide!
Thanks
Please confirm subscription in your email.
In this helpful guide, we share some of the top spots in the Grampians to include on your travel itinerary. We've also included everything you need to know to enjoy the ultimate camping holiday in this incredible park, such as:
What is the best time to visit Grampians National Park?
What to pack for camping in Grampians National Park
Where to camp in Grampians National Park
Caring for the park and wildlife
Important park information you need to know
The best things to do in Grampians National Park
Ready to explore Grampians National Park on your next holiday?
Where is the Grampians National Park?
Spanning 170,000 hectares, the Grampians is located in the Australian state of Victoria. The park makes for one of the best road trips from Melbourne, around three hours drive from the city. You can find the park between Stawell and Horsham.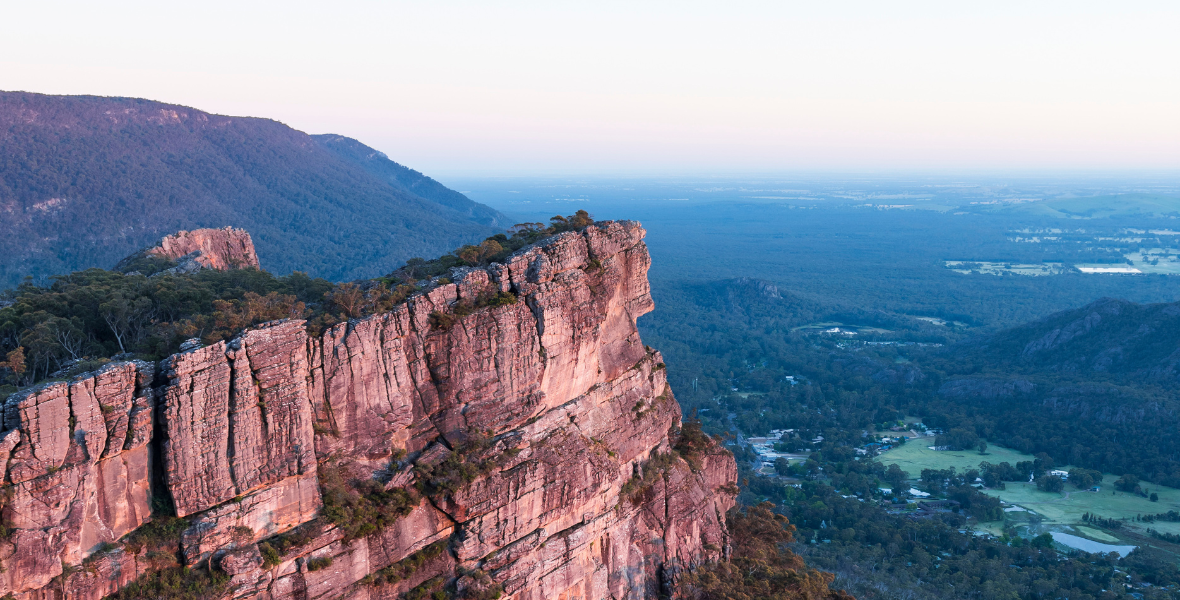 Image Source: Visit Victoria Content Hub
What is the best time to visit Grampians National Park?
There's something awesome to do and see in the Grampians, whatever time of year you visit.
Autumn offers mild, cooler weather and is a lovely time to enjoy the incredible colours of the trees and foliage.
Spring is the best time to see the wildflowers in bloom. It's also prime time for birdwatching.
Summer is all about water sports and swimming. Note, the park is often busiest at this time of year due to the warmer weather.
Winter is the season to see the waterfalls at their best. And of course, if you're keen to hit the ski fields, this is the time to do it.
What to pack for camping in Grampians National Park
The Grampians is an outdoor adventurer's paradise. Bush walks, hikes and tramps, cycling, swimming, beach walks … it's all there for the taking! To make the most of it, be sure to pack for comfort and safety. Here are a few items you may like to add to your packing list:
Comfy walking shoes
Light layers of clothing
A backpack
A flask for coffee on your hikes
Wet weather gear
Bug spray
Sunblock, sun hat and sunglasses
Binoculars and a camera
A handheld telescope for stargazing at night
Where to camp in Grampians National Park
There are a number of excellent campgrounds available in the park. Some are free to use, while others have a cost and need to be booked online in advance. Note, some campgrounds in the Grampians are located on unsealed roads, so it's best to double-check which are suitable for campervan access.
Most of the campgrounds have toilets, picnic tables, and fire pits for campfires. There are powered and unpowered sites available. It's best to plan ahead and charge your camper in advance if you're planning to stay off-grid.
For powered sites, Halls Gap is a great spot. A couple of popular places to stay include:
NRMA Halls Gap Holiday Park: This park has everything needed for a great camping holiday. Children are well catered to with a swimming pool, bouncing pillow, go-karts, and a playground. Choose from powered or unpowered sites. The holiday park also has a laundry, dump point, camp kitchen, barbecues, and a kiosk.
Breeze Holiday Parks – Halls Gap: Choose from powered or unpowered sites. Make use of the camp kitchen, free WiFi, barbecues and firepits, laundry, LPG refills, dump point, and kids activities.
Caring for the park and wildlife
The Grampians provide a refuge for many of Australia's rare and threatened species of wildlife. You may be lucky enough to spot koalas sleeping high up in the trees. Kangaroos and emus are abundant throughout, but a good spot for photo opportunities is the Halls Gap Recreation Reserve.
Here are a few pointers to help care for the wildlife of the park:
Don't feed the animals. They may be keen to tuck into your unwanted sandwich or leftover fruit, but this can be dangerous. Some foods are poisonous or can cause illness in wildlife.
Follow the Leave no Trace movement and take all your rubbish home with you.
Never leave human waste in the park. Always use your camper toilet or the campground toilets.
Don't use soap or shampoo in the waterholes.
Important park information you need to know
To help protect the park, and keep you safe, there are some important safety rules you need to adhere to while you're in the Grampians.
Dogs are not permitted in the park - this is for the protection of the park and its wildlife.
Mobile reception is not available in many areas so it's best to let someone know if you are going hiking.
Only light fires in the steel fire pits provided – bushfires are a very real threat. It's a good idea to check the conditions before you visit.
The best things to do in Grampians National Park
Keen to know what is special about the Grampians National Park? There's a long list to choose from, but here are some of the best experiences to add to your road trip itinerary:
Enjoy the many rock-climbing areas
Love the thrill and adventure of scaling rocks and boulders? There are over 100 rock climbing areas in the park, including 13 bouldering sites.
Climbers can test their skills and endurance at Mount Stapylton Amphitheatre, The WatchTower, the Wonderland Area, and Halls Gap Valley. If you're not an experienced climber, but would like to try it, the best way is with a licensed guide.
Note, it is only permitted to climb in designated areas. You could receive a fine if you climb elsewhere. Other important rules to note include:
Stick to established tracks and avoid damaging or removing vegetation where possible.
Minimise the use of chalk and only use chalk coloured to match the rock surface.
Check out the ancient Aboriginal rock art
There are many important cultural sites in the park, including vast amounts of Aboriginal rock art. In fact, the park is home to the most rock art sites in Southern Australia and over 80 percent of Victoria's rock art sites. A couple of sites worth checking out include:
Manja Shelter, Hamilton: See some of the best examples of hand stencils in the state.
Billimina Shelter, Wartook Valley: Find illustrations of human stick figures, and emu and kangaroo tracks.
If you're keen to check out these sites, it's worth visiting Brambuk The National Park and Cultural Centre first. The centre has all the latest information on the park, including how best to see the rock art.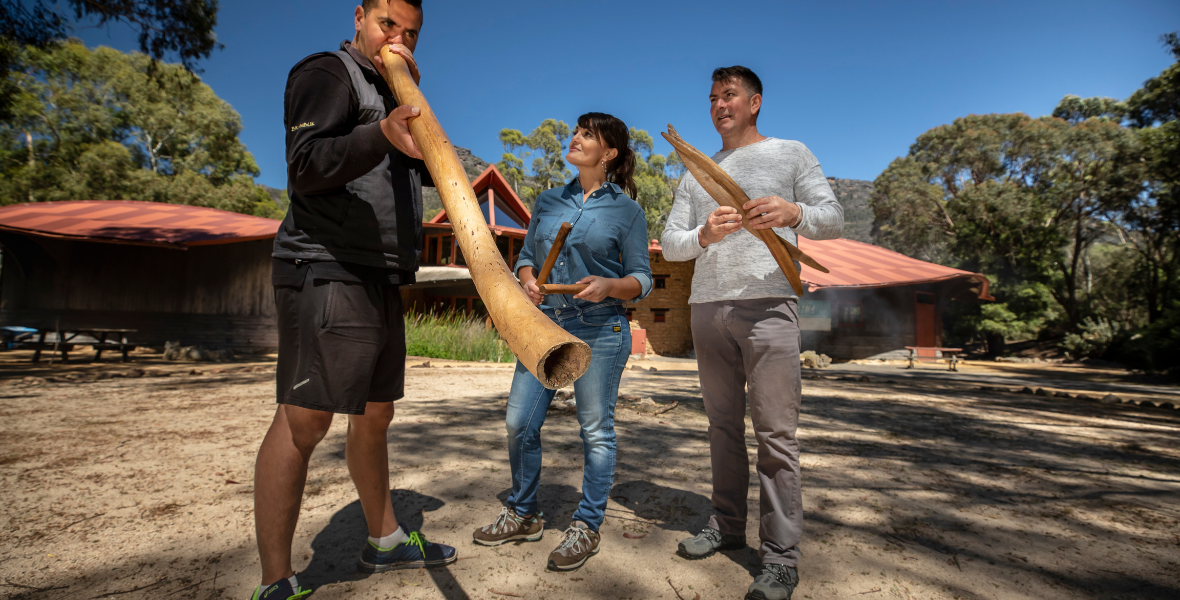 Image Source: Visit Victoria Content Hub
Take in the views on one of the many walking tracks
The Grampians is famous for its many fantastic walking tracks and hikes. There are options for all levels of fitness and physical abilities. Here are a couple worth adding to your travel itinerary:
The Pinnacle Lookout: A very popular Grampians walk. The Pinnacles Lookout offers stunning views of Halls Gap and the park's' many peaks. There are several options to reach The Pinnacle Lookout, each varying in length and difficulty.
Venus Baths Loop Walk: This is a nice, easy 2.3 km walk that leads to the cooling waters of the Venus Baths rock pools. Perfect for a summer afternoon.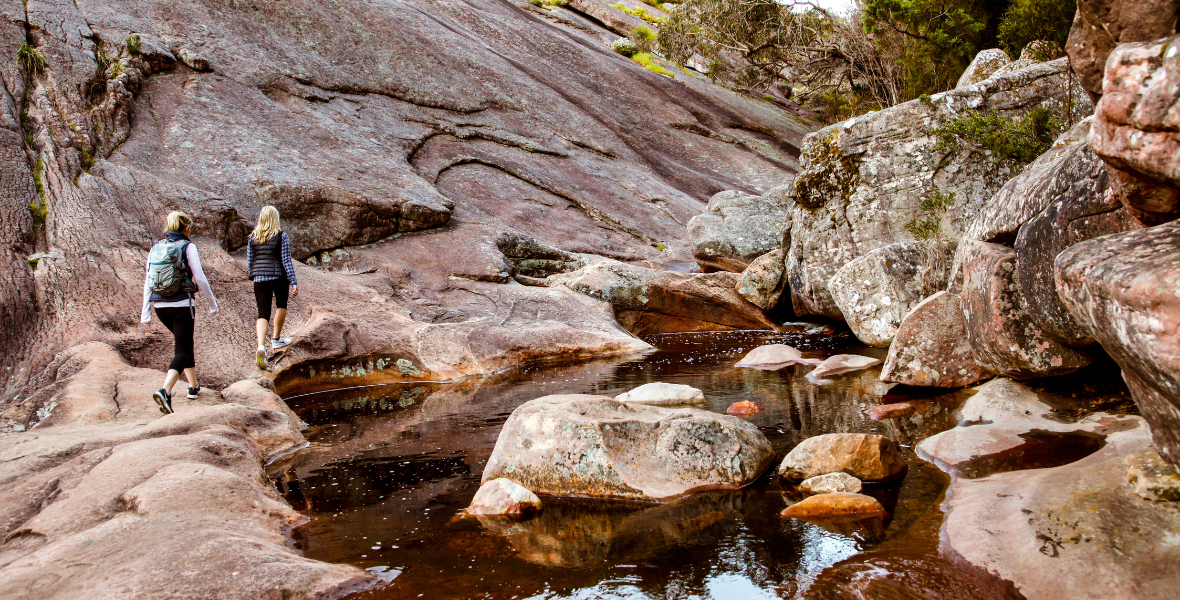 Image Source: Visit Victoria Content Hub
Cool down in one of the waterfalls
There's something a little magical about the sight of a spectacular waterfall. And the Grampians has plenty to see. Some are small and hidden away in the bush, others are huge and tumble over great rock walls. Here is one of each:
Ferntree Falls: Enjoy the relaxing 1 km (45 min) walk through a forest of tall blue gums and messmates to reach the Ferntree Waterfall. This peaceful nature walk starts at the Ferntree camping area in Mount Buangor State Park.
MacKenzie Falls: One of the largest and most spectacular waterfalls in Victoria. Watch as cascades of water tumble over the huge cliff into the pool below. It's an easy, 1 km walk to the viewing platform.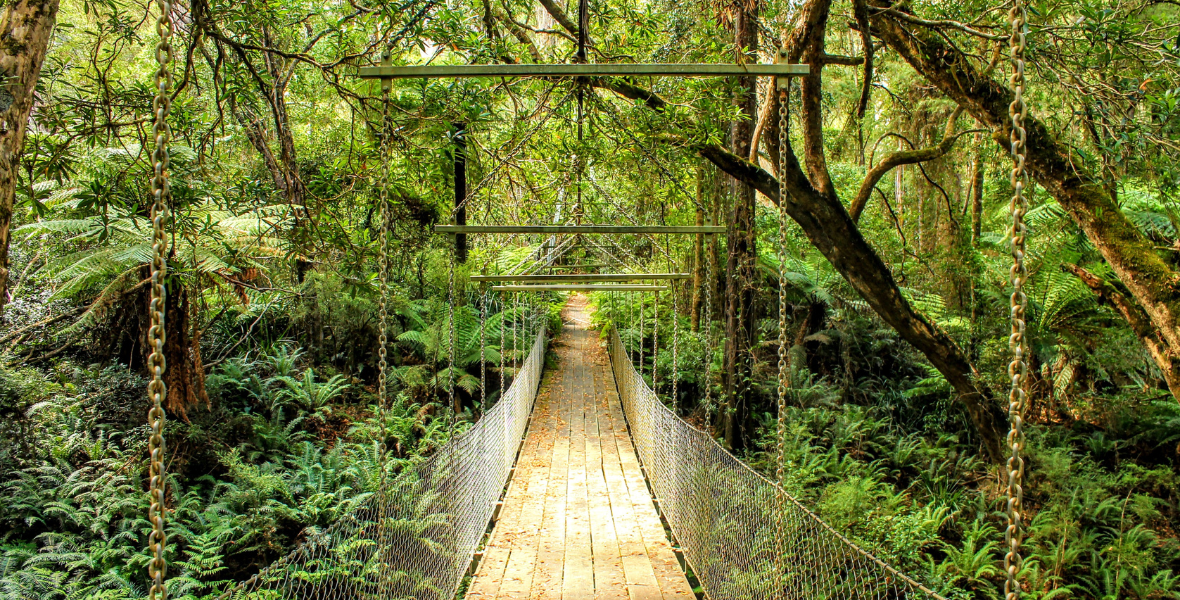 Image Source: Visit Victoria Content Hub
Take a break in Halls Gap
The small village of Halls Gap makes a great base for exploring the Grampians. The area is well known for its great eateries and shops, as well as spectacular hiking, breathtaking views, and inquisitive wildlife.
While you're here, visit the Halls Gap Zoo, Victoria's largest regional zoo with over 160 native and exotic animals. Afterwards, treat yourself to a unique dining experience at Barney's Bar & Bistro. The meals are big, the beer is cold, and the staff are always friendly!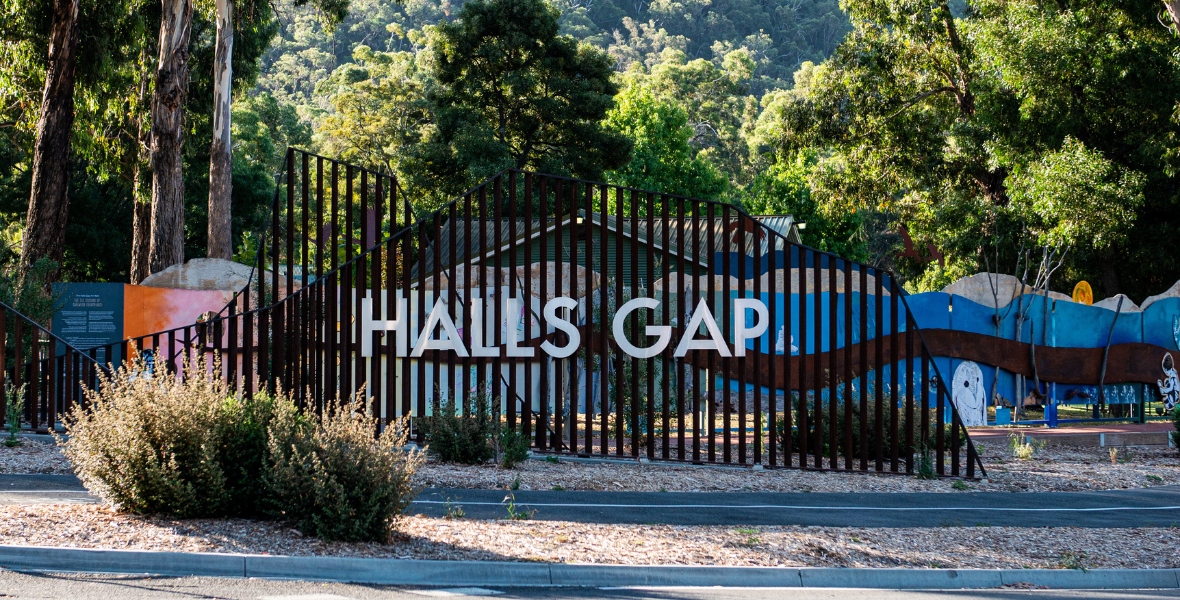 Image Source: Visit Victoria Content Hub
Ready to explore Grampians National Park on your next holiday?
We've only just scratched the surface of all the great things to do in the Grampians. If you're ready to discover even more for yourself, take the first step and book your Britz motorhome today.
Exploring this beautiful national park by camper is an unforgettable experience. Sleep surrounded by beautiful bush and rugged beauty. Wake up to the sound of birdsong and tranquillity. Just make sure you plan as much time as possible here, because you may not want to leave!
At Britz, we have a wide range of motorhomes and campervans available for hire that are perfect for your next Australian road trip. Pick up your campervan from our handy Melbourne branch and get ready to hit the road.