Join thousands of fellow campervan travellers
Sign up for our Britz newsletter to receive inspirational travel content and awesome deals, and we'll send you a copy of our Ultimate RV guide!
Thanks
Please confirm subscription in your email.
But first, what exactly is glamping?
Glamping is camping, but with a touch of glamour and luxury. It combines the freedom and adventure of camping, but with the added advantage of having your home comforts at hand.
The ultimate glamping accommodation is a motorhome. Surround yourself with nature while sleeping in a comfy warm bed. Your own bathroom is steps away. You have power at the touch of a button. You can cook brekkie and make hot coffee. Yet you're away from the hustle and bustle, parked up in a camper by a beach, in a forest, or wherever you fancy. It really is the best of both worlds.
Why you should plan a campervan glamping holiday in Mornington Peninsula
Are you an outdoor enthusiast into surfing and mountain hiking? Perhaps you're a foodie who loves good wine and gastronomic delights. Or maybe you just need a little rest and rejuvenation with a spa treatment and evening beach walks. All of the above? No problem. This premier destination has it all in abundance.
Not only that, but with beautiful views at every turn, you can enjoy waking up to stunning scenery each day. And because Mornington Peninsula is so close to Melbourne, it's a quick trip to the city if you want to tag on a Melbourne holiday.
Being surrounded by water, Mornington Peninsula's weather is cooler in summer and warmer in winter than other regions of Victoria. The average daily temperature in January and February is around 25°C. Perfect for the beach, a hike, playing golf, or any of the other great offerings on the peninsula.
Top tips for glamping and camping in Mornington Peninsula
Keen to take an Australian road trip to Mornington Peninsula? Here are our top tips to help you make the most of glamping in your camper.
1. Stock up on good quality beverages
One of the highlights of a glamping trip is pouring a glass of your favourite drop at the end of the day. Fortunately, Mornington Peninsula's wineries have some excellent offerings for you to stock up on. From chardonnays and pinots to beer, cider, and spirits, you're sure to find your favourite sip. Here are a few vineyards, breweries, and distilleries worth checking out while you're here:
Pt Leo Estate: More than just a great winery, Pt Leo also has an outdoor sculpture gallery and offers several dining experiences.
JimmyRum Distillery: This craft rum distillery has a bar and restaurant as well as tours and tastings.
Frankston Brewhouse: This microbrewery and restaurant brews a tasty range of beer onsite.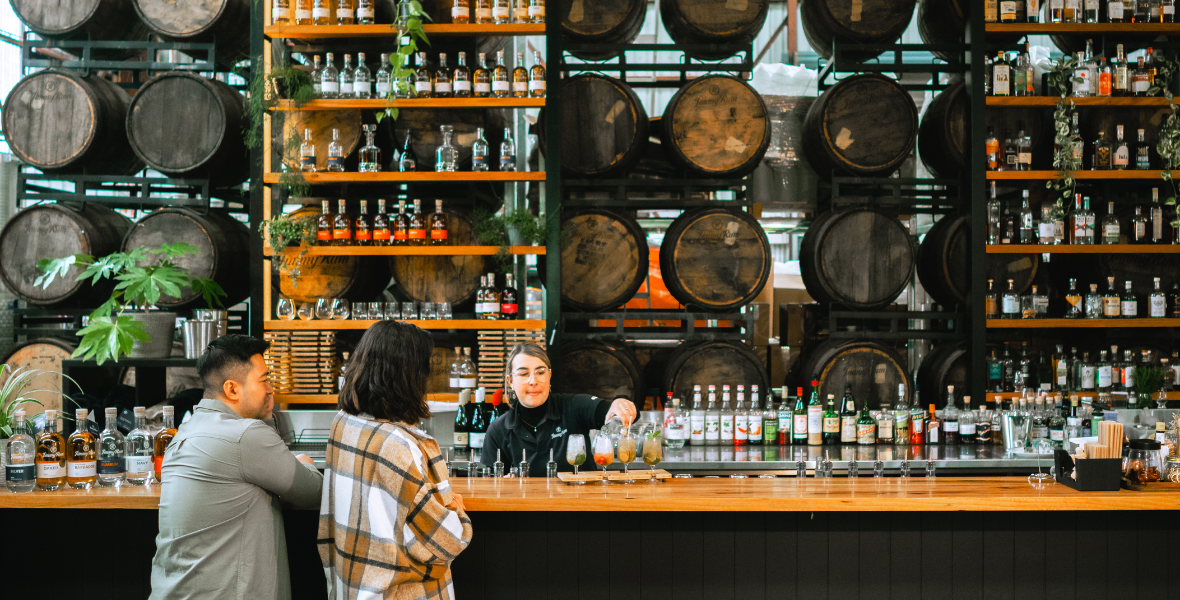 Image Source: Visit Victoria Content Hub
2. Pick up fresh supplies at the local markets
Another must-have for your glamping getaway is lots of good food. Your Britz camper is all set up to create gourmet goodies and tasty treats – you just need the ingredients. A great place to stock up your camper's fridge and cupboards is at the local markets. Here are a couple to whet your appetite:
Held every Wednesday morning from 9 am, the Main Street Market Mornington has been running since 1979. You'll find everything you need to cook up something special here, including fresh farm produce, baked bread, jams, eggs, and more. And if you're not in the mood to cook, there's plenty of ready-made hot food on offer.
One of the most popular markets is the Mornington Racecourse Market. Held every second Sunday of the month, the market is packed with produce, local wines and homebrewed beer, sweets, gifts, and crafts.
3. Choose a picture-perfect glamping spot
One of the most important aspects of glamping is finding a beautiful spot to set up camp. Fortunately, you're spoilt for choice in Mornington Peninsula. Escape into a lush bush setting, set up by the sea or in a cool campground. Here are our top picks:
Park your camper at one of the great campsites of the Sorrento Foreshore. This campsite stretches along the coastline of the beautiful Port Phillip Bay from McCrae to Sorrento. Camping amenities include toilet, shower, and laundry facilities.
Wake up to the sound of waves lapping on the beach at Rosebud Foreshore Camping. Facilities include shower and toilet blocks, grassy areas shaded by large trees, play areas for kids, and barbecues.
The Rye Foreshore Campgrounds are in a prime position along two kilometres of white sandy beaches and turquoise waters. Set up under the trees and take in the fantastic views. Facilities include play areas for kids, toilets, showers, a laundry, and barbecues.
4. Create a cosy space outdoors
A good glamping spot should feel cosy and comfy, both indoors and out. To add a touch of extra luxury, bring along some supplies to transform your outdoor living space. Some ideas include:
Picnic blankets for relaxed alfresco dining.
Outdoor mats to help keep your camper clean.
Some fairy lights or soft night lights to create an evening ambience.
Cushions or comfy outdoor chairs to relax in.
A handheld telescope or binoculars for stargazing.
Speakers to listen to your favourite music.
A portable barbecue for outdoor meals.
5. Explore the amazing golf courses
Mornington Peninsula's golf courses rank amongst the top 100 in Australia. Pack your golfing gear into your Britz camper and get ready to hit the green. There are plenty to choose from with most offering beautiful scenic backdrops. Here are a few to add to your travel itinerary:
St Andrews Beach Golf Course: Designed by world-renowned course architect, Tom Doak, this course is ranked as Australia's fifth best Public Access Course by Golf Australia Magazine.
Eagle Ridge Golf Course: A championship course available to all players. Once your round is finished, head to the onsite beer garden for a local brew and woodfired pizza.
Image Source: Visit Victoria Content Hub
6. Bring your swimming gear to enjoy the hot springs
Dial up the glamour aspect of your glamping experience with a spa treatment. Treat yourself to a soothing massage, soak in a hot pool, or unwind with some yoga. You deserve it! Here are a couple of spas worth checking out:
Peninsula Hot Springs: This award-winning natural hot springs and day spa is the ultimate sanctuary. Experiences include thermal mineral pools, a cold plunge pool, massaging bamboo showers, a traditional sauna, hanging tree pods, and poolside lounges.
Alba Thermal Springs & Spa: Nestled within beautifully landscaped gardens, this spa offers indoor, open-air, and outdoor thermal pools including botanical pools, forest pools, and a sunset pool.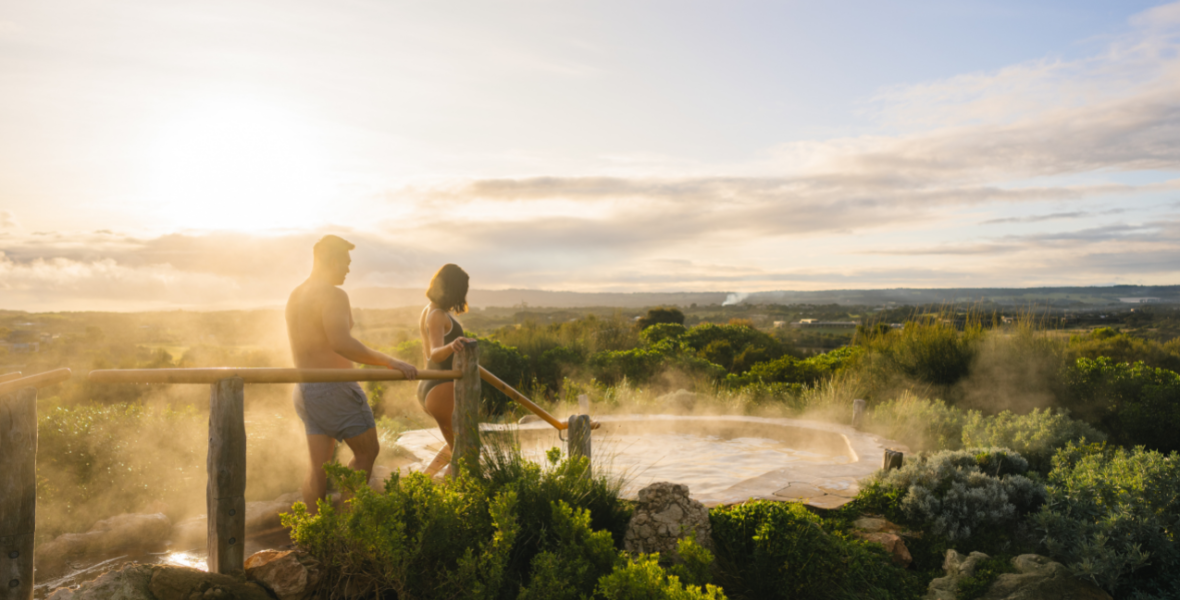 Image Source: Visit Victoria Content Hub
7. Make the most of the season you visit in
From surfing in summer to spa soaks in winter, Mornington Peninsula has plenty to do year-round. That makes it a great holiday destination whenever you decide to visit.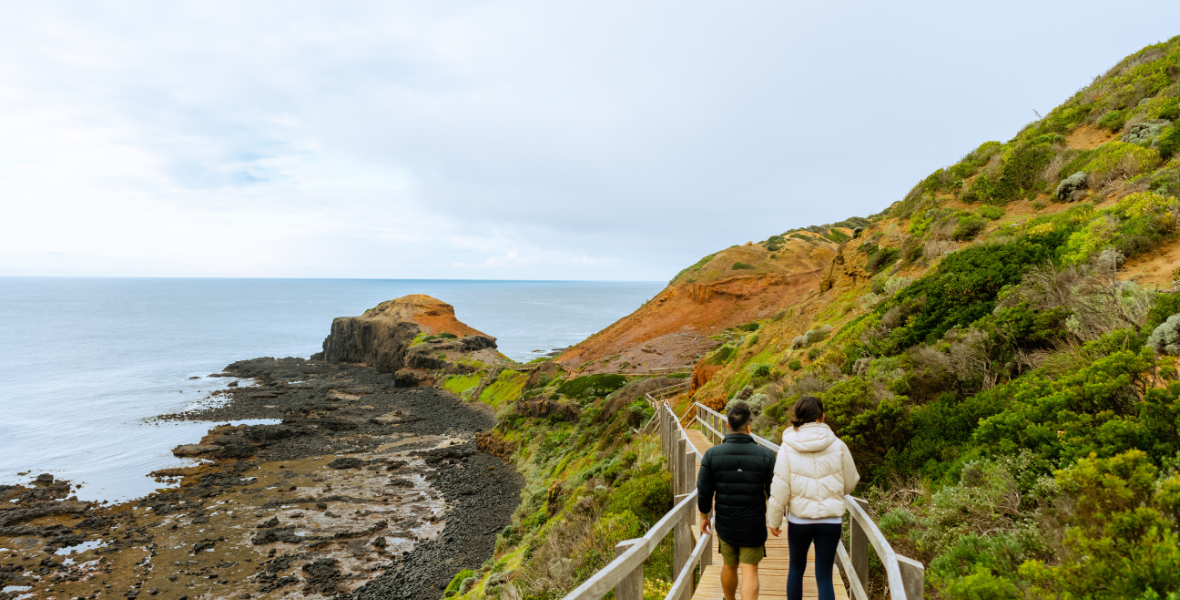 Image Source: Visit Victoria Content Hub
8. Choose the right campervan
Glamping is all about having those modern comforts and little luxuries. With this in mind, you'll want to be sure your campervan is a home away from home. When you book your campervan, you'll want to choose one that includes:
A toilet and shower so you don't have to use shared facilities. You can bring your favourite soaps, shampoos, and smellies and leave them set up in your own bathroom. Having your own bathroom on board also means not having to worry about trekking outside to use the loo in the middle of the night!
A big cosy bed with plenty of pillows and comfy blankets. Britz campers come with everything you need for a great night's sleep. You may like to bring along your favourite pillows and blankets too.
Ice cold or hot drinks whenever you like. Having a kitchen and fridge on board means you can keep your cold drinks on hand. Or in winter, pour a hot chocolate to enjoy under the stars.
Britz campers come in a range of sizes, from compact 2-3 berth campers right up to 6-berth motorhomes with oodles of room for two, or space for the whole family.
Is Mornington Peninsula calling your name?
Whatever time of year, whatever the weather, Mornington Peninsula really does make for the ideal glamping destination. If you're ready to hit the road and discover this Australian glamping gem for yourself, take the first step and book your Britz campervan hire today.
Pick up your pre booked campervan from our Britz Melbourne branch. You'll be beachside with a cocktail in hand within the hour!