Join thousands of fellow campervan travellers
Sign up for our Britz newsletter to receive inspirational travel content and awesome deals, and we'll send you a copy of our Ultimate RV guide!
Thanks
Please confirm subscription in your email.
Queensland is the perfect destination to spend your days exploring the Great Barrier Reef and the Wet Tropics, enjoying a slower pace of life relaxing on one of Cairns' beaches, or venturing to the outback.
Whether you are looking to get off the beaten track to grab a campsite in outback Queensland or enjoy a coastal holiday camped up near one of Cairns beaches, you are spoilt for choice when it comes to camping spots in Tropical North Queensland.
Why you should travel Queensland with a camper
Camping and caravanning in Tropical North Queensland is an absolute dream. The balmy 30℃ northern Australia weather paired with the beauty of Cairns beaches, the Great Barrier Reef, and the cool reprieve of the rainforests make Queensland, Australia the perfect campervan destination.
Travelling in a campervan allows you to uprootto multiple camping spots, so you can explore the numerous Australian attractions on offer. If you're not lucky enough to have a campervan parked in the front driveway, don't worry, there are plenty of rental options for your upcoming Queensland escape. Book a 2WD or 4WD campervan online, then pick it up when you land in Cairns, easy.
Top 10 camping spots in Queensland
These camping spots are some of the best in Tropical North Queensland. Whether you want five-star amenities or you're happy to rough it for the perfect view, you'll find your match. As these are so popular, keep in mind that you might need to book ahead, particularly during peak seasons.
1. Cape Tribulation Campground
Cape Tribulation Campground is the ultimate beachfront camping "where the rainforest meets the reef". Nestled in between the Daintree Rainforest and the breathtaking Myall Beach, this is the perfect base to discover the world's oldest tropical rainforest or hop on a boat to immerse yourself in the beauty of the Great Barrier Reef.
Sites are around $25-$35 per person per night. With room for motorhomes and caravans in their powered camping sites as well as classic unpowered tent sites, there is a little something for everyone.
2. Palm Cove Holiday Park
Palm Cove is a laid back cosmopolitan village on the water just 30 minutes' drive from Cairns and a great starting point for northerly explorations. Awarded the title of the cleanest beach in far north Queensland, this is the perfect destination to rent some gear from Beach Fun Co and try out a water sport. Otherwise, explore the beauty surrounding Cairns beaches and attractions.
With so many things to do in Cairns and the surroundings, Palm Cove Holiday Park is the perfect spot to park up. Palm Cove is a lovely, well kept holiday park with sparkling and modern amenities. For around $35-$45 per night, you have access to your choice of large powered sites that are perfect for motorhomes and caravans. Otherwise there are unpowered sites available for smaller travel vans too. Each site has access to amenities, including:
Laundry
Camp kitchen
Barbeque areas
LPG gas refill
3. Adels Grove Camping Ground
Adels Grove Camping Ground is an eco-sensitive park on Lawn Hill Creek, located 10 kilometres downstream from Lawn Hill National Park in northwest Queensland. Set among a plantation of exotic trees and natural bushland, the park offers a range of unpowered sites next to the river where you can drop a line in and hook a barramundi. Alternatively, you can go for a luxury pre-erected tent or a powered room. Accommodation starts at $22 per night and includes complimentary campsite facilities such as a dump point, camp kitchen and modern amenities.
Top tip: Adels Grove closes during the wet season, so be sure to book this in the more temperate months between May and November.
4. Kookaburra Holiday Park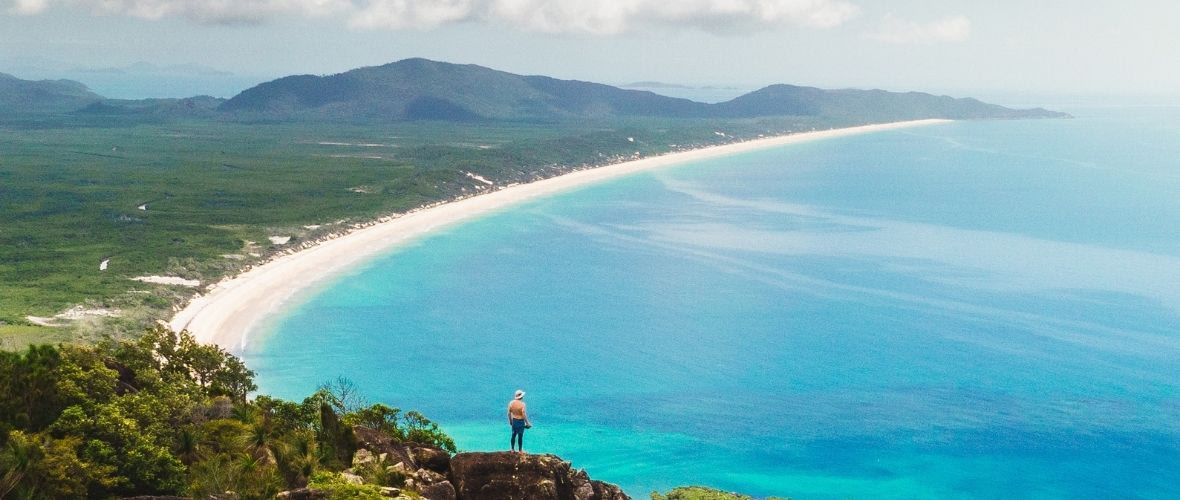 Image Source: Destination NSW Content Library
Kookaburra Holiday Park is set on three acres of lush tropical gardens in the heart of Cardwell. This spot is the perfect base for a range of activities, including: Fishing, boating and trips to Hinchinbrook Island.
Hinchinbrook is the largest island National Park in the world, surrounded by the World Heritage Great Barrier Reef Marine Park. This iconic Queensland national park is also home to Australia's largest single-drop waterfall Wallaman Falls. This waterfall is a must-see Australian attraction in this region.
Grab a powered camping site for around $40 per night and take advantage of their barbeques to cook up your catch of the day!
5. Cape York Camping
Cape York is the ultimate getaway for a range of travellers, with plenty to keep you entertained! There's something here for everyone, from 4WD adventurers to anglers, birdwatchers and history buffs looking to discover the rich Aboriginal and Torres Strait Islander history of this region.
Located at the very northern tip of Queensland, Australia, Cape York Camping has plenty of accommodation options. There is something for everyone from powered and unpowered sites to air-conditioned suites. It also boasts the most northerly beer tap in Australia at the Corrugation Bar. This bar is aptly named after the very bumpy roads you have to endure to enjoy a beer here.
Enjoy oceanside powered camping sites within close walking distance to the pool area, beach, laundry and restaurant, starting at $50 per person.
6. Whitehaven Beach, Whitsunday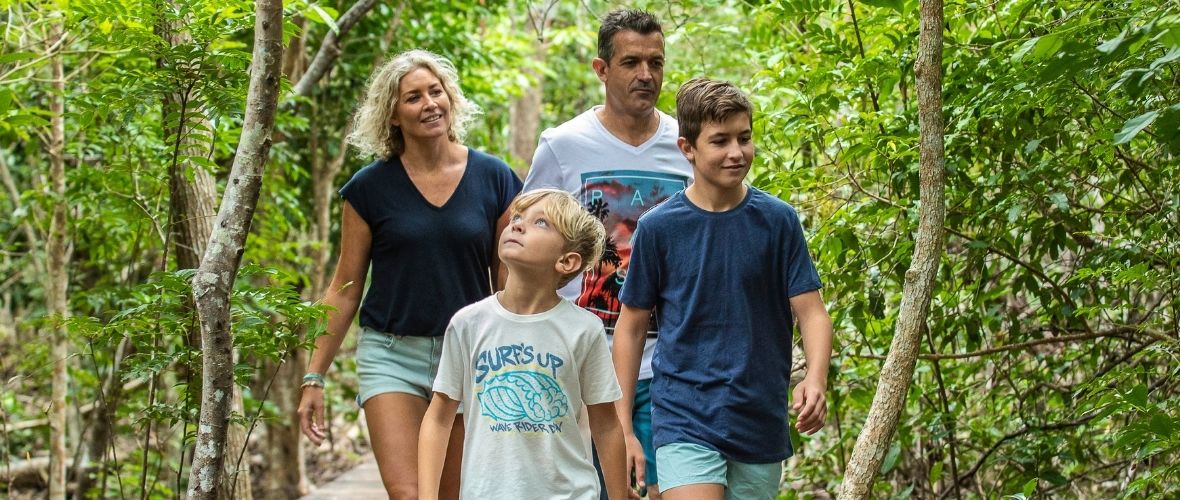 Image Source: Destination NSW Content Library
Take a night out of the campervan with an island escape to the popular Whitsunday region. This paradise is also a playground where you can enjoy soaking up the sun on secluded beaches, wandering along the coral rubble lined shorelines and exploring the fringing coral reefs.
While you're here, explore the local Australian attraction Hill Inlet located at the northern end of Whitehaven Beach on Whitsunday Island. This breathtaking tidal phenomenon is best viewed at Tongue Point when the tides are at their lowest.
As these islands are accessible via boat only, you can rent a boat for your adventure through these iconic waterways. Park your rental van on shore and experience a tent camping adventure for a night or two.
7. Crystal Creek
An hour north of Townsville is Crystal Creek Caravan Park. Located within arms reach of Paluma National Park, wild Hinchinbrook Island and the pristine pools of Crystal Creek, this caravan park is the perfect oasis to enjoy some of the best recreational and historical sites in Queensland, Australia.
Starting at $35 per night for a powered camping site, this caravan park comes equipped with all the essential campsite facilities, including:
Laundry
Undercover barbeque
Swimming pool
On-site fuel station for your convenience
8. Ball Bay Camping Ground, Cape Hillsborough
Ball Bay Camping Ground is a secluded grassy campground set amongst lush native bushland. Get back to basics with only the necessities on-site, including:
Toilets
Cold showers
Wood barbeques
Drinking water
All of this for $27 per night. If you're visiting during the summer months, wander down to the beach in the early hours to try and catch a glimpse of flatback turtles hatching or see the wallabies feeding on the beach. Ball Bay also offers close access to Cape Hillsborough National Park bushwalking tracks and an easy 40-minute drive south to explore the beauty of Mackay.
9. Lake Elphinstone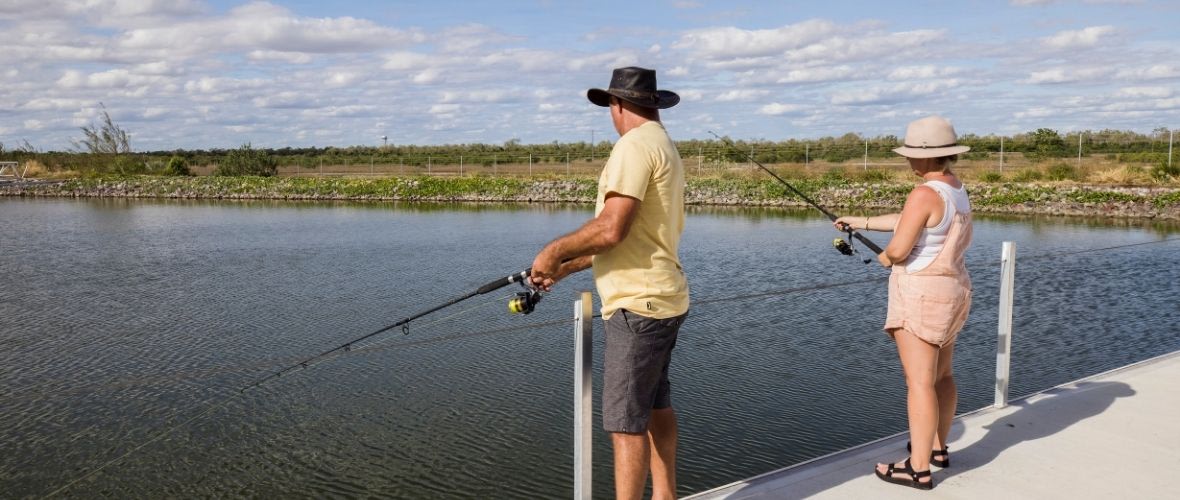 Image Source: Destination NSW Content Library
Lake Elphinstone is a draw-card for many reasons, known for it's water sports including water skiing, kayaking and fishing. This natural lake within the Nebo Shire also attracts an abundance of birdlife, making it a popular destination for birdwatching. Lake Elphinstone offers a campground for free camping, making this the perfect lakeside retreat for the whole family. The public facilities include:
Toilets
Showers
Wood barbeques
A boat ramp
Picnic tables
Top tip: Be sure to bring your own drinking water.
10. Jourama Falls
Jourama Falls camping area is tucked away in the bushland of the Paluma Ranges National Park, just north of Townsville. Fringed by forest, this is the perfect remote bush camping experience. As reception is limited here, you can switch off and spend your day in nature doing a range of activities, from bushwalking and birdwatching to enjoying picnics overlooking the picturesque waterfall on Waterview Creek.
Just a short drive, and you can also explore the beauty of Crystal Creek and Little Crystal Creek. Campsites start at $6 per person per night, so be sure to book online as this campsite fills up fast.
Top tip: Be sure to pack essentials like rubbish bags and insect repellent.
Ready for an adventure of a lifetime?
Queensland, Australia is filled with plenty of beautiful camping spots to explore. Whether you are looking to get off-grid with a four-wheel drive or escape the warm Australian weather in an airconditioned campervan, there is something for everyone.
If you're looking to rent a van to travel around this sunshine state and visit some of the best camping spots in tropical North Queensland, take a look at the great rates on offer and book your Britz campervan today. If you're looking for more inspiration and tips on the best camping spots for your Queensland Australia road trip, check out our guides and download the thl Roadtrip itinerary planner app.