Join thousands of fellow campervan travellers
Sign up for our Britz newsletter to receive inspirational travel content and awesome deals, and we'll send you a copy of our Ultimate RV guide!
Thanks
Please confirm subscription in your email.
Cape Byron Headland and Lighthouse
Byron Bay is a pretty nice place – whales or no whales – but when you are in Byron Bay make sure you walk up to the Cape Byron Lighthouse for a bit of free whale watching. This 3.7km loop track meanders through rainforest, across the beach and then up to the lighthouse on the cliff tops. Views are epic and in season this spot has grand whale viewing. If you're here out of season don't despair - you'll still be able to check out turtles, stingrays and dolphins in the seas below.
See more on Cape Byron Lighthouse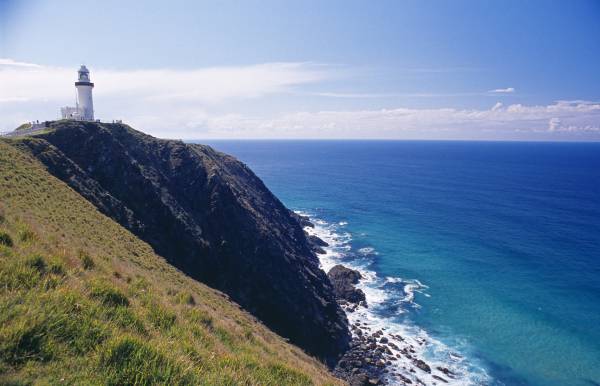 Cape Byron Kayaks
Given humpbacks swim close to Cape Byron's shores heading up and down the coast, if you want a closer look, swap the camper for a kayak by joining a tour with Cape Byron Kayaks, and paddle around Cape Byron Marine Park. If this feels like a little too much effort you can simply sit back on a boat trip with Cape Byron Whale Watching tours.
If Byron Bay tickles your fancy and you find yourself wanting to stay, then Reflections Holiday Park at Clarkes Beach for a bit of beachside Aussie charm. This would also be an ideal spot to leave your van while you're out spotting some friendly sea mammals. Stay for a night, stay for a week, stay forever… Reflections' tip-top facilities will keep you comfortable for as long as you need.
See more on Cape Byron Kayaks
Fingal Head Lighthouse
Watching whales in general is pretty exciting, but there is a rock star of the whale world. Migaloo, meaning "white fella", is a white humpback – thought to be an albino - often spotted off Tweed Head both in June and then back again in September as he returns south.
Because he is such a unique whale, Migaloo has special legislation enacted by the Queensland Government to protect him from harassment – thus vehicles including jet skis as well as planes are restricted in how close they can get to him.
See more on Fingal Head Lighthouse
Burleigh Head National Park
Once past NSW, you enter the tropical state of Queensland. Whales love the warm waters of this state, which means there are ample opportunities up and down the coastline to spot them. Even when you are based in cities such as Gold Coast and Brisbane, if you head out to the headland you can often be lucky enough to catch them gliding by.
Located just a few minutes' walk from Burleigh Head is Burleigh Beach Tourist Park, which is an ideal spot to rig up your van for a night. The nucleus of all goings on in Burleigh Heads, it' won't take long for this place to feel like your own little slice of paradise.
See more on Burleigh Head National Park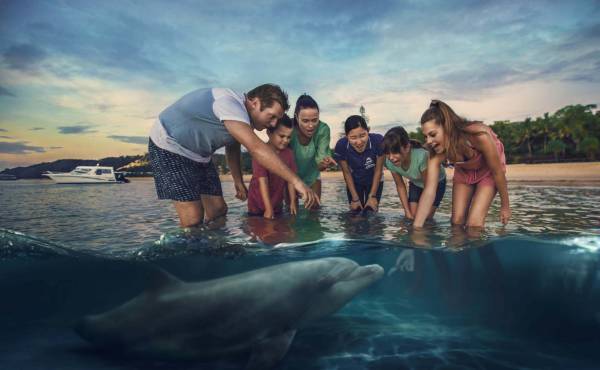 Brisbane Whale Watching
Another great option is to jump on a Brisbane Whale Watching tour – based in Redcliffe. This Eco Certified Ecotourism company is one of only two vessels allowed into the pristine waters of the marine national park for whale watching. If you're wondering where to leave your van, there is ample parking a short distance from the jetty that will make life easy.
See more on Brisbane Whale Watching
Tangalooma Whale Watch Cruises
Your other option is Tangalooma Island Resort Whale Watching Cruise. Leave your trusty camper on the mainland (ideally at a holiday park so it is nice and secure, especially if you are doing an overnight cruise), and hop on the tour from Brisbane. If you do happen to stay the night on the island, make sure you pop into their Eco Centre to learn about their visiting dolphin family.
See more on Tangalooma Whale Watch Cruises
Hervey Bay Whale Watch Quick Cat II
From mid July, humpback whales begin arriving in Hervey Bay, often remaining there until November before heading back south again. So not surprisingly, Hervey Bay is known as the whale watching capital of the world.
The reason why Hervey Bay is so popular is that the waters are sheltered by Fraser Island, so it's a great place for them to stop for a rest, especially with their young. The very best time to visit Hervey Bay is from early August to late September when the whales can be seen with their calves and are at their most playful and plentiful.
So if you are going to dip into your pocket for a tour, Hervey Bay is a great place to do just that. You can check out Whale Watch Hervey Bay to help find you the best tour to suit your needs. Because they are so relaxed and in such high numbers, the inquisitive humpbacks often come close to the vessels so you can be pretty sure to get a close up view of these gentle giants.
The other pretty special thing that you can be witness to is the "love song" of the humpbacks. It seems that all humpbacks within a pod will sing the same song at certain times, and then they all make changes to the song during their mating season. Then, cleverly, the members of the pod remember the song sung the previous September when they start singing again, for mating, the next June.
No one is sure whether it's simply mother and calf communicating or actual love songs, but when the song is heard by one of the whale watching vessels through a hydrophone, they will amplify it though their radios for all passengers to hear.
If you are looking for somewhere to stay nearby, Discovery Parks - Fraser Street has everything from the ho-hum necessities like a dump station, laundry and kitchen to the more eye-grabbing beachfront, pools and, arguably most exciting, bouncing pillow.
See more on Hervey Bay Whale Watching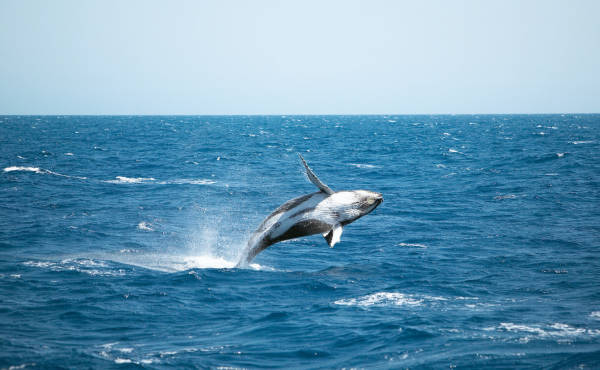 Whitsunday Islands
Whilst we would all love to spend a few months each year in and around the Whitsundays, due to their shallow, sheltered, warm waters the Whitsundays make idea calving and nursery waters for newborn whales. You can see humpbacks around the islands and on the odd occasion they have been seen on the Great Barrier Reef too, playing with their young.
There tend not to be many formal whale watching tours in this area, but you can generally sight the breaching and playing between mothers and calves, on many of the day tours that operate in these waters during the winter months.
As an alternative, you can get a completely different perspective of the gentle giants and see them from the air if you jump on a seaplane or helicopter scenic flight.
The Whitsundays are abundant in luxury resorts and romantic retreats, but with your humble camper all you need is a power station and dump site. Glamorous, we know. Island Getaway Holiday Park at Airlie Beach has everything you need and more, and put you in a great position to discover some wonderful whales. But hey, feel free to ditch the van and stay at a five-star resort. We wouldn't blame you.
See more on Whitsunday Islands