Join thousands of fellow campervan travellers
Sign up for our Britz newsletter to receive inspirational travel content and awesome deals, and we'll send you a copy of our Ultimate RV guide!
Thanks
Please confirm subscription in your email.
The very best way to plan a winter road trip is to rent a travel van. With your bed, bathroom, and kitchen on board, you'll have a warm retreat to keep you cosy wherever you travel.
When is winter in Australia?
Winter in Australia is from June to August, and the climate can vary greatly depending on what part of the country you're travelling to. You may need extra warm clothes in some areas, especially the bottom half of Australia. While if you're heading north to Darwin, it still feels like summer!
Safety considerations when exploring Australia during winter
Before you start planning your winter Australian road trip, it's a good idea to take note of a few travel tips:
If you're travelling in snowy regions, you may need snow chains.
Research the area that you'll be travelling to and pack accordingly.
Remember the sun in Australia can still be strong in winter, so you may still need to pack sunblock and a sunhat.
Familiarise yourself with tips for COVID-19 safe travel in Australia.
Download the thl Road Trip app. This handy app is your essential campervan companion. Use the app to download maps and locate campgrounds, supermarkets, gas stations, and more.
Ready to get inspired to plan your winter escape? Let's take a look at some of the best Australian road trips:
1. Port Douglas, Queensland
Winter? What winter? In Australia's north, winter is just a slightly cooler version of summer and there's nothing not to like about that. When Melbourne is 14°C, Port Douglas can be counted on for mid-20s. Even in winter, the ocean temperature is still 23°C degrees and in June, July, and August you are out of the stinger season. Better yet, it's still warm enough to eat fantastic seafood and take in all the things far north Queensland does best.
Port Douglas is a great destination for an Australian road trip. There are plenty of beautiful campgrounds to stop at for the night. And when you have everything you need in your campervan, there's no need to hurry. Take your time and make the most of this amazing region.
Driving there: Port Douglas is 68 km, or just over an hour's drive north of Cairns. If you prefer the scenic route, Port Douglas is about 1,747 km, or about 20 hours' drive, north of Brisbane via the Bruce Highway. This is one of Australia's most scenic coastal road trips with plenty of great camping spots and places to just stop look, swim, and explore.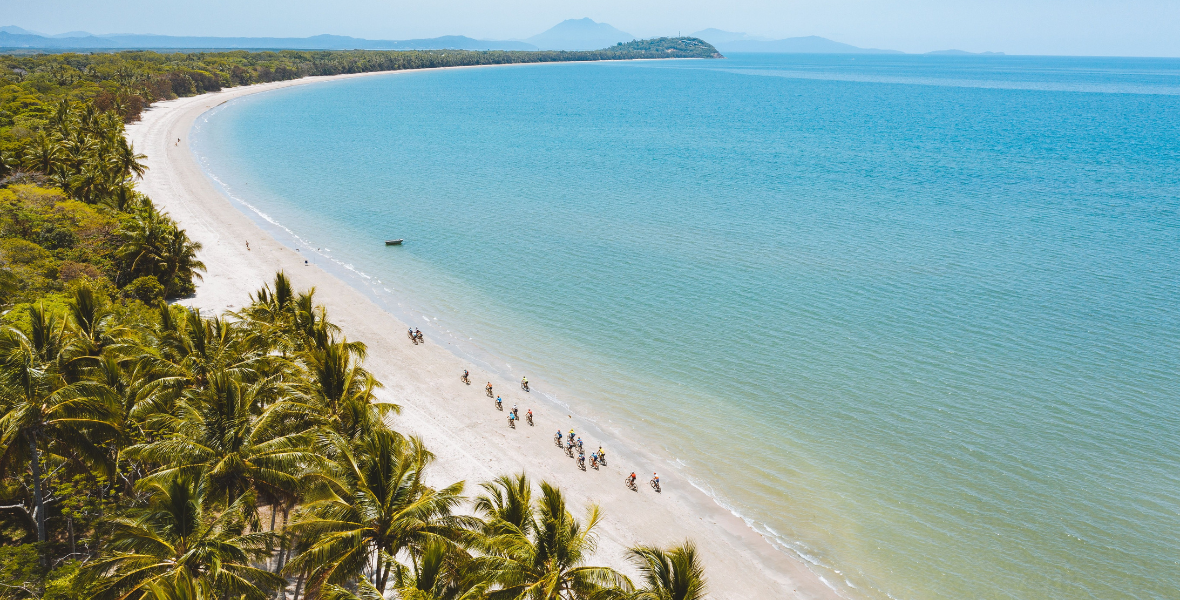 Image Source: Tourism Australia Image Gallery
2. Dove Lake, Tasmania
The wooden shingle-clad boatshed at the side of Dove Lake is an iconic Australian image, yet is seen most often in summer. Snowbound in winter, the whole area takes on a special magic and you will feel like you are in North America. This spot is definitely one to add to your road trip itinerary planner!
The walk around the lake is about 6 km and is utterly beautiful. If there is snow you should allow 2–2.5 hours to complete it. You'll need to pack some warm waterproof boots such as quality hiking boots and a suitable jacket, hat, and gloves. After all that exercise, your campervan will be a warm, welcome haven. Enjoy a hot cuppa and a Tim Tam or two before you drive on.
Driving there: Board the Spirit of Tasmania from Station Pier, Port Melbourne if travelling before 23 October. Sailings on or after 23 October 2022, will be from the new location at the Tasmania Quay Terminal, Geelong. If travelling on an overnight sailing, book a cabin and be in Devonport the next morning. It's romantic, a lot of fun, and the beauty of travelling by campervan is that you don't need to pay hotel bills once you're there.
Dove Lake is in the Cradle Mountain–Lake St Clair National Park, about a 90-minute drive from Devonport. Plan your trip to stop for a pie in Sheffield and buy something in the historic Slaters Country Store. The store sells a fantastic range of menswear and will make you feel like you've stepped into a scene from Fargo or Twin Peaks!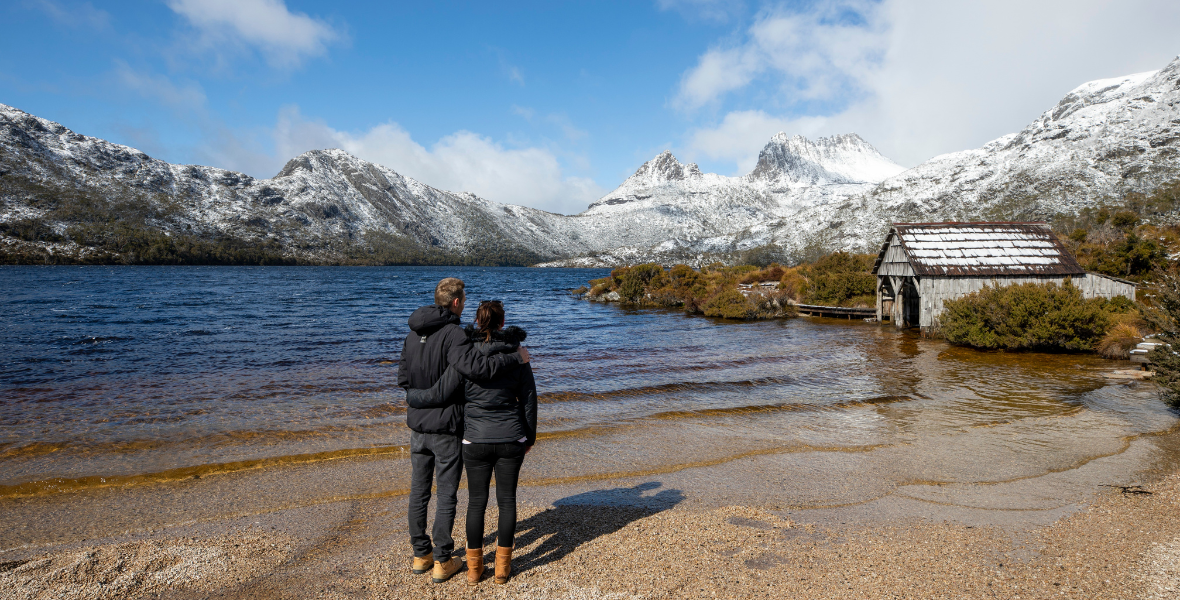 Image Source: Tourism Australia Image Gallery
3. The Prairie Hotel, South Australia
Despite being in the far outback of South Australia, The Prairie Hotel is on the Gourmet Traveller's list of Top 100 Destinations. When you get there, you'll understand why. The scenery looking out over the distant Flinders Ranges is stunning and the food, likewise. In winter, the days are crystal clear and warm but not oppressively hot. The nights are cold and can even get below freezing on occasion which makes for a welcoming contrast. There's something lovely and cosy about getting all snug in your campervan.
Driving there: The road trip is part of the attraction and there are many great stops along the way. The Prairie Hotel is on the corner of High Street and West Terrace, Parachilna, 90 km north of Hawker. You can get there on The Outback Way Route B83. Parachilna is 195 km north or about 2 hours, 10 mins driving time from Port Augusta. From Adelaide to Port Augusta is 305 km, or about 3 hours 30 min drive. The hotel has four powered camping sites and other unpowered spots.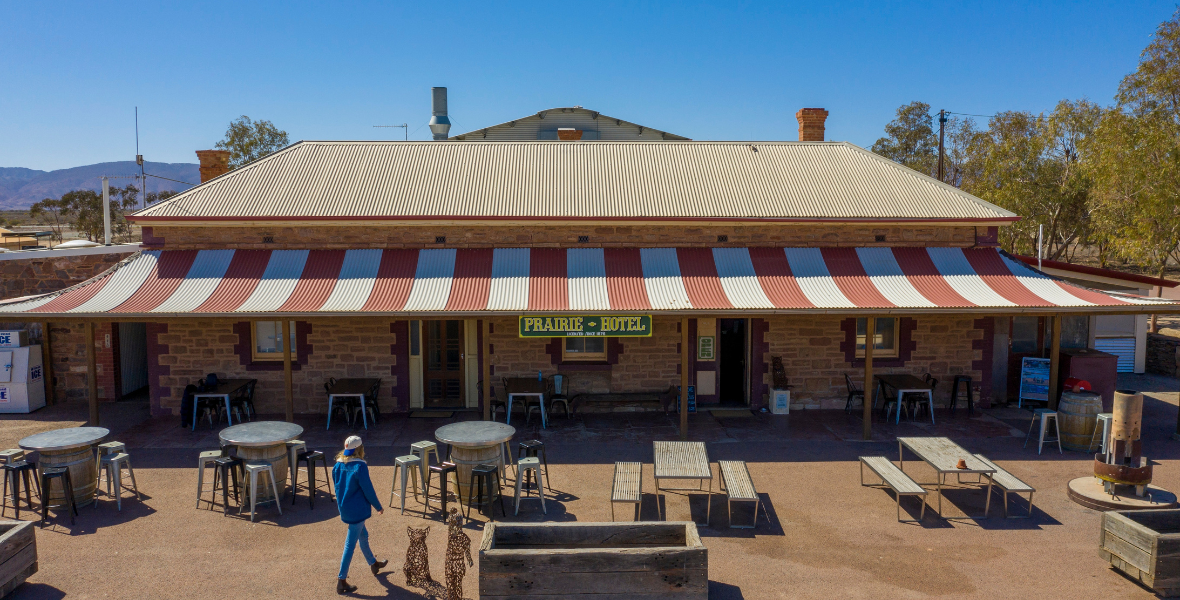 Image Source: Tourism Australia Image Gallery
4. Albany, Western Australia
There's plenty to see and do over winter on an Australian road trip south from Perth. Plan your trip to take in the Margaret River wineries or go down to historic Bridgetown on the way. Once you arrive, there is a lot to do around Albany. See the Desert Mounted Corps Memorial, watch a 30-tonne humpback whale breaching or walk on Little Beach in the Two Peoples Bay Nature Reserve.
Driving there: Perth to Margaret River via Busselton is 270 km or about three hours' drive but there are plenty of nice stops. From Margaret River to Albany, you can stop off at Nannup, Pemberton, Walpole, or Denmark for local heritage, culture, and delicious food.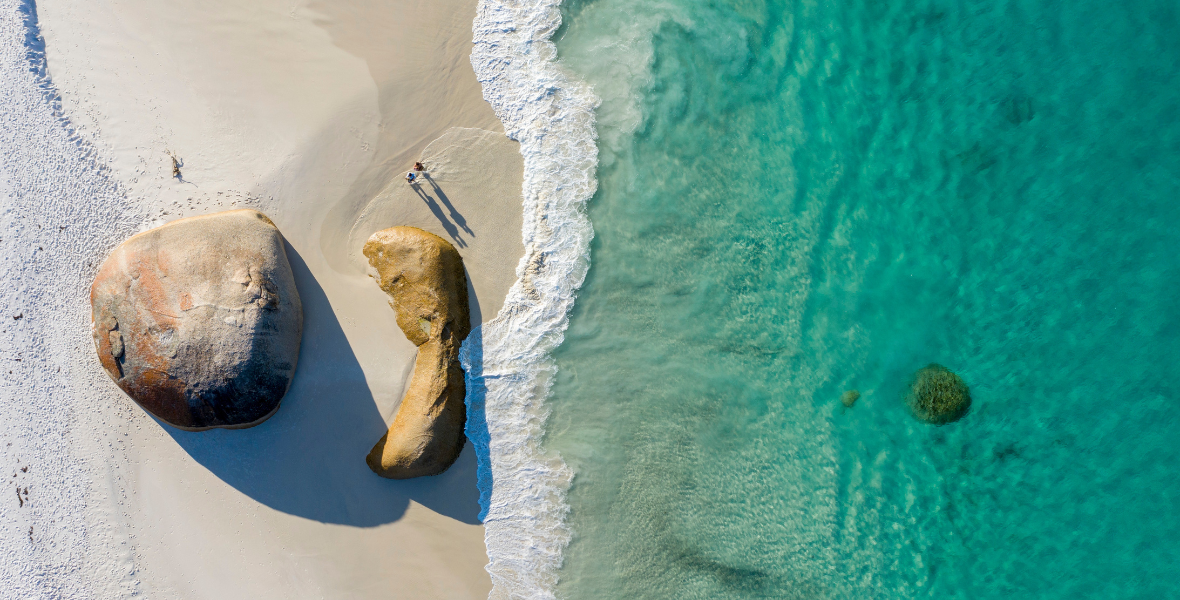 Image Source: Tourism Australia Image Gallery
5. Peninsula Hot Springs, Victoria
When the weather is cold, a warm soak is always a good strategy. The Peninsula Hot Springs go beyond just warm. That's because when you're out in the cold yet deliciously warm, you get to gloat about how clever you were to plan your Australia road trip to include this destination!
The mineral springs are laid out so you can wander along signposted paths to all the different spa experiences. Not that there's far to walk, it's only 25 – 50 metres from one hot spot to the next. Each spa is different in style and signposted with its temperature so you can find one that suits.
Once you've soaked in all that lovely warm goodness, stop by the restaurant for lunch before heading back to your campervan for a relaxing lie-down. Bliss!
Driving there: The Peninsula Hot Springs are at 140 Springs Lane, Fingal, on the Mornington Peninsula, about 1 hour, 15 mins drive from Melbourne.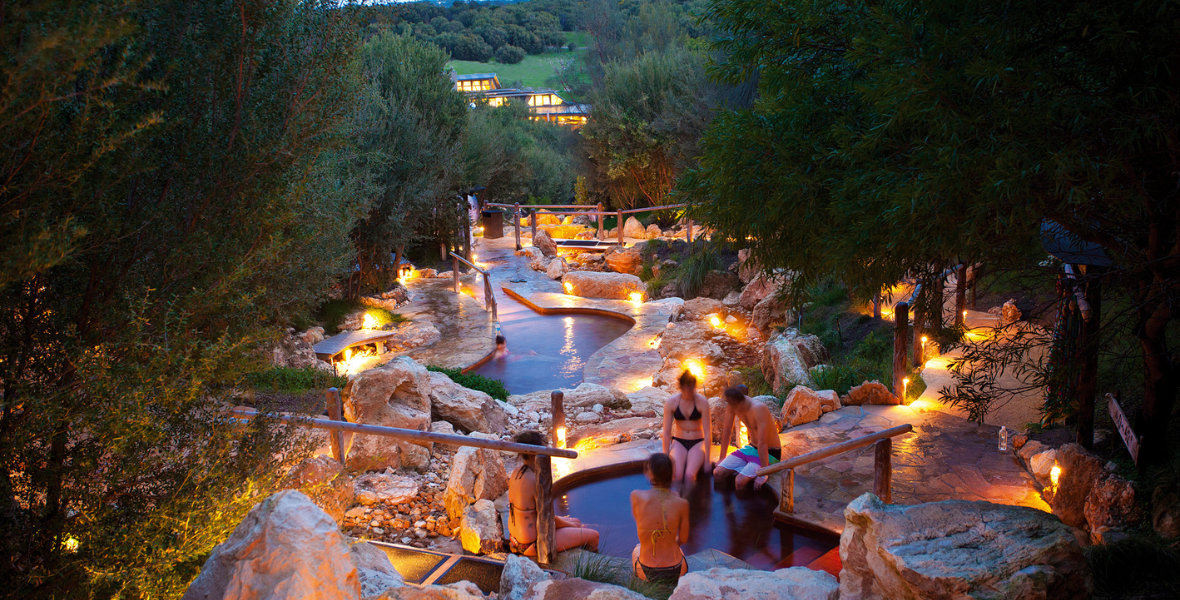 Image Source: Tourism Australia Image Gallery
6. Thredbo, New South Wales
Raring to hit the slopes this winter? Thredbo is the place to do it! Pack your skis, snowboard, or toboggan into your campervan and get ready for some snow-filled fun. Thredbo takes the title of Australia's Best Ski Resort and has a wide range of snow terrain for all ages and abilities. And if you don't have any ski gear, you can hire everything you need on-site. Thredbo also has a fantastic village right at the base of the mountain where you'll find a range of restaurants, cafes, and shops. When the sun goes down the vibrant village really comes to life with live music, festivities, and a holiday vibe like no other.
Driving there: 6 hours' drive from either Sydney or Melbourne. You may need to use snow chains.
Image Source: Tourism NSW Image Gallery
7. Broome, Western Australia
Broome makes for a fantastic winter escape, especially when you're travelling by campervan. The Australian road trip from Perth to Broome is a popular route with campervan travellers, with lots to do and see on the way. Some of the top things to do in Broome in winter include capturing the beautiful Staircase to the Moon – when the full moon rises over Roebuck Bay and creates a stunning visual effect. Or for something just a bit different, park up your campervan and head off on a sunset camel ride!
Driving there: 19 hours from Darwin or 22 hours from Perth.
Image Source: Tourism Western Australia Image Gallery
8. Uluru, Northern Territory
If you've been pondering 'what is the best road trip in Australia?', you're likely to find that it's one that leads to Uluru. The grand scale and sheer beauty of Uluru draws thousands of visitors every year. Located in the heart of the Red Centre, Winter is a great time to visit with cooler, less extreme temperatures.
Be sure to plan your trip to include a visit to the Field of Light – a magical light installation with more than 50,000 stems crowned with frosted glass spheres. Another must-do experience is the Sounds of Silence dinner – an evening of dining under the southern night sky.
Driving there: 20 hours' drive from Darwin.
9. Barossa Valley, South Australia
If your idea of the perfect winter escape is a glass of red in front of a roaring fire, Barossa is the place to do it! The Barossa Valley is renowned for producing some of the best red wine in the world. With around 87 cellar doors in the region, you can take your pick! One of the best ways to enjoy the local vineyard offerings is to park up your campervan and take a wintery winery tour!
And of course, with great wine comes great food. Indulge in some of the fresh seasonal produce and fine cuisine showcased at some of the incredible eateries the region has to offer.
Driving there: One hour's drive from Adelaide.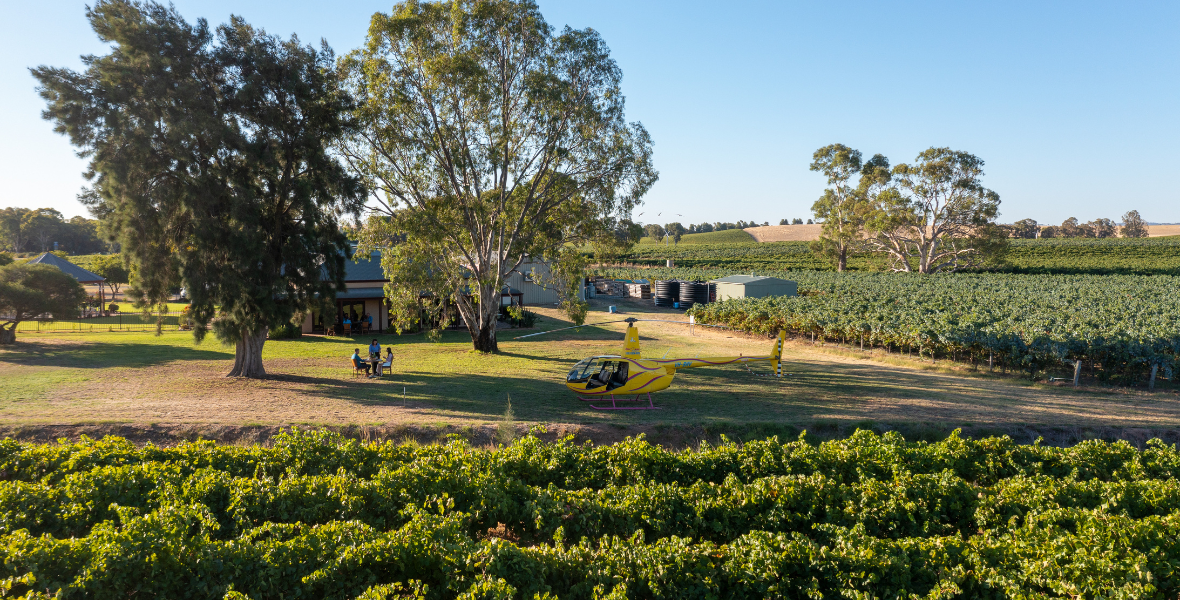 Image Source: Tourism Australia Image Gallery
10. Darwin, Northern Territory
When is winter not really winter? When it's in the Northern Territory! Darwin sits right at the top of Australia and winters are very… summery! The average daily temperature can still sit at around 30°C. That means it's still important to be SunSmart and use good sun protection.
Winter is the ideal time to explore the great outdoors in Darwin. Enjoy swimming at Darwin Waterfront, take a bush walk, go snorkelling for turtles, or plan your trip to take in one of the many great festivals and events.
Driving there: For the best driving experience in and around Darwin, book a 4WD camper hire. There are three Britz 4WD vehicles to choose from that will let you get out a little further and explore some of Darwin's unsealed roads and off-the-beaten-track locations.
Image Source: Tourism NT Image Gallery
Keen to explore Australia during winter?
Ready to say goodbye to the winter blues? Whether you're hiking the trails in Darwin or hitting the slopes in Thredbo, there's no better way to explore Australia over winter than by campervan. Your Britz campervan hire has everything you need to keep you warm and cosy over winter.
Don't wait till summer to plan your Australian road trip. If you're looking to rent a van for an upcoming campervan trip, be sure to check out our latest deals and book your Britz camper today.